Karma Wangchuk – Politician and social worker from Arunachal Pradesh
Karma Wangchuk (1935 – 2022) was a politician and social worker from the state of Arunachal Pradesh. He has served as a minister in Arunachal Pradesh state assembly, and was the first person from Tawang District to become Minister of Arunachal Pradesh. He was an educationalist, philanthropist and social worker who worked towards the preservation of the rich Monpa culture and traditions of Tawang till the end of his life journey.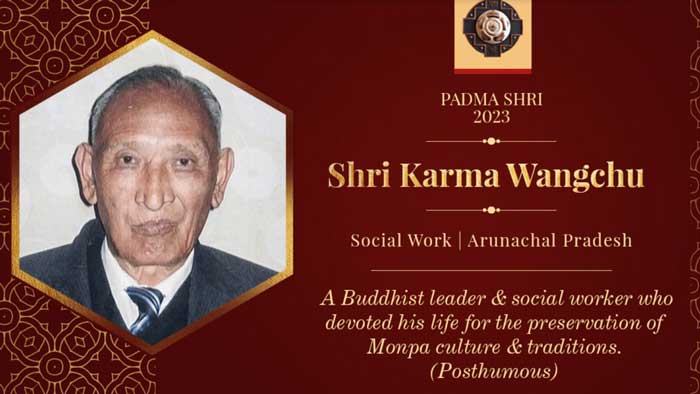 He is known for his support for the Tibetan people and the cause, and he led numerous campaigns for this purpose. He founded Indo-Tibet Friendship Society and was one of the forefront supporters of the central government's decision to implement the Tibetan Rehabilitation Policy, in 2014 in the state of Arunachal Pradesh. He strived to prevent Chinese influence over Tibetan communities on the Indian side too. He passed away on October 20, 2022 aged 86, and was posthumously honoured with Padma Shri by government of India in 2023.
Karma Wangchuk didn't receive any formal education
He hailed from Seru in Tawang and was born in 1935. Wangchu did not receive formal education but began his career with the NEFA police in 1959-60. He served as a junior intelligence officer-II in the Subsidiary Intelligence Bureau (SIB) from 1960 to 1976, before joining active politics. During 1978-1994, Wangchu worked tirelessly towards the preservation and promotion of the rich cultural heritage in the border areas of the state.
A 4-term MLA, he never lost any assembly election
He entered active politics in the late 1970s, and was first elected from Tawang constituency in 1978. He was later elected for three consecutive terms from the constituency from 1980 to 1994. During his tenure in politics, Karma Wangchuk served as Pro-Tem Speaker of the Arunachal Pradesh Legislative Assembly, and as Health, Transport, and Cooperation Minister in the cabinet headed by the then Chief Minister Tomo Riba.
He never lost any elections, and retired gracefully from active politics in 1994 before he reached 60. Yet he continued with other social services, including educating students of lower classes. In fact he started Choephelling Public School for the destitute and orphans. He provided free education along with residential facilities to more than 1,250 children, mostly orphans.
Karma Wangchuk – Some interesting and less-known facts
1. Without any formal education, Wangchuk started his professional career with NEFA police in the late 1950s.
2. He participated in 1962 Sino-India War, and was awarded with a certificate and cash award. He also received the silver medal for meritorious service in 1972.
3. He was the first Gaon Bura of Seru Tso village.
4. He was the first state minister from Tawang District.
5. At the age of 16, he listened to the speech of 14th Dalai Lama at Potala Palace, and his bond grew deeper. 14th Dalai Lama later visited his residence twice in the years 1997 and 2003.
6. He was very committed towards Tibetan people and people across borders, and was well-informed on Tibet's issues. In support of them, he composed the song, 'Himalayan Range Unit Tawang'.
(Visited 18 times, 1 visits today)