Meenu Thakur – Kuchipudi dance exponent from Uttar Pradesh
Meenu Thakur is a Kuchipudi dance exponent from the state of Uttar Pradesh. She established Suramya, a dance school for Kuchipudi in New Delhi 1999, and also has choreographed many productions. She is also an 'A' Graded artist of Doordarshan, and has given many performances. She, along with her troupe has performed in many prestigious dance festivals of the country, and she regularly conducts workshops and demos too. She picks socially relevant themes for her productions.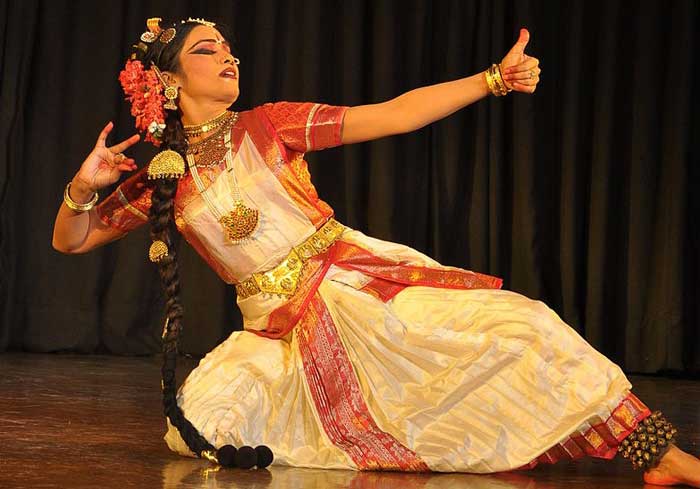 Meenu Thakur hails from Saharanpur, UP
Meenu Thakur was born on 1 July 1972 in Saharanpur. Her father is an advocate and her mother, a homemaker. Initially she trained in Kathak for 5 years and Kuchipudi, and later she fully switched on to Kuchipudi. She initially received training from Padma Bhushan Swapnasundari, Natyacharya Pasumurthy Sitaramaiya, Guru Jayaramarao and Vanashree Rao
A performing artist of silver jubilee year
As a Kuchipudi artist, she has been performing for more than 25 years in Indian and abroad, and some of her choreographed works include – Trilokarakshini (2014), Bhamakalapam in Hindi (2015), Samarpan-The Saga of Mirabai (2016), Yashodara-The Sage's Queen (2017) and Navagraha Charitam-The Power of Planets (2017). Most of her themes are based on save environment, save girl child, save culture and traditions etc. Her style represents a combination of male tradition – "Purusha Sampradaya" and its transformation to female interpretation – "Anuroopa".
Meenu Thakur – Some interesting and less-known facts
1. She is the first recipient of the prestigious Uttar Pradesh Sangeet Natak Akademi Award, the first artist from the state to receive this honour in Kuchipudi category.
2. She is the first danseuse to perform at Tihar Central Jail.
3. In 2007 she got opportunity to perform at Rashtrapati Bhavan, in front of then President of India, Dr. A.P.J. Abdul Kalam.
(Visited 21 times, 1 visits today)