P. Valsala – Acclaimed story writer of Malayalam who won the prestigious Ezhuthachan Puraskaram 2021
P. Valsala is an acclaimed writer and social activist from Kerala, best known for her fictional works in novels and short stories. She is the winner of prestigious & highest literary award of Kerala, Ezhuthachan Puraskaram in 2021, and is only the 5th woman to receive the award since its institution in 1993. She contributed 25 short story collections and 17 novels, and her novel Nizhalurangunna Vazhikal won Kerala Sahitya Akademi Award 1976. She is a recipient of Muttathu Varkey Award and C. V. Kunhiraman Memorial Sahithya Award too. Nellu, Koomankolli, Kanal & Aagneyam are her major works.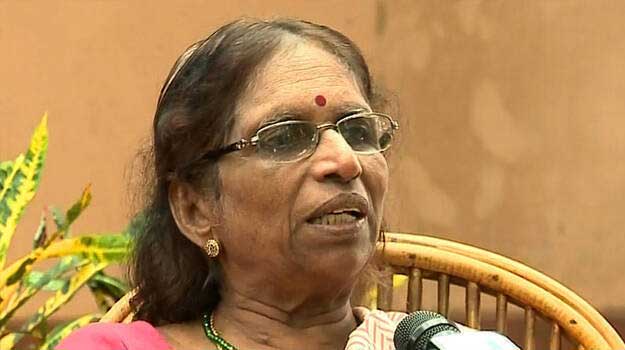 Her work 'Nellu' written in 1972 shot her to fame
P. Valsala hails from Kozhikode and was born in year 1938. She is the eldest of 6 siblings. She got drawn to books at a very young age, when one person of her neighbourhood named Balan Nair, who ran a press, used to keep books in her home for binding purposes, because to less space in his shop. Initially she read books without his knowledge. Later when he came to know about it, he allowed her to read books of her choice. She wrote first story while studying in grade 8, and she named it as 'Velliyaranjaanam'.
Thakarcha in 1969 was her first published novel. The highly acclaimed & national award-winning movie – Nellu (1974) is based on one of her works. It was based on a rejuvenating experience in Wayanad, which also won her Kumkumam Award for Best Novel in 1973. It was only her second book, published by Sahithya Pravarthaka Cooperative Society, which brought her fame and acclamation. She co-scripted the film directed by acclaimed director Ramu Kariat, and there was no turning back after that.
She started her career as a school teacher
During her younger days she was associated with PuKaSa, a left-leaning cultural movement, and later supported Hindu fascist organisations. During those days when she was attached with left movement, she met Naxalite leader Varghese in Thirunelli in 1967. Her stay in Wyanad deeply influenced her writings too. She started her professional career as a school teacher and retired as head mistress. She is currently working on a novel titled, Kilikaalam, based on childhood.
P. Valsala – Some interesting and less-known facts
1. The documentary 'Jeevitham Pole Kathakal' unfolds the journey of P. Valsala from school teacher to an acclaimed writer of modern times.
2. She was not fully satisfied by the way, her script 'Nellu' was made onscreen, though it won many accolades. Her dream is to make a film based on her novel 'Agneyam'. The character Paulose is based on Varghese, the man who loved Wyanad and its people.
3. She is a follower of Mata Amritanandamayi.
4. Kanchana (of Kanchana-Moideen love pair) is her (mom's) relative. Though she knows about the love story, she couldn't make it a novel, as she never felt to write it.
5. In her perspective, height is the main criteria of man's beauty. Her husband Appukutty is a former school teacher, and his height attracted her. They met each other when he got transferred to the school where she was working, and theirs was a love cum arranged marriage. Her only demand was to allow her to write.
(Visited 88 times, 1 visits today)