A journey to North Kerala to discover the distinct tastes of Thalassery cuisine
Thalassery is a small town on the Malabar Coast in Kannur district, famous for its wide variety of dishes and a few art forms. Thalassery also shares many moments and incidents marked in historical and cultural books of Kerala. When it comes to Thalassery cuisine, unique owns some distinct vegetarian and non-vegetarian dishes popular across Kerala. To mention a few – Thalassery Dum Biryani, Unnakkai, Thalasseri Mussels Biryani, Malabar Beef Roast, Chatti Pathiri, Ney Pathiri, Orotti Pathiri, Ney Pathiri, Kalathappam, Arikadukka, Mutta Masala, Kalmaas, Chicken Kondattam, Sulaimani tea, Kozhikaal etc. Unlike Biryanis available in other parts of the world, Thalasseri uses small sized Kaima rice (Jeerakasala) to prepare Biryani. It's applicable to Malabar as whole.
If we start a discussion about Thalassery cuisine, its taste is vast spread like ocean, and has no idea where to start. Apart from Indian variants, especially Kerala cuisine, Thalassery cuisine also takes inspirations from Mughal dishes, Arabian, Persian and also European. Let us begin with sea bridge (Kadal Paalam) of Thalassery, which was built in the ancient times for cargo transport of goods to other parts of the world. The town slowly developed in its surrounding areas. Thalassery was once a rural coastal village. The whole map changed after East Company arrived here and built a fort. With the arrival of foreigners, it turned a harbour town and commercial hub of Kerala.
Once government decided to demolish the 100-year old bridge of Thalassery, deeply linked to history and culture of Thalassery. But it faced opposition from the residents, and government changed the decision. During hot summers, many people find this bridge the best place to spend nights.
Pulivaaral, Irachi Choru and a few more Thalassery dishes
Many of their dishes are deeply linked to social life, culture, daily living as well as the nature of job. You can see many small restaurants spread across the town supplying some delicious Thalassery dishes and street food. Daily labourers may prefer Irachi Choru for breakfast, before they start their daily work. Pulivaaral is yet another popular breakfast item, made using sweet and maida.
Earlier only Thalassery traditional dishes were available in restaurants. But with the chance of time, because of stiff competitions, many restaurants have added Chinese dishes and north Indian dishes also to their menu. Now more items are available in local restaurants. Irachi Choru (meat rice) doesn't have a pleasing look similar to other Biryani dishes. But when it comes to taste, it can give stiff competition to its 'colleagues'.
Afternoon scene is filled with aroma of Thalassery snacks
In the afternoons, the whole town restaurants are busy in making snacks, to be provided for evening snacks. Thalassery owns countless special snack items, fitting to each celebration, festival and tradition. Vattipathiri, Chatti Pathiri, Kaaykrita, Unnakai, Irachipathil, Turkipathil, Pettipathil, Carrot Pola, Meenada, Mutta Mala, Flowerpot – the list of snacks is not ending here. When it comes to restaurant snack items, they prepare different items daily, and those items sold today may not be available tomorrow. Yet many of them provide at least 10 variety items daily. Alongside normal tea and coffee, Sulaimani and juices will also be available.
Thalassery is famous for mussel dishes
Ari Kadukka is one of the top mussel dishes served in Thalassery, alongside normal fry. They call it Kallumakka. To prepare Ari Kadukka, mussels are first cleaned and marinated with masala and wrapped in rice flour mixed with fresh cumin. Then they are steam cooked, and wrapped with masala once again and deep fried. The hot chilli taste of masala, along with the distinct taste of cooked mussels and rice coating makes Ari Kadukka a unique dish.
Boiled egg fried with masala, Kozhikaal etc are also part of Thalassery cuisine. Kozhikaal literally means Chicken Leg, which gives a false impulse that it's a chicken snack. But it's not the same. It's prepared from tapioca, chopped into thin French Fries like sticks. A handful of tapioca sticks is taken and dipped in batter and then fried in hot oil. Chicken Kondattam and Ney Pathiri make a unique combo dish together.
Thalassery people also prefer non-vegetarian dishes for breakfast
When most of Indians begin with vegetarian breakfasts, there is no such reservation for Thalassery people. For the same reason, both vegetarian and non-vegetarian dishes will be prepared in restaurants. Thalassery is a hub for tourists too. Earlier it was known as Tellicherry, and it was a British fort. You can still find some of its historic remains here and there. Now homestay facilities are also available in Thalassery, to attract tourists. There are a few hotels here, 60 and 90 years old, started during British rule and they have a lot of stories to tell.
Thalassery people also try weird combination of dishes
Steam cake and fish head curry, steam cake and goat head curry, steam cake and goat head fry …. You can find many such unique combination dishes in Malabar cuisine. Kerala's traditional and healthy dish – steam cake can be taken with any side dish. It goes with almost every vegetarian and non-vegetarian curry, and also fruits like banana and mangoes. Elambakka Fry, Crab Curry, Fish fry and prawns curry are a few more.
Secret recipes of a few more Thalassery dishes
Naranga Pottitherichath – A small sized lemon is cut into 4 equal parts. Take one piece and blend it in a mixer adding a small piece of pineapple, a bird's eye chilli (Kanthari Mulak), a pinch of salt and sugar for taste. Using a strainer, filter it and use it as a drink. You can also add a piece of ginger if you want.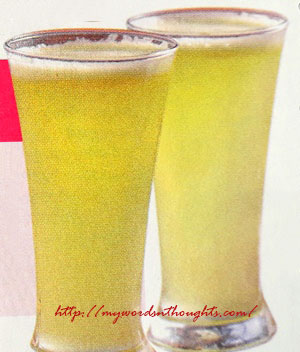 Kaaykrita – Chop two big sized Kerala bananas into small pieces. Beat an egg in a bowl. Heat a pan and add one 1 table spoon of pure ghee to it. When ghee is melted, add banana pieces, a few broken cashews, a few raisins, egg and sufficient sugar, and sauté the ingredients for a while. You can also add scrapped coconut to this dish during preparation.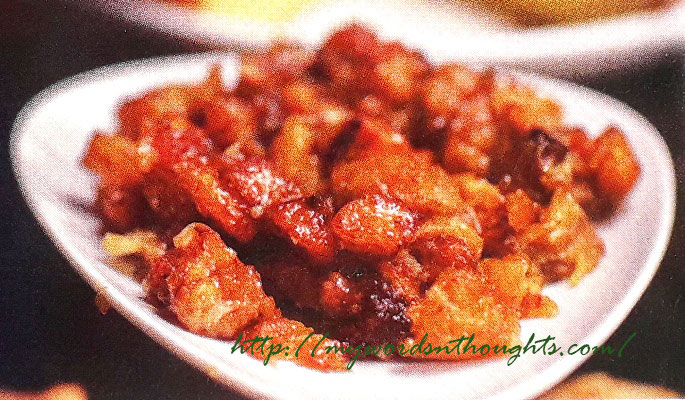 Enar Porichath – Enar means eggs of sardine fish, and it can be used to prepare many delicious dishes. Wash it first and drain excess water. Chop onions, green chillies and ginger and sauté in oil. Add ground chilli paste, turmeric power and fish eggs and mix well. Close the lid of the pan and cook in low flame. When water content is fully absorbed, add salt, a little pepper powder and curry leaves. In low flame, fry the fish eggs along with other ingredients with lid open. You can make Fish eggs fry. Masala can be prepared by mixing chilli powder, turmeric powder and salt. Marinate fish eggs with this masala and fry after sometime in hot oil.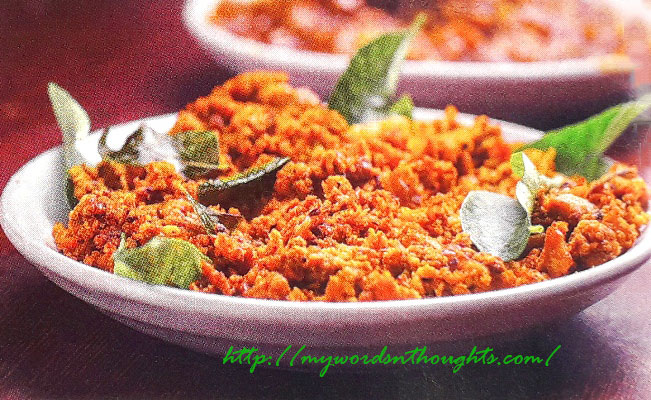 Special Steam cake (Putt) – Use parboiled rice (Puzhungalari) for this preparation. Wash rice 2-3 times to remove dirt. By that time the rice will be nicely soaked. Make a powder of this rice (never finely grind it) similar to normal Putt powder and gently soak it adding water. Assemble the rice flour like a ball and allow it to rest for a while. Before you prepare putt, add scrapped coconut and salt and mix once more.
Take a small coconut shell as measurement cup. Transfer some flour to this coconut shell and fill it. Level its surface using a tender banana leaf stem and put it inside the cylindrical puttu maker. Spread a little more grated coconut on its top, followed by one shell full of flour and grated coconut as next layers. Fill the puttu maker with alternate layers of rice flour and coconut. Steam cook the putt till steam comes out. Serve hot.
Mixed Serbat – It's Thalassery's special milkshake for summer. Boiled carrot, papaya, milk and ice cream are ground together in a mixer. Add broken almonds and pomegranate jellies to it and serve chilled.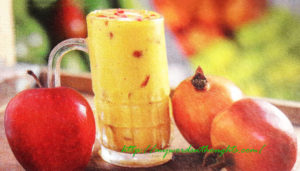 Thalassery – The land of three 'C's
Cricket, cake and circus – Thalassery is also linked with these three 'C's. When Brown Sayiv approached Mambally Bapu with a special cake, he was seeing such an 'appam' for the first time. Brown was an employee of British's East India Company, and Bapu nodded, 'Yes' for the new project. It's the first cake business started in Kerala, long back in 1880 – introduction of western style baking. Kerala's first bakery – Royal Biscuit Factory was started in 1880 by Bapu in Thalassery. First cake was made three years later. Spices and solutions used to soak fruits for cake baking were purely local, giving a Kerala touch. From there on, cake making flourished its business, and more businessmen from Kerala entered cake making.
Now Mambally Bapu's fourth generation is running bakery business in Thalassery. Still some of the biscuit items remain the same with no change of used ingredients. Milk biscuit for children made using arrowroot and barley biscuit for old people are among those, which have stood against the test of time. Cakes and bread are also still in demand. Big challenge is who will run the business after me – asks present bakery owner Prakasan. British loved one-day old bread – he says.
Also read a few more posts related to Kerala cuisine. Here is the page link. Click on the images to read
(Visited 1,228 times, 1 visits today)