R. K. Shekhar – Malayalam Music Composer & conductor (Father of A. R. Rahman)
Rajagopala Kulashekharan (1933 – 1976), shortly called R. K. Shekhar, was a music composer, conductor and arranger of 1960s and 1970s, who predominantly worked in Malayalam film industry. Remained one of the leading music arrangers and conductors of classic era, his association with music directors M.K. Arjunan and V. Dakshinamoorthy have given countless timeless classics to Malayalam cinema. Apart from it, he also composed a few memorable songs of which his debut song – Chotta muthal chudala vare of Pazzassi Raja (1964) and last song – Manasu manasinte kaathil rahasyangal manthrikkum of Chottanikkara Amma (1976) are widely regarded as his masterpieces. Famous music composer A. R. Rahman is his son, and composer-actor G.V. Prakash Kumar is his grandson.
R. K. Shekhar's association with theatre gave him entry to films
R. K. Shekhar was born into a Tamil Mudaliyar family in Tamil Nadu. His father Rajagopala Bhagavathar was a Harikathai exponent. Shekhar's wife Kasthuri is a Malayali and the couple had 4 children. He was a school dropout, who was initially an electrician, and later moved to the world of music and arts. He even worked part-time as a Bhagavatar, who composes and sings religious songs for temples.
His paternal uncle taught him harmonium, which proved to be the turning point of his career. He even taught harmonium to children in the neighbourhood. He played at Carnatic concerts in the halls of Mylapore in Chennai, during its glorious years, which opened him doors to theatre. He joined the drama troupe of R. S. Manohar as a harmonium player and earned recognition.
V. Dakshinamoorthy gave him first break to film industry
V. Dakshinamoorthy once happened to listen to his performance in theatre and hired young Shekhar as his assistant, when harmonium used to be an integral part of recording orchestras. From this great musician, Shekhar learnt the first lessons of arranging and reading music. Apart from Dakshinamoorthy, he frequently worked with leading composers, M.K. Arjunan, Raghavan Master and Baburaj. M. B. Sreenivasan was one of the early composers with whom he worked. Ever since he joined movies, he stayed in Chennai with family, till his death.
He was a true artist, extremely talented, and hence many times he used to replace some tunes with his own creations and never took credit. Also, he worked hard, spending hours, to create the background score of the songs they tuned to match its purity and standard. Though he turned an independent composer with Pazhassi Raja in 1964, he continued working as an assistant under his gurus as conductors & arrangers were high in demand those days. He worked in more than a 100 films, in different roles.
R. K. Shekhar was mostly associated with Malayalam music
The philosophical song, Chotta muthal chudala vare of his debut flick as a composer, Pazzassi Raja (1964) was immensely popular. After one more movie, Aisha, he turned back to arranging and conducting for other composers. He returned back to composing songs with 1971 movie, Anaathashilpangal. He delivered hits through Taxi Driver and a series of more than 20 films. As most of those movies failed at box office, he couldn't gain the recognition he actually deserved. Throughout his career, he overworked, he turned ill and it took away his age in his early 40s.
Thiruvabharanam, Pen Pada, Kuttichathan, Yudhabhoomi, Swimming Pool, Anadha Shilpangal, Sumangali, Akashaganga, Aradi Manninte Janmi etc some of his noted works. The title track of Aradi Manninte Janmi, Thamarapoo Nanichu Ente of Taxi driver, Neeyente Velicham of Miss Mary, Ushasso Sandhyayo Sundari of Sumangali, Aashada Maasam from Yudhhabhoomi etc are some of his popular songs.
He did his last work in deathbed, which became his masterpiece
He was undergoing treatment while he was doing his last film, Chottanikkara Amma (1976). The romantic song he composed, Manasu manasinte kaathil became an evergreen classic. No other song has recreated the magic of this song, which truly expresses the emotions of first night and consummation to this much perfection. He was 43 when he passed away, leaving his last work unfinished. His mentor M. K. Arjunan, not only arranged & recorded its songs, he also supported the family, by giving A. R. Rahman his first break, who was only 10 or 11 years old. In fact he used to take young Rahman to different studios of Chennai, to find job, and most times they faced bad experiences. At last he gave Rahman break in his own film. By that time glorious era of Arjunan Master had come to an end.
Shekhar's name can be counted among the list of immensely talented artists of Indian cinema, who didn't gain the recognition which they actually deserved, though they fully dedicated their lives to the field of art and cinema. His entire musical journey spanned only 19 years, where most of the time he spent as an assistant & arranger. His undisciplined lifestyle & food habits and overwork took away his life at a young age – says his friend and mentor, M. K. Arjunan. He died of stomach-related disease.
R. K. Shekhar – Some interesting and less-known facts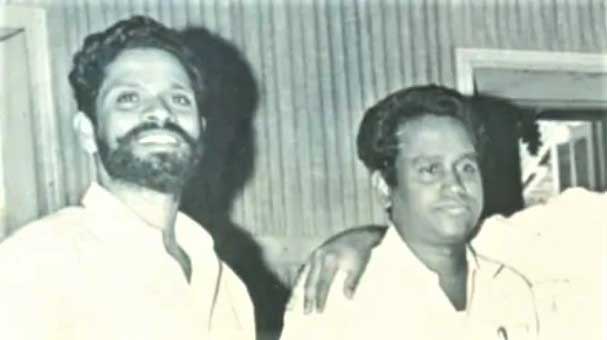 1. It was Shekhar who introduced electronic music instruments to south Indian music scene. He mostly brought them from Singapore & never allowed anyone to touch them.
2. He was so obsessed with musical instruments that he spent huge amounts to buy them. When he left world at a young age, to support family, his son Rahman used to rent those instruments to financially support the family.
3. He introduced singer Brahmananthan into Malayalam cinema, and also gave first Malayalam songs to legendary singers, Balamurali Krishna and S. P. Balasubrahmanyam.
4. He was such a wonderful artist that, while working with leading composers, he replaced some tunes with his own creations and never took credit. He simply wanted to impress the composers and was bothered about earnings, more than recognition.
5. During his busy days, he had seven or eight recordings a day. He was high in demand those days, worked with all leading composers and he hesitated to say no. Thus he worked restless, giving less importance to health.
6. He composed background score of movie, Thiruvonam.
7. Shekhar used the tune composed by young Rahman in one of the movies (now I can't recollect).
8. Unlike Rahman, he was short-tempered, who can't compromise with anything, solely because of his dedication in work. He had little patience with artists, who come late or make mistakes, and often shouted in recording sections.
9. As a music composer, he is credited with 22 movies.
10. Bharanikkavu Sivakumar who frequently worked as his lyricist has once admitted that, he was on the verge of suicide before he wrote, Manassu Manassinte Kathil song. The song earned him recognition.
11. It was Devarajan Master who introduced young Shekhar to Arjunan master. From the debut work of M. K. Arjunan – Karutha Paurnami (1968), he assisted him in all movies, till his death. Master completed Shekhar's last unfinished work, Chottanikkara Amma.
12. During his last days, even when he was seriously ill, he used to lay on bench in the recording studios, to give notations to orchestra and gave rehearsals. In and out of hospitals, he continued with his work, suffering in pain.
13. His daughter A. R. Reihana is also a composer. His grandson G. V. Prakash Kumar (son of Reihana) is married to popular playback singer, Saindhavi.
End note: Shekhar passed away when he had just begun to gain recognition in Malayalam cinema. If Shekar had lived a few more years, perhaps Malayalam cinema would have witnessed a great father-son pair like Bollywood's S. D. Burman – R. D. Burman; a big loss to Malayalam cinema. In fact, the second work of Rahman is Malayalam movie, Yoddha (1992), which was well-received, before he completely switched to other languages and earned recognition across the globe.
(Visited 166 times, 1 visits today)