Beetroot Lasagne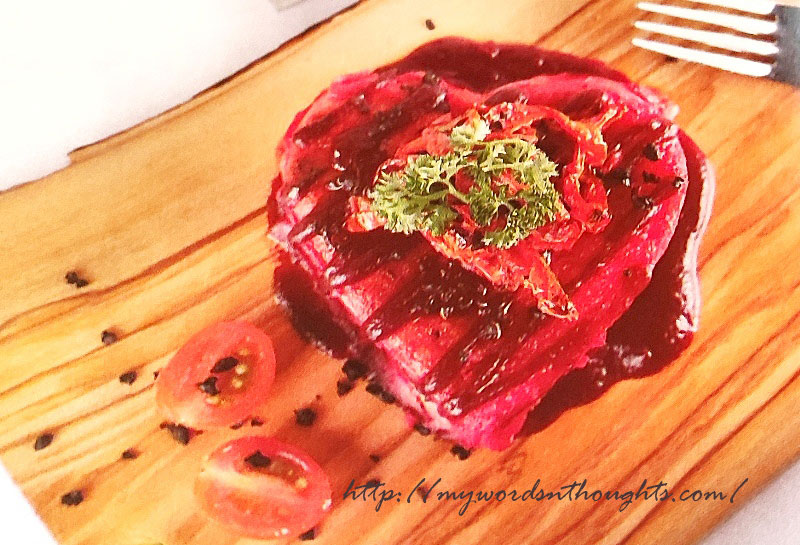 Ingredients for Beetroot Lasagne:
1. Lasagne sheet – 3
2. Cashews – 2 cup, soaked
3. Lemon juice – 2 big spoons
Salt – A small spoon
4. Basil leaves – 1 cup
Palak leaves – 2 cups
5. Olive oil – 1/3 cup
Crystal salt – 1 big spoon
6. Parmesan cheese grated – 1 cup
7. Cooked beetroot ground to a smooth paste adding salt, pepper and 50 gm butter – ½ cup
How to prepare Beetroot Lasagne?
1. Pre-heat oven in 180 degree celsious.
2. Put Lasagne sheet in boiling water for a few seconds and put off the flame.
3. After 10 minutes, strain the water content completely.
4. Smash soaked cashews (after removing water) in mixer along with ingredients no: 3.
5. Add chopped basil leaves and palak leaves and grind to a fine paste.
6. Add olive oil and salt and grind the ingredients smoothly. This is lasagne filling.
7. Grease a baking sheet and place Lasagne sheet on its top.
8. Spread filling as a layer, followed by beetroot paste and cheese, thus forming three layers.
9. Mix the remaining grated Parmesan cheese and beetroot paste and spread as the final layer.
10. Bake it in pre-heated oven for 10 minutes.
11. You can cut it into a perfect heart shape and serve on Valentine's day.
Courtesy: Vanitha Magazine, February 1-14, 2020
Also read a few more beetroot recipes. Here is the page link. Click on the images in the gallery to read.
(Visited 81 times, 1 visits today)