Semiya Pola (Vermicelli Pola)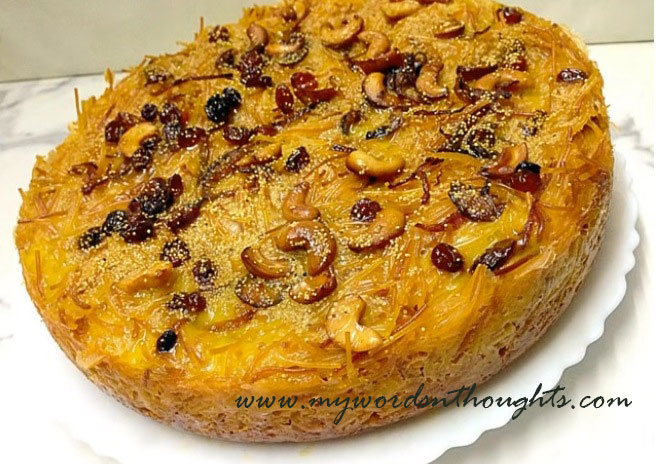 Ingredients for Semiya Pola (Vermicelli Pola):
1. Vermicelli (Semiya) – 2 cups
2. Milk – 450 milk
3. Eggs – 5
4. Sugar – 1.5 cups
5. Cardamom – 3
6. Ghee – 5 tsp
7. Cashews and raisins – 10 each
How to prepare Semiya Pola (Vermicelli Pola)?
1. Heat ghee in a pan and fry cashews and raisins.
2. Remove them from ghee and add vermicelli. Fry it for a little time.
3. Blend together egg, sugar, milk and cardamom in a mixer.
4. Place a plate in low flame and cooking pan/vessel on its top.
5. Heat 2 tsp ghee and add a little egg mixture.
6. Close the lid and cook for 2 minutes.
7. Open the lid and spread 2 spoons of fried vermicelli.
8. Add a little more egg mixture as layer two and close the lid.
9. Cook for 2 minutes and open the lid.
10. Add the second layer of vermicelli and egg mixture.
11. Continue the process till full egg mixture and vermicelli are used, thus making a few layers.
12. Finally add cashews and raisins and cook for 15 minutes.
13. Put off the flame and keep it as such till your semiya pola cools off completely.
14. Transfer your semiya pola from the pan to a plate and cut into desired shapes.
Courtesy: Grihalakshmi Magazine, December 1 – 15, 2019
Read a few more vermicelli recipes. Here is the page link. Click on the images in the gallery to read.
(Visited 183 times, 1 visits today)