A day with Raghunath Palleri – Screenwriter of "My Dear Kuttichathan" and "Melepparambil Aanveedu"
Raghunath Palleri is a well-known writer and screenwriter associated with Malayalam cinema. He turned director with 'Onnu Muthal Poojyam Vare' starring Mohanlal (in a guest role). In the recent times, he has played character roles in movies like Lalitham Sundaram, Thottappan, Kothu etc.
Palleri gave this interview to Vanitha Magazine in November 2022. I got so much impressed by his talks that I decided to post excerpts of the interview in writer's words, instead of posting as biography. The way he narrates incidents, he is a real storyteller. Hats off! To add, it's not my style of writing. So, I felt a little difficulty while writing. Please forgive the mistakes.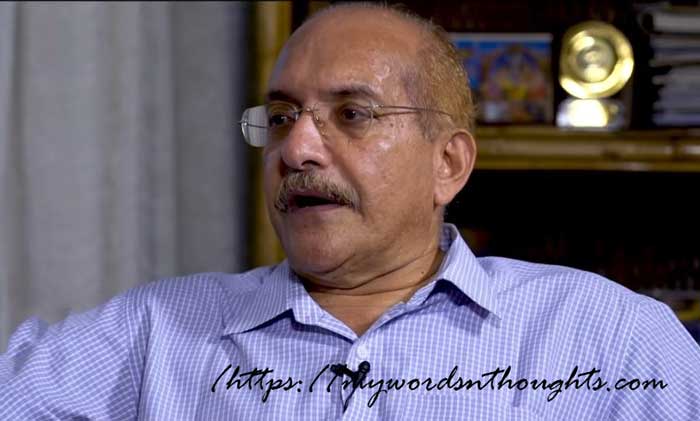 Palleri's masterpiece dialogue in Melepparambil Aanveedu
After enacting the comic scene in the movie & delivering the dialogue, "Njan Alla…. Ente Garbham Inganeyalle…" (It's not me…. My pregnancy is not like this), Jagathy Sreekumar asked Raghunath Palleri, "Raghu, from where you got this dialogue?" Raghu feels, it's the first award he got for scripting the film. It's a magic box, he only opened it.
How many master class scripts have Raghunath Palleri given to Malayalis! My Dear Kuttichathan, Mazhavil Kavadi, Ponmuttayidunna Tharaavu, Melepparambil Aanveedu and many more unforgettable films! Apart from movies, he has also contributed many books and short stories to Malayalis.
Palleri tried to take his first film on loan
Since childhood, Raghunath dreamt to become a part of cine world. He even planned to produce a film, taking loan. However his father advised him not to take that risk. That time, Nirmal, the owner of Minerva studio of Kannur approached him and asked if he can write a script.
Story was written by Shareef, who directed the movie too. The movie was titled 'Naseema' with Nedumudi Venu playing lead role and Mohanlal, a supporting role. Kannur was the shooting location. During breaks, he along with Mohanlal used to take a ride in the bicycle and drink tea from local tea shops. Though he has worked with Mohanlal many times later, those memories of the shooting location are still fresh and Palleri thanks 'Naseema' team.
Wrote a lot about parents through his works
His father, Chenal Veettil Raghavan was a lorry driver. But he loves to address his father as 'Homakundam', someone who sacrifices his life for family. Most of his trips were done to Wyanad, which were quite dangerous. When he carries goods from Kozhikode to Wyanad in his lorry aking forest route, some uninvited guests enter the vehicles – Snakes! The first job of people who unload the goods is their encounter with snakes.
Most return journeys are not happy either. Most times, he had to carry some dead body of workers, who work in the mountain ranges. Either fever or snake bite becomes the cause of death of people, who climb the mountains with dreams for a better life. But when he reaches home, he never details such unpleasant incidents. He was a good storyteller too, who gives answer to every silly question young Raghu asks.
Raghu's father used to take lottery every day, but he was never lucky to win it. Yet he never gave up this habit. When his wife asks, why to waste money, he replies, if something happens to me, you and kids may end up in poverty.
Raghu started watching films during school days. He bunks classes to watch matinee shows and finally got caught. He was punished in the school assembly. Yet he never gave up his passion for films and got caught again. Unexpectedly his father reached school and told teachers, "Let him watch films. If he loves movies that much, let him watch it". After that he was never punished. His father also never asked him to stop watching films.
When Raghunath Palleri's story got published in a magazine for the first time, his father advised him, "People will say anything (praise him). But never fall into its prey". Raghu still keeps this advice close to his heart and still holds the curiosity when a new story is published or a movie with his script is released. His father passed away after Raghu turned a prolific writer and screenwriter. It's something he cherishes, and feels lucky.
Paleri is Raghu's mother's home
Raghunath Palleri's mother Padmavathi belongs to Thrikkaripur, Paleri. If Raghu addresses his father as 'Homakundan', he calls his mom as 'Hawiss' and together they burn for the wellness of family. His finance condition was bad during his childhood days. During their bad times, nuns used to give them corn flour which his mom prepares upma. He says, he never ate so tasty upma later. To make upma his mom wanted to buy a big cast iron kadai (cheena chatti). But due to their bad financial conditions, they were not able to afford it. She told this to her neighbour Ammalu Amma who owned a big kadai.
Ammalu Amma was scared of her husband, though she wanted to give it to Padmavathi. But she did a trick so that she can give it to Padmavathi. She broke its edge slightly and placed it near house fence. While her husband was watching, young Raghu took it and gave to his mother. They used the kadai for next 20 years. Yes, moms are all same and they have love. Mother in 'Piravi' who is waiting for his son's return, or mothers portrayed in Melepparabil Aanveedu or Ponmuttayidunna Tharavu – all have good shades.
During childhood, his mom used to tell him a lot of bedtime stories. Like readymade answers of his father, fairy tales of mother too fascinated him. He has always wondered, from where both find these stories. All his story journeys start from mother and end in her. When he writes mother characters for his scripts, he remembers his mom.
In Ponmuttayidunna Tharavu, the third wife of Hajiyar portrayed by Parvathy appears in the film climax only. Yet everyone still remembers her. How can we forget the negative shaded character of Urvashi or positive shaded teacher's role of Shari in the same film, even after years? Pavizham portrayed by Shobana in Melepparabil Aanveedu, Amminikutty (portrayed by Sithara) & Anandavalli (portrayed by Urvashi) in Mazhavil Kavady…. How many memorable and unforgotten women lead characters have Palleri wrote for Malayalis!
His wife Smitha is also adorable
Entry of his wife Smitha to his life also has an interesting tale. From Nadakkavu young Raghu walked 4-5 kms to reach school. Occasionally his father gave him bus fare. It was only 10 paise that time. He gets into the bus only if the seat near to driver is empty. The driver was their family friend. When he reaches his bus stop, the bus driver often gives him torn over ticket parts left after giving recipes.
At home, there is one fallen cashew nut tree, which he makes his bus. As he has 'tickets' in hand, he becomes the bus conductor, and neighbour kids, the passengers. Years later he married that bus driver's daughter. It was an arranged marriage and the couple has two kids.
An interesting incident of his married life
On the third day of his marriage, he forgot his wife in a bus. They were travelling to Kozhikode in a private bus. When he saw his friend Gopi's house, he got down forgetting his wife in bus. His friend was not seen in the wedding. When he started walking towards Gopi's home, he suddenly remembered his wife and took an auto. But the bus was not seen anywhere. They finally reached the bus at Mananchira.
When she saw him, her eyes filled with tears and he hugged her. Seeing this, people crowded in the public place. They got into a taxi, and escaped from there. Seeing the surprised taxi driver, Raghunath replied, "She is my wife, I forgot her in the bus".
First near-to-death incident in life
While studying in second grade, an accident happened in young Raghunath's life. His mom was boiling water in a big pot and she warned him many times while he was running through kitchen. He slipped and fell down, and the pot along with boiling water fell over him. Carrying him, his father ran from one hospital to another, and finally reached Ashoka hospital where his friend Dr. Balakrishnan was working.
When the treatment began, survival chances were low. But slowly Raghu returned back to life. Raghu sees the doctor as his god, and the hospital as his temple. Yes, life teaches you a lot when you see death face to face.
His memories about Chennai city
His film dreams attracted to Chennai. But the project didn't happen. He was reluctant to return back to hometown too. He found refuge in a friend's room in Aruna Lodge of T. Nagar. He spread paper on floor to sleep. No job, no food and no money in hand. He was willing to do anything and sought job from a production manager. He introduced Raghu to a person named Karmekham, who digs pits for telephone cable work. Karmekham was living with his family, and seeing slim Raghu with spectacles, his wife said, he can't do this type of work.
He returned lodge in despair. But that evening, Karmekham came there with one day wage. Actually, his family was sad as they can't give him the job. That's why they gave him one day wage. Sometimes life is like this. Not even cinema can reach there!
"My Dear Kuttichathan" gave him the break
He is obliged to Navodaya Productions, towards Appachan and Jojo – two immensely talented personalities with a lot of ideas. "My Dear Kuttichathan" was India's first 3D film. It belongs to one among the countless dreams of Jojo. The idea and story also belong to him. (The first pan India film, it was later dubbed to different languages, and received major success too. Chotta Chethan was its Hindi version, which later had a re-release in the 1990s.)
During its music composition days by Illayairaja, he was also present with the team. Bichu Thirumala penned the lyrics. The magical tunes done by the magician are still loved by kids. "Aalipazham Perukkaan……"
Memories of "Onnu Muthal Poojyam Vare" – the movie Raghunath directed
One of his published stories in the annual edition of Malayala Manorama was later adapted to silver screen as "Onnu Muthal Poojyam Vare". It was a project of Navodaya after the dream run of My Dear Kuttichathan at box office. Most of the crew were new. It was Raghu's first film as director too. It was the debut film of Mohan Sithara as a composer and also Venugopal as a singer. But to everyone's surprised, the movie got 6 state awards that year.
Shaji. N. Karun worked as cameraman, which worked in its favour. Mohanlal made a guest appearance in the film at climax as 'Telephone Uncle'. Geetu Mohandas who played the little girl's role bagged state award for best child actress. Later he directed three more Malayalam films and one Hindi film. He fully focussed on writing after that.
Srinivasan's character in Ponmuttayidunna Tharavu was inspired from his classmate
Bhaskaran was his classmate at Nadakavu school, Kozhikode. He was a hero in the class, nicknamed 'Thattan Bhaskaran' (Goldsmith Bhaskaran). Occasionally he brings gold chains and ear rings, wrapped in pink paper, and shows to friends. He takes them away in the evening. His friends believed in colourful stories like, a lot of gold is hidden in Bhaskaran's home and they can steal at night, and make ornaments.
One day Bhaskaran brought a pair of ear rings and their classmate Malu took it. She promised she will return the next day, but didn't return. Not only that, she lied, Bhaskaran never gave her the ear rings. They searched the whole school for the gold, but didn't get. Bhaskaran's father beat him in public. Their friends including Raghu were canned by teacher, though they were innocent.
After that incident, Bhaskaran never brought gold to school. Years passed by, but the characters – Bhaskaran and Malu etched in his heart. He gave them new life as the fictional characters of Ponmuttayidunna Tharavu.
Ponmuttayidunna Tharavu – The dream project of magic trio
While he was scripting Onnu Muthal Poojyam Vare, in the next room, Sathyan Anthikad and Sreenivasan were staying. Raghu had narrated the story of his friend Bhaskaran to Sathyan, in a single line. Sathyan also enjoyed it as a good joke. Later Raghu reworked the incident as a script and that time, Sreenivasan was in his mind. He was also confident as his debut flick, Onnu Muthal Poojyam Vare was a commercial hit. He also approached a producer. He liked the script too, but was not OK with casting Sreenivasan in leading role. Instead he wanted a super star. So Raghu dropped the idea of his dream project, and got busy with Shaji. N. Karun's Piravi.
While the shooting of Piravi was going on, Sathyan Anthikad reached the film sets in search of 'the goldsmith'. Raghu had only one demand – Lead role should be played by Sreenivasan only. Sathyan agreed and they met Sreenivasan at Chennai. No doubt, Ponmuttayidunna Tharavu is an absolute masterpiece and we can't even think another actor in 'Thattaan' role except Sreeni. Its Hindi remake was made by Priyadarshan titled Dus Thola and Palleri has been credited its screenwriter.
Story of Meleparambil Aanveedu was written by Gireesh Puthenchery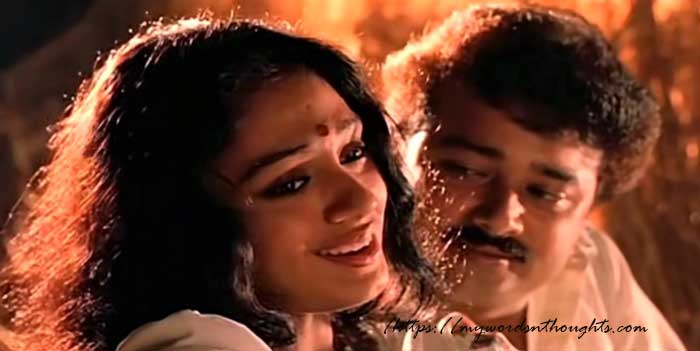 Raghunath Palleri shares a lot of memories with Malayalis' favourite lyricist Gireesh Puthenchery, who passed away at a younger age. The day he came to write songs for the movie, he asked Palleri to tell the story. At first Palleri thought, it's a joke, because Gireesh himself wrote the story. Later he realized, Gireesh for a moment forgot that he wrote the story. (Priyadarshan's blockbuster Thenmavin Kombathu was inspired from same script and Shobana played female lead in this movie too).
Quite active in social media
During childhood, friends were our everything. Now this place has been taken over by mobile phones and iPad. To see full moon sky, people are using mobile phones – what an irony! Social media is like an Althara (Banyan tree and space surrounding it). Now everything is written there. You can draw and even tell stories. But it's not serious as before. We can't fully rely on them as they are not full truths. A magical world. We see everything through filters and this trend is increasing day by day. When social media is offering you a canvas to portray anything you want, why can't you take its benefits? That's why Raghu is quite active in social media – The writer's words! Yes, thoughtful.
Both rain and lake are drenching. Both will catch cold – The writer signs off.
A brief biography about Raghunath Paleri
Raghunath Paleri is a very familiar name to Malayalis. A prolific writer, his screenplays and dialogues deeply reflect daily Malayali life and can easily relate with. His journey as a screenwriter started at the age of 24, with the film Naseema, and he tasted success after he co-scripted India's first 3D movie "My Dear Kuttichathan" with T.K. Rajeev Kumar. As a director, Onnu Muthal Poojaym Vare (1986) and Vismayam (1998) are his noted films. He mostly concentrated on writing.
As a screenwriter, Piravi, Mele parambil Aanveedu, Onnu Muthal Poojaym Vare, Mazhavil Kaavadi, Ponmuttayidunna Tharavu, Devadoothan, Vanaprastham and Kadinjool Kalyanam are regarded as classics. Ennodishtam Koodamo, Santhanagopalam, Pingami, Swaham, Sindoora Rekha, Swapna Lokathe Balabhaskaran, Ezhara Ponnana, Madhuchandralekha, Madhuranombarakattu, Ennum Nanmakal, Vadhu Doctoraanu etc are a few more works. He co-scripted a few of them.
He authored many books – Raghunath Paleriyude Kathakal, Arundhathiyude Nagarathil, Vismayam Pole, Avar Moovarum Oru Mazhavillum, Etho Rathriyude Pakal, Akasathekkoru Jalakam, Avasyamillatha Achanammamar, Orkkunnuvo En Krishnaye, Sooryagayathri, Ananda Vedam etc. In 2021, his book Avar Moovarum Oru Mazhavillum earned both Kendra and Kerala Sahitya Akademi Awards for Children's Literature.