Aval Payasam (Rice Flakes Payasam) – Recipe 2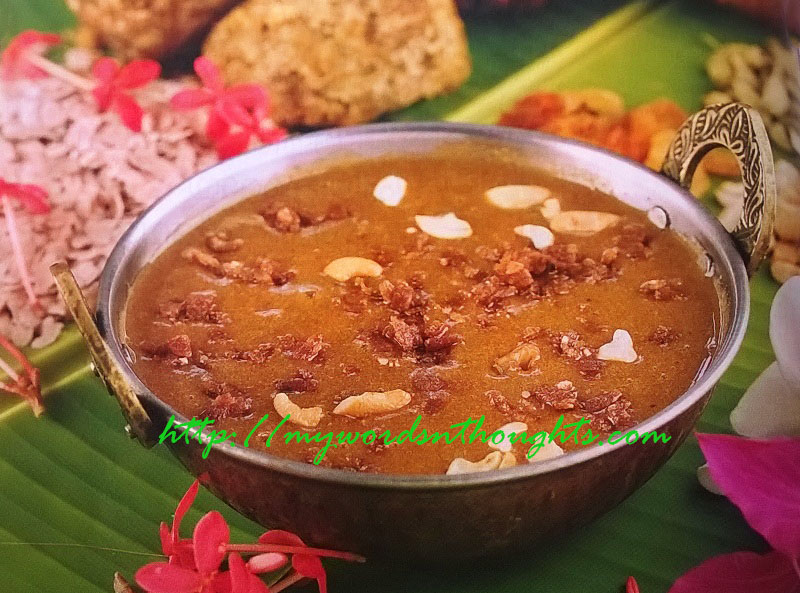 Ingredients for Aval Payasam (Rice Flakes Payasam):
1. Aval (Rice flakes) – ½ cup
2. Jaggery scrapped – ¾ cup
Water – ½ cup
3. Ghee – 1 big spoon
4. Cashews – 6
Raisins – 6
5. Water – 1 cup
6. Cardamom powder – ½ small spoon
7. Coconut milk – 1 cup
How to prepare Aval Payasam (Rice Flakes Payasam)?
1. Fry rice flakes in a pan without adding ghee or oil.
2. Add ½ cup water to jaggery, melt it and keep aside.
3. Heat ghee in a pan and fry cashews and raisins till golden brown.
4. Add 1 cup water to another pan and cook rice flakes in it.
5. When rice flakes are well cooked, add melted jaggery to it and boil for three minutes.
6. Add cardamom powder followed by coconut milk to payasam.
7. Mix the ingredients and allow your payasam to boil well.
8. When payasam thickens, take off from flame and decorate it with fried cashews and raisins.
Archive: Vanitha Magazine, September 1-14, 2016
I have added yet another Aval Payasam recipe published in Vanitha. You can refer this link.
Also read a few more payasam and pradhaman recipes. Here is the page link. Click on the images in the gallery to read.
(Visited 393 times, 1 visits today)