Sausage Rolls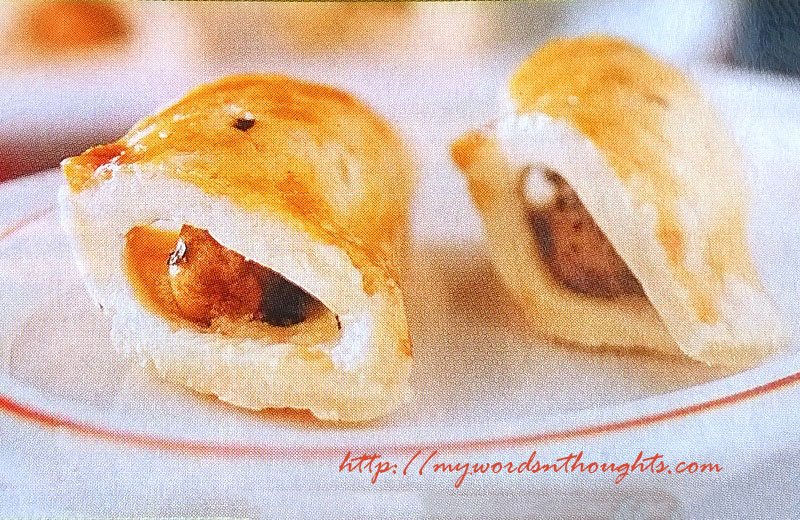 Ingredients for Sausage Rolls:
1. Oil – 1 or 2 big spoons
2. Garlic – 10 cloves
3. Sausage (small) – 20 or 30
Pepper crushed – 1 small spoon
4. Maida – 2 cups
Salt – A pinch
5. Margarine – 50 gm
6. Frozen butter cut into ¼ inch square pieces -175 gm
7. Cold water – 6 big spoons
8. Egg beaten – 1
How to prepare Sausage Rolls?
1. Heat oil and sauté onions.
2. Add sausages and pepper and fry it gently and keep aside. Sausages should turn brown.
3. Mix maida and salt and blend well.
4. Add margarine to it and mix well.
5. Add butter pieces to it and mix well till it resembles bread crumbs.
6. Sprinkle cold water and softly knead it to prepare the dough.
7. Sprinkle a little maida on a surface and roll the dough to form a ball.
8. Tightly close the dough and place in refrigerator for 1 hour.
9. Pre-heat oven in 200 degrees.
10. Spread this ball to rectangular shape and cut into 2-inch square pieces.
11. Place sausages inside each square piece and stick its ends by pressing it well.
12. You can soak your fingers in water to do so. Fold the edges and seal it well.
13. Brush the beaten eggs on each roll, and prick its surface here and there using a fork.
14. Bake them in oven for 20-30 minutes till it turns golden brown.
Vanitha Magazine 2010 March 1-14
Sausage Roll (Recipe 2)
Ingredients for Sausage Roll (Recipe 2):
1. White bread – 6 slices
2. Cheese slices – 3
3. Chicken sausage (medium) – 6
4. Egg – 1, beaten
5. Bread crumbs – As needed
6. Oil – For frying
How to prepare Sausage Roll (Recipe 2)?
1. Take each slice of bread and gently roll using chapati pin. Take extra care so that the slices won't break.
2. Place half slice piece each in the middle portion of each bread slice.
3. Place sausage at one end and roll it.
4. Using water, stick the edge.
5. Continue the process for all bread slices.
6. Dip each roll in beaten egg and wrap them using bread crumbs.
7. Heat some oil in a pan and shallow fry your sausage rolls in low flame.
8. Fry till your rolls turn golden brown.
Courtesy: Vanitha Magazine November 12-25, 2022
Also read: Sausage Chapati Roll
Read a few more snack recipes made using sausages. Click on the links to read.
(Visited 95 times, 1 visits today)