Know more about different Biryani types and interesting stories behind it
Biryani served in a small plate; it's first pressed well and made into round shape. An egg and chicken pieces are hidden inside it. Fried onions, cashews and raisins are spread on the top as decorations. If a pappad, pickle and raita are served are served as side dishes, what else would a foodie need! Biryani is available in different varieties, with vegetarian and non-vegetarian twists, with and without vegetables. Please visit my Biryani page.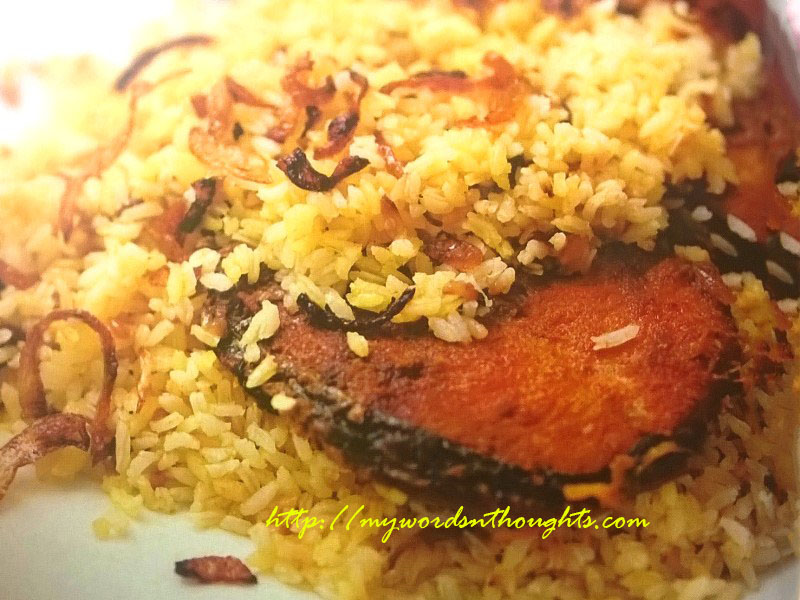 Normally Basmati rice – the ultra slim and lengthy rice variety is used for its preparation. If it's the case of Malabar/Kozhikode trademark biryani, Keema rice (Jeerakasala) which resembles cumin seeds is used. There is one special Biryani from Tamil Nadu – Dindigul Biryani, where tiny Seeraga Samba rice is used. Each and every corner shares its own Biryani types. Perhaps such different variants of Biryani may be found which shares local flavours, not just the case of India, but also in Pakistan and other countries. Needless to say, North or South, Biryani always remains one of the most favourite dishes of Indians.
Arabian travellers taught North Malabar people how to make Biryani
During ancient days, North Malabar people were familiar with rice dishes like Congee only. They were taught Biryani cuisine by Arabian travellers, who landed the coasts in ships for trade and other purposes. Normally Basmati rice is used for preparation. But when it comes to trademark Thalassery Biryani, Jeerakasala rice is used, which is small and slim. They were very much short comparing with Basmati, but own a pleasant aroma which makes them distinct among different rice varieties.
After Thalassery, the next main stop for Biryani is Kozhikode. Though both people still fight to know which variety in the best, both of them share almost similar taste. When it comes to flavours, Kozhikode Biryani has an upper hand. In both these cases, 'Dum' method is used for Biryani preparation.
Hyderabadi Biryani uses trademark Basmati rice
Hyderabadi Biryani is immensely popular across the globe, and it uses trademark Basmati rice, which is lengthy and slim. Credits go to Mughals who made Hyderabad the capital of Biryani. In the kitchen of Nizams, there was a time when 10-20 varieties of Biryanis were prepared. Hyderabadi Biryani perfectly blends Mughal flavours with Turkey and Andhra tastes, thus locking a different flavour. Here is the recipe of Hyderabadi Biryani, which follows three different stages.
Hyderabadi Biryani – Method of preparation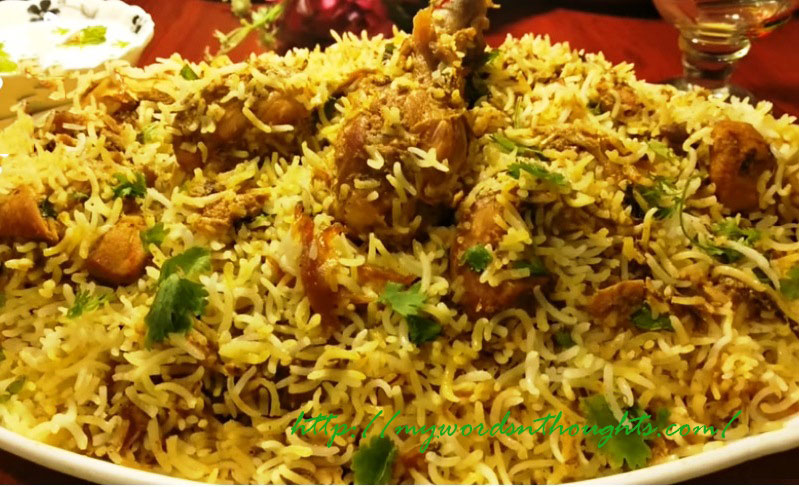 Cut 750 gm chicken into 9 equal parts and cook it adding 50 milli water, 3 pinch turmeric powder, 1 big piece of ginger crushed, 6 cloves of garlic crushed, 3 green chillies crushed, 1 big spoon chicken masala, 1 small spoon chilli powder, 2 pieces of cinnamon, 3 cloves, 3 cardamom, 4 mace and 5 pinch salt.

Separate cooked chicken pieces from gravy, and keep both aside.

Heat a thick bottomed pan. Add 50 milli ghee and when it heats, add 3 pieces of cinnamon, 3 cardamom, 3 cloves and 2 maces. When the contents are fried and colour changes, add ½ kilo biryani rice (soaked and drained) and fry for a few minutes.

Add 900 milli water and 3 pinch of salt and cook the contents with closed lid. When it's done, strain excess water.

To prepare masala, heat a small urli or pan and add 100 milli ghee. Add 3 pieces of cinnamon, 3 cloves, 3 star anise, 3 cardamon, 1 mace and ½ nutmeg crushed. Fry the contents in ghee and add 300 gm onions chopped and ¼ small spoon salt.

Sauté the contents till onions turn golden brown, and add ½ spoon ginger-garlic paste and 3 green chillies split into two. Mix the contents and add 100 gm chopped tomatoes. Stir the contents and add 2 big spoons of chicken masala powder, 2 small spoon coriander powder and 1 small spoon chilli powder. Mix the contents well.

Chop 10 gm coriander leaves and 15 gm mint leaves, and add to the above masala. Add cooked chicken pieces and sauté the contents.

Add chicken stock (left over water after cooking chicken) and boil the contents well. When gravy thickens add 50 milli sour-less curd.

Check salt and transfer chicken pieces and a little gravy to a container.

In the remaining gravy, add cooked rice and mix the contents well. Add chicken and remaining gravy to Biryani and gently mix the contents.

Crush 5 red chillies, 10 pepper seeds, 20 gm mint leaves and coriander leaves together and add to the biryani. Mix the contents well and put off the flame.

Transfer biryani to a big serving bowl and press it well. Close it tightly with a lid. Decorate biryani with chopped coriander leaves just before you serve.
Biryani originated from Persia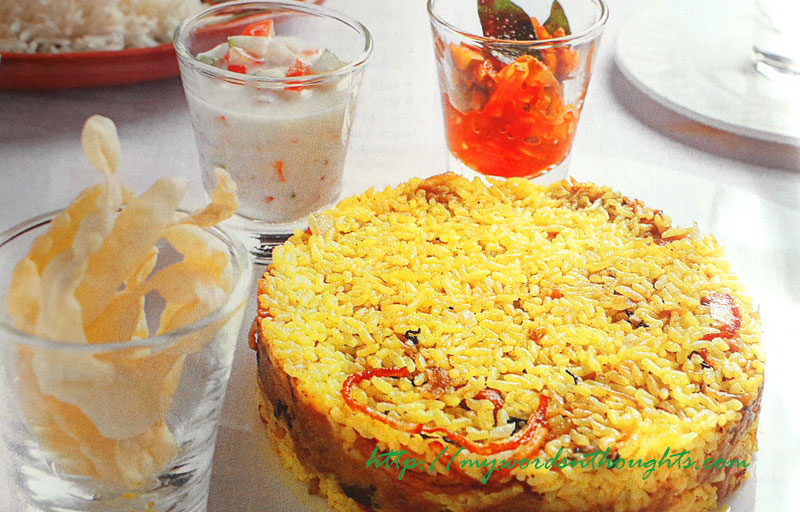 Though Biryani is popular across the globe, do you know this royal dish first originated in Persia? The name was derived from Persian word, Biriyan. Biryans can be widely classified into two. When it comes to Pakki Biryani, ingredients are already cooked (Pakki means cooked) and later mixed together. In most parts of the world Biryani is prepared this way. Kachi Biryani, which literally means raw Biryani, is the second type, where uncooked rice and meat are together used for 'Dum' process.
If you go to the capital city, Delhi you can find an array of Biryani restaurants near to Juma Masjid, where countless varieties of Biryanis are available. It is said that almost every traditional Biryani is available here. Achari Biryani is one such trademark Biryani available here. Just like its name, this Biryani is linked to pickles. Masala ingredients, used in the preparation of pickle masala are used as masala for Achari Biryani. This Biryani is super chilli hot and is high in sour taste.
Sindhi Biryani is yet another different type, which is believed to be originated in Karachi and its premises. Potatoes are given equal importance of meat in this main course dish. It's different from potato-mutton stew, quite common in Kerala Christian homes. Alongside meat, Sindhi people marinate potato pieces too, before adding to Biryani. It doesn't follow Malabar principle of Biryani making where masala is hidden inside Biryani. When you see Sindhi Biryani, first you notice is attractive colour of masala.
In Normal Biryanis, when sour-less curd is used for marinating chicken pieces, in the case of Sindhi Biryani sour curd is used. Though it's not similar to Achari Biryani in terms of ingredients and method of preparation, when it comes to sour taste and chilly flavour, both are almost the same. Here is the recipe of Sindhi Biryani.
Sindhi Biryani – Method of preparation
Heat 1.5 cups of oil in a frying pan. Slice 4 onions and fry them in hot oil till they turn golden brown. Place half quantity of fried onions in tissue paper to remove excess oil.

Clean 1 kg mutton and cut into pieces. Add 1 big spoon garam masala, 1 big spoon chilli powder, 2 big spoon coriander powder, 1 cup curd and also remaining half quantity of fried onions, and mix the contents well.

Cook mutton till it turns tender soft, and whole water content should be fully absorbed.

Add ½ kg chopped potatoes, 4 chopped tomatoes and 6 green chillies with end split to cooked mutton and cook in high flame for 5 minutes till the ingredients are well cooked. Stir continuously and then put off the flame.

Pour 12 cups of water to a big vessel and add sufficient salt also. Add 3 green chillies, 1 small spoon garam masala, 1 bundle mint leaves chopped, 1 bay leaf (Vayana Ila) and juice extracted from 4 lemons.

When water boils well, add 1 kg Basmati rice. When rice is half cooked, strain excess water and keep it aside.

In a big vessel, put rice and mutton in alternate layers. Rice should come in the uppermost layer.

Mix ¼ small spoon yellow food colour in milk and pour on the top of rice. Sprinkle the remaining half amount of fried onions on its top.

Heat a tawa and place biryani vessel on its top. Cook till Biryani is fully done. When vapours appear, reduce the flame and cook for 10-15 minutes more.

Serve hot with raitha and salads.
Fruits and nuts are used in Kashmiri Pulao in plenty
Kashmiri Pulao is a trademark dish of Kashmir, quite similar to Biryani. Its name is also interchanged and used as Kashmiri Biryani. Nuts and fruits form the main ingredients of this Biryani, and it's not intense in masala flavour. So it gives a cooling effect rather than a chilly and spicy effect of normal Biryanis. They lavishly add almonds, pista, cashews and almonds to decorate the Pulao, alongside fresh fruits like chopped pineapple pieces, apple, pomegranate etc. Chilly taste and sweetness have upper hand on masala flavours in Kashmiri Pulao.
Among all Biryani varieties, Lucknow Biryani is highly competitive comparing with Hyderabadi Biryani. It's also known by the names – Awad Biryani and Nawabi Biryani. When North Indians promote Lucknow Biryani, South Indians promote Hyderabadi Biryani. Both the variants share almost the same cooking technique. The only difference is that in the case of Lucknow Biryani, rice is cooked in the stock left after cooking meat. This stock/gravy is strained before use.
South Indian Biryanis
All the ingredients are chopped and cooked in water, and then cooked along with rice to prepare South Indian Bath recipes. Bath dish is quite common in Karnataka, which is just like a bath of different tastes and flavours. Hyderabad Biryani, Chettinad Biryani, Malabar Biryani and Ambur Biryani are some of the trademark Biryanis of south India.
Dhonnai Biryani is available as street food in Bangalore, and is high in demand. This biryani is filled in spathe plates and distributed. Preparation method almost remains the same. However there is slight difference in the ingredients. Mint and fenugreek have upper hand comparing with other taste flavours. Though it's best known as a street food, because of its high demand, now it has become a menu of five star hotels too.
Similar street food varieties of Biryani are available in plenty in Tamil Nadu. Apart from cheap variants like mutton, egg, beef and chicken, combination biryani varieties served aside egg soup and fried chicken leg are also high in demand.
Ambur is a small rural village near Bangalore-Chennai National Highway. This village is now known to the outer world because of one trademark Biryani known as Ambur Biryani. Thanks to Mughals. When Mughal taste married Tamil Nadu taste, Ambur Biryani was born. It's very colourful and spicy, with high content of masala and chillies. It's very tasty too. Trademark Ambur Biryani is deep yellow in colour and rice and meat pieces are mixed well during its preparation. Eggplant cooked and crushed masala curry add extra spices to your spicy Ambur Biryani.
Tamil Nadu is mostly linked to Idli, Sambar and Thair Sadam. But if you have tasted Thalappakatti Biryani at least once, you will change your opinion. The chain started at Dindigul is now very famous. Only high quality ingredients are chosen for its preparation, and that's why it stands out. Ghee used for its preparation is Vettu Ney. The restaurateur who opened this shop used to wear a turban, and that's how this Biryani got the name, Thalappakatti Biryani. The brand slowly gained popularity and started restaurants in different towns of Tamil Nadu, thus expanding the chain.
Thalappakatti Biryani – Method of preparation
Wash ½ kg mutton and cut into pieces.

Add ½ small spoon salt, ½ small spoon turmeric powder, 1small spoon castor oil and ½ small spoon chilli powder to mutton and pressure cook it for 4-5 whistles.

When it's done, separate mutton pieces from gravy.

Soak 2 cups of basmati rice in water for 5-10 minutes and strain the water content.

Chop into small pieces – 2 onions, 2 tomatoes, 1 small piece ginger, 4-5 garlic cloves, 3-4 green chillies, 1 cup coriander leaves and mint leaves.

Blend once in a mixer – mint leaves, ginger, garlic and green chillies.

Add onions to it and grind for 1 minute more. Never add water at any stage.

Heat a big pressure pan, and add 5-6 big spoons of oil and 1 big spoon of ghee.

When the oil turns hot, add a bay leaf (Vayana Ila), 1 small spoon cumin, 2 pieces of cinnamon, 2 cardamom and 3 cloves and sauté the contents.

When the ingredients sputter, add chopped coriander leaves and sauté for a few seconds. Add ground onion paste to it and sauté in low flame for a few minutes till raw smell goes out.

Add chopped tomatoes and salt, and sauté the contents in low flame for 6-8 minutes.

When a thin layer of oil appears on the surface, add 1 small spoon chilli powder and 1.5 small spoon garam masala powder, and sauté for 2 more minutes.

Add ¼ cup less-sour curd to the sautéd ingredients and mix well.

Add cooked mutton pieces along with ½ cup water (separated from cooked mutton) and boil the contents for 3-4 minutes.

Add soaked rice and 3.5 cups of water and stir the contents well.

Check salt and sour taste, and close the pan. Cook in high flame till first whistle comes out. Reduce the flame and cook for 6-7 minutes.

When the pressure drops to zero, open the pressure cooker and gently stir the biryani.

Decorate with coriander leaves and serve hot with raita.
B For Biryani
Is Biryani available in Indian subcontinent and Arab nations only? Arabs taught us how to prepare Malabar biryani. China owns fried rice, which is almost similar to Indian Pulao. Read: Differences between fried rice and Biryani. Spanish Paella also owns some kind of similarities with Biryani. Non-vegetarian ingredients such as fish or meat if mixed with cooked rice forms Spanish Paella, which is somewhat a variant of Biryani. Italian delicacy Risotto, almost similar to watery Congee also has some kind of similarities.
When Sikhs migrated from India to London, they took the recipes of Indian Biryanis along with them. Whatever left behind was taken to Britain by Pakistanis. Though Indian subcontinent is known for trademark spicy dishes, when it reached Britain spices were reduced to please British. Thus Biryani owns fans in Britain too.
Though soul of Biryani lies in the chicken and mutton pieces hidden inside cooked rice, vegetarian varieties are also available. Vegetarians always prefer such varieties, and same is the case of health conscious people who want to stay away from fat and spices. Paneer Biryani, Lotus stem Biryani, Mixed Vegetable Biryani, Green Peas Biryani, Corn Biryani etc. Needless to say, you can prepare wide range of Biryanis from eatable vegetables of your choice, just mix them with cooked rice (similar to fried rice). Fish and prawn varieties of Biryani are equally popular.
Aroma, balance of spices and correct cooking of rice where rice grains deny sticking to one another – these three factors form the basics of a good Biryani. When all these factors are of perfect match, your Biryani tastes perfect. You can do any type of experiment with Biryani, either with spices or ingredients used. Yet these three basic rules are to be followed to get a trademark Biryani. You can also follow these steps to make your Biryani tastier. Click on the link.
Bhatkal Biryani – Method of preparation
Use mutton or chicken pieces for its preparation. You can also substitute it with 1 kg minced mutton (along with bones) for this preparation.

Pre-heat oven in 300 degree celsious.

Heat sufficient oil and sauté 1 kg sliced onions.

Add 25-30 green chillies, 2 spoon garlic paste, 2 spoon ginger paste, 300 gm tomato chopped, chopped mint leaves and coriander leaves and 1 small spoon of garam masala to onions and sauté again.

Extract lemon juice from two lemons and add to the above gravy, and add meat pieces and salt. Sauté the ingredients for a few more minutes and cook it well adding sufficient water.

When it's done, it should have a little gravy.

Heat 3 big spoons of ghee in a pan and fry 1 kg Kaima rice. Add double quantity of water (in the proportion 1 glass rice: 2 glass water), salt, 3-inch piece cinnamon, 4 cloves and 4 cardamoms and mix well. Cook rice till it is half done, and strain excess water.

Put a layer of rice in a vessel and sprinkle some chopped mint leaves and coriander leaves. Spread chicken/mutton pieces on its top. Spread rice and then meat and finally rice as a few layers.

Seal the container and bake it for 45 minutes in pre-heated oven at 300 degree Fahrenheit.
Also read a few Biryani recipes:
(Visited 429 times, 1 visits today)