Do you know the interesting story of Kerala's own Sulaimani?
Sulaimani has a story to tell. It's the love story of black tea and lemon and their union. Sulaimani is a derivative of normal black tea. It's the 'official drink' of many politicians known for their high octave slogans and fights, and mostly associated with Malabar regions. It is an excellent drink for students who study overnight for exam preparations. Most frequently black tea is called Sulaimani in Malabar. But in Kozhikode restaurants, black tea with lemon juice added is given the name, Sulaimani. Also read about a few tea facts.
From an ordinary black tea to royal Sulaimani – When did the love blossom between black tea and lemon? When did black tea change to everyone's Sulaimani? Here is the story.
How 'Sulaimani' was coined?
Sulaimani is most popular in Malabar regions and Muslim communities. In Malabar regions, normal black tea is also known as Sulaimani. When lemon juice is added, it turns a delightful drink. But till now, there is no clear idea how the word Sulaimani was coined. This drink was provided in the court of ruler Solomon. That may be a reason. During early days, Sulaimani had some colours of traditions used for traditions such as Moulood of Muslims. Slowly it reached marriage functions and other parties.
There is yet another popular tale related to Sulaimani. Tea reached Qatar from Sri Lanka, which was earlier known as Ceylon. As it reached from Ceylon, many Arabians called Ceyloni. When it reached Malabar regions of Kerala through Muslims, they might have chanced to 'Sulaimani'. This story looks believable.
During early days, certain food items were closely related to several religious activities and functions. For instance, Payasam/Pradhaman is related to Hindu functions. Ice creams and desserts are served in Christian functions. For Muslim marriages, Sulaimani was given after biryani. During older days they never distributed desserts after meals for marriages. For the same reason, Sulaimani is closely linked with the social life of Muslim communities, and now also believed to be a drink of Muslims. But nowadays it's equally loved by all communities, irrespective of religion followed. Sulaimani has close links with Malayalam culture and literature also.
Let us begin with a cup of tea
Kerala's Sulaimani has age only below 185 years. In 1832 a British named Dr. Christy who reached south India planted tea garden in Nilgiris. Gradually, many blank hills of Munnar were occupied with tea gardens to avoid chillness. Before tea reached Kerala, Coriander coffee was popular among Malayalis made using dried ginger and coriander seeds. Tea was not accepted by Malayalis easily, for whom coriander coffee with slight chilli taste was still the hot favourite. Later Christy distributed tea in free among the locals to popularize tea. Thus free tea was distributed in Maananchira Maidan and Thrissur Round. C. Achutha Menon has mentioned about tea distribution in Thrissur in his famous book.
Marriages and Ghazals linked to Sulaimani in Malabar region
Biryani is served in Muslim marriages of Kozhikode regions. Sulaimani is served as drink aside biryani for marriage functions. Many big quarrels end in a cup of Sulaimani, served after biryani in local marriages. Sulaimani is also linked to Ghazal concerts.
During old days, big buildings were built for panchayats, old derivate of clubs. Musical concerts were arranged at night to lighten the moments of traders. Ghazals were quite common. Concerts of Baburaj and Kozhikode Abdul Khadar were quite common in those glorious yesterdays, the period soon after Indian independence, say in the 1950s and 1960s. Sulaimani was served in crystal glasses on such music concerts. In the get-togethers of artists, Sulaimani was frequently served in Kozhikode.
The Servile of Sulaimani
Vaikkom Mohammed Basheer is the 'brand ambassador' of Sulaimani in Malayalam literature, who popularized the drink and the word, Sulaimani among Malayalis. Sulaimani was his hot favourite, and he became a servile of this drink in the 1970s. He always carried a flask of Sulaimani with him while at home, and drink half cup frequently. It is simple black tea without lemon added. In his stories, Sulaimani often appears as a character in written conversations.
Sulaimani and Lemon tea
Very often Sulaimani and Lemon tea are used interchanged. What's the difference between two? In old Kozhikode restaurants, if you ask Sulaimani, you will get light black tea. Lemon tea turns Sulamini when you reach the border of Malabar. Many restaurateurs have interchanged Sulaimani and Lemon tea in Malabar regions as well. Same is the case of social media.
Sulaimani can be tagged as the 'Karanavar', while lemon tea, mint tea, masala tea and cardamom tea the new members of the family. Boil water and add crushed cardamom and prepare black tea or normal tea – It is cardamom tea. Masala tea is prepared adding cinnamon, cardamom and cloves.
Sulaimani for obesity problems and good digestion
Why a glass of Sulaimani is taken after biryani? Is black tea good for health? Can lemon tea reduce body weight?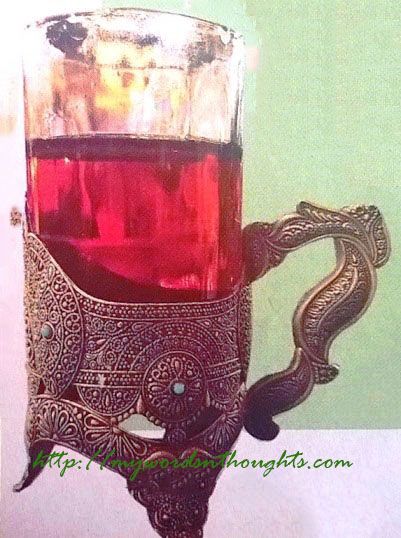 A cup of tea with ginger or lemon juice added is good for digestion. It increases the metabolic rate of body. That means it increases the energy level of body. It also has the magic power to cure ulcers and wounds in stomach. But always add only less quantity of sugar while preparing Sulaimani. Then only it reduces body weight. Lemon juice and tea are also factors which help to reduce body weight.
When metabolic rate increases, more energy will be spent. That's why it helps to reduce obesity. Serving it in a single doze in the mornings won't do the purpose. Instead you need to drink Sulaimani at regular intervals. It also increases the immunity power of the body. Vitamin C present in lemon is behind this process.
Theobromine and theophylline – two factors present in tea help to relax blood vessels. In short Sulaimani refreshes our health.
Sulaimani's sibling who resides in Arabia
In Arabian countries, Sulaimani is not prepared by adding lemon juice or sugar. The traditionally prepared black tea is called Kahwah in these regions. Kahwah is also available in Malabar regions, locally called Kaawa. In some regions of Kuttichira, milk is added to Kaawa, and this drink is known by the name, Paalkaawaa, which means Milk Kahwah.
Kaawa is a herbal drink made by adding dry ginger, pepper etc. This drink has some significance, and is related to certain customs like Kaathu Kuthu (piercing ears). During such religious occasions, Kaawa is distributed. Arabian Kahwah and Malabar's Kaawa are entirely different drinks, and taste different. There is a procedure to sprinkle dry ginger/pepper powder in tea or coffee. It's also decorated with shallots fried in ghee, and is sweet in taste. But beyond seas, this drink is not sweet at all!
Recipe for a new-gen Sulaimani
I have told a lot about Sulaimani. Can we prepare Sulaimani in variety tastes? This column is incomplete without giving at least one recipe of Sulaimani and here it is. Before I conclude, let me give the recipe of Orange – Tea Serenade.
Ingredients for Orange – Tea Serenade:
1. Water – 1 cup
2. Tea bag with lemon flavour – 1
Sugar – 1 big spoon
3. Water – ½ cup
Cinnamon – 2-inch piece
Cloves – 4
4. Tea bag with lemon flavour – 1
5. Orange juice – 2 cups
Orange – Tea Serenade Method of preparation:
1. Boil water and add sugar. Place tea bag in it.
2. Allow it to cool.
3. Pour the tea to ice tray and freeze it by placing in refrigerator.
4. Boil ingredients no: 4 and put a tea bag in it.
5. When it cools, add orange juice to it and also check its sweetness.
6. Take a serving juice glass and fill ¼ part of it with ice cubes.
7. Pour tea-orange mixture on its top.
8. You can decorate with mint and orange pieces and serve chilled.
Courtesy: Vanitha Magazine
(Visited 1,167 times, 1 visits today)