White Gourd Moloshyam
It's a traditional and simple vegetarian curry used as side dish of rice. It contains chilli, sour, salt and other tastes only in mild quantities. That's the specialty of this dish. Both red chillies and green chillies can be used for its chilli flavour. You can use pumpkin, banana, white gourd or yam which grows in your courtyard to prepare tasty Moloshyam dishes. You can read yet another Moloshyam recipe here.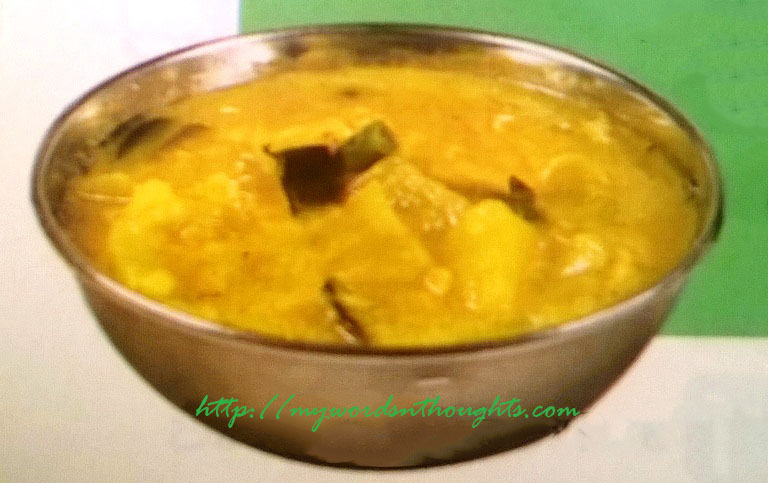 Ingredients for White Gourd Moloshyam:
1. Toor daal (Pigeon peas) – ½ cup
Turmeric powder – A little
2. White gourd cut into square pieces – 1 cup
Green chillies – 4, split into two
3. Coconut scrapped – ½ cup
Cumin seeds – A pinch
4. Coconut oil – ¼ small spoon
Curry leaves – To decorate
Method of preparation of White Gourd Moloshyam:
1. Cook daal adding a little turmeric powder and sufficient water.
2. Cook separately white gourd pieces and green chillies, and add to cooked daal.
3. Allow it to boil well.
4. Make a fine paste of coconut and cumin seeds and add to cooked vegetables and daal.
5. Cook for 1 minute and take off from flame.
6. Pour ¼ small spoon of coconut oil and decorate with curry leaves.
7. Your Moloshyam is ready.
Note: You can prepare Moloshyam without adding coconut paste. You can also substitute green chillies with black pepper.
Courtesy: Vanitha Magazine August 15-31, 2017
You can read a few more vegetarian curry recipes here. Click on the images in the gallery to read.
(Visited 289 times, 1 visits today)