Do you know the story of circus in Kerala?
Keeleri Kunjikannan is known as the father of Kerala Circus. He is only the second Indian and first Keralite to start a circus company. He was a professional trainer of martial arts and gymnastics. He trained martial arts from Ramunni Gurukkal, the disciple of Kelukutti Kurup from Kovilkandi. Once he happened to watch Great Indian Circus – India's first circus, and grew interest in this field. He started a circus training centre at Pulambil region. In 1884, he watched a European circus in Chennai. He could draw strong lines between Indian martial arts and circus, and many ideas were born in his mind. In 1887, he watched Chhatros circus in Thalassery. The meeting between Keeleri and the authorities of Chhatros circus gave some historic moments to Kerala's circus.
In 1901 he started a circus school at Chirakkara, where he trained many people. On February 4, 1904 his group gave the first public performance at a paddy field in Chirakkara. That's how circus was born in Kerala. This group later came to be known as Pariyali's Malabar Grand Circus. Apart from using animals, his troupe gave importance to martial arts. Kunnathu Yesoda was the only female performer of Kerala's first circus.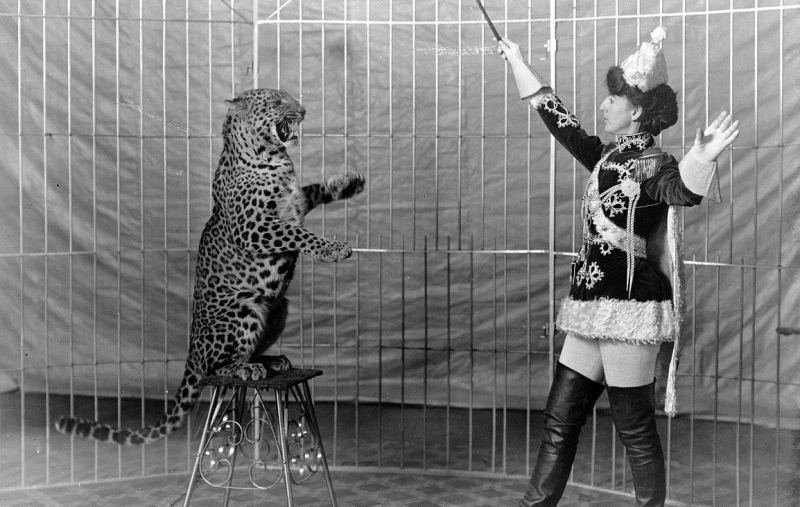 After the death of Keeleri Kunjikannan in 1939, his legacy was continued by his disciples. Kerala's first circus company Malabar Grand Circus was started by one of his disciples, Pariyali Kannan which was a great success.
Other prominent figures associated with Kerala's circus history
Gemini Shankaran, Chandran Kodiyeri, Savithri, writer Sreedharan Champaad etc are some of the legends associated with the history of Kerala circus, who gave significant contributions to this field. There is a story of how Moorkoth Vengakandi Shankaran became Gemini Shankaran. He entered the world of circus in the 1950s as a trapeze artist. He became a partner of Gemini circus and very soon the glorious era of Gemini Circus was born. He is 93 years old now, and still serves as the main source of energy for his team.
Gopinath Muthukad – The prominent magician from Kerala at present times
Gopinath Muthukad is a well-known name associated with magic, and has achieved a celebrity status among his fans. He started Magic planet in Thiruvananthapuram in 2014 – world's first magic theme park, which gives some delightful and spectacular visuals for kids, apart from magic. It combines some elements of circus as well.
Now a brief note of the world of circus
Philip Astley (1742-1814) is known as the father of modern circus. A carpenter by profession, he was an expert in horse riding too. In the brief intervals of circus performances, he included some brilliant and entertaining performances of local artists. He also introduced many items to circus such as rope dancing, juggling etc. In 1777, his troupe gave the first public performance in Astley's Amphitheatre, a riding school that Astley founded in London. Prior to it, he invented the circus ring in 1768.
In the early 19th century, travelling circus gained popularity in America. The artists performed in theatres made of wood those days. In 1825, canvas tents were born. In the 1870s plastic tents also came into existence. In 1836, a British horse rider Thomas Cook on a visit to US got attracted with this art, and later established travelling circus in Britain – Cooked Royal Circus.
Wild animals were introduced to this art form in Germany in the year 1831. A French trainer Henry Martin appeared in a cage aside tiger while he was performing here. Later Isaac A. Van Amburgh surprised the spectators by placing his head inside the mouth of a lion. Very soon many new guests reached circus ring – Bear, horse, dog, cat, elephant, hippopotamus, giraffe and parrots. In the second half of 1850s, it received protests from several animal lovers, and very soon use of animals in circus was banned by British in 1989. Many other countries also accepted it later.
Read a few articles related to Kerala art, traditional music and dance forms followed since many decades and centuries. Here is the page link. Click on the images in the gallery to read
(Visited 717 times, 1 visits today)