Major Onam Sports associated with Cultural Capital of Kerala
Onam – The Cultural Capital of Kerala has also its own way to celebrate this season. If State capital is famous for Tourism week, live stage shows and lighting festival to promote the event, cultural capital deserves a position in tourism map of Kerala for promoting several traditional folk forms and sports. Apart from several folk art forms like Kaduvakali (Puli Kali) and Kummatti Kali, several annual sports are also associated with the season in Thrissur. Since commence of the month Chingam, preparation of Onam celebrations already starts, and many residents' associations and local people arrange several Onakkalikal to celebrate the event. Though many of them have disappeared even from the memories of Keralities, a few of them are still alive to cheer sporting spirit of Keralites.
Kalamadi (breaking pots by closed eyes), Sundarikk Pottukuth (placing bindi on woman's picture by closed eyes) and Vadam Vali (tug of war using rope between two groups) are some of the common sports played across Kerala, and would you like to know about those sports associated with Thrissur? Though many of native sports have lost their glorious age, and many have already vanished from scene, a few local sports are annually played in the outskirts of Thrissur main town, and enjoyed by many. Onathallu of Kunnamkulam, Pakida Kali of Kalamatra and Anchery, Thayamkali of Kandanassery and Jalolsavam are best instances of fun giving Onam sports in rural Thrissur.
Onathallu or Kayyankali of Kunnamkulam
Since childhood I have heard about Onathallu, and we often use this word in a comic way to tell something about Onam. Do you want Onathallu as Onam present – it's a common joke among Keralities? Onathallu means clash or beating during Onam season, and as kids we imagine something to be a quarrel or dispute, may between two groups of people. Actually it's a local sport played during Onam season in a few places of which Kannamkulam deserves a special mention. This village is around 15 kms away from Thrissur main town and now a densely populated area.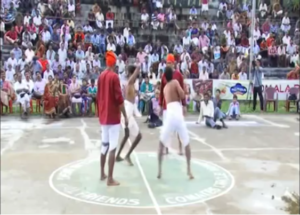 Onathallu is also known by the name Kayyankali and Onappada, and it is one of the oldest Onam sports of Kerala. As it is related to Onam festival and played during this season, it's commonly referred to as Onathallu (Onam beatings). As per rules, only open hand can be used to beat or prevent the opponent. Only two participants play the event, and there will be three or four referees known by the local name – Chayikkaran. A participant can never use fist or legs to fight, and if he breaks rules referee will look after it, similar to a wresting or boxing match. He should spread hands to beat his opponent, and that's how Onathallu sport is played.
In Kunnamkulam, they have two teams – Vadakkan Cheri and Thekkan Cheri. The match field is called Aattakalam, with 14 metre width. Before the fight, the contestants greet their gurus with folded hands to seek blessings and similar to other fighting events, they greet opponents also. This procedure is called 'Cheri Kumbiduka' – which literally means greeting the opponent team. Like many traditional sports, their costumes are similar to Kerala martial arts where they wear dhoti is a distinct style.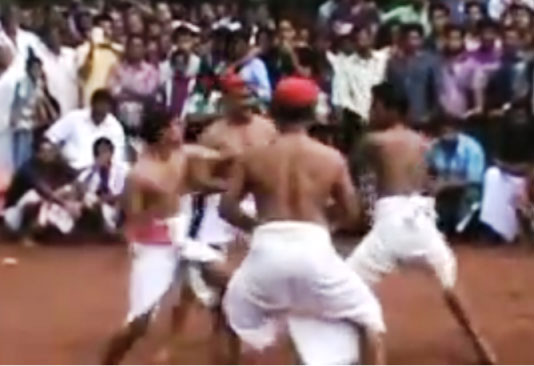 When the game starts, a contestant from the group enters Aattakalam (similar to a kabadi game) and challenges his opponent team with shouts and cheers. A person of equal strength from the other team also enters the aattakalam. Both shout using the sporting term, Hayyathada, jump high and reach the ground after touching the kalam with hand (as a symbol of respect to the aattakalam where they are to fight).

Then they turn face to face and clasp hands, together lift the hands up with strength and bring them down to start the game.
The spectators encourage their favourites using shouts and praises, and the atmosphere turns tense as time passes by. The contestant is called 'Thallukaran' in local terms, and a good thallukaran is someone who is able to receive zero or less number of hand beatings from his opponent.
Though the game is organized in Kunnamkulam, there are no gurus or contestants in this village. Contestants reach from Vettikkaattiri, Thaazhapra, Pazhampalakode etc. C. V. Chinnan, Mathew Chemmannur, C. K. Jose and Jimmi Aikkuru are some of the famous contestants right now. In 2016 Onam, Onathallu is conducted at Jawahar Stadium on 15thand 16th September. This year sports like Karate and Kung Fu will also be displayed.
Jalolsavam of Kandassankadavu
Boat race is the highlight of Onam season and it has gained popularity over the years. Boat races are conducted in the famous lakes across Kerala, and in Thrissur, Jalolsavam of Kandassankadavu is most famous. "O Thithithaara Thithithai Thithai Thaka They They Thom" is a trademark slogan of boat races of Kerala. Boat songs and boat dishes are also equally famous. Jalolsavam means festival of water.
The inauguration (kodiyettam) of Jalolsavam is conducted on Atham star, exactly on the same day when Pookalam festival begins, and on the tenth day – Thiruvonam, the famous boat race competition is conducted. The longest boats known by the name – Chundan Vallam, and also Churulam Vallam participate in the race. Vallam means Boat in Malayalam language. For Jalolsavam 2016, six Chundan boats are participating. 25 Churulam boats and also 20 Nadan Vallam (normal boats) in Iruttukuthi category are participating this year.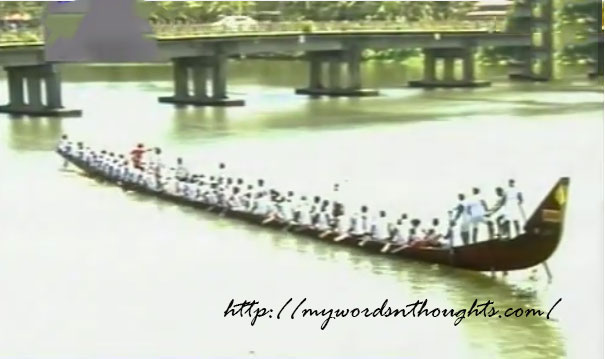 Originally started in 1955, Kandassankadavu Jalolsavam got place in the tourist map of Kerala in the year 1982. The famous race was stopped for a period due to financial issues and restarted in 2011 with the support of state government. In 2015 its name was promoted to Chief Minister's trophy. It's called Chief Minister's Ever Rolling Trophy. About 50 lakh rupees are spent to bring the boats from Alappuzha.
This year 2016, preparations have already begun. Track works for boat races have already started and there are three tracks this time. It's the only Jalolsavam of Thrissur district where lengthy Chundan boats participate. Apart from boat race competition, competitions of water floats and swimming across Canoli Canal are other highlights this year. Nadan Vallam competitions for Iruttukuthind and Churulam categories are arranged by local boat clubs. This year new pavilion has also been constructed at the cost of 1 crore rupees.
Thrissur is also associated with a few more boat races, though as not popular as Kandassankadavu Jalolsavam. Pavaratti Kundukadavu Jalolsavam, Theeram Jalolsavam, Muttichur Jalolsavam, Enaamakkal Jalolsavam of Vengidangu etc are a few more. Yet Chundam Vellam participates only in Kandassankadavu Jalolsavam. Boat race inauguration takes place at 2 pm on Thiruvonam day, and people can enjoy this world famous water sport after taking delicious Kerala sadya.
Onakkali – A rarely seen sport
It was a time when people irrespective of gender and age used to participate in Onakkali. Similar to Kerala's traditional Kaikottikali, Onakkali is also done by clapping hands and putting footsteps in rhythm. Though not a commonly seen sport, it is conducted in a few places.
Tigers play Onam on 4thDay
Among all Onam sports of Thrissur, Pulikali, also known as Kaduvakali is most famous. Pulikali is equally famous as Thrissur Pooram, for which cultural capital is known for. Men disguised as tigers, leopards and hunters conquer all major streets leading to Swaraj round on the 4th Onam; that means Uthrathati day this year. To the vigour drum beats, people wearing tiger masks and body painted with tiger faces dance entertaining everyone. To read more,
go through the link
.
The tigers circumvallate Thrissur round after breaking coconuts at Ganapati temple of Naduvilal. Several floats also form colourful display for the season. Last year (2015) there were 8 teams with 50 tigers each apart from two floats for each team. Each team also included 35 artists to play chendamelam thus comprising of 100 people for each group. Chathunni is the senior among all Puli (Tiger) artists. He started wearing the mask at the age of 16 and completed his 60 years in this field last year.
Kummattis with colourful masks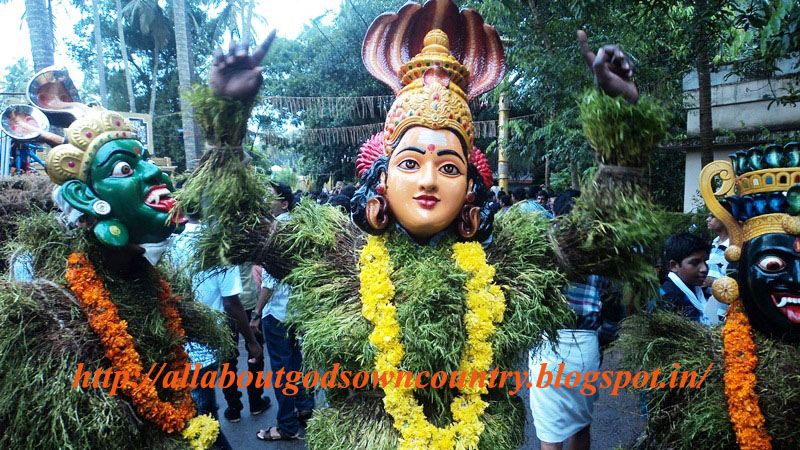 Pulikali
and
Kummattikali
are the most popular Onam sports associated with Thrissur. Kummattikali is strictly a residential sport, restricted to each desam (locality). Read more to know about
Kummattis of Thrissur
.
This year Kummattis will appear on streets on 13, 14 and 15th September at different locations. Click here to know
the schedule this year
–
2016.
Pakida Pakida Pandrand
Pakida is a sport of dice associated with Onam season. It's a folk game belonging to residents of Anchery in Thrissur district.

For the past 12 years Pakida Kali is an integral part of Onam celebrations of Anchery residents, and it commences on Thiruvonam day. This highly enjoyable sport continues till the month of December. Sometimes a single game may take 2-3 days to end.
As this interesting play may take long time to end, the participants may sit for long hours without break or sleep, and they sit on foot like athletes just to start a race. Same is the case of organizers and spectators who want to see the game's ultimate winner. The sporting energy associated with the game of Pakidakali is irrespective of night or day.
People divide as two groups and each team should have at least two players. Maximum of 8 are allowed in a group. A kalam will be drawn for the game, and it is called 'Padam' in local terms. A kalam may add up to 96 padam. Plantain leaf stems are cut as small cylinders to make dice for the play. Pakida is made of Panchalokam (A combination of 5 metals) in which digits 1, 3, 4 and 6 will be marked. To hit dice with pakida is called 'Pazham Veezhthuka' in local terms.
Last year 32 teams participated in the Pakidakali of Anchery which included participants from Malappuram and Palakkad districts also. The losing team is called – Thoppi Kittuka, and it's believed to be a bad omen for the person and his hometown to loss in a game. Theyyunni Asan and Koru Asan are the seniors of pakidakali of Ancheri right now. Pakida Kali is also organized in Karumatra of Wadakkanchery in Thrissur, where it is organized in a grand way by preparing sheet tents.
Thaayamkali of Kandanassery Village
Since the Onam season begins, Kandanassery village gets enclosed in the grip of their local sport – Thaayamkali. People gather in front of their village library with the same enthusiasm to watch a local football match. The courtyard will be decorated with tents to accommodate the contestants and spectators. A barricade is made in a circular shape so that viewers can stand and watch the sport. When it turns dark, tube lights will be turned on, and two teams will enter the ground with sporting spirit. Dices will be placed in the Thaayamkali's Kalari (ground) and when Kavadi is thrown up, the audience cheers the occasion using shouts and encouragements for their favourite team.
Using 5 kavadi, a Thaayamkali player has to shoot the digits guessed in mind – there lies the real talent of a thayamkali player. When two such players play opposite, it turns a thrilling game. Vettukaran Kutti is one of the proficient names in this field. He has been nicknamed 'Vettukaran' by his fans for his talent in this game. However this talented player is not participating in thaayamkali arranged in 2016, due to health issues.
When the excitement of the game reaches its climax, it's common to give bid for their favourites. It's a common sight to watch people turning to other side when end results are almost determined before the game finishes. It has been many years since Thaayamkali is organized in the village library, and new generation is also attracted to it.
This year 32 teams participate in the sport, and two games will be played each day. Already the match has begun, and completed 10 days at Kandanassery. The matches will end on Thiruvonam day. Prize money has been announced. The team which beat opponents in less amount of time will receive 15,000 rupees and the runner-up team will get 7500 rupees. Trophy and Onakodi (New dress) are other prizes announced.
Image source: Self and Screenshots from Youtube
Go through the gallery to read a few more interesting articles on fun, recreation, myths and traditions associated with Onam season. Here is the page link. Click on the images to read.
(Visited 1,034 times, 1 visits today)