Onam Flowers Blossomed in Malayalam Film Songs
Onam season is the spring season to Malayalis too. Monsoon just returned, the bright and pleasant day with blossoms everywhere, it's the harvest season also. Pookkalam, Flowers and Onam are synonymous to one another during this season, and Malayalis are fond of many Onam songs deeply linked with culture. Most of them are written by renowned writers and poets, and formed a part of Onam celebrations decades ago. Onam without flowers and Onappaattukal (Onam songs) is hard to imagine, and through this column I would like to mention a few of the most popular Onam songs, mostly associated with Malayalam films. Also read: Janaki hits of 1970s and 1980s.
Onam magic created by P. Bhaskaran and K. Raghavan
P. Bhaskaran created the song of Onam with the help of 5 or 6 Lucas flowers (Thumpa poo). His most popular song on Onam was composed by Raghavan Master, who gave a new direction to Malayalam film music in the 1950s and 1960s.
"Naazhiyoori Paalu Kond Naadake Kalyanam,
Naalanchu Thumpa Kond Maanathoru Ponnonam. "
Soon after the release of the song, it became permanently associated with Onam season of Malayalis. An Onam season can never pass by without listening to this amazing song belonging to the film, Raarichan Enna Pauran. The song was released exactly the same year when Kerala state was formed as per Indian Constitution – 1956. Thus the song got associated with people since the formation of Kerala state.
Ona Thumpi and Thumpa – true symbols of Onam season
"Thumpi Thumpi Vaa Vaa
Ee Thumpa Thanalil Vaa Vaa"
Vayalar Rama Varma is Malayalam's pride. Apart from numerous poems, he also contributed maximum to Malayalam film industry in the form of some amazing lyrics, and most of his songs described the beauty of nature or woman. Vayalar-Raghavan combination wove magic through this wonderful song.
"Thumpi Vaa" of Olangal is a nostalgic song of 1980s written by O. N. V. Kurup, where Thumpa Poo and Thumbi (dragon fly) became the theme. "Thumbayum Thulasiyum" of 1999 film Megham is one among the best songs of Malayalam describing village beauty in the recent times. Ponnona Thumpi of Mazhavillu is a lovely romantic song of 1990s.
Thumbapoovil Unarnnu Vaasaram of Ananthanu Appukuttanum Anayundu formulated by Kaithapram-Johnson duo is a melodious poem in Gana Gandharvan's voice, no doubt. Apart from Thumpa, Thulasi, Jasmine, Kolambi, Hibiscus and Kaakka Poo are other common flowers of Kerala which still spread fragrance through numerous Malayalam film songs.
Bhaskaran and Vayalar – Masters of Onam songs
As described above, Thumpi Thumpi Vaa Vaa is one of the popular Onam songs penned by Vayalar. In 1965 film – Kadathukaran, he penned lyrics for the Onam song – Mutholakudavumayi. Through this poem he described Onam to arrive in colourful chariot of Uthradam night. He described Athapoo as a flowering tree in its lyrics.
"Mutholakudavumayi….. Munnazhi Poovumayi…
Utradaratriyude Therirangi…. Thanka Therirangi….
Athapoomarathinte Alukkitta Kombinmel….
Aayiram Kinavukal Poothirangi……"
Song – "Pookanni Koraan Pookkalam Theerkkan' of Paavangal Pennungal was formed in Vayalar – Devarajan combination. "Naazhiyoori Paalu" of P. Bhaskaran is simply wonderful.
Songs which described poverty and social life of 1950s and 1960s
In old days, Onam was a symbol of filling of empty stomachs when poverty ruled common man, and good food was a dream of rich people only. Yes, we can feel happy, those poverty days of Malayalis have gone and people are now well-sufficient of food and other basic necessities of life. But in the period soon after Indian independence, many films have been shown on celluloid which told the story of poor man and his poverty.
As Onam is a part of Malayalam culture, obviously poor man's Onam too got place in Malayalam movies. That's the reason why Malayalam's popular poets have described poor man's Onam in their own ways. Songs of Thulabharam and Randidangazhi are best instances.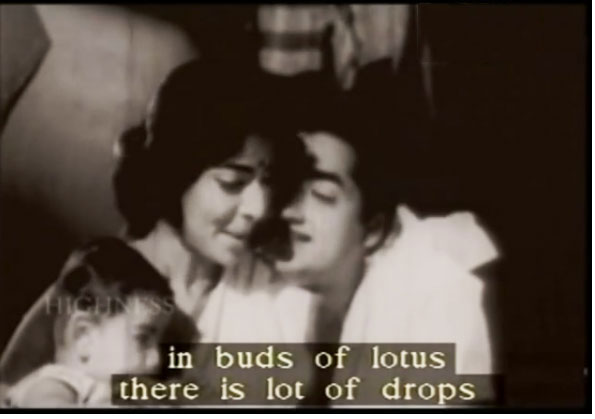 This particular song of Thulabharam (1968) pictured on Sharada and Prem Nazir is so much filled with emotions that it can bring tears to our eyes. This song is a clear cut definition of Onam for poor families a few decades ago.
"Omanathinkalil Onam Pirakkumbol
Thaamara Kumbilil Panineeru
Onam Pirannaalum Unni Pirannaalum
Oro Kumbil Kanneeru Mannin Ooro Kumbil Kanneeru"
Its heart touching lyrics was written by Vayalar Ramavarma.
"Thumpa Poo Peyyana Poonilave..
Enu Nenjil Nirayana Pookkinavu"
This particular song belongs to Randidangazhi (1958) created by Thirunayanar Kurichi Madhavan Nair and Thrissur. P. Radha Krishnan.
Onappoove Poove Poove
There are several Onam songs of movies frequently heard during Onam season. Like Vayalar, O. N. V. Kurup has also given several evergreen Onam songs to Malayalis.

Onappoove Poove Poove of Ee Ganam Marakkumo pictured on Prem Nazir is the top song of the list.
After Vayalar, ONV Kurup gave the best songs to Malayalam, and he created Onam magic in association with Devarajan Master several times. Many of the flowers they created through the magic of lovely lyrics and tunes are still cheering during Onam season. "Attappoo Chithira Poo" is one of the best among their creations. There is one similar Onam song – Attappoove Chithira Poove in Bhaskaran-Ravindra Jain combination created in the late 1980s.
"Poo Venam Pooppada Venam Poovili Venam" of Oru Minnaminunginte Nurungu Vettam penned by O. N. V. Kurup is nostalgic to adults and children who lived in the 1980s. Music was composed by famous music director Johnson, who has given numerous Onam songs to Malayalis. Can Malayalis forget 'Manjal Prasadavum' of Nakashatangal sung by Chitra, definitely not!
"Manjal Prasadavum Nettiyil Chaarthi
Manjakuri Mund Chutti
Innente Muttath Ponnana Poove Nee
Vannu Chiri Thooki Ninnu"
Sreekumaran Thampi gave maximum Onam songs to Malayalis
He has written both filmy and non-filmy songs. His work aside Salil Choudhary for the movie Vishnu Kani needs special mention. Poovili Poovili Ponnonamayi is the most popular track. Poovani Ponnin Chingam Virunnu Vannu from Panchavadi and Thiruvona Pularithan from Thiruvonam – both composed by M. K. Arjunan, Muthe Nammude Muttathum of Priyathama composed by Brother Lakshmanan, Utrada Poonilave Vaa (Raveendran),Tuyilunaroo Tuyilunaroo Thumbikale (Dakshinamurthy), Onakodi Uduthu Vaanam etc are some of the popular Onam songs (Onappaattukal) penned by Thampi.
Go through the gallery to read a few more interesting articles on fun, recreation, myths and traditions associated with Onam season. Here is the page link. Click on the images to read.
(Visited 2,376 times, 1 visits today)