Look into these few points to solve Sushant Singh Rajput mystery in a very short time
Where to start? I strongly feel it's only god's destiny or Lord Shiva's grace, who gives me leads one after another, to solve the puzzle of Sushant Singh Rajput, who we fondly call SSR. Perhaps I am one among those rare few who are destined to work for SSR's justice, he carefully chose a few and I should say I am lucky. I got its first sign when I got an unseen & unedited video of SSR, where his mortal remains were taken for post mortem at night.
The video had just around 1500 views till August 18, 2020 when I got it in hand, though it was posted on June 16th. Why total views of the video were so low? Most probably the Youtuber might have changed the video to private mode or used different keywords so that it never appeared in search engines. In the last two months, several videos have got deleted from YouTube – Netizens say. But how it got into my hand first; still a mystery. But it gave me solid proofs about night shoot, and also a very shocking surprise. Yes! The night video was actually shot twice at night with same crew and different corpse, though the surfaced videos give just opposite vision to spectators. I caught it, though it took days of research for it.
Dear friends, you have been fooled. The clip which appears on ABP news is not the same as night video, which went viral over net. I have collected many proofs, which give solid evidences that the videos have been shot twice before media, and it's now the duty of CBI to find the reasons behind it. Friends, if you are convinced my points are true and that they can help CBI in investigation, please share this post maximum, till it catches the attention of authorities. Justice should be served, and we are all on the same mission. Also read my research works: Photon's double split experiment & 75+ Co-incidences of the mysteries of SSR & south Indian musician, Balabhaskar.
First have a look at that night video and tweet before proceeding further.
Check this !!! How can the body be this long !! Like 8 to 9 feet ? And why are they running like maniac !! pic.twitter.com/y9Pe7YDu4N

— AdiMohan (@AdiMohan2) August 20, 2020
That full-length night video was first shared by me on twitter
It's said that children are another form of god, and it's my 12-year old daughter who first pointed out that the video of Sushant Singh Rajput's body reaching Cooper hospital, which circulated over net in the last couple of months is an edited version, and that one was shot at day and second one at night at different locations, though she confirmed, both were spaces in Cooper's premises, pointing towards pink walls seen in both.
While I was posting this finding on twitter, somebody gave me a YouTube link saying, watch this, it's more clear, something like this. I don't know who it is. But I strongly believe it's God's hands or intervention, which gave me solid proof, the video circulated till then was an edited one, purposefully done by media, which wasted our 2-months work, when all of us were behind solving the change of cloth and stretcher. It was only an edited video, which gave rise to a lot of speculations. Sadly, media never told, it's actually an edited version of day and night. Why?
A brief note on lengthy corpse at daytime so that you can understand my points better
It was almost at the same time, the news of taking two bodies together in a lengthy corpse in the afternoon from Sushant's apartment, caught my eyes, and someone from twitter gave me a video, which clearly shows two bodies were taken into hospital from ambulance at daytime within a fraction of a few seconds. Every person used his own logic to prove, yes the corpse was lengthy. We don't know what's inside it. Yet it could be two corpses too. I used this picture to solve this puzzle. When I draw a line across the picture, I realized, yes, the corpse is lengthy. Corpse's knee is in bend position. Then how can his legs reach till the red-capped boy?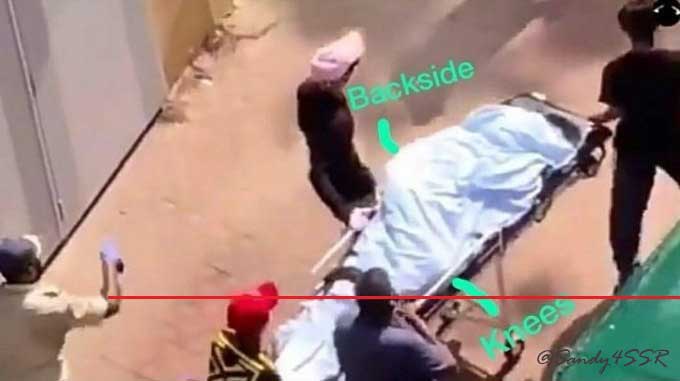 While transferring body from ambulance to hospital too, I smell a foul play. Like many others I also believe, two stretchers were used one after another.
Someone told me, it's an edited version. I need to rework on it, and currently my focus is on night drama. Night drama? Yes, friends. You heard it right. Why? My post fully focuses on scripted drama executed twice at night to fool all of us. But what's the purpose; still to figure out.
Night drama was well-scripted and shot twice before camera eyes
Don't worry friends, it's just a film shooting going on. When we catch the screenwriter & director, the puzzle will be solved. Don't think, both are shot at different angles. They were 2 different corpses of different lengths shot with same team. I shall give proofs.
Please give credits to my 12-yr old daughter too, who came up with each & every proof. She was the same person, who first noticed that, the circulated video was an edited version of day & night. Check the length of corpses above, are they not different? Or is it just an illusion of eyes, or stretched version of video in the second? The pace by which the 'artists' take the corpse also look different.
In a high profile murder, murderers will never take such a huge risk to call media and shoot it. If they can shoot the corpse beneath wraps, why can't they shot the face at cremation? Why they avoided media maximum, but displayed corpse like an art piece everywhere, keeping media at distance? Here I list a few points which give solid claims that bodies in the name of SSR was brought twice at PM Centre, and seriously, it's not a joke.
1. A picture tells a lot. All shot twice!!!
Let me solve this riddle in a simplest form. Actually I got it after comparing with many other entities. Just like 'The Alchemist', after wandering a lot accumulating proofs of the mystery, I got this simple proof so easily, but towards the end. But this single picture nailed everything so perfectly.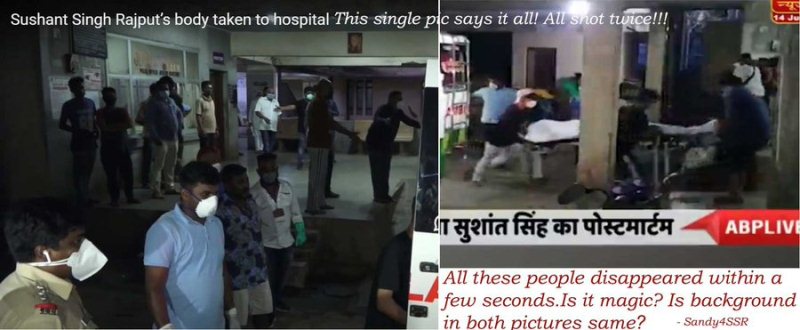 First scene is a screen shot from the unedited video which I shared at the beginning of the post and second one from the news clip shown on ABP news, when the body was taken to PM centre. With the pink background shown in the night video, it's proved, yes, Cooper. But I am not sure about the second one. But definitely both the places are not same, and that's how I proved, both the videos are not same. How can same shot be taken at different places? Never!
In the first frame, you can see opened door of ambulance and see the people standing at side and near steps as spectators. Five people near the notice board and glass case, and one person is standing at a little distance. You can also see a man in white shirt carrying nothing, while a man wearing mask and black shirt is showing his right hand. You can also see three persons in front, who are making provisions to carry the body towards the building. Camera is fixed in front, and that's why all these people standing on left side and front appear in frame. Have a look at background picture and surroundings too.
Now check the right photo. It's captured a few seconds after the body was taken out of ambulance. From the picture the camera angle is clear. Yes, it was taken from the right side when corpse was taken inside. Observe the people and background. Are they same we see in the first frame? From the angle this shot is taken, the whole background should be visible. Now check the background. Where have all these people seen in the first shot gone? How can they all disappear together in the fraction of a few seconds? Is it magic? You can see a white shirt cameraman who hangs his camera around the shoulder. But in the first pic, white shirt man is not carrying a camera. Also, from appearance it looks like two persons. Within a fraction of 20 sec, how can whole set of spectators be replaced by just 2 and also the whole background in the fame? Impossible! Yes, these are two locations, where the film was shot. They could arrange everything and shot exactly the same, but couldn't change the background and spectators. That's why it's said, no crime can be hidden completely. I shall discuss about background later, as another point.
2. Distance between pillar and wall is too short in the first video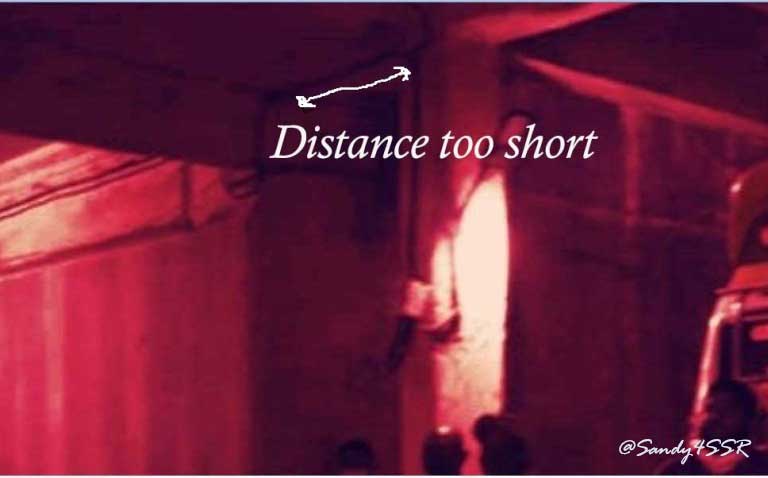 There is definitely a pillar in the first place (at first I couldn't find it), but distance between pillar and wall is too short. Perhaps one person can stand in that space. There is a pillar in opposite side too. It's clearly visible in the first video. But definitely it's not the same as the pillar shown in the news clip. Here is another clear picture of the pillar.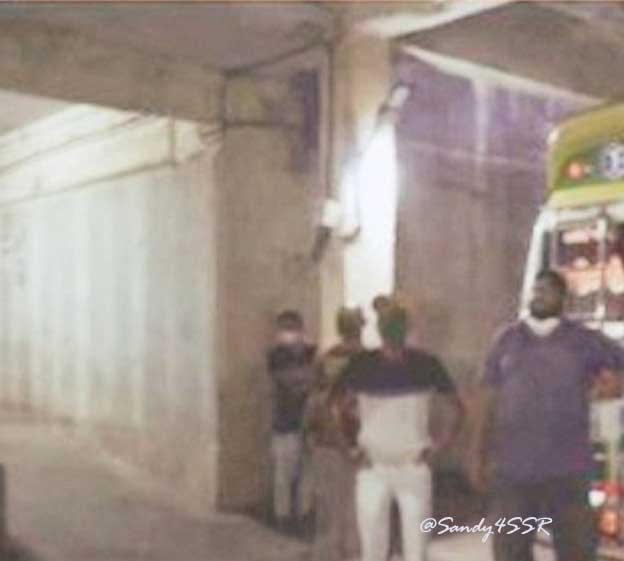 Distance between wall and pillar in the news clip is not so short, and easily visible. Have a look at a few photos posted at the end of the post. Night shoot with corpse was done twice with same crew. Each and every shot was well practised before done with 2 corpses at different places. Absolutely brilliant! I have never seen such a plot in films.
3. Building block is very close to pillar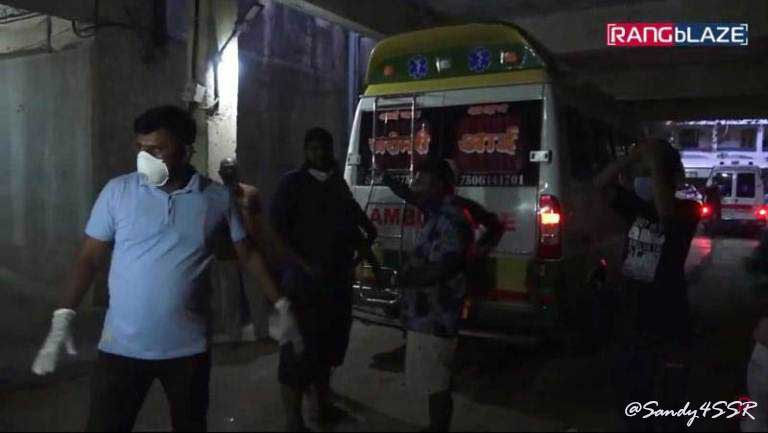 In the picture, closely observe the block near to pillar. Closely observe the background and ceiling as well. For me, it looks like a block very close to pillar, and not a big gap to shoot the whole thing from right side. Also it looks like a parking space. At the beginning of the video, we can see the ambulance being brought there and parked. If someone has visited Cooper hospital, he can easily rectify our doubts. With the video clips, we have our own limits.
4. Length of the corpse is different in two times
As far as I believe, in the first video, length of corpse is normal. Need to do extra research to find if it's actually lengthy. But check this photo below, a clip from TV news. How can a corpse be so lengthy? So, there are two sets of corpses, actually? Or a corpse from the lengthy one reused to shoot the first video? Weird! Seriously!!!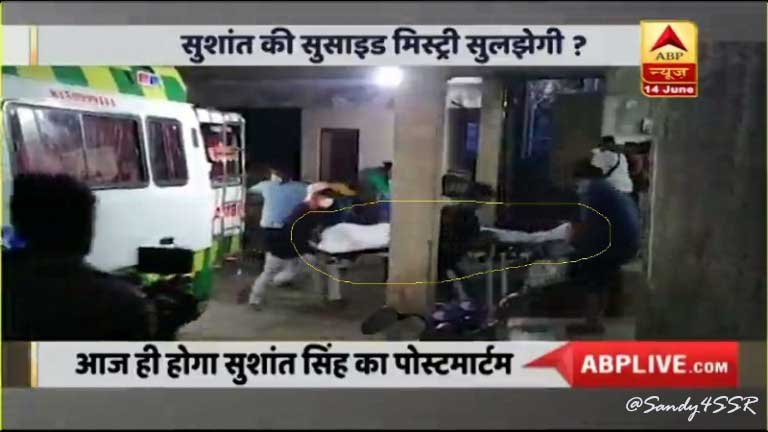 Most probably single corpse video was shot at around 7pm, & second at night. When vehicle is parked (in video), it's not too dark. But video shot by ABP news was done most probably at night. Did they put that single corpse with other to make it lengthier or brought a new? It's just my assumption only. I can't claim it.
5. Dim light in one side of the pillar can't shine this much from opposite angle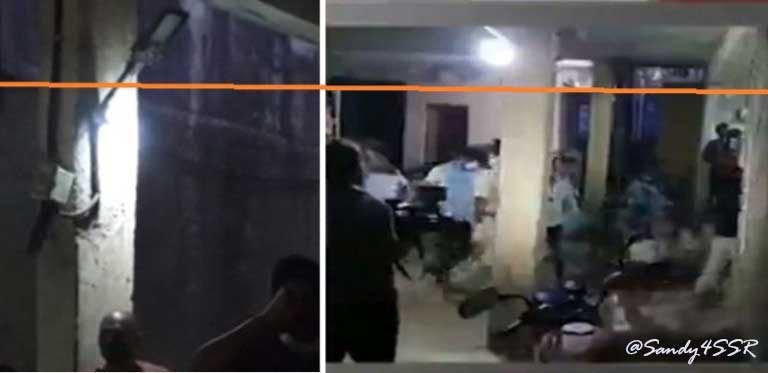 Check position of light in both pictures. I have drawn a line to show the position. You can notice it easily. They are at different heights. Also if it's so dim in first pic, how can it glow bright in second?
6. Light budging out from second pillar is actually from side wall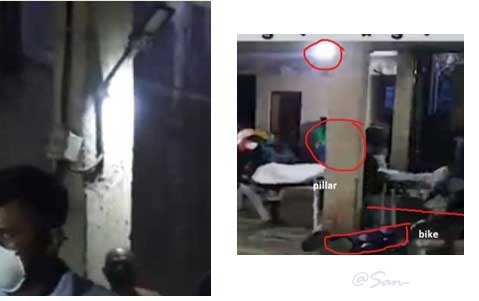 There is a cable in the first wall, which is clearly in this side. Light won't be clearly visible from other side like marked in send pic. In the 1st pic, light is behind pillar, and 2nd, budging out, actually from side wall, which gives an illusion that the light is from pillar, which is totally wrong. First light is down, second is up.
7. If we assume light source of news clip is from side wall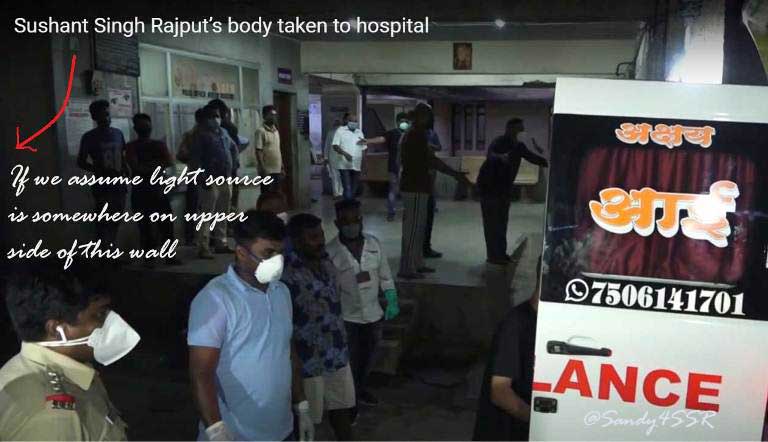 Ok, as I said above, let us assume light source of news clip is from side wall. Then why is the side space where people stand, so dark? Faces near notice board are so dark to identify. Why? Actually, where is this noticeboard in the news video? Also, other entities near to it? Everything missing, which proves these are two different clips.
8. Position of bike is different in two pictures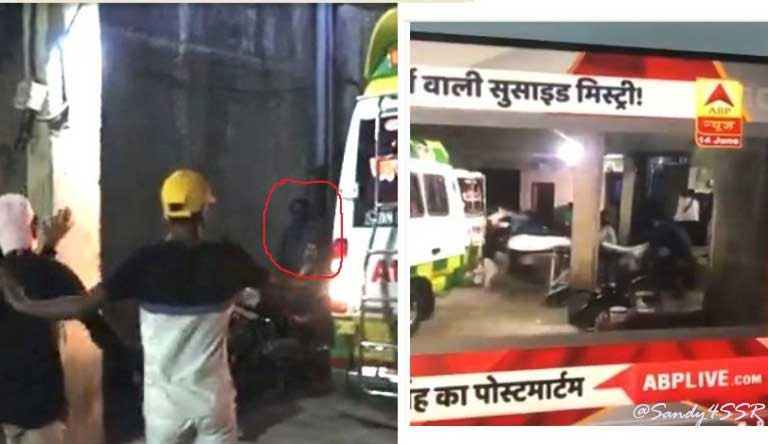 In first image you can see a person near bike. In 2nd, bike is parked, but where is he? Logically thinking, they didn't ask him to move from there. Ok, let us assume so. But when did he get time to park bike on the other side of pillar & move from there before second part shot? (Actually the video has been edited before the scene of ambulance opening). But we can see people standing in the veranda and front side while body is taken inside. Why they didn't remove those people from there?
9. Waving hand of policeman is same in both videos to prove it's scripted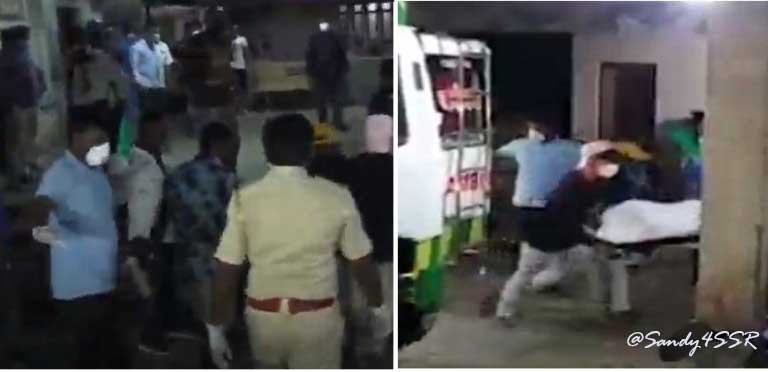 Yes, it was shot at different locations at night, so, at different times. Check the policeman in both videos, who waves his right hand exactly the same in both videos. How is it possible without proper homework? It's not just the case of this man, but it's an amazing team work by each and every artist of the show. Seriously these artists should be given work in films, because they are far better than Khans and Kapoors. That much sincerity they put in both videos. I really appreciate their work. Yet, I felt the first video was shot in relaxed mood, but the artists got tensed while reshooting it. Pace increased slightly when they tried to repeat it with lengthy corpse. It's also possible the team was a little nervous while shooting with lengthy one.
10. Probably first corpse was brought in the evening and second at night
If you closely check ambulance and surroundings in this photo, it's not too dark. I assume it to be around 7 pm, though I can't fully claim it. Later the lengthy corpse was brought at night, and interestingly cameramen and media people were present at both times. Yet why most of such photographs and videos never came out. Should I believe, they also form a part of actors in the shootings? (Check total number of views of the video in the below picture when I got it first, two months after the incident).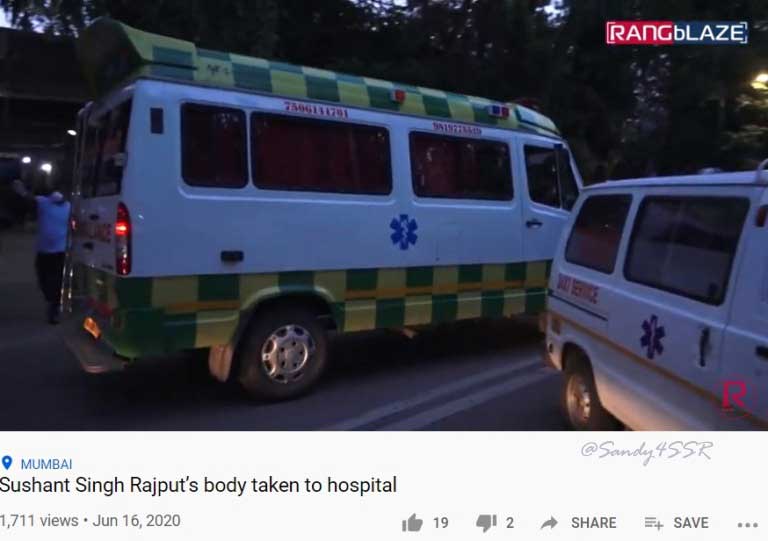 Hats off to the mastermind who wove this script
How can someone script a storyboard like this? Looks like Bhatt camp's horror thrillers and murder mysteries. It was practised many times. Otherwise how can the same team execute it twice without much flaws, and public never noticed any difference? Absolutely brilliant! But for what purpose? Is it to bring a new corpse at PM centre to be used for cremation next day, or just to show before public repeated times and make them believe SSR is no more? Seriously, how can a murderer display 2 or 3 corpses like this, before public and media like this? What they want to prove? Seriously are they corpses or none of them? If we think logically, a murderer will never display corpses like this, and he will hide from media eye maximum. But in SSR's case, it's totally different. Did they want to show public something, or any secret message conveyed?
But one thing is sure, ambulance driver and his crew used the vehicle at daytime and night (twice) to transport corpse/corpses. It is a private vehicle. Then why ambulance driver was staying inside the Cooper, after he delivered SSR's body in the evening? Why didn't Cooper use its private vehicle to transport SSR's body to PM centre at night? Also, why the same ambulance driver was called again? I have watched a few interviews of ambulance team. But in none of them, they specified about bring the body twice to hospital at night. Why they hide it? Actually why they brought corpses two times? Why one body is normal, while the second one is lengthier?
Ambulance driver and his team know a lot of things which public don't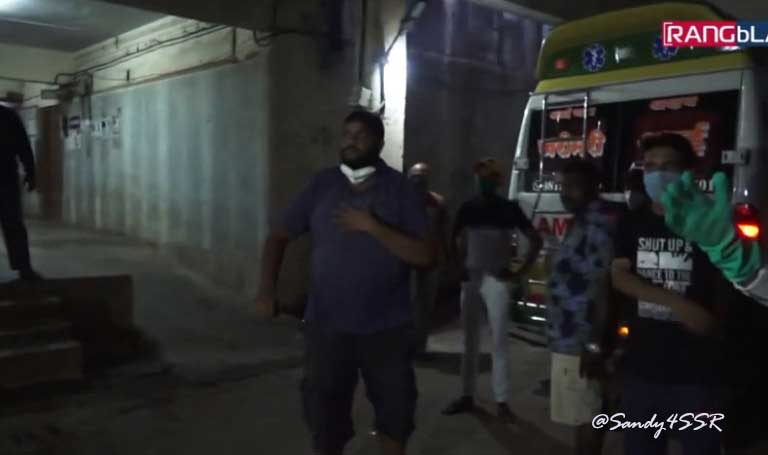 I think ambulance driver should answer these questions. I have already provided enough evidences to prove they brought two bodies. Now let him answer, "Whose corpse was second?" Some people say, it's a teenage girl's body. A few days ago, I also felt, it could be a lady of middle ages. But after the new video surfaced, I have a few doubts. Someone sent me these pictures. Seriously, is it a corpse really? Why are they doing so? For what purpose they showed bringing corpses, in front of media? Hope CBI will look into this matter.
Whoever behind this master plan, I am telling you. You r caught with proof! Now tell us, why you scripted and shot 2 videos with 2 corpses at different sites? Take ambulance driver into custody and grill for one hour. He will reveal every detail of the corpse. That's what I think, because he cannot deny he became a part of the drama twice, he will reveal everything. I have given the proof already.
Crime can be too deep, but will be caught! At daytime too, though death was announced at around 1 pm, ambulance left the apartment only after 2 hours, which looks unbelievable. Why were they waiting for media and public to assemble? In normal cases, in such emergency situations, ambulance leaves the place long before media arrives. But when it comes to Sushant Singh Rajput case, each and every incident associated with it was a mystery. I think, people have never talked about a celebrity death like this never before, or tried to solve the puzzle.
Now friends, we need to find why such a drama unfolded in front of cameras. Let's hope, when the investigation ends, CBI concludes that everything was just a trail film shooting. Really hope, we get a chance to know, actually what happened to Sushant Singh Rajput on 14th June, 2020. Waiting for your interesting responses and more points.
Here is my tweet thread I posted in the month of August
Guys I solved this puzzle in a single pic. Actually I prepared this slide yesterday late night. Becoz of network issue, I couldn't post it till now. Within a fraction of 20sec, how can whole set of spectators be replaced by just 2 in d picture? Is it magic?#CBIGrillCooperDoctors pic.twitter.com/LNQmlOVEeW

— Sandy4SSR (@_world_of_words) August 24, 2020
Concluding the article by posting a few screen shots of ABP news which someone shared with me. Special thanks to that person too.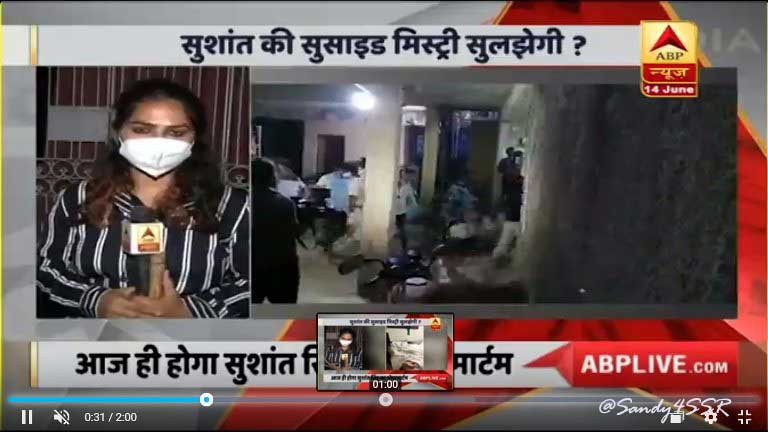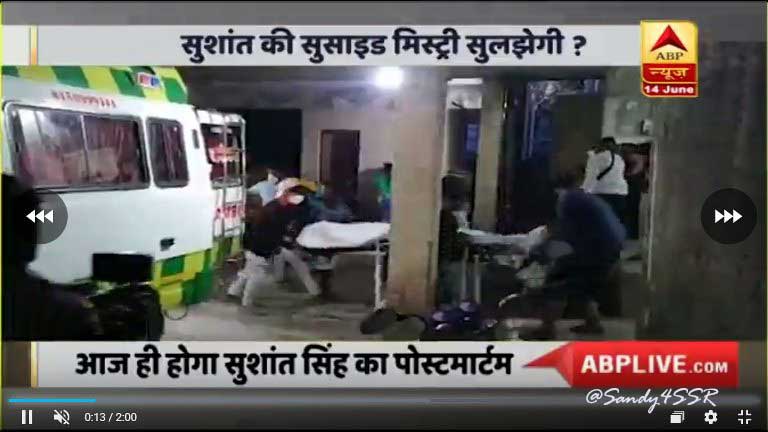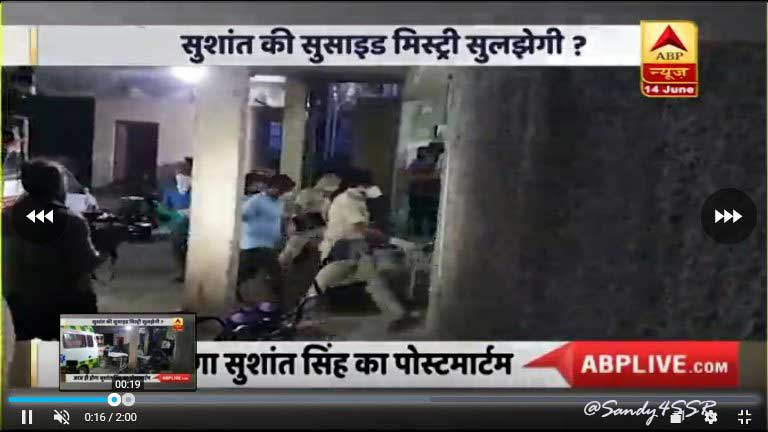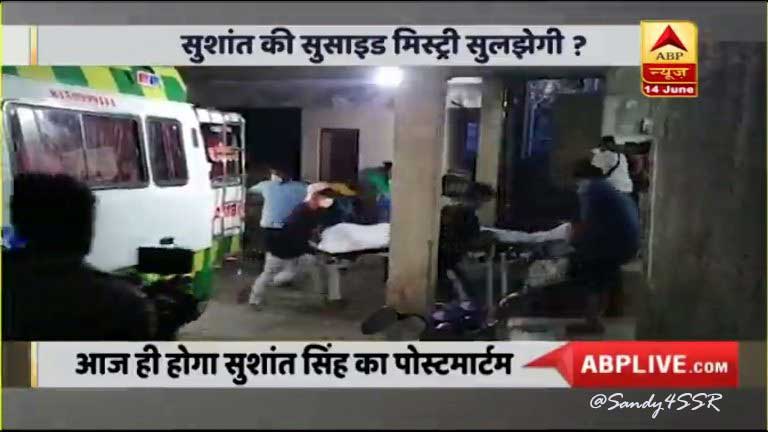 June 15 was an extension to the night shoot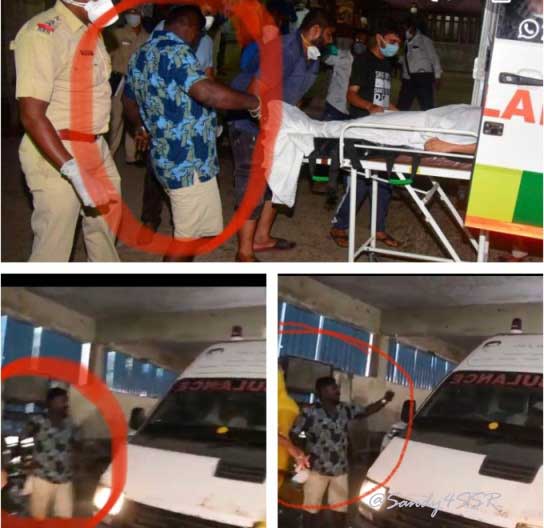 I found an important fact, after posting this article. So, I am adding it here. Just think, how can a person work for 2 ambulance services consecutively in 2 days & handle same corpse? Very fishy! As far as I believe, just like night shoot with 2 set of corpses, June 15 shoot was also scripted. He used same costume too. It seems film producer was running out of money. He managed a new ambulance for day shooting on June 15, but couldn't arrange new artists. At least he could have given another shirt for this poor guy for day shooting. See, how brilliantly he is doing his part. Absolutely flawless.
Adding a few points later after decoding the puzzle
If you watch the night videos shot twice at June 14 night, it's crystal clear, it's fully scripted and the artists who appeared in those 2 videos were given good practice before shooting. Footsteps, hand movements & position of artists are exactly matching, which proves everything was shooting. Suppose they shot two videos, one in reality and one for media. But how can every hand movement, body movement & footsteps match exactly the same. It means, artists were given practice, & shot the scenes, and it can never ever happen in a murder. That's how I came to conclusion of staged events very soon, I think in August 4th week and felt relieved!
That's what exactly happened on those two days by amateur artists to recreate the deaths of musician Balabhaskar and his daughter, taking elements from the deaths of Jiah Khan and Kunal Singh. Please read 75+ co-incidences in the mysteries of Bala & Sush, and also Photon's Double Slit experiment, which prove the point. Yes, looks like duality principle applied here, and also to shoot Bala's PM episode, where his body was taken to Medical College from Ananthapuri hospital, TVM a few hours after his death. Still one confusion – In one video, double-length body depicted Bala and his child (who died in the accident), while in the second video, a lady, most possibly depicting Bala's wife, Lakshmi, when she was carried to hospital. The confusing fact is, she was/is alive, while it was shown as a dead person in the video. Bala & Child's deaths shot at PM centre (ABP News video) & Lakshmi's video at some other place of Cooper (YouTube Video), because she was alive and never taken to PM centre. Also, hand of a mid-aged lady clearly visible.
(Visited 3,273 times, 1 visits today)