Anandavally – Renowned Malayalam dubbing artist of 1980s and 1990s
Anandavally was a famous Malayalam film dubbing artist since 1970s. She entered film scene as an actress and later moved to the role of a dubbing artist. She has been a leading dubbing voice for almost all lead heroines for more than four decades since 1970s, and was at her career peak in the 1980s and 1990s. She dubbed for more than 3000 Malayalam films. She passed away at Thiruvananthapuram in the first week of April 2019 aged 67. She received state award for best dubbing artist for the movie, Aadharam.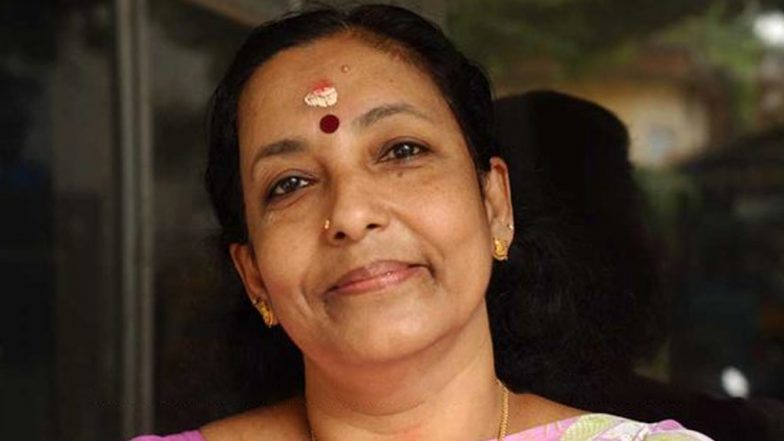 Anandavally was born in Veliyam, Kollam. She started her professional career through theatre at the age of 14. Kottayam Chellappan's 'Chithalu Kayariya Bhoomi' in 1969 was her first play. She has been a part of famous KPAC theatre group too, and Agni Parvatham was her first stage play with the group. She has been a part of KPAC's famous plays such as Aswamedham, Ningalenne Communistaakki etc. K. T. Muhammad's Muthuchippi was one of her famous roles. She got acquitted with Thoppil Bhasi which paved her way to films. She was first seen in National award winning film, Enippadikal.
As a dubbing artist she marked her debut through 'Devi Kanyakumari' released in 1974 where she dubbed for Rajashri. She rose to prominence in the 1980s when some of the strongest female characters of Malayalam screen were dubbed by Anandavally. Geetha's character in Panchagni needs special mention. Other major works are Poornima Jayaram of Manjil Virinja Pookkal, Gautami of Sukritham, Lakshmi of Bharatham, Ambika of Rajavinte Makan, Grandmother of Kanmadam, Jayapradha of Pranayam etc.
She was a skilled dubbing artist with great voice modulation and natural voice. A day before she was admitted in the hospital for the last time, she dubbed for TV serial, Vanambadi. She has been doing an important role in the TV soap, Neelakuyil when she passed away.
Anandavally – Some interesting and unknown facts
1. She was married to her distant relative Veliyath Chandran (Chandrasekharan Pillai), who was a manager of famous Merryland film studio. After marriage she shifted to Thiruvananthapuram.
2. Her son Diphan was a film director best known for directing Prithviraj starrer Puthiya Mukham. He passed away in March 2017 aged only 45 due to liver-related ailments. Anandavally was survived by her daughter Anulakshmi and son-in-law Vijayakumar.
3. She was a Kathaprasangam artist during her school days.
4. Started her professional career as a theatre artist at the age of 14, she was spotted by the thespian O. Madhavan during one of her performances, and he also invited her to join his Kalidasa Kalakendra.
5. One of the leading names in Malayalam dubbing industry, she dubbed for more than 3000 films and has provided ghost voice for lead heroines like Sharada, Lakshmi, Urvasi, Jalaja, Jayaprada, Ambika, Madhavi, Chithra, Menaka, Seema, Poornima Jayaram, Karthika, Sumalatha, Lissy, Shanthi Krishna, Shobana, Suhasini etc who worked in Malayalam cinema.
6. She has appeared in supporting roles in many Malayalam films and TV serials, and during her last years she dubbed for TV serials too.
7. At many times she dubbed for two or more artists for the same movie. For instance she dubbed for lead heroine Lissy and also Priya for the movie, Mazha Peyyunnu Madhalam Kottunnu.
8. For the movie, Sthalathe Pradhana Payyans, she dubbed for five artists. For Bharatham, apart from Lakshmi she dubbed for two more artists. For Kalalppada she dubbed in male voice too.
9. She received Kerala state award for best stage actress in 1978 for the play, Enikk Maranamilla. It was directed by Kaniyapuram Ramachandran.
10. Apart from working as a stage actress for different troupes, she has been an announcer of Akashwani for a brief period.
11. Kaliveedu was her last film release as an actress, and as a dubbing artist for films, Mazhathulli Kilukkam was her last work, where she dubbed for Sharada.
12. She played supporting roles in about 50 films.
(Visited 677 times, 1 visits today)