5+ Easy tips for house cleaning using vinegar and baking soda
Here are 5 simple and easy house cleaning tips to make your household work simple. In most cases, either vinegar or baking soda, or both together have been used.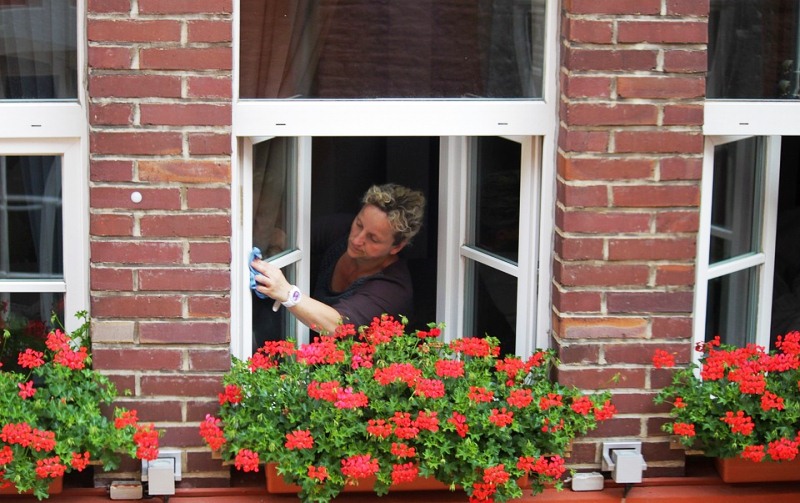 1. To clean kitchen counter and inner side of refrigerator
Dissolve 4 big spoons of baking soda in ¾ cup water. Dip a sponge in this solution and rub on the inner surface of refrigerator and kitchen counter. Now rub the inner surface of refrigerator using lemon skin, and wash using cold water.
To remove stains inside refrigerator, mix toothpaste with baking soda and rub on stains. Later clean if off using a cloth.
2. To clean the dirt inside the drainage of sink
Put inside the sink half cup baking soda and pour half cup vinegar also. Put a moist cloth on top and wait for 5 minutes. Now wash the sink using hot water.
Add half cup baking soda and quarter cup vinegar to a little luckwarm water and pour into sink. Later water it off with normal water.
3. To clean microwave oven
Pour equal parts vinegar and water into the bowl one cup each and place inside your oven. Then microwave on high for 8-10 minutes. Now you can easily wipe off stains and food remains.
4. To clean window glass and molds on walls
Mix 2 big spoons of vinegar in one cup of water. Now pour the contents to a spraying container and spray on windows. Then clean the window glass using a soft cloth. Spray vinegar on walls and let it sit for 15 minutes. You can rinse and wash, and allow it to dry.
5. To remove mineral deposits from the showerhead of your bathroom
Pour a little vinegar into a plastic bag and tie the bag around the showerhead. Allow the vinegar bag to remain so in the overnight and next day morning, you can rinse it off with water.
6. To add extra shine to earthen pots
Wash earthen pots and utensils using baking soda. They shine better.
7. To remove bad adour inside refrigerator
Put a little baking soda in a container and make a few pores on its opening lid. It absorbs bad adour.
8. To clean gas burners
Make a solution of liquid wash gel, baking soda and vinegar and fully dip the gas burners inside it for a few hours. You can do this process at night and dip your burners in baking soda-vinegar solution overnight too. Using a brush or metallic scrubber, clean the burners and remove the moisture content using cotton. Use normal water. You can store this solution and use the same solution to clean stain from other parts of your gas stove too.
Conclusion – Vinegar and baking soda, if combined with lemon can do great wonders in house cleaning. They are cheap, natural and time saving too. Before I conclude I would like to add one more cleaning method to make your life easy. Though Vinegar and baking soda are not used here, it's an excellent and easy house cleaning tip.
To remove dirt from steel strainer
Place the strainer for a little time above flame and heat it well. Then wash it off using water.
To remove stain of carpet
Mix two big spoons of soap powder or liquid detergent in 2 cups of hot water. Now dip white cotton cloth in this solution and then rub it strongly on stain affected areas of carpet. Continue the process till whole stain in the carpet gets transferred to the cloth and stain in the carpet disappears. Now dip a sponge in cold water, press and gently whip those areas. Now take a clean cloth, and press and whip on the area to remove the whole moisture.
Image source: Pixabay
Read a few more articles on cleaning & maintenance of home & preserving interior and its elements. Here is the page link. Click on the images in the gallery to read.
(Visited 614 times, 1 visits today)