A brief introduction to the 24 temples associated with Peruvanam-Aarattupuzha Pooram of Thrissur
Festival season across Kerala has already begun, and if we specifically say about temple festivals of Thrissur district, what to say more! The cultural capital of Kerala witness grandeur elephant processions accompanied by musical display of traditional instruments, best known as Pooram. After Thrissur pooram of the main city, Peruvanam Pooram is most famous. The grand festival event witness elephant processions from 23 temples from nearby places who gather at Peruvanam, and all the presiding deities of the respective temples are carried for the celebration in a grand way. Only Shasta (Lord Ayyappa takes one of its three forms) and Bhagavati (Goddess Durga) temples participate in the pooram, and similar to Thrissur Pooram, Lord Shiva – the presiding deity of Peruvanam temple doesn't participate in the event. The event is also known as Deva Sanghamam – the union of gods.
There is a 24th deity associated with customs of Peruvanam-Aarattupuzha Pooram. She is Kaduppasseri Bhagavathi. Though she never participates in the main pooram event, she is one among the three goddess who is a part of 'Poorathinte Melam Kaanikkal' (To show the melam of Pooram to Avittathappan) custom. Pooram Events of Peruvanam and Aarattupuzha are synchronous to one another, and very closely related as well. While Aarattupuzha Pooram is considered as the oldest temple festival of Indian sub-continent, Peruvanam Pooram also claims to be a grand one for its rich heritage.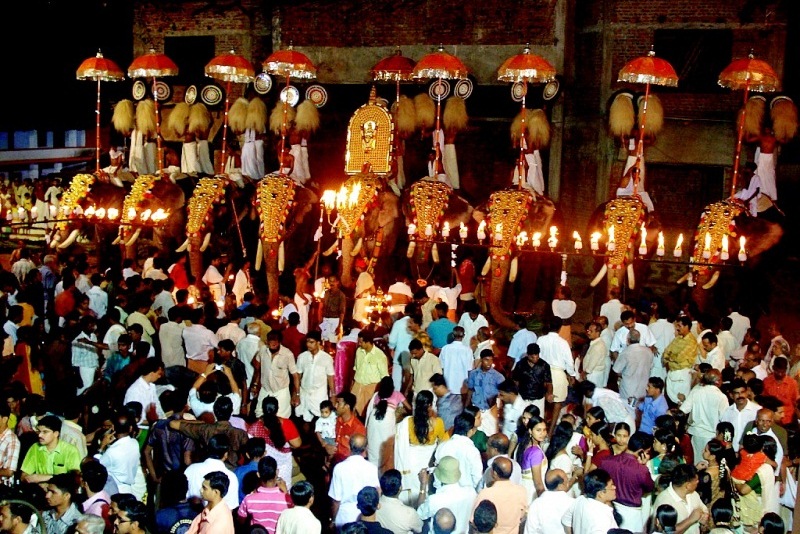 The cultural heritage of Peruvanam Pooram and the major events associated with it
Though Thrissur Pooram is famous, Peruvanam Pooram claims a rich history, and many proceedings of Pooram festivals were started as a part of Peruvanam Pooram, continued still now. For instance, elephants were decorated with golden colour ornaments (Caparisons for elephants) and presented with Nettipattam for the first time in Cherpu Bhagavathy Temple as a part of Peruvanam Pooram. Hours long Panchari melam and Pandi melam – is the delight of this traditional temple festival. Also, one of the oldest temple celebrations, perhaps across the world, it has completed 1434 Poorams by 2016.
Major events of Peruvanam-Aarattupuzha Pooram
Pooram event commences with fixing flag post (Kodimaram in Malayalam) in Cherpu Bhagavathi temple. It's followed by Shuddi in Oorakam temple, energetic Aswathy Vela the following day, Karthika Purappad after 2 days, and Rohini Vilakk, Makeeryam Purappad, Thiruvathira Purappad, Punartham Vilakk and Peruvanam Pooram in the following days, one after the other, based on Malayalam stars. On the fourth day after Peruvanam Pooram, Aarattupuzha Pooram is conducted, and next day morning Kootiyezhunnallipp (grand procession of all deities) and Aaratt (bathing of deities) take place and the whole festival event comes to a grand finish.
The annual temple festival celebration with new proceedings is dated to centuries old and this season, it's 1435th to commence. Originally started millennium years back, it was restarted 1435 years back and still followed as per Hindu traditions. It has not been an easy task to uphold culture and traditions throughout these years, and this challenging task has been undertaken by people belonging to respective desams (groups of people belonging to a particular area constitute a desam), and a festival is a co-operation of different desams with same mind and sport spirit.
24 temples are associated with Deva Sangamam Peruvanam Pooram
The festival usually commences during Meenam month, which falls in the hot summer of March-April. As a part of the event, the grand preparations will be started in February or early March in all these 24 temples prior to Kodiyett. The poorams of these respective temples will also be associated with Peruvanam Pooram, and connected with one another in a sequence and it's interesting that only Sastha (Shasthav/Ayyappa) and Bhagavathi deities take part in the event.
The temples which participate in the event include (sorted in alphabetic order) – Aarattupuzha Sastha, Anthikad Bhagavathi, Aykunnu Bhagavathi, Chakkamkulangara Sastha, Chalakkudi Pisharikkal Bhagavathi, Chathakudam Sastha, Cherppu Bhagavathi, Chitticchathakkudam Sastha, Choorakod Bhagavathi, Edakunni Bhagavathi, Kadalaasseri Pisharikkal Bhagavathi, Kaduppasseri Bhagavathi, Kalleri Sastha, Kodakara Punilarkaav Bhagavathi, Kodannur Sastha, Maattil Sastha, Medakulangara Sastha, Nankulam Sastha, Nettisseri Sastha, Oorakam Ammathiruvadi, Thaikkattusseri Bhagavathi, Thiruvullakavu Sastha, Thottippaal Bhagavathi and Thriprayar Thevar.
The deities who participate in the event have to travel long distances through water bodies, land transport, paddy fields, agricultural lands etc to reach the venue. They reach at Peruvanam and Aarattupuzha for the major events, except Kaduppasseri Bhagavathi who participate in an event a day after Peruvanam Pooram. Through this column, I shall introduce you to all these 24 temples, and give a brief description as well.
1. Aykunnu Bhagavathi of Aykunnu Pandavagiri Temple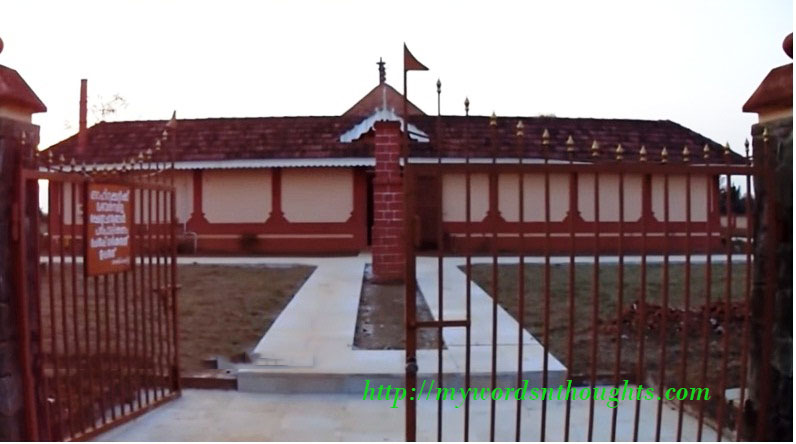 The deity of this temple has been assigned as the village goddess of Peruvanam village. Located in Venginisseri region consisting of 5 hills, its legends are associated with Pandavas of Mahabharata. The temple located at hill top is about 8 kms from Thrissur main town. In 1988, under the famous astrologer Kaimukk Parameswaran Namboodiri, when astrological predictions were conducted (Preshnamvaikkal), it was noticed that those 5 hills were built by Pandavas at the time of exile, and they killed Bakasura in this place.
For Vivahasidhi (for marriage) and Nedumangalyam (prosperity in married life, where wife precedes husband in death), devotees offer Pushpanjali to the presiding deity here. As per historic facts, during early days, before yaga is conducted in Peruvanam village, devotees used to climb the Aykunnu hills and perform bhajan before the goddess. Apart from annual Pooram festival, Managanapati homam in Karkidakam month, Illam Nira, Thripputhari of Chingam, Thiruvonam of Thulam and Aaratt are conducted every year. Draupati Dinam and Ponkala Maholsavam are also celebrated.
Para in bronze vessels is conducted before elephant procession starts off. Now goddess from several temples including Aykunnu should precede first. Then only procession of Cherpu Bhagavati starts off. Before she starts off, she enquires if all other goddesses have already started off or not. Once a strange incident happened; due to the non-availability of elephant, Aykunnu Bhagavathi couldn't start. Since then, goddesses of Cherpu and Aykunnu start procession at the same time.
2. Anthikad Bhagavathi of Anthikad Bhagavathi Temple
One among the 108 Durgalayas, this place was known as Markandeyapuram earlier. In Devi Maahaatmyam Purushothamasthavam chapter of Markandeyapuranam, the place is also specified as Vaishyasramam, Samadhivanam, Sandhyaavanam etc. The place name Anthikad is believed to be Malayalam derivative of Sandhyaavanam, which literally means 'evening forest'. It was also known as Chempaka Vanam (forest of Chempak flowers). Ashram of Samadhi Vashya from Devi Maahaatmyam is also located here. According to folklore, millenniums back, goddess Mookambika appeared here on the request of a Brahmin.
Navarathri, Installation day on Thrikkarthika which falls on Vrishchikam, Vaavaaratt, Annual Pooram and Vishu Pooram are the major events celebrated here. On the pooram day of Aarattupuzha Pooram, this temple owns the right to build mandapam at Mandarakadav. There are two types of Purappad (starting off) in Arattupuzha-Peruvanam Pooram namely Dwajadi (starting off after Kodiyettam/flying flag) and Padahaati (accompanied by musical instruments). Anthikad Bhagavathi belongs to the second group of 5 temples who start off with traditional music of Padahaati, as per customs.
3. Aarattupuzha Shastha of Aarattupuzha Sree Dharma Sastha Temple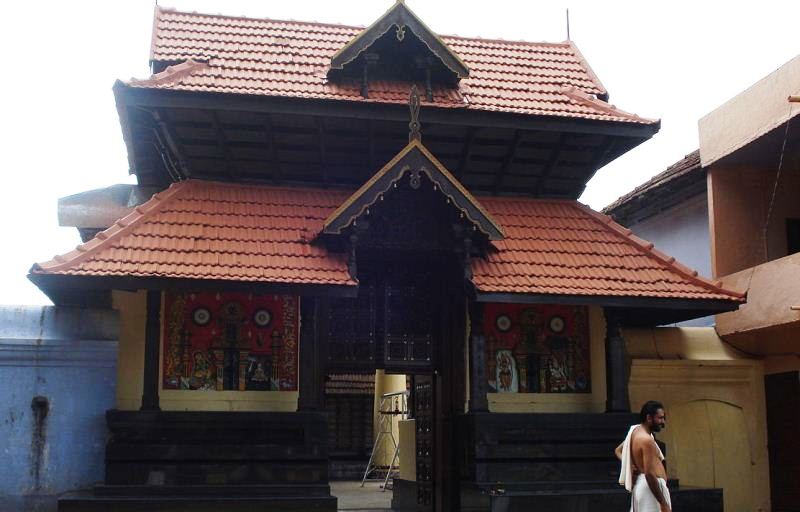 The lake is famous for Aarattu ceremony conducted there regularly (bathing of idols). That's the reason why the place and lake came to be known as Aarattupuzha. Sree Sastha Temple located on the banks of this river is one of the rarest temples of Kerala with Vasishta Sankalp, where the deity is believed to be the embodiment of the divine potential of Guru Vasishta. The final events of centuries-old festival of Peruvanam and pooram originated later, take place at Aarattupuzha Sree Sastha Temple and the nearby river.
Rivers named Manali Puzha and Kurumali Puzha joins at Palakkadavu to form Karuvannur Puzha. In between Aarattupuzha is located, which is also known by the names – Nadiyar and Teevra. The temple resembles the back side of an elephant and Sastha is the presiding deity. There is presence of both Sastha and guru Vasishta here. There was one Koottambalam situated here earlier.
Lord is so powerful to attract all deities to himself (Sarveswara Karakathvan). So no other deities are installed here, even the sub-temple of Ganesa. Devotees pray before the lord offering ghee, oil, honey and tender coconut juice. Ada Nivedyam is also very famous. Pooram in the month of Meenam is most auspicious among the celebrations here. Mandala Kaalam for 41 days and Navaratri are also observed. On the auspicious occasion of Pathamudayam of Medam month, the Karanavar (the most senior person) of Pallissery ancestral home is welcomed using Rudraksha chain.
Earlier Arattupuzha was one among the prominent groups of Kayattakaar (ascendants) for Peruvanam Pooram. But now, things have changed just opposite. But after reaching Thodukulam, they ascend aside Shastas of Kalleli and Medamkulam. Yet at Nadavazhi (walkway), Pandimelam is offered to this Shasta only. The ceremonial procession of deities from these neighboring temples on caparisoned elephants to Aarattupuzha is a delight to watch. The first main Pooram on the day is of Arattupuzha Sastha too.
4. Ammathiruvadi of Oorakam Ammathiruvadi Temple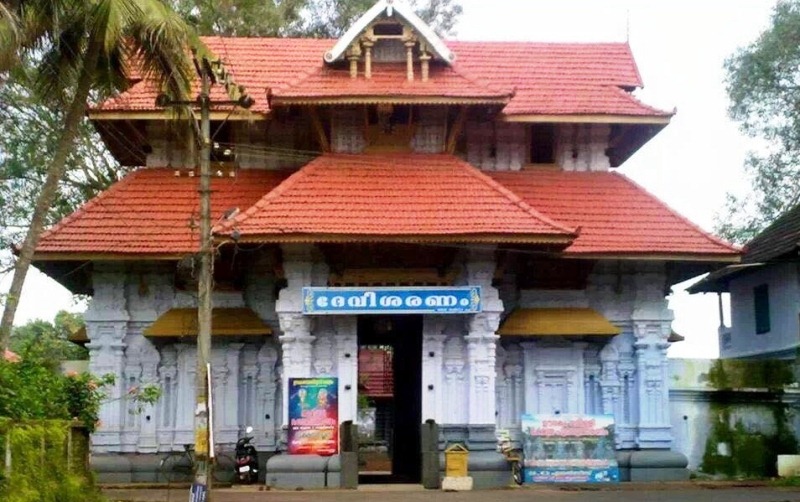 Millenniums back, when the annual celebrations of Peruvanam seized, the authorities decided to restart it again. They called astrologers for this purpose, who observed that goddess of Kanchipuram should be installed at Oorakam, and restart the annual celebrations as pooram. For the purpose, Kadalayil Namboodiri, Valayannur Bhattathiri and their assistant Komarath Menon travelled to reach Kanchipuram and started meditation and prayers to please the goddess. On the 40th day, their prayers got fulfilled who heard goddess' voice separately. Bhattathiripad heard that goddess is to accompany him to Oorakam. Later astrologers noticed the presence of goddess beneath Bhattathiri's umbrella and they concluded to construct a temple for her in the same location of his residence. Very soon Bhattathiri offered his whole property including his illam (home) for the purpose of constructing a temple.
West side of the illam was made sree kovil where goddess' deity was installed. When you enter the temple through Kizhakke Goparam (eastern side of the temple), Sreemoola Sthanam is situated straight at eye sight. As per legends, this is exactly the same place where Bhattathiri placed his palm umbrella soon after he reached home.
Whenever there is the procession of the presiding deity Ammathiruvadi outside the temple, a person will accompany her with a palm umbrella. She was earlier known as 'Valiyaadheeswari'. There is a famous poem written by Mazhamangalam addressing the goddess as the master of education and wealth. She is believed to be Parvathy, Saraswathy, Kanyaka etc. She is one among the prominent Kayattakaar (ascendants) of Peruvanam walkway. This supreme power is also believed to be a continuation of king's rule. Only Oorakam deity owns the right to light crackers in nadavazhy (walkway) for the grand fest.
Irakkipooja conducted on Makam star in Keezhottukara Kadalai is very auspicious. It's conducted soon after Tharakkal pooram. Apart from Peruvanam-Aarattupuzha pooram, Thrikarthika – birthday of goddess and Navaratri festival are also widely celebrated. Mandala kalam and Vaavarattu are other special occasions.
5. Kaduppasseri Bhagavathi of Kaduppasseri Durga Temple
One of the prominent 108 Durgalayas (Durga temples), Kaduppasseri Durga Temple is located in Thommana of Iringalakkuda-Chalakkudi route. Presiding deity is Durga with characteristics of Parvathy. There are temples for Ganesha and Brahma Rakshas too.
Members of Vellikkattukara Kuzhikkad Mana serve as Ooralanmar (authorities). Thrikkarthika of Vrishchikam month is auspicious. On the midnight of Mahasivaratri, a group arrives as procession from Avittathoor and takes her away. Pooram is yet another celebration, and Makeeryam is the Purapaad.
There is a popular legend connected with the deity of Kaduppasseri Durga Temple, and it goes like this. Once the vessel used to pour oil to fire torches of Peruvanam Pooram was seen empty. Goddess turned angry and she threw the vessel to nearby paddy field. After that she never goes for Peruvanam Pooram. There is a place named Chempuchaal in the paddy fields, which is still kept barren without cultivating crops.
On the next day of Peruvanam pooram, there is a custom to show Melam of Peruvanam to Avittathur temple. On the mid-day of Chothi in Aarattupuzha temple, three poorams are conducted as per Muhurat in the paddy fields, and Kaduppasseri Bhagavathi is one among the three. After Aarattu, she returns to Mandarakadav river bank. There is a ritual to show melam of Pooram to Avittathoorappan.
6. Thiruvullakavu Shastha of Kalleri Shasthav Temple
There was one illam (Brahmin home) at Padikkaparambil of Mupliyath, known by the name Kalleri. There resided one Namboodiri who was a great devotee of Thiruvullakavu Shasta. He used to visit the temple as a daily routine. But when he turned old, he was not able to travel to reach the temple. He prayed to lord to give a solution and returned. Lord showed in his dreams that night, and said that he need not travel this distance to see him at Thiruvullakavu. Instead he would reside here, in his courtyard.
Next day morning, as usual he took the umbrella from his courtyard to start his journey to temple, but was not able to lift it. He sought the help of an astrologer, who noticed a divine power in the umbrella. Very soon the Brahmin turned the courtyard to a temple and installed Shasta there. As time passed by, the Illam lost its prosperity and the whole property came under the control of Adiyallur Mana.
As Thiruvullakavu Shasta is the presiding deity, this temple is associated with prosperity in education and studies. It's also connected with nearby Vishnu temple. The temple participates in Vilakk festival of Peruvanam. On Thiruvathira day at noon and night, the temple participates in Tharakkal Pooram with three elephants. Kodiyettam is conducted on Makeeryam and Kodikuthu on Uthram.
7. Kodakara Punilarkaav Bhagavathi
This temple situated in Kodakara has many legends associated with it, and most notable one is Parasuram's story 2000 years old. Once Parasuraman passed through this place and stopped seeing a spiritual radiance. He invoked that spiritual power to a stone assuming it to be Parasakti, and when the radiance completely dissolved in the stone, there was a strong outflow of water. Goddess appeared before him and due to the presence of stones in abundance in that place it later came to be known as Punilaarkaav. It's also believed that he meditated here for a while and stayed at the southern side of the eastern gopuram of the temple. Dolmen (muniyara) is still present there.
Lamp is placed here praying Parasuram. Pooram is one of the most auspicious celebrations of the temple. Pooram Purappad is done on Karthika day, and also participates in Peruvanam Vilakk. She starts to Aarattupuzha along with Chalakkudi Pisharikkal Bhagavathi. On the mid-day of Chothi star, in Arattupuzha paddy fields, Poonuli Amma along with her younger siblings, Chalakkudi Pisharikkal Bhagavathi and Kaduppasseri Bhagavathi conducts Pooram (told above). This pooram in accordance to Muhurat (Muhurtam) is very famous.
8. Medakulangara Shasta Temple
The temple is situated in Pookode near Pudukkad, and the presiding deity is believed to be Shasta. Idols of Mahavishnu, Siva and Narasimha Murty are also worshipped here, giving equal importance to all. As per legends, a saint with spiritual powers came to this place, and as he got attracted to the spirituality of the place, worshipped Shasta here. Lord appeared there as spiritual luminescence as per stories. He was retained in the atmosphere for some time, and later became Swayambhoo and was installed. Pooram is the most important festival celebrated here, followed by Navaratri. Kodiyettam is done on Makayeryam, and as procession the lord is taken outside. Shasta participates in Peruvanam, Pidikkaparamb and Aarattupuzha.
9. Maattil Shasta Temple
This temple is situated 1 km away from Pallikkunnu. Nana Shasta is the presiding deity. Pooram is the most important festival celebrated here. Purappad is conducted in the late night of Makeeryam, as per customs. Maattil Shasthav Temple is one among the five temples which participate in the grand event, where Kodiyettam is not conducted. On Peruvanam Pooram day, as per Padahaati traditions, procession is started off with Panikott (where traditional instrument Pani is used), alighted at Kundil Mallissery Mana and conducted a few poojas here before it continues the journey to Peruvanam to participate in Peruvanam Vilakk ceremony. Later Shasta participates in Thottippal Pooram, and alights at Parappukkara temple for worship and reach Aarattupuzha via Pazhayi. Before the melam of Shasta completes, he enters the temple. Next day he returns after abide goodbye (Upacharam Cholluka custom). Same day night, he participates in Uthram Vilakk.
10. Kodannur Shasta Temple
This Swayambu temple is situated in Shastamkadavu of Kodannur. The name – Shastamkadavu is derived from the river bank where the temple is situated (Kadavu of Shasta). The idol in the shape of a sphere is made using Panchaloham. On the eastern side of the temple, Vigneswara is also installed. Shastas of Thiruvullakavu and Kodannur, and Manakodi Ayyappan are believed to have divine power, situated in a single line at different points. All these temples face west direction. Head at Thiruvullakavu, heart at Kodannur, and feet at Manakodi – that's the popular belief. It's one among the temples which participate in Peruvanam-Aarattupuzha Pooram without starting off with Kodiyettam, instead accompanied by musical instruments.
On Peruvanam Pooram day, the procession starts off as per Padahaati traditions, and is the main participant of Vilakku ceremony of Peruvanam inside the temple wall. After Aarattupuzha Pooram, on the next day, it participates in the procession (Ezhunnallath) conducted in the lamp ceremony of Aykunnu. He also participates regularly in Pidikkaparamb Aanayottam.
11. Edakunni Bhagavathi Temple
The temple is believed to be installed by Parasurama to get over the sins. He performed installation at Kuttanellur, Cherpu and Edakunni on the same day. After installation at Kuttanellur, he set off to Cherpu, and on the way he got attracted to a place splendid in abrus trees (Kunnimani) and a big pond, and installed goddess in that place too. Later he moved to Cherpu where he installed goddess the same day. As the place is filled with Abrus trees, the place got the name Edakunni. The temples of Edakunni, Triprayar and Peruvanam are almost of the same age.
The temple is under the rule of Varyathor, also they own the right of Kazhakam. The renovation of the temple was done by Diwan Shankara Warrier. Pooram is most prominent among the temple events, of which Uthram Vilakk performed at late night of Uthram star is the auspicious one. On Peruvanam Pooram day, this temple also participates in the Vilakk conducted by Nettissery. He also participates regularly in Pidikkaparamb Aanayottam. The procession starts off as per Padahaati traditions. After a small melam, the group moves towards Arattupuzha without any Vadyam or noise of chains. On the banks of Arattupuzha, procession is conducted, followed by pooram of 5 elephants in the paddy fields.
12. Kadalaasseri Pisharikkal Bhagavathi
Similar to Ammathiruvadi of Oorakam Ammathiruvadi Temple, she was also brought in from Kanchipuram and later installed here. In Kadalai, Namboodiri installed the goddess next to his residence, and hence she came to be known as Kadalaiyil Amma. Slowly the place came to be known as Kadalaasseri. Later the temple came to known as Vishaharikkal, followed by the medicinal powers earned by Avanavil Nambooduri to cure snake bites and poisoning. The place name – Pisharikkal was derived from Vishaharikkal. This temple is auspicious for treatment from bites from venomous snakes.
There is a legend related to snake bites. Aarattupuzha is the predecessor of Madamb Mana. Once a member belonging to this ancestral home got snake bite and condition turned serious. It was a dark moon day (Karutha Vaavu) of Thulam month. At that time, procession of Vavaaraatt of the temple was just to start off accompanied by musical instruments. He prayed to goddess that if he is spared of life, from next year onwards he will take care of whole expenses of Vavarattu ceremony from next year onwards. Goddess heard his promise and spared him. Till 1138, he conducted Vavarattu ceremony.
Among all annual celebrations, annual Pooram owns a prominent place. Purappad is conducted on Karthika star. There are 9 Arattu ceremonies for the goddess, of which the final one is at Mandarakadavu. First Pooram and Aarattu are given to Pisharikkal Bhagavathi. Till 109 years back, the elephants for the procession of Bhagavatis and Shastas for the Pooram events were distributed in front of Pisharikkal Bhagavathi. After Pooram, Vavarattu ceremony of Thulam month is auspicious. Earlier this temple was owned by Kadalai Mana, and now by Oomambilli.
13. Chakkamkulangara Shasta of Chakkamkulangara Sree Dharma Shasta temple
There are two stories behind the installation of this temple – by Parasurama and Lord Sun. As per beliefs, Arkkankulangara later became Chakkamkulangara, linked to the stories connecting Lord Sun. In the evenings, sun's rays fall directly on idol's face. In front of the temple, trees never grow, even if planted. Althara is also lonely, without any trees. Devotees visit this temple to cure diseases affecting neck or human organs above neck. Pooram conducted in Meenam is the major temple event. Chakkamkulangara Punartham Vilakk is very famous.
During the temple procession for annual Pooram, Shasta of this temple starts off and reaches Thaikkattusseri Bhagavathi temple. Then only the goddess starts off for the procession. As per beliefs, they are siblings. Chathakudam Shasthav also starts off only after Chakkamkulangara Shasta reaches there. So when Purappadu ceremony of Chathakudam Shasthav is conducted, Chakkamkulangara Shasta also participates in the event.
Till 1972, Pooram was conducted in Aarattupuzha too. But now customs have changed a little bit. Today, to participate in Pooram event, the procession reaches Aarattupuzha temple, alights and then Ezhunnallath ceremony is conducted. Chakkamkulangara Shasta alights at Thrikkoor Shasta Madam to perform Erakkupooja. After that Nilamuzhal ceremony is conducted, to grand permission to plough the land. Chakkamkulangara Shasta also participates in the seeveli ceremony of Thrikkorappan, and both idols will be carried on a single elephant throughout the rituals. He also participates in Edakunni Uthram Vilakk.
14. Chathakudam Shasta of Chathakudam Sree Dharma Shasta temple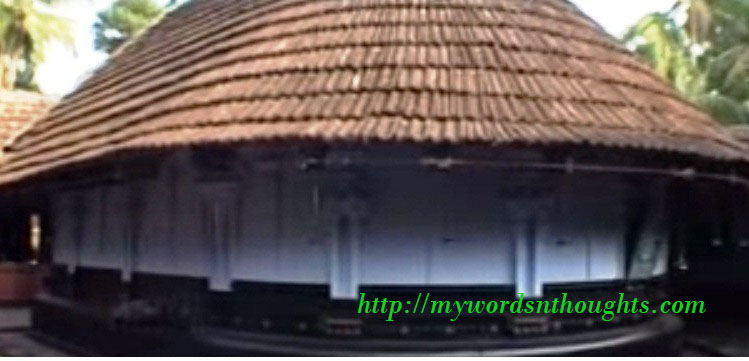 The temple is situated in Vallachira, and Sasta's idol is believed to be brought from Thiruvullakavu for installation. The idol was handed over by Vallachira Avanav, a Chathan (frolicsome spirit) covered the idol using leaves and brought it here. That's why the temple got the name Chathakudam. Gramabali conducted in association with Peruvanam Pooram is a continuation to this very popular belief. Thiruvathira Purappad is auspicious. In Aarattupuzha Pooram, Chathakudam Shasta has been designated the power of Acharya (Guru or leader). Pidikkaparamb Pooram and Aanayottam are also conducted under the leadership of Chathakudam.
During Aarattupuzha Pooram, after Chathakudam Pooram is over, Chathakudam Shasta replaces Aarattupuzha Shasta at the temple maidan as his substitute. For 15 years, Triprayar Thevar didn't arrive for Aarattupuzha Pooram. As a representative of Thevar, Chattakudam Shasta stood at Thevar Varambath, the place reserved for Triprayar Thevar for Ezhunnallath. In walkway (Nadavazhi), he is one among the prominent members of Kayattakkaar, whose procession is carried towards the main venue/temple. Among the 24 temples associated with the event, Chathakudam Shasta participates in maximum number of Pooras, and travels more distance too.
A permanent place (Nilapad Thara) has been assigned to Chathakudam inside the temple walls at south-east direction. On the auspicious occasion of Pathamudayam, Chattakudam Shastra comes in procession and stands at this position. Mandalakalam, Janmashtami and Navaratri are other special eves of temple celebrations. Devotees offer Aadiya Enna for relief from rheumatism and similar disorders and Ada Nivedyam to fulfill wishes. Devotees also put coins in historic pillar coin box.
15. Chitticchathakkudam Shasta
From Thalore bi-pass, on the western edge of paddy fields, Chitticchathakkudam Shasthav temple is situated. Shasta in the form of Satvika Murti is the presiding deity, and appears as a sage in meditation. He loves Vedas and its recitations, and hence Vedic recitations are conducted here. Ooralans of this temple belong to 4 Brahmin ancestral homes – Chittisseri Muthedath Mana, Chittisseri Kaplingattu Mana, Aarattupuzha Chorinjedathu Mana and Kalloor Avinoor Mana. Installation day in Makeeryam day of Makaram month and Pooram of Meenam month are the major annual events. Kodiyettam is conducted on Makeeryam day. Shasta participates in almost all important temple poorams of the locality. Chitticchathakkudam Shasta reaches everywhere, as he is believed to have the position of Karanavar. Similar to Chakkamkulangara Shasta, Irakkipooja is done at Thathanampilli Madam.
16. Chalakkudi Pisharikkal Bhagavathi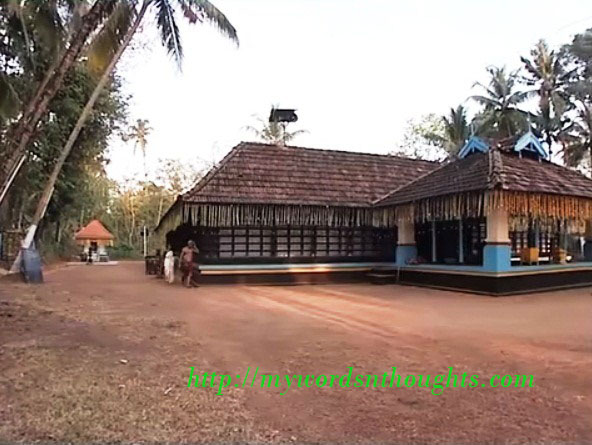 Vanadurga is the presiding deity here, and two Sreekovils are present. Bhadrakali resides in the second one. A Namboodiri from Paadivattom Illam was a devotee of Thirumandhamkunnu Bhagavati. When he turned old, it was not easy to go to Thirumandhamkunnu to worship the goddess, and he conveyed it to goddess. It's believed that goddess returned with him under his umbrella, and later he installed her near his residence. Pooram is prominent among all temple events, and Purappadu is conducted on Makeeryam.
On the journey to Arattupuzha Pooram, Erakkipooja is conducted at Poonilarkavu temple at Kodakara. Only a single pooram is conducted in Arattupuzha based on Muhurat, and it includes the dieties from Chalakkudi Pisharikkal Bhagavathi, Poonilarkavu and Kaduppusseri and 5 elephants participate in the event. On the mid-day of Chothi star, Aarattu of Kadalai amma is conducted in accordance to Muhurtham, and the pooram of 5 elephants is also conducted exactly at the same time. On Uthram day, Irakki Ezhunnallipp and Brahmini Paattu costumes are also performed. Same day Kodikuthu event is conducted. On Atham day, for Bhadrakali, after Navagam and Aadal, Kaazhcha Seeveli is conducted. For Paana para, Para ritual is also conducted every day.
17. Choorakod Bhagavathi Temple
In the same sreekovil, Durga and Bhadrakali co-exist, and both idols are believed to be Swayanbhoo. But Nivedyam for both are done separately. The goddess is believed to be the younger siblings of Anthikad Bhagavathi. Pooram is the auspicious event associated with the temple. Kodiyettam is conducted on Makeeryam star, and on Punartham star, in Pazhangaparamb Thantri House, Erakkipooja is conducted aside Anthikad Bhagavathi. Later she travels along with her sister to reach Anthikad, and participates in the Pooram there, followed by Aarattupuzha Pooram.
After Uthram Paattu, Vilakku ceremony is conducted. On Bharani day of Makaram month, there is an annual celebration exclusively reserved for Durga. Bharani day of Meenam month is also celebrated in a grand way. Nivedyam for Durga and Bhadra are offered separately.
18. Thaikkattusseri Bhagavathi Temple
One among 108 Durgalayams, Durga resides here as Dhanwanthari. The temple was earlier owned by 15 illams. But as time passed by, many of these illams lost their glory and later the governing power of the temple was handed over to Valiya Thaikkaatt Illam. Hence the place is also known as Valiya Thaikkaatt. On the east side of the temple, ancestral home of Ashta Vaidyan Elayidath Thaikkattu Moose is located and on the west side, his Ayurvedic shop. Ayurveda college is located at north-west direction.
As a part of Peruvanam Aarattupuzha Pooram, on Punartham day, Panchavadyam, Pandi and Panchari Melam of Thaikkattusseri Bhagavathi Temple are very famous. On Puyam day, she participates in Chitticchathakkudam Shasta temple pooram. She also participates in Chakkankulangara Vilakk and Pidikkaparamb Aanayottam. Irakkipooja is conducted for Aarattupuzha Pooram and Aarattu at Mandara Kadav.
19. Thiruvullakavu Shasta of Thiruvullakavu Sree Dharma Temple
This Shasta temple is famous for education and knowledge (Vidya). Earlier after Veda studies of Namboothiri children of Peruvanam, it was mandatory to do bhajan in Thiruvullakavu. So whenever they go for Othukottu ceremony, they used to offer special poojas at Thiruvullakavu to avoid mistakes in Veda recitals. Before going to Smarthavicharam, they conduct bhajan and give appam as offerings to avoid mistakes. If kids don't start talking at the proper age, parents take them to Thiruvullakavu Sree Dharma Temple and small models of tongue and Narayam are given as offerings to temple.
There is a popular legend connecting to two great poets of ancient times. Pathu, who served the banana after Nivedyam, later turned to a Yamaka poet and Varasyar who ate its skin later authored the famous Sanskrit work on Rama – Sreeramodantam. Ezhuthiruthu of Malayalam's own Changampuzha was done here. The first Kodiyettu (flag inauguration ceremony) of Peruvanam-Aarattupuzha Pooram is conducted in Thiruvullakavu Sree Dharma Temple.
20. Cherpu Bhagavathi Temple
Cherpu Bhagavathi temple and Peruvanam Mahadeva temple were installed almost at the same time. Earlier Othukottu was conducted in a grand fashion. The fixing of flag post (Kodimaram Naattal) for Peruvanam-Aarattupuzha Pooram is first conducted in Cherpu Bhagavathi temple. For the Mega Pooram event, Aswathi vela is the first celebration accompanied by Melam and musical instruments. Makeeryam Purappad is also done in a grand way. Among the irakkakaar of Peruvanam Pooram, Cherpu Bhagavathi holds the prominent name. Peruvanam Pooram ends in the dawn break with Irakkam. In Kootiyezhunnallath ceremony of Arattupuzha Pooram, she stays at the right side of Thevar. Uthram Pattu is conducted on Uthram day.
During ancient days of Peruvanam temple festival long before Poorams started off, the right to spread white and black clothes on the paths of Irattayappan's procession was exclusively reserved for Cherpu Bhagavathi. Vaavaaratt of Thulam month and annual Pooram are the major events of the temple. Thiruvonam Pattu and Brahmini Pattu are also conducted.
21. Thottippaal Bhagavathi Temple
This temple is situated in two bordering villages. One feet of goddess is situated in Irangalakuda village and the second one in Peruvanam village, as per popular beliefs. During the invasion of Tipu Sultan, the temple was very much damaged, and was renovated around 250 years back. Pakal Pooram is conducted on the same day of Arattupuzha Pooram. The rare custom of Kaappukettu is also performed here, which is said to be the best instance of bond between a brother and sister.
During Peruvanam Pooram, Thottippaal Bhagavathi participates in 'Nadavazhi Kayattam' ceremony alongside Chathakkudam Shasta. The goddess also participates in Tharaykkal Pooram. During ancient days, Anayottam was conducted from Avilkandam towards the temple. Now this custom has been replaced by an elephant procession carrying Thidamb of 6 deities. Winners will be drawn after this function.
On Aarattupuzha Pooram day, a Pooram of three elephants and Arattu at Mandarakadavu are performed, and Thottippaal Bhagavathi participates in both. Navaratri, Vaavaaratt of Thulam month, annual Pooram, Thiruvona Patt and Thrikkarthika of Vrishchikam are auspicious occasions celebrated in the temple.
22. Thriprayar Thevar from Thriprayar Sree Rama Swamy Temple
4 idols of the brothers – Rama, Bharata, Laxmana and Shatrughna were retrieved from deep oceans by fishermen. Among the four idols, Rama was installed in Thriprayar. Vedivazhipaad of this temple is very famous. Pooram is celebrated as a grand feast. Makeeryam Purappad marks the beginning of celebrations. There is a custom to light Achara vedi and 1001 Kathina Vedi while Thidamb is mounted to the elephant. Aaratt at Sethu Pond and Chalukeeral of Thaleykettu (Pynoor) are famous. Thevar participates in Kattur Pooram and Cheloor Pooram every year. Ezhunnallipp of Aarattupuzha Pooram is conducted in a royal fashion.
Accompanied by elephants, Thidamb is carried to Kaithavalapp. In Koottiyezhunnellip ceremony, he stands at the centre as leader. Aarattu at Mandarakadav is also famous. Krishna Paksha Ekadesi of Vrischikam, Pathamudayam of Medam, Desami Vilakk and Ashtami Rohini are celebrated in grand.
23. Nankulam Shasta of Nankulam Shasta Temple
In Naankulam complex of Avinisseri, three temples are situated – Shasta temple, Mahavishnu temple and Karipookavu Bhagavathi temple. There is a popular legend connecting the Bhagavathi and elephants. It's believed that the goddess of the temple dislikes elephants. On one occasion, a person tamed an elephant, and on the way of his return, elephant turned a stone statue. The place later came to be known as Aanakallu. After the installation of the temple, ooralanmaar (from 7 illams) decided to dig a pond. As per legend, a snake from Vishnu's idol came out of the temple, and showed the location to dig the pond. So the pond got the name, Naagakulam, and later the place came to be known as Nankulam. Bhagavathi owns the whole property of the temple, and Vishnu spends it. The fame of outer world is earned by Shasta.
During Peruvanam-Aarattupuzha Pooram, Kodiyettam ceremony is conducted on Makeeryam star. Kodikkal Pooram conducted on Attam star is famous. Shasta also participates in Peruvanam Vilakk and Pidikkaparamb Anayottam. Thrikarthika of Vrischika Month is auspicious for Karipookavu Bhagavathi temple. Irattakudam offering is very famous.
24. Nettisseri Shasta Temple
The temple is located near Mannuthi. There are 8 idols installed here, conducted by 8 Illams and hence the name, Nettisseri was coined from 8 idols ('Ettu Prathishta' in Malayalam). Othukottu was conducted here in the ancient times. Pooram is prominent among all annual celebrations. Inauguration is conducted on Makeeryam star, and Vilakk conducted on Punartham star. In the Vilakk ceremony conducted inside the temple walls of Peruvanam Pooram, Nettisseri Shasta holds the leader position. 11 deities participate in the auspicious Vilakk ceremony. Nettisseri Shasta also participates in Pidikkaparamb Anayottam.
During Aarattupuzha Pooram, after local Pooram of Aarattupuzha Shasta, a Pooram of 5 elephants by Nettisseri Shasta comes after this event. 40-days Mandala Pooja is important among annual major events.
Before I wind up, an end note
There are many traditional musical instruments used for the grand event, strictly following traditional customs. Some of them include – Melam Uruttu Chenda, Veekkam Chenda, Kuzhal, Komb and Thaalam. Processions are done in two ways – Kayattam (ascending towards temple) and Irakkam (descending from temple) and temples/deities are specially reserved for both. Kayattam means – certain idols reach Peruvanam-Aarattupuzha Pooram in procession, while the second group starts their procession journey from there.
From the facts I told above, it's pretty clear that Peruvanam-Aarattupuzha Pooram is indeed one of the biggest and well-organized temple festivals across the world, and definitely the co-ordination and co-operation among the different temples have made it a great event, everyone associated with it can feel proud of.
You can read a few more articles related to temple rituals, offerings, customs and celebrations, mostly associated with temples across across Kerala. Here is the page link. Click on the images in the gallery to read
(Visited 1,410 times, 1 visits today)