Greatest of 20 Asha Bhosle solos composed by R. D. Burman
Asha Bhosle and R. D. Burman – the most successful real life couple in Bollywood music industry. After O. P. Nayyar in the 1960s, R. D. Burman gave Asha her career best songs in the 1970s and 1980s. While I listed songs of Asha Bhosle and R. D. Burman combination, most of my favourite chartbuster songs belong to 'duet' genre mostly in association with Kishore Kumar, and only a few could be tagged as 'outstanding'. But it's to be noted that R. D. Burman gave some of his wonderful female solos to his sister-in-law Lata Mangeshkar, and some everlasting chartbuster solo hits with Kishore Kumar too. Read top 50 songs of Kishore Kumar – R. D. Burman combination. Through this list, I tried to bring 20 of best Asha Bhosle solos composed by Pancham, and I am sure, you will agree with my opinion. Yet I need to say, this list includes some of the less-heard but wonderful soft solos composed by Burman in the 1970s and 1980s.
1. Dum Maro Dum from Hare Rama Hare Krishna – Let me begin with the chartbuster song composed by R. D. Burman which established Asha Bhosle as one of the most sought voices of early 1970s. This particular song featuring Zeenat Aman and Dev Anand cemented her position in Bollywood music industry, and also gave away Filmfare award in best singing category. The song penned by Anand Bakshi was quite controversial for using 'Hare Krishna Hare Ram' Mantra for a 'hippy' song, yet it was well received by music fans.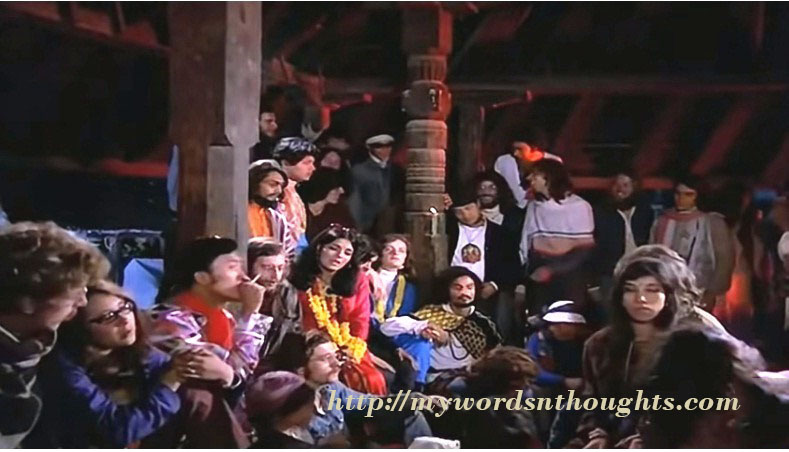 2. Jaoon To Kahan from Anamika – The movie is indeed popular for some of the solos sung by Lata, Kishore and Asha, and this song can never miss our list. This song featured Sanjeev Kumar, Jaya Bhaduri and A. K. Hangal. Majrooh Sultanpuri penned the lyrics, and the movie also included two more solo track sung by Asha Bhosle – Aaj Ki Raat Koi Aane Ko Hain featuring Helen and also Logo Na Maro featuring the lead pair.
3. Logo Na Maro from Anamika – It's indeed a wonderful track and can never miss the list. Featuring Sanjeev Kumar and Jaya Bhaduri, the song was filmed in lovely location of some hill station.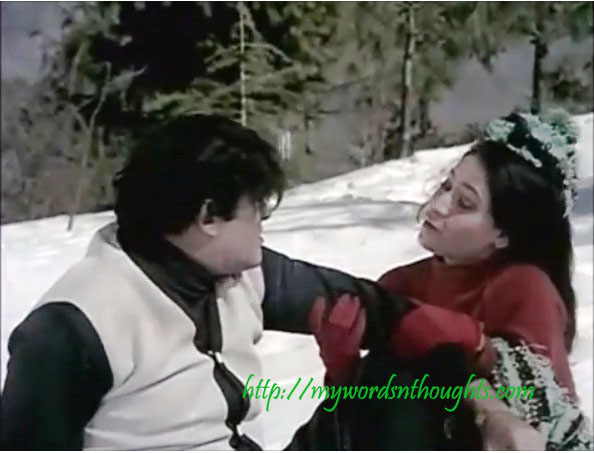 4. Phir Se Aaiyo Badra Bidesi from Namkeen – It's one of the wonderful ghazals sung by Asha Bhosle composed by Burman. How can this Gulzar poem miss our list of some of the best solos of this legendary singer! The song featured Shabana Azmi.
5. Kitne Bhi Tu Karle Sitam from Sanam Teri Kasam – The songs earned R. D. Burman his first Filmfare award, almost after 2 decades he spent in the industry. The song had two solo versions sung by Asha Bhosle and Kishore Kumar, and both the songs featured the lead pair – Kamal Hassan and Reena Roy. Gulshan Bawra penned the lyrics of all its songs.
6. Hamen Raston Ki Jaroorat from Naram Garam – This song is indeed wonderful. Its Mukda's tune was later used by the composer for the title track of Sagar – Sagar Kinare. Needless to say, the song became more popular than its predecessor. Amol Palekar and Swaroop Sampat were featured in this sweet song. Gulzar penned lyrics. Mere Angana Aane De and Mere Chehre Mein Chupa are rest two solo tracks from the album sung by Asha Bhosle.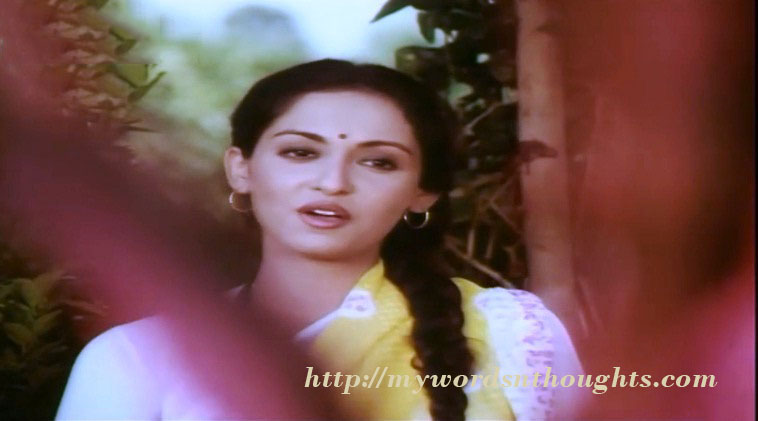 7. Meri Nazar Hai Tujhpe from The Burning Train – It's a dance sequence where Hema Malini and Parveen Babi perform together on stage, and Dharmendra and Vinod Khanna are seen among the spectators. Sahir Ludhianvi penned its popular lyrics.
8. Khatouba from Adventures of Ali-Baba and the Forty Thieves – The film is perhaps remembered most for this dancing number featuring Zeenat Aman. Anand Bakshi penned the lyrics. This item song with its Arabic flavor is indeed a catchy number.
9. Mera Pyar Shalimar from Shalimar – When I heard the song for the first time, I strongly felt, the chartbuster 'Tu Shayar Hai' song of Saajan (also its orchestra in the opening) was inspired from this one. What's your opinion? I got the glimpses of a few more songs in the 1990s or later, though can't specify any. Anand Bakshi penned the lyrics of most of Pancham's main stream songs in the 1970s and 1980s, and this one too.
10. Katra Katra from Ijaazat – This Asha Bhosle track featuring Rekha and Naseeruddin Shah is my personal favourite. The song was recorded in a unique way and was well appreciated too. Gulzar wrote its beautiful lyrics.
11. Mere Kuch Saman from Ijaazat – The song gave its playback singer and lyricist National award. But Burman couldn't win any. Yet Burman was praised by music critics for tuning the lyrics which didn't have any rhythm or pattern. Gulzar received Filmfare award too. The song featured Naseeruddin Shah and Anuradha Patel. The song is widely regarded as one of the best songs of Pancham-Gulzar combination.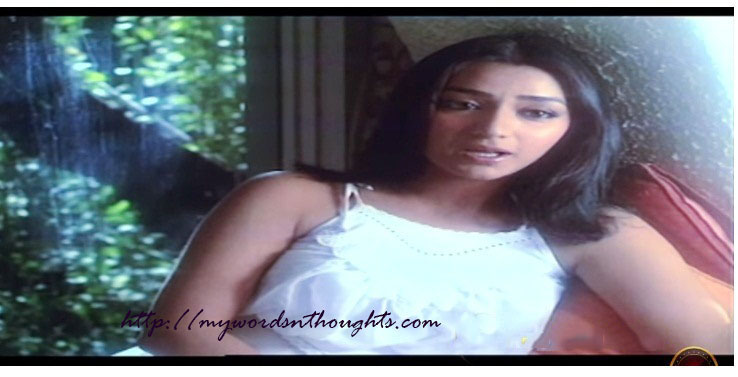 12. Haali Haat Shyam Aayi Hai from Ijaazat – Ijaazat is regarded as one of the finest works of Burman towards the end of his career, and all its songs penned by Gulzar are exceptionally well. This particular song featured Rekha and Naseeruddin Shah.
13. Chotti Se Kahani from Ijaazat – I have included all the four Asha Bhosle solos from the album. I like all four tracks composed by Burman. It's the only album featured in my list, with all the tracks included.
14. Do Lafzon Ki Hai Dil Ki Kahaani from The Great Gambler – Though this song can't be completely tagged as a solo track of Asha, I would prefer to believe so. One of the finest songs ever sung by Asha Bhosle in Burman's composition, voices of Amitabh Bachchan and Sharad Kumar were also heard. The song featuring Amitabh Bachchan and Zeenat Aman was filmed on a Gondola in Venice's Grand Canal. Sharad Kumar is the same person who played the role of Zeenat Aman's brother in Don. The song was penned by Anand Bakshi and it includes a few Italian wordings as well.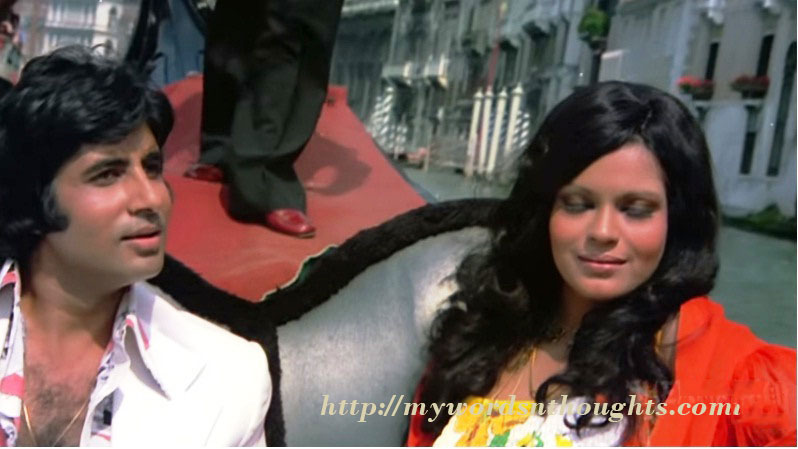 15. O Diwano Dil Sambhalo Dil from The Great Gambler – This dance number featured beautiful Zeenat Aman. The song was penned by Anand Bakshi. Tum Kitne Din Baad Mile is yet another popular Asha Bhosle solo dancing number belonging to the same album. Raqqasa Mera Naam – is a popular duet of Asha Bhosle and Rafi, yet another popular dance number.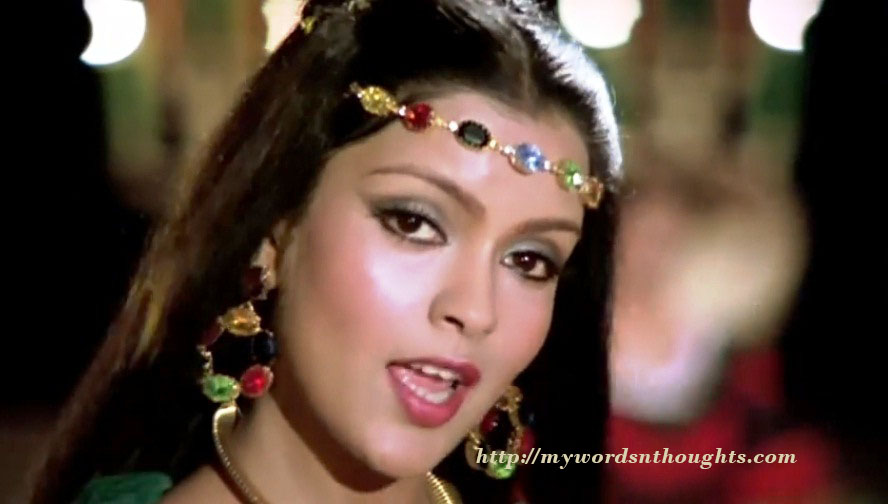 16. Pyaar Karne Waale from Shaan – This big-budget film couldn't achieve the success as expected. The movie included many hit songs like Yamma Yamma, Jaanu Meri Jaan, Doston Se Pyar Kiya etc. Yet this title track sung by Asha Bhosle has got something special. Perhaps the lyrics penned by Anand Bakshi did the wonder.
17. Mera Naam Hai Shabnam from Kati Patang – This song featuring Asha Parekh and Bindu was indeed a part of film script and R. D. Burman composed it in a talk-sung style, an experimented version. One among the first rap songs of Bollywood music, lyrics were penned by Anand Bakshi.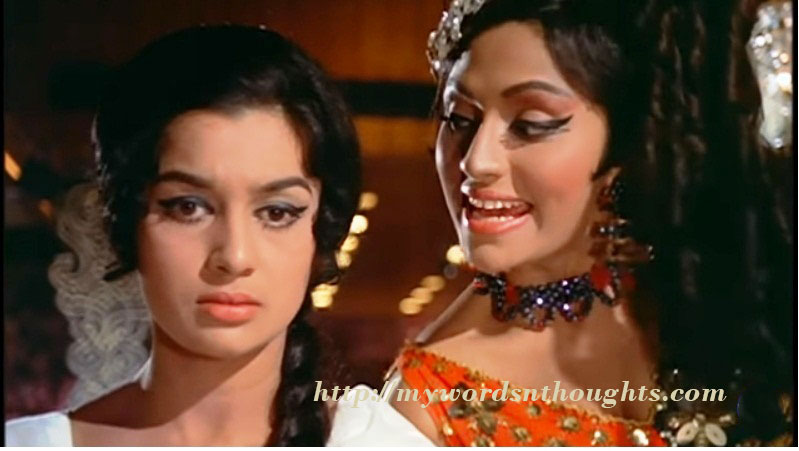 18. Bheega Badan Jalne Laga from Abdulla – The song can't be counted among the greatest tunes of R. D. Burman all times. Yet Asha Bhosle made it hers by her silky voice and unique singing style. This sensuous song featuring Zeenat Aman and Danny Denzongpa was indeed popular those days. Anand Bakshi penned its lyrics.
19. Bechara Dil Kya Kare from Khushboo – This track penned by Gulzar featured Farida Jalal and Hema Malini. It's one of the lovely songs featured on Farida Jalal ever, after Bahon Ka Bahar from Aradhana.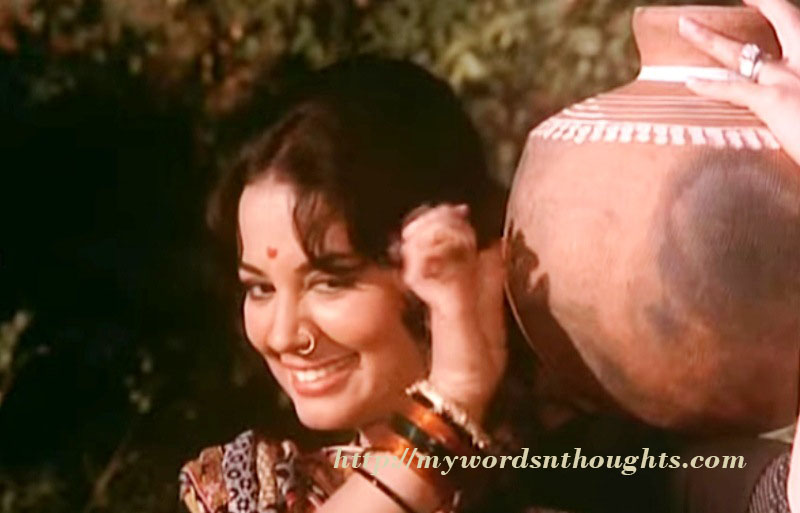 20. Yeh Mastani Dagar from Hifazat – I would like to conclude the list with this less heard song of early 1970s. The song is indeed beautiful though the film went unnoticed. The movie included three solos sung by Asha Bhosle. Majrooh Sultanpuri penned all its songs. Mere Humrahi and Aiyya Habib are rest two tracks sung by Asha.
21. Ghar Jayegi Tar Jayegi from Khushboo – This solo sung by Asha explores the dreams of an unmarried girl and Hema Malini made it memorable through her natural acting skills. Its lyrics were by Gulzar. Pancham and Gulzar shared an amazing creative relationship and hence he reserved some of his finest compositions for the poet-director since his early films. The song had a remixed dance version in the 2000s which was indeed popular.
Before I conclude, I would mention a few more less-heard but lovely songs of R. D. Burman sung by Asha Bhosle – Hai Bichua of Jheel Ke Us Paar, Tum Kitne Din Baad Mile of The Great Gambler, Mere Angana Aane De from Naram Garam etc. Also read: Top 100 Chartbuster Songs of R. D. Burman.
Further Read: Have a look at the gallery, and click on the links to read a few interesting topics of this iconic composer. Here is the page link. You can also read a few posts below.
(Visited 4,842 times, 1 visits today)