Lata Mangeshkar @ 90 – The singing voice for Bollywood screen idols for three generations
"Do you fear death?" A reporter asked Bollywood diva of 1960s – Sadhana Shivdasani in an interview at her residence at Santacruz. The lady known for her mysterious smile turned silent for a moment and closed her eyes. Then she replied, "No, not at all. Even if I fell down and die right at this moment I am ready. But I will definitely have regret for something. I will have to leave behind some of the favourite songs of Lata Mangeshkar when I leave this world; especially 'Lag Jaa Gale…'"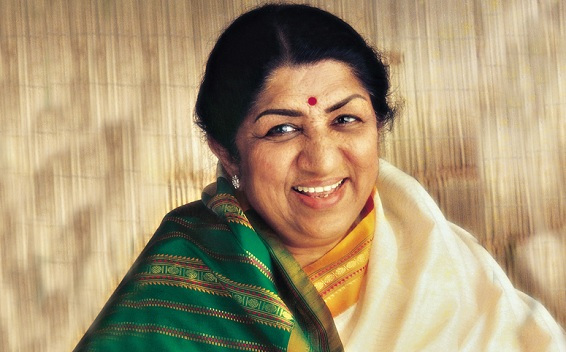 There was a time when Sadhana remained in the spotlight always. Following her health issues she was forced to leave Bollywood, and during her later years she fully stayed away from media. It was on one such occasion when she told so in an interview. Even during her last years of solitude, what she loved most was a collection of Bollywood songs of 1960s, which Lata Mangeshkar sang for her. She used to play those songs also – Lag Jaa Gale, Naina Barse, O Sajna, Mera Saaya, Nainon Mein Badra Chaaye, Mere Mehboob, Mein To Tum Sang, Ajee Rootkar Ab, Tujhe Jeevan Ki Dor Se, Tera Mera Pyar Amar, Aaja Aayi Bahar….. and most of those songs are solo Lata versions composed by Madan Mohan.
Among all those solo tracks, Lag Jaa Gale is so close to Sadhana's heart. She also expressed her passion towards this evergreen romantic track. In her words – Cinema has given so many things to her; money, fame, popularity, fans, unforgettable characters, love and also life partner. But Lag Jaa Gale is above all these things. In real life too, she had a romance and successful love marriage. She married 22 year old young director R. K. Nayyar when she was just 18. On the Christmas day in year 2015, she left the eternal world leaving behind all those evergreen Lata songs which belonged to her also. Also read my most recent posts to get the list of 500+ best songs of Lata Ji and also her short bio. Both these posts were added later.
Luck played an important role for Lag Jaa Gale song to be a part of Woh Kaun Thi….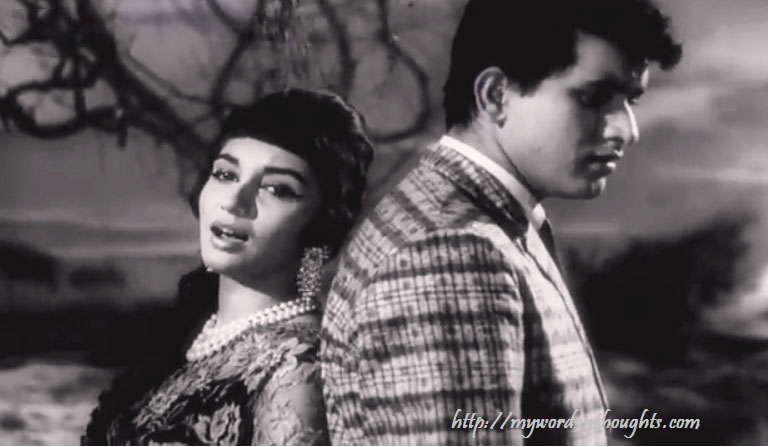 When Madan Mohan composed this song for 1964 movie, the director Raj Khosle felt that the song is too serious and heavy, and he wanted to exclude it from the movie. But the hero Manoj Kumar disagreed with this decision. He predicted that this romantic song would be the highlight of the movie, and reluctantly Khosle agreed to it. Words penned by Raja Mehdi Ali Khan and tune composed by Madan Mohan 55 years back gave birth to one of the best ever romantic songs of Bollywood cinema. Needless to mention, this evergreen classic is regarded as the best romantic song of Lata Mangeshkar. It was only after Woh Kaun Thi, Madan Mohan – Lata Mangeshkar duo became a celebrated music Jodi of Bollywood.
There is one interesting fact about the other Lata Mangeshkar solo of same Sadhana movie – Nayana Barse. The tune was originally composed in the year 1952, and it's quite shocking to know that during his struggling days, this tune was rejected by many filmmakers. In 1964 when Raj Khosle approached the music director for some haunting melodies for his upcoming project, Madan Mohan remembered his unused tune and used for Woh Kaun Thi, which proved to a milestone of his career. For the film shooting, the song was initially shot in the composer's voice, and Sadhana sync-lipped to it.
Songs of Pakeezah and Meena Kumari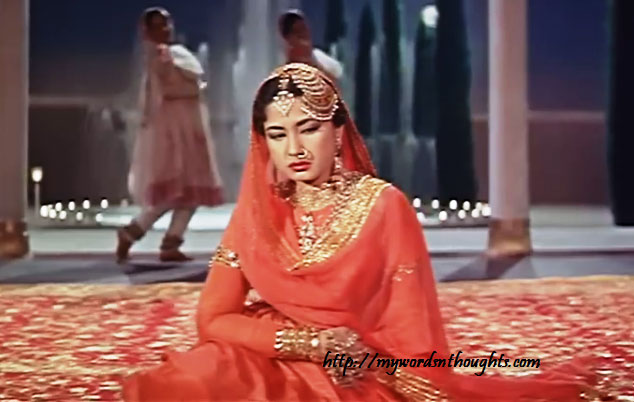 It's not just the case of Sadhana Shivdasani, there are many other heroines of yesterdays who got benefitted by Lata Mangeshkar's voice. Now at the age of 90, when Lataji looks back, she might be thinking about hundreds of beautiful faces, who she gave new life through her beautiful voice. From Munawar Sultana to Kareena Kapoor, she has rendered her voice for three or four different generations of Bollywood heroines since 1940s. It was only after mid-2000s she took a sabbatical. Yet she occasionally recorded songs in the past one decade or so. Now she is hesitated to watch old black and white films a little bit. It's only because many of those actresses, for whom she has given her voice, are no more, and her mind is still not accepting the fact.
In a recent interview, she told that she feels like crying whenever she watches Meena Kumari on screen. She also shared an old memory with the actress. Years back, director Kamal Amrohi called her once to his home for the song rehearsal for his upcoming movie. The movie was Pakeezah, and Amrohi's wife Meena Kumari was to play the lead role. Meena Kumari was not married then, and she also reached there to do dance practise for the song. Meena was so happy and was in an energetic mood for the dance practise with the enthusiasm of a newcomer. With fast dance steps Meena Kumari danced to Lata's voice.
Somehow the movie got shelved. Its shooting restarted about 15 years later, at a time when Meena Kumari was seriously ill with liver cirrhosis. She was already an alcoholic and in bad health with a terrible personal life after her marriage, when the project kicked off. Because of the severity of illness, she couldn't give many of the dance steps which she dreamed about, and she sat is despair and tiredness in the film sets. Many of those dance sequences and songs were completed with the help of dupes. Lata Mangeshkar saw her alive for the last time at a star night award function. When Meena got hold of Lata's hands for a long time, her eyes were filled with tears. Now also whenever Lata Mangeshkar watches Meena Kumari in Pakeezah, those bad memories become live again.
Lata sang several hit songs for Meena Kumari's last movie, Pakeezah – Chalte Chalte, Chalo Dildaar Chalo, Inhe Logon Ne, Thade Rahiyo and Mausam Hai Aasiqana. Ajeeb Dastan from Dil Apna Aur Preet Paraye, Nagma O Sher from Ghazal, Bachpan Ki Mohabbat from Baiju Bawra, Kahi To Milegi from Aarti, Dil Jo Na Keh Saka from Bheegi Raat, Woh Jo Milte The Kabhi from Akeli Mat Jaiyo etc are a few more memorable songs of Meena Kumari in Lata Mangeshkar's voice.
Lata's deep relation with Madhubala
When Bollywood diva Madhubala gives her call sheet to film producers, she used to insist that only Lata should sing for her. In 1949 when 'Aayega Aayega Aanewala' from the movie Mahal got released, it became the turning point of the careers of both Lata Mangeshkar and Madhubala. The duo later contributed Pyar Kiya To Darna Kya, More Panghat Pe and Mohabbat Ki Jhooti of Mughal-E-Azam to Bollywood fans, apart from many other evergreen tracks.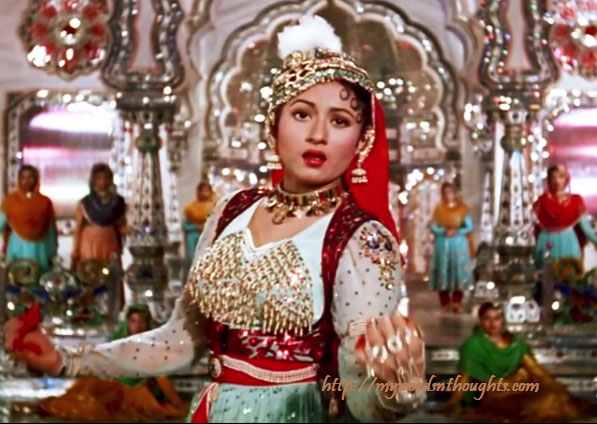 When Madhubala danced to the steps of Pyar Kiya To Darna, she was suffering from severe pain because of a heart disease. It was only her dedication which helped the filmmaker to complete the movie, and still now Anarkali of Mughal-E-Azam is regarded as her career best performance. It was in the 1950s when she came to know about her rare heart disease. During those days, open heart surgery was not common. Otherwise she would have survived. She never left celluloid and was active in the industry with a hole in her heart for one more decade. But she left the world with many dreams unfinished. Lata Mangeshkar rendered her voice for Madhubala's last movie, Jyoti too. Once Madhubala told media, Lata Mangeshkar's songs have inspired her to fight against odds and challenges. No doubt, Lata's voice has a healing effect, and that's why we are all die-hard fans of her songs.
The voice of different generations spanning to more than 5 decades
Many beautiful faces have given full justification to Lata's magical voice on big screen. Lata was deeply impressed by Nutan's expression and sync-lipping for her songs of 1955 movie, Seema, and the singer feels that she can never do so with this much perfection on silver screen. The classical raga based 'Man Mohana' is the best instance. Nutan is also a singer. That could be the reason why Nutan expressed it best on screen with perfection. The song is very much close to Lata's heart. Interestingly Lata has rendered her voice for Nutan's mother Shobhna Samarth earlier. In the 1960s, Lata rendered her voice for countless songs of Nutan's younger sister Tanuja and in the 1990s for Nutan's niece Kajol. Thus Lata got opportunity to sing for three generations of Bollywood heroines from the same family.
Roz Shyam Aati from Imtihaan, Yeh Dil Tum Bin from Izzat, Aap Mujhe Acche Lagne Lage from Jeene Ke Raah and Chahe Raho Door from Do Chor are some of the beautiful renditions of Lata Mangeshkar for Tanuja. In the 1990s, Lata Mangeshkar recorded songs for popular Kajol movies like Dilwale Dulhaniya Le Jayenge (Tujhe Deka To, Ho Haya Hai, Mere Khwabon & Mehndi Lagake Rakhna) and Yeh Dillagi (Lagi Lagi, Gori Kalai, Dekho Zara Dekho & Hoton Pe Bas).
Chand Phir Nikala from Paying Guest, Tumhi Mere Mandir of Khandan, Chhod De Saari Duniya Kisi Ke Liye and Chandan Sa Badan and Phool Tumhe Bheja Hai from Saraswati Chanda, Mora Gora Ang Laile from Bandini, Woh Chand Khila of Anari, Sawan Ka Mahina from Milan, Tera Mera Saat Rahe from Saudagar, Tere Ghar Ke Samne of Tere Ghar Ke Samne etc are a few more popular songs of Nutan sung by Lata Mangeshkar.
A few more popular songs of Lata Mangeshkar with lead actresses of yesterdays
Mala Sinha – Jare Ud Jaare Panchi from Maya, Title track, Mujhe Kitna Pyar Hai Tumse & Masoom Chehra from Dil Tera Deewana, Aap Ki Nazron Ne from Anpadh, Tumhari Nazar from Do Kaliyan, Aaja Tujhko & Tere Naina Kyon Bhar Aaye from Geet, Milti Hai Zindagi from Aankhein, Kahi Karta Hoga Woh Mera from Phir Kab Milogi , Ye Hariyali Aur Ye Rasta, Bol Meri Taqdeer and Allah Jaane Kya Hoga Aage from Hariyali Aur Rasta etc.
Sharmila Tagore – Kuch Dil Ne Kaha from Anupama, Kora Kagaz & Chanda Hai Tu from Aradhana, Wada Karo from Aa Gale La Jaa, Ab Ke Sajan from Chupke Chupke, Raina Beeti Jaaye & Bada Natkhat Hai from Amar Prem, Dil Doondta from Mausam, Hum Aur Tum, Ab Chahe Ma Roothe Yaa Baba & Ni Main Yaar Manana Ni from Daag, Mera Pardesi & Title track from Mere Humsafar, Gar Tum Bhula from Yakein, Chalo Sajna from Mere Humdum Mere Dost etc.
Jaya Bhaduri – Chupke Chupke Chal Ri Purwaiya from Chupke Chupke, Bahom Mein Chali Aa from Anamika, Ab To Hai Tumse, Nadiya Kinare, Tere Man Ki, Teri Bindiya Re, Loote Koi Man Ka Nagar and Piya Bina Piya Bina from Abhimaan, Beetey Na from Parichay etc.
Rekha – Neela Aasman So Gaya, Yeh Kahan Aa Gaye Hum & Dekha Ek Kwaab from Silsila, Aap Ki Aankhon, Aajkal Pao & Tere Bina from Ghar, Salaam-e-Ishq Meri Jaan from Muqaddar Ka Sikandar, Kali Ghata Chaayi from Kali Ghata, Title track of Agar Tum Na Hote, Gum Hai Kise Ke Pyar from Rampur Ke Laxman, Mein Hoon Diya from Jal Mahal etc.
Rakhee Gulzar – Kabhi Kabhi from Kabhi Kabhi, Khilte Hain Gul Yahan, Megha Chhaye Aadhi Raat & Aaj Madhosh from Sharmilee, Apne Pyar Ke Sapne from Barsat Ki Ek Raat, Sawan Ke Jhoole from Jurmana, E Ri Pawan from Bemisaal, Jhilmil Sitaron Ka from Jeevan Mrityu, Chal Kahi Door from Doosra Aadmi, Dil To Hai Dil from Muqaddar Ka Sikandar, Jahan Pe Sawara Ho from Baseera etc.
Vyjayanthimala – Har Dil Jo Pyar Karega & O Mere Sanam from Sangham, Aaja Re Pardesi & Dil Tadap Tadap from Madhumati, Tadap Yeh Dil & Tumhe Yaad Karte from Amrapali, Dil Pukare and Rulake Gaya Sapna from Jewel Thief etc.
Waheeda Rehman – Aaj Phir Jeene Ki Tamanna, Gata Rahe & Piya To Se from Guide, Raat Bhi Hai Kuch from Mujhe Jeene Do, Tu Chanda Mein Chandni from Reshma Aur Shera, Tum To Dil Ke Taar Chedd Kar from Roop Ki Rani Choron Ka Raja, O Bekarar Dil from Kohra, Kahi Deep Jale Kahi Dil from Bees Saal Baad etc.
Asha Parekh – Sayonara and Mujhe Tum Mil Gaye from Love in Tokyo, Kya Janoo Sajan and Aaja Piya from Baharon Ke Sapne, Mein Na Miloongi, Ni Sultana Re & Na Jaa O Mere Humdum from Pyar Ka Mausam, Bangle Pe Peeche from Samadhi, Na Koi Umang from Katti Patang, Acha To Hum Chalte Hain from Aan Mili Sajna, Suno Sajna from Aaye Din Bahar Ke, Raat Ka Sama and Yeh Meri Zindagi from Ziddi, Sau Saal Pehle & Title track from Jab Pyar Kise Se Hota Hai, Tum Mujhe Yu from Pagla Kahin Ka, Aao Tumhe Chande Pe from Zakhmi etc.
Nanda – Alla Tore Naam from Hum Dono, Yeh Sama from Jab Jab Phool Khile, Waadiyan Mere Daman & Pyar Hua Hai Jab Se from Abhilasha, Gumnaam Hai Koi from Gumnaam, Likha Hai Teri Aankhon Mein from Teen Deviyan, Ek Pyar Ka Nagma Hai from Shor, Ni Soniye from The Train etc.
Saira Banu – Ja Ja Ja, Din Saara Guzara & Ehsaan Tera Hoga from Junglee, Mein Chali Mein Chali & Bhai Battur from Padosan, Unki Pehli Nazar from Jhuk Gaya Aasman, Mein Kamsin Hoon from Aayi Milan Ki Bela, Rootha Hai To Manalege from Jwar Bhata, Thoda Sa Thehro from Victoria No. 203, Woh Hai Zara, Ruk Jaa, Kaanha and Dil Vil Pyar Vyar from Shagird etc.
Priya Rajvansh – Aaj Socha Tho & Betaab Dil Ki from Haste Zakhm, Zara Se Aahat from Haqeeqat etc.
Hema Malini – E Dil E Nadaan from Razia Sultana, Sa Re Ga Ma Pa, Saajan & Oy Khata Sawari from Abhinetri, Mere Naina from Mehbooba, Dheere Dheere Bol Koi Sun Na Le from Gora Aur Kala, Tera Mera Judaa Hona Mushkil Hai from Paraya Dhan, Tu Kya Jane O Bewafa from Haath Ki Safai, Kal Ki Haseen & Ki Aaja Tere Yaad Aaye from Charas, Jab Tak Hai Jaan from Sholay, Gar Jayegi from Khushboo etc.
Mumtaz – Bindiya Chamkegi & Chup Gaye Saare from Do Raaste, Yu Hi Tum Mujhse from Sacha Jhoota, Do Ghoont Mujhe Bhi Pilade Sharabi from Jheel Ke Us Paar, Karvatein, Suno Kaho & Jai Jai Shiv Shankar from Aap Ki Kasam, Kaanchi Re from Hare Rama Hare Krishna, Suno Champa & Kajra Lagake Gajra Sajake from Apna Desh etc.
Zeenat Aman – Panna Ki Tamanna from Heera Panna, Title track of Sathyam Sivam Sundaram, Mein Na Phoolongi & Hai Hai Yeh Majboori from Roti Kapada Aur Makan, Hum Dono and Bheegi Bheegi Raaton Mein from Ajanabee etc.
Tina Munin – Kya Yehi Pyar Hai from Rocky , Tere Liye Palkon Ki from Harjaee, Zindagi Pyar Ka Geet & Shayad Meri Shaadi from Souten etc.
Dimple Kapadia – Hum Tum Ek Kamare, Mujhe Kuch Kehna Hai, Hum Tum Ek Kamare Mein & Jhoot Bole Kauwa from Bobby, Saagar Kinare from Saagar, Dil Hoon Hoon Kare from Rudali (1990s song), Yara Seeli Seeli from Lekin (1990s song) etc.
Jiya Bekaraar Hai and Barsaat Mein Humse Mile Tum from Barsaat for Nimmi, Rhim Jhim Gire Saawan from Manzil & Woh Kya Hai from Anuraag for Moushmi Chatterjee, Rajnigandha Phool from Rajinigandha, Na Jaane Kyon Hota Hai Yeh Zindagi Ke Saath from Choti Se Baat & Tumhe Dekhti Hoon from Tumhare Liye for Vidya Sinha, Aa Jaane Jaa from Intequam & Is Duniya Mein from Gumnaam for Helen, Balma Bada Nadan Hai from Albela for Geeta Bali, O Basanti Pawan Pagal from Jis Desh Mein Ganga Behti Hai for Padmini, Bagon Mein Bahar Hai from Aradhana for Farida Jalal, Dikhai Diye from Baazar for Supriya Pathak, Chadti Jawani & Dilbar Dil Se Pyare from Caravan & Mujhe Kuch Hota Hai from Tumse Acha Hota Hai for Aruna Irani, Yeh Zindagi Use Ki Hai from Anarkali for Bina Rai, Jaa Re Jaa O Harjai from Kalicharan, Mere Saason Ko from Badalte Rishtey & Sheesha Ho Ya Dil Ho from Asha for Reena Roy, Tere Mere Beech Mein, Hum Bane Tum Bane, Hum Tum Dono Jab Mil Jayen and Sola Baras Ki from Ek Duje Ke Liye and Mujhe Tum Yaad Karna from Mashaal for Rati Agnihotri, Dafaliwale from Sargam for Jayaprada, Dil Mein Tujhe Bitake from Fakira, Humko Tumse from Amar Akbar Antony and Ajnabi Kaun Ho Tum from Sweekar Kiya Maine for Shabana Azmi, Nindiya Se Jaagi Bahar from Hero for Meenakshi Sheshadri, Aisa Sama from Zameen Aasman for Anita Raj etc are some of the best renditions of Lata for Bollywood heroines spanning from 1950s to early 1980s.
The list of Bollywood heroines or songs sung by Lata Mangeshkar never end here. This is my humble birthday gift to my idol, Lata Ji whose songs have fascinated me since early childhood. Thanks a lot for all the songs you sang for us for more than 50 years.
Also read a few more posts about the legend.
(Visited 861 times, 1 visits today)