Welcome to the lost glory of Peruvanam Palace,Thrissur
Peruvanam palace situated at the southern side (Thekke Nada) of Peruvanam temple of Thrissur holds traditional value. But this heritage building was left over with neglectance for so many years that the whole place turned bushy. This year there was a major change prior to Thrissur Pooram held in May 2017. The whole premises of the palace were cleaned, and provided as the rest house of elephants who participated in the pooram. It was after a long time, elephants were brought to this old palace, which still holds ancient tradition and some stories untold. Thus the ardent fans of elephants got an opportunity to see a glimpse of their favourite elephants within palace premises, after a long time.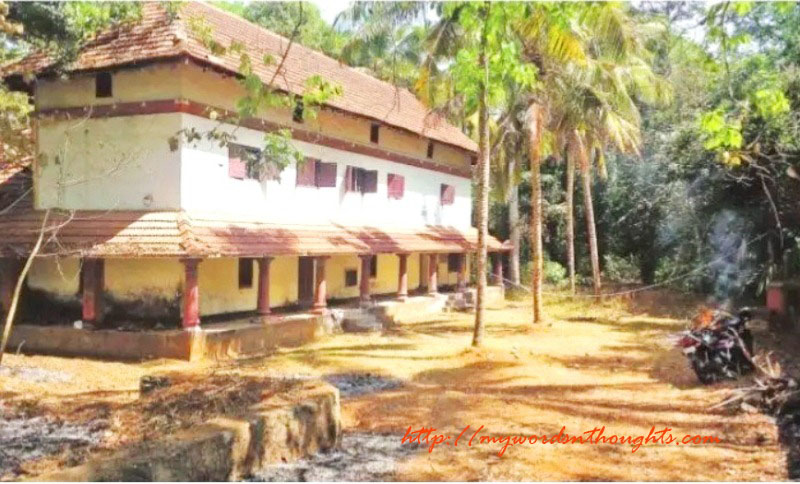 Peruvanam palace is situated in 3 acres
The palace and its premises spread to 3 acres, and is a home of many flora and fauna. Name of many of the plants and trees available in the premises are still unknown, the place is blessed with so many ponds. A Nalukettu is also located inside Peruvanam palace (Peruvanam Kottaram), which currently comes under the direct governance of Travancore Devaswom.
Earlier too, requests have been made several times by local people to grand permission during Pooram seasons of Peruvanam and Arattupuzha, to provide the palace premises as rest house to elephants which take part in annual Pooram celebrations. If so ponds can be used for bathing elephants and the premises as their rest place. But permission has been granted this year only, and the locals welcomed it with cheers and enthusiasm. Once again, the Peruvanam palace also came to limelight.
It's not the only reason why local people became so happy. They were indeed pleased that the premises of the palace, which was in a very pathetic condition, were cleaned which brought back several glorious memories of yesterdays back.
Kunnathur Padinjaaredathu Mana
The Nalukettu of this palace was earlier owned by Kunnathur Padinjaaredathu Mana, known for heading many temples of Kerala. Many of its family members serve as Thantri in many temples of Thrissur. K. P. C. Narayanan Bhattathiripad, an eminent Vedic scholar who served as a Thantri was a member of this Mana. He passed away a few months back.
Pooja was conducted for Cherpu Bhagavathi after Makam Aarattu, Aarattupuzha Shasthav after Punartham Aarattu and Aikunnu Bhagavathi this year, which is quite unusual. Old people recollect from their memories the stories of glorious yesterdays when decorated elephants used to reach the courtyard of the palace carrying the divine Thidamb. The Mana (ancestral home of Brahmins/Namboothiris) of Kerala was later handed over to Travancore Devaswom.
When the residents of this heritage home moved to other homes of the locality, this glorious palace later became an office of Devaswom board. At the south end side of the palace, a big gate is provided guiding to Pervanam temple. What else left are Naalukettum and a small building (Ottasrambi).
The palace premise is blessed with so many trees – trees without any name, and flowering giving trees as well. The movies – Theertham (1987) directed by Mohan and Brasht directed by Madamp Kunjikuttan were filmed in Peruvanam Palace. After that, the palace and premises were not properly maintained. When the pathetic condition of this heritage home caught media attention 15 years back, the palace and its premises were renovated by Travancore Devaswom. An art institution named as Peruvanam Anushtana Kalakendram was also started, aiming at teaching Melam. But as time passed by, the institution shut down, and the premises got severely attacked by the course of time.
Wooden instruments and certain parts of Nalukettu were attacked by pests and destroyed, due to neglectance. Slowly it turned the home of stray dogs. Iron steps were attacked and destroyed by rust.
The palace blessed with ponds and shady trees
The ponds and shady trees of the location can provide an excellent rest place to elephants. The temple authorities easily identified this benefit, and that's why they gave application to Travancore Devaswom board. Elephants reached the palace premises on Makeeryam Purappad conducted on April 2. There are three ponds available in the premises.
Though it was not a feasible solution to clean 3 acres of land for this purpose, the authorities finally granted permission to clean area sufficient enough to accommodate 25 elephants at a time. One of the ponds was also cleaned, and later preserved by constructing steps. Certain steps were also taken to preserve the Theerthakulam, and important ponds of the nearby places, as a part of temple festivals. There are future plans to conserve the ponds of Peruvanam palace so that pure water can be made available for nearby temple festivals during the dry summer season and thoughts for a cultural building is also in pipeline.
Image courtesy: Mathrubhumi e-paper
You can read a few more articles on Thrissur – The Cultural Capital of Kerala. Here is the page link. Click on the images in the gallery to read
(Visited 773 times, 1 visits today)