Kaikulangara Rama Warrier – The man behind the first printed book of Ezhuthachan and other major early works in Malayalam
A great scholar and poet, Kaikulangara Rama Warrier who gave copyright of all his 16 great works for just 500 rupees to Parammel Iyyu Ittupp of Kunnamkulam (Thrissur), the businessman who printed his works and circulated! The documentation (Theeradharam) was registered at Chavakkad Sub-Registrar Office on 1885 June 30, which tells the story of poverty during the last phase of his life. He passed away 120 years ago on 1897 October 5. There are two opinions about his place of death – Kadangod Kaikulangara Kizhakke Wariyam and Thirur Thrikkandiyur Wariyam. Yet no one have arguments about his birth on Chodi star of Chingam month.
Though his ancestral home Kaikulangara Kizhakke Wariyam doesn't exist, the room where he was born has been preserved till now. After the fire attack in1868, the home was renovated by Punnathur Valiya Thampuran, and it's the only room that's left now.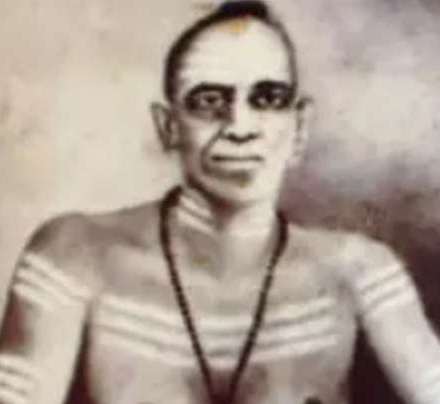 A brief note on his early days
He was born in Thalapilly of Kadangod Desam in Thrissur. He was born in Kizhakke Waryam as the third child to Narayani Warasyar and Kaithakott Narayana Bhattathiri. Rama Warrier showed intense desire of learning and grasping power since young. He joined the Bhajan group of Kaikulangara Devi temple at very young age, where he stayed also, and ate only Nivedyam of the temple. He showed some sort of eccentricities since those days. Best instance is the worship of sun lord at noon, lying flat on ground. He used to climb a banyan tree nearby and closely observe sun, which created a feeling of madness whoever watched his mannerisms. Though many people strictly warned him not to do so, he continued with his habits. Later he revealed that he did so to please goddess Saraswathy who sits at the centre of Aditya Mandalam, as advised by his father.
He studied for three years at Thrippunithura Kovilakam, under the Guru Palappuram Puthiyedath Govinda Nambiar. The guru was so font of him, which irked other disciples who belonged to rich families. Rama Warrier belonged to a poor family, that's the reason why. Later he was forced to leave the place without completing his studies. He later worked at Thrissur Brahmaswam Madam, and studied Veda overhearing it.
Later he spent his years at different Illams teaching and reciting literal works
Later he moved to Kunnathur Kovilakam. He earned friendship with Valiya Thampuram, and stayed there, and during this time he taught Sanskrit to a few residents of Kovilakam. He supported some of his disciples of the Kovilakam in the matter of handling of power, and even appeared as witness at court to get a judgment in favour of his students. This incident irked many female members of this Kovilakam, and he ended his settings there.
He returned back to Kaikulangara and was invited to Kottakal Kizhakke Kovilakam by Valiya Thampuran to recite Bhagavatam exclusively for him. He had a relationship with a female member of Kovilakam and was forced to leave the place. He moved towards north, and reached Kumbala Kovilakam at Karnataka border, where he taught the members with grammar, debates and ornamentation used in poetry. He also learnt Kannada language within 2 weeks for this purpose.
During this time, he became the disciple of Yogananda Swamikal, who reached the place to observe Chaturmasya. Thus he got the opportunity to learn body language of Brahma Sootra directly from his guru. Observing his amazing grasping power, guru got extremely pleased and granted him the titles – Vagdasan, Ramanantha Nadan and Pandita Paravendran. He studied Veda from Yogananda Swamikal by staying three months each at Mookambika temple and Kudajadri temple. When Guru returned to Badri Ashram, Warrier too returned to his hometown.
His association with Paramel Ittup and paper printing of Ezhuthachan's works
He received invitation from Ullattil Achyuthan Nair who served as Munsif at Vettathunadu. Thus Raman reached Thrikandiyur of Thirurur. He was instructed to teach Nair's wife with Sanskrit, poems and drama. During this time, he got attracted to Kutti Warryasar of Thrikkandiyur Warriyam, and got married. A daughter was born to him in this wedlock. Again he moved to Kunnamkulam, with an intense desire to defeat scholar Payyazhi Nair in Shastra debate, who has defeated him earlier. A debate between the two was conducted in 1864, and Paramel Ittup got attracted to the excellence of Raman in this field, where he prospered some business aspects. He started thinking about different methods, how to bring the talents and literal power of Rama to the cultural lives of normal man, and drew a conclusion to publish his writings and make it easily avail to everyone. Rama Warrier readily accepted the idea.
In those days, printing presses were not available in Thrissur or Kunnamkulam, and the nearest one was in Ernakulam. The first work was Ezhuthachan's Ramayana written in palm leaves. He reworked on it, corrected its mistakes and wrote in paper. The book was printed at St. Thomas printing press at Kochi. Still then Ramayana was available only in palm leaves. When the work was printed on paper for the first time, it became a grand success and several copies were sold. Paramel Ittup was indeed pleased with its success, and he continued the process by printing several great works of that era.
He printed Ezhuthachan's Kilipatt works followed by explanation works of Raghuvamsam, Sreekrishna Vilasam, Maagham etc and got published from Kochi. All the books were sold. But due to inconveniences to go to Kochi to print all these works which gave him huge expenses as well, in 1860 Paramel Ittup started a printing press named Vidhyaaratna Prabha at Kunnamkulam South Market (Thekke Angadi) where he continued with printing books. He also gave accommodation to Rama Warrior at Kunnumkulam, near to Anjoor temple. The press was later renamed as Kerala Vidhya Prakashika (KVP), and the building along with this press and ancestral home of Ittup are still preserved at Kunnamkulam, Thrissur. Currently the senior member of his family is Paramel Chummar Tharu.
When the demand of books went high, Ittup appointed Maliyammav Kunju Wareed as the manager of Warrier. Wareed earlier worked in St. Thomas printing press, Ernakulam. Rama Warrier was not given monthly salary, but based on the no: of pages of written. 8 pages together considered as 1 forum and 1.25 rupees was given to him for each forum. He need to spend 25 paise from that received amount to his assistant, who copies his works. Apart from his salary, he also accepted cash in advance from Ittup several times.
Once while going through the accounts, it was noticed that Warrier has bought 2000 rupees in advance. But he had no alternative to repay that amount, except to sell the copyright of his works to Ittup. Thus he sold copyright to print and publish his 16 works for just 500 rupees.
His final years
In 1885 Malayalam month Medam, Maliyammav Kunju Wareed returned back to St. Thomas printing press. Due to his friendly relation with Maliyammav, he handed over some of his interpretation works to him and St. Thomas printing press, on his return. Later Maliyammav started a printing house in Thrissur named Bharata Vilasam, Warrier gave some of his works too. Very soon, he left his job as K. V. P and moved to Thrissur. He stayed there with his family for nearly 9 years.
Towards the end of 1894, his eldest daughter had a premature death it shattered him fully. He hated to live in Thrissur town, and seized his writings as well. He sent his wife and children to Thrikkandiyoor, and he shuttled between Thrikkandiyoor and Kaikulangara. During this time, he faced severe financial troubles as well as health issues.
He passed away aged 64. Historians have not arrived at a conclusion, how many works were written by Warrier. In the biopic work written by Professor Balakrishna Warrier, it's noted that he contributed 49 books, though there is no authentication. His total works also remain as a mysterious puzzle, just like the struggling life spent by him.
Image Courtesy: Mathrubhumi
Read a few more articles on some of the stalwarts of Malayalam literature belonging to different eras. Here is the page link. Click on the images in the gallery to read
(Visited 1,532 times, 1 visits today)