Top 10 Malayalam Movies – 2016
In terms of box office collection, 2016 is the most successful year of Malayalam film industry. Year 2016 witnessed many big box office hits and shattering of a dozen of collection records too. It's for the first time, a Malayalam film managed to enter the elite 100-crore club. It's a welcome move from audience side, and their interest in watching movies at theatres. Perhaps the glorious yesterdays of Malayalam cinema may return.
It's the best year of Mohanlal's film career with two all-time blockbusters – Oppam and Pulimurugan, and he registered box office success with his Telugu debut too. But in terms of quality, Mollywood is still in its testing phase, and strange surprises may follow very soon. The year also discovered a long list of talented supporting actors, and many movies ran at box office strongly based on their stellar performances. Maheshinte Prathikaaram, Action Hero Biju and Kammattipadambelong to this list. In this list, I would like to mention top 10 movies of the year and surely not based on box office collection. Also read:
Top 10 movies of first half of 2016
.
1. Oppam
​Definitely my choice for the best movie of the year 2016 is Oppam directed by Priyadarshan, who returned in a bang with a powerful script. For the first time in his film career, Mohanlal played the full-fledged role of a blind, and he displayed his flawless acting skills in the role of Jayaraman. Nedumudi Venu, Baby Meenakshi and antagonist Samuthirakani also displayed their acting skills through this film. The movie finished just behind Drishyam, another Mohanlal movie cashing a gross of 61 crores. Also read: Oppam vs Drishyam. The movie also broke several records, and completed 100 days at box office, a rare phenomenon these days. Oppam is currently the third highest-grossing Malayalam film of all time, and its Hindi and Tamil remakes are to happen soon.
2. Pulimurugan
The biggest movie of Malayalam in terms of box office collection, Pulimurugan crushed all box office records of Malayalam film industry. This action adventure film was directed by Vysakh. After breaking collection records created by Mohanlal's Oppam this year, the movie reached new heights, and became the first Malayalam movie to reach 100 crore club, and also 150 crore club, almost an impossible task for a Malayalam film with narrow audience. Though demonetization weakly affected its flight towards new horizons, it's still running at box office and already collected 150 crores worldwide. The movie has been dubbed to many languages, and its Hindi remake is in pipeline. Now Mohanlal enjoys the top position with three of his films in the top 3 slots of Malayalam all-time blockbusters. Though the movie lacks a strong script, it appealed Mohanlal fans as a mass entertainer and its visual effects were highly appreciated. Also read:
Pulimurugan review
.
3. Kammatipaadam
Definitely Rajeev Ravi's

Kammatipaadam

could be critics' choice for the best movie of the year. Despite receiving 'A' certificate for its violent scenes, the movie was successful at box office. The movie gave some surprising actors with some breath taking performances. It's definitely one of the finest Malayalam movies made on 'gangster' themes, and Vinayakan and Manikandan R Achari won audience's hearts and

proved to be the real screen stealers. Though the movie is different from normal masala entertainers of Dulquer Salmaan, the actor got opportunity to explore different shades of his acting skills through a single role. Read more about Manikandan.
4. Maheshinte Prathikaaram
This small-budget and simple film became a sleeper hit in the first quarter of 2016, and also marked the comeback of Fahadh Fasil after a series of flops. This light-hearted comedy has a strong script with some amazing onscreen performances by a string of debutants. Also read:
The oldest couple who debut with
Maheshinte Prathikaaram.
Aparna Balamurali and Anusree played lead heroines, and role of
Alencier Ley Lopez
as Fahadh's pal received a huge applause from film audience.
5. Action Hero Biju
It's the first release of Nivin Pauley after his blockbuster Premam which received an overwhelming response from youth and Tamil audience. It's definitely one of the most entertaining movies of the year, though it appeals audience as a stage drama for a lack of strong storyline. But the script was kept intact by the stellar performance of a string of newcomers who gave some hilarious comedy scenes to movie entertainers. After Maheshinte Prathikaaram, Action Hero Biju is yet another fun film of the year which got appreciated for the performance of supporting actors. Many new and highly talented actors of different ages too were introduced to big screen through both these movies. Though most supporting characters had brief roles, most of the scenes from the movie remain memorable.
6. Pretham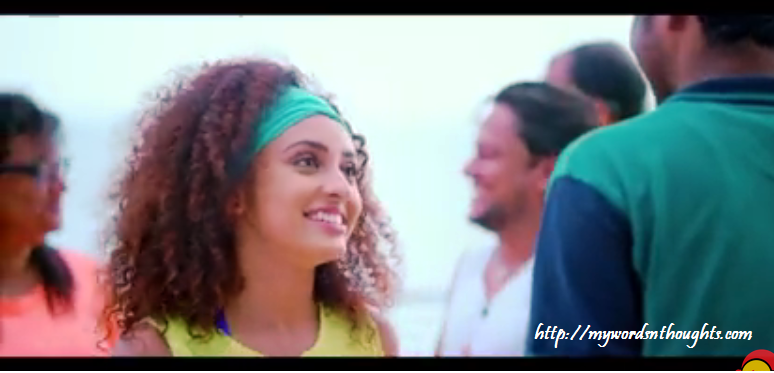 The movie belongs to a different class, and one of the finest ghost stories ever made in Malayalam cinema. The movie is far away from conventional paranormal stories Indian audience is familiar with. As the movie title suggests, it's a ghost-story with some light moments, and also a social message which is very relevant in the present times. The movie directed by Ranjith Sankar starred Jayasurya in the lead role, with a bunch of young actors in the supporting roles. In the role of a mentalist, once again Jayasurya surprised audience through his experiments in new roles and definitely one of my favourite roles of Jayasurya in the recent times. He played the role of a mentalist who tries to find the reasons behind the paranormal activities that take place in the sea-side resort bought by three youngsters. The movie also became the biggest solo blockbuster of Jayasurya. His comedy-action Idi and comedy-horror Pretham were released on same day in August, and my vote goes to Pretham. It's a simple story without any noise, and simply flows like a silent stream, yet reaches its destination giving a strong social message to audience.
7. Ozhivudivasathe Kali
The movie was shown at several international film festivals, and got a limited theatre release in June 2016. The movie was directed by Sanal Kumar Sasidharan, based on the short story of the same name by Unni R. The movie was warmly welcomed by film critics.
8. Kattappanayile Rithwik Roshan
This light-hearted comedy definitely deserves a mention in the list of my top 10 movies of the year. The movie is directed by comedy king Nadirshah, who has earlier given one super hit movie to Malayalam cinema – Amar Akbar Anthony. The movie starred Vishnu Unnikrishnan in the lead role, who earlier played many supporting roles, and he is a scriptwriter too. The movie also got noticed for its interesting film title coined from the name of Bollywood superstar Hrithik Roshan. The movie starred Dharmajan Bolgatty and Siju Wilsson in key roles.
9. Ann Mariya Kalippilanu
It's an entertainer movie exclusively for kids, yet loved by audience belonging to all age groups. The movie starred Sara Arjun in the titular role, and the movie described the unique friendship between Ann Mariya and Gireesh played by Sunny Wayne. Aju Varghese entertained audience as always, and Dulquer Salman appeared in a cameo role in the film.
10.

Oru Muthassi Gadha
I would like to include this comedy film in my list, and want to dedicate it to all grandparents. The movie marked the acting debut of Rajini Chandy who played lead role of the film aside Bhagyalakshmi. They played two grandmothers, and the movie was described as a family entertainer. The movie got noticed for its fresh theme, and was directed by Jude Anthany Joseph who earlier surprised filmgoers through his debut flick – Om Shanti Oshana. Also read:
Rajini Chandy – The new kid on the block
.
A handful of good films managed to draw attention of public, and a few earned good numbers at box office too. Puthiya Mugham got noticed for the powerful performance by Nayanthara, and Jacobinte Swarga Rajyam starring Nivin Pauley is a breezy film based on real-life incidents. Kali, Lens, Aanandam, Paavada, Kismat, Vettah, Karingunnam Sixes, Oozham and Anuraga Karikkin Vellam are a few more good films released this year.
Read a few more articles on Malayalam cinema, on different general discussions. Here is the page link. Click on the images in the gallery to read
(Visited 729 times, 1 visits today)