Mutton Madakkappam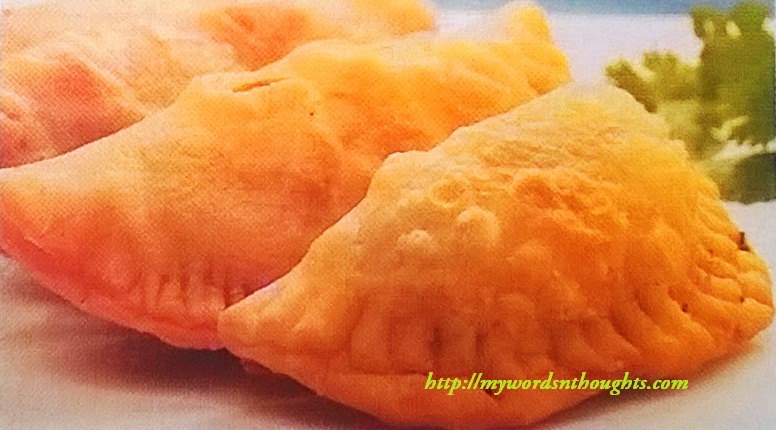 Ingredients for Mutton Madakkappam:
1. Minced Mutton – ¼ kg
Ginger-garlic paste – 2 big spoons
Chilli powder – 1 big spoon
Turmeric powder – ½ big spoon
Lemon juice – From one lemon
2. Oil – As required
Onions – ¼ kg
Green chillies – 4 cut into very fine pieces
3. Salt – For taste
Coriander leaves – A little
Garam masala powder – ½ small spoon
4. Wheat powder – 2 big cups
Maida – ½ cup
Vanaspati – 2 big spoons
Salt – For taste
5. Oil – For deep frying
How to prepare Mutton Madakkappam?
1. Cook all ingredients listed as 1 in a pressure cooker for 5 minutes.
2. Heat oil in a pan and sauté ingredients no: 2.
3. When it cools, mix it with cooked minced mutton along with ingredients no: 3. Keep it aside. Your filling is ready.
4. Now mix ingredients no: 4 adding sufficient cold water and make dough similar to chappathi.
5. Now make balls out of the dough and spread it in size and thickness similar to poori.
6. Place a little filling on one side, fold it once and make semicircles (similar to half-moon).
7. Fold its ends tightly as shown in figure, and the mutton filling is enclosed inside.
8. Now deep fry both sides in hot oil and serve hot.
Courtesy: Vanitha Magazine March 1-14, 2014
Recipe submitted by Zeenat Sidhique, Alappuzha
Read a few more mutton snack recipes here. Click on the images in the gallery to read.
(Visited 461 times, 1 visits today)