Forests of Kerala to visit this monsoon season
Nature is simply at the best during a monsoon season, and it adds extra colours to forests this season. Rain, overflown streams and waterfalls, greenery, blossoms – everything give some cool moments to eyes. If you are fond of rains and nature, monsoon is one of the best seasons to visit Kerala. Government agencies and Kerala Tourism provide many arrangements to attract tourists this season, and through this column I would like to give a brief note of a few. Enjoy your rainy season with nature and forests this time.
Gavi of Pathanamthitta – An eco-friendly tourist village
If you are passionate with deep and dense forests, you can never another place in Kerala. It's Gavi, which has gained attention in the recent times. Kerala Forest Development Corporation (KFDC) has announced a few concessions this monsoon season to attract tourists. A few concessions are as listed below.
Green Mansion Package is 1750 rupees now (Real cost – 2500 rs), Tent Package is 3000 rupees (Real cost – 3000 rs) and Day Package is 1000 rupees (Real cost – 1250 rs). The concession will be available for the months of June and July. You can visit Gavi Tourism website or call at 9947492399 or 04869223270 to get more details.
How to reach Gavi?
If you take the route Pala- Mundakayam – Vandi Periyar – Vallakadavu, its 350 Km. If you visit the place using KFDC tour package, you will get permission to enter the forests. You can also take KSRTC bus to enjoy the route. At 5 am in the morning, there is one KSRTC bus from Kumili to Pathanamthitta, via Gavi. There is one more bus at the same time from Pathanamthitta to Kumili.
Thusharagiri – Famous for waterfalls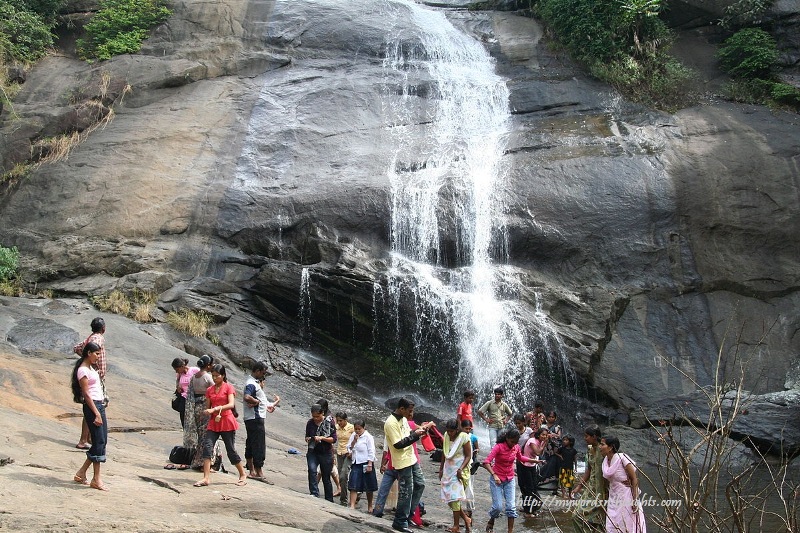 This waterfall is located in Kozhicode. You can take a 30-rupee ticket to enjoy the waterfalls at Thusharagiri, Mazhavilchaattam and Thumpithullum Paara. If monsoon is intense, permissions may be denied to enter the waterfalls. You can call 0495-2236600 to get more details.
Annual Malabar River Fest will be conducted this year between July 20 and 23. Offers endless scope for trekking, rock climbing and wild life sanctuary visits, Thusharagiri offers many things more. You can enjoy Kayaking and take part in it as a part of the festival eve. More than 60 Kayaking experts (both foreigners and North Indians) participate in the River fest this time, and a tourist can watch some adventurous and wonderful moves on rocks and water. The event is conducted in Chalipuzha river, beneath the waterfalls. Rafting is also conducted this time in Chalipuzha and Iruvanjipuzha. You can use the number – 9947041999 to get more details of the event.
How to reach Thusharagiri?
Thusharagiri is 51 kms away from Kozhicode. On Wyanad Route, you need to take Koodathaazh road from Thamarassery and travel through Kodanjeri to reach Thusharagiri. From Adivaaram, it's 54 kms to Thusharagiri.
A pilgrimage to Kottiyur this monsoon season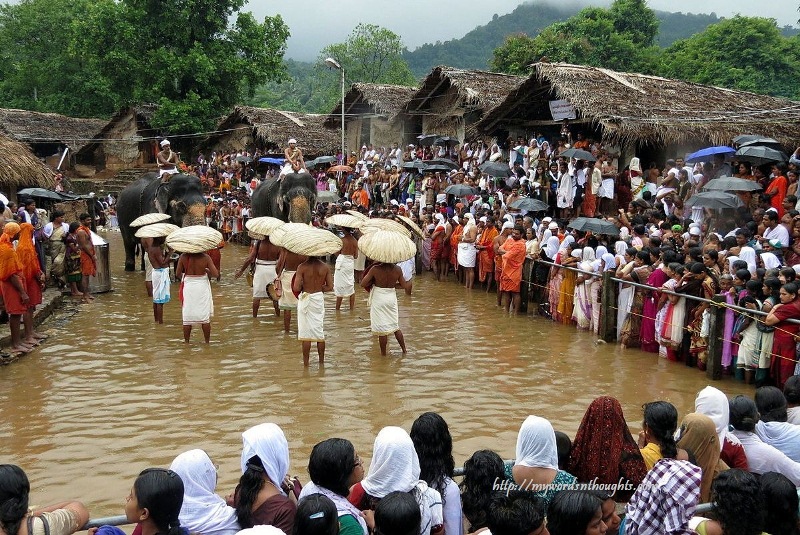 Kottiyur, also pronounced as Kottiyoor is the 23rd Wild Life Sanctuary of Kerala. If you love to have a pilgrimage enjoying rainfalls, Kottiyur could be your best option. It's believed that Dhaksha to insult Lord Siva, conduced the yaga here, and Veera Bhadra and his associates disrupted the Yaga. Swayambhoo Siva Linga appeared in this place, and devotees believe it to be the presence of Lord Siva himself.
Kottiyur is located in Kannur district, and it shares borders with Wyanad district. Bhavalipuzha originated from Perya of Wyanad divides the village into two. Kottiyur temple is situated on the southern coast, also known as Ikkare Kottiyur. Northern side of the river is known as Akkara Kottiyur, where annual Vaisakholsavam is conducted.
Parnasala (where yaga is conducted) is constructed in land and water, and there is a Manithara surrounded by water. Kottiyur temple is famous for this unique construction. The Yaga festival is conducted in Akkare Kottiyoor Shrine for 27 long days every year, and the festival is widely celebrated. The pilgrimage is similar to the Kumbh Mela of Prayag, and is a remembrance of Dhaksha Yaga conducted by Dhaksha. Kottiyoor Vyshakha Mahotsavam is indeed famous.
Water flow originated from Bavali reaches the temple premises and Thiruvanchira through southern side and circumvallate once before it changes its direction to north and traverse to Baveli. Manithara is made using mud and pebbles of Bavali. Yagasalas are made using twigs of forest trees and palm leaves (Jnetti Panayola). Fibre of Kavool plant is used for binding process. Coconut leaves and banana fibre are also used for preparation. Umbrella of Manithara is made using palm leaves (Jnettipanayola and Odakamb). Devotees are given Prasad in Koovalam leaves and wild banana leaves.
How to reach Kottiyur?
From Kozhikode via Vadakara, Kunjipalli and Koothuparamb, it takes 122 Kms. If you are taking bus route, it's better to reach Thalassery which is 126 kms away from Kottiyur. You can also take the route Balusseri – Perambra – Kuttyadi from Kozhikode. If so, you need to pass through Pakramthalam Tunnel and Boys town.
Kottiyur is 64 kms away from Thalassery. From there, you need to reach Koothuparamb. After 1 km, turn right to Wyanad road from Thokkilangadi junction, travel 30 kms to reach Nidumpoyil. Travel straight 2 kms, reach Vaarapeedika and turn right. You can reach Kottiyur via Kolakkadu-Kelakam. From Vaarapeedika, you can also travel straight, and reach Kottiyur taking the route, Thettuvazhi –Thundi – Manathana – Kelakam. During festival season, the place is so crowded and it's better to have bit knowledge about alternate route to temple.
If the tunnel road of Boys town has traffic block, reach Nidumpoyil 30 kms away from the place, take Kelakam route. For those who take railway route, get down at Thalassery station, and take bus. During the festival season of June-July, special bus services will be available.
Three rest houses and three halls are arranged by temple Devaswom to afford pilgrims who reach there from distant places. There is no advance booking for rest houses. SNDP and Perumal Seva Sang also provide such helps to pilgrims. Pilgrims can also take rest at temporary settlements made using coconut leaves. Free lunch is also provided by temple authorities. You can use contact numbers – 0490-2430234, 2430434.
You can read a few more articles on some of the major tourist spots of Kerala here. Click on the images in the gallery to read
(Visited 519 times, 1 visits today)