White Chocolate Mousse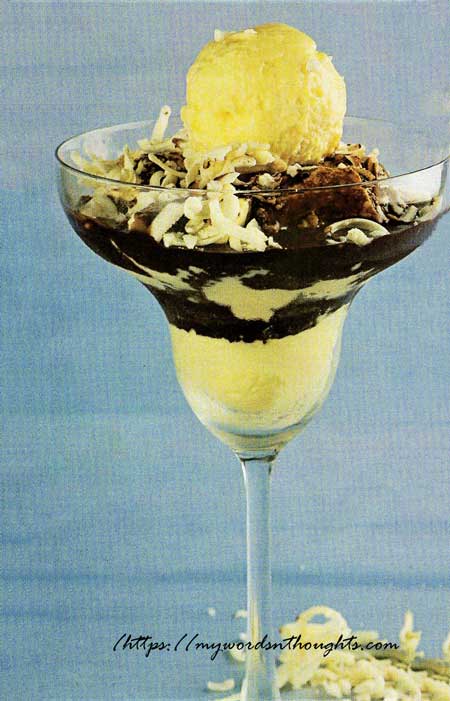 Ingredients for White Chocolate Mousse:
1. White chocolate cut into square pieces – 198 gm
2. Egg yellow yolk – 2
Sugar powdered – ¼ cup
3. Heavy cream – 1.25 cups
4. Gelatin powder – 3 small spoons
5. Thick curd (hung and strained full water content) – 2/3 cup
Vanilla extract – 2 small spoons
6. White yolk – 2
How to prepare White Chocolate Mousse?
1. Take a loaf pan that can contain 4 cups of water. Place a plastic wrap or parchment paper inside it.
2. Put chocolate pieces in a heat-proof bowl and place above boiling water. Melt it completely.
3. Take ingredients no: 2 in a bowl and beat well. This mixture should turn soft.
4. Add melted chocolate and mix the contents.
5. Take cream in a small saucepan and place in flame.
6. When it starts boiling, take the saucepan from flame and sprinkle gelatine powder on top.
7. Keep stirring till sprinkle gelatine completely dissolves in the cream.
8. Strain it and add to chocolate mixture. Beat it till contents turn soft.
9. Beat vanilla extract and thick curd together.
10. Add to chocolate mixture and beat again.
11. Take white yolk in another dry bowl and beat well.
12. When it turns thick, add to chocolate mixture and mix it gently.
13. Pour this mixture into loaf pan and refrigerate it. Allow it to set.
14. When mousse is set, take it from refrigerator and slice it into thick pieces along with parchment paper/plastic wrap.
15. Serve with chocolate sauce.
16. You can also set this White Chocolate Mousse in serving bowls instead of loaf pan.
Courtesy: Vanitha Magazine, April 29 – May 12, 2023
Also read a few more chocolate recipes. Visit my page.