Best 10 songs composed by Shankar-Jaikishen for Shammi Kapoor
Shammi Kapoor is best known for his trademark dancing style and beautiful songs apart from his screen romance with his female co-stars. He fully dominated the music era of 1960s with several long lasting romantic and peppy tracks. Have a look at my choice of best 50 songs of Shammi Kapoor. Though the best composer of 1960s – Shankar-Jaikishen composed contrasting slow tunes for other romantic heroes of Bollywood, they also own a distinct 'Shammi Kapoor' style of songs in the 1960s similar to R. D. Burman's tunes for Rajesh Khanna in the 1970s. Which are those popular tunes of SJ which put Shammi Ji on the top? Quite interestingly Rafi sang all the 10 songs, which featured in my list. Have a check.
1. Yahoo from Junglee – No doubt Yahoo song gave rise to a new star of Bollywood in the year 1961. For that Shankar-Jaikishen definitely owns a credit. It was Shammi Kapoor's first colour film, and SJ composed songs for Shammi Kapoor's Boy Friend the same year. Earlier too SJ has composed songs for Shammi movies. Yet this chartbuster Yahoo song marked the successful beginning of Shammi- Shankar-Jaikishen trio who later give memorable songs for movies – Professor, Dil Tera Deewana, Rajkumar, Janwar, An Evening in Paris, Brahmachari, Andaaz etc in a series. All these movies proved to be box office hits as well.
The song was a turning point to the careers of all artists associated with it. 'Yahoo' tag penned by Shailendra for Shammi Kapoor became a signature for the star, who later got identified as 'Yahoo' star. In the song energetic Shammi Kapoor can be seen shouting and sliding through the snow slopes, and he also expresses his love to his lady, Saira Banu, who marked her screen debut with this movie.
2. Ehsaan Tera Hoga from Junglee – It's not an easy task to make a choice of the best songs the film which established Shammi Kapoor as a star of Bollywood. Yet no list of Shammi's songs is complete without this evergreen classical track. The song has two versions sung by Rafi and Lata and both were equally popular.
3.

E Gulbadan from Professor

– Actress Kalpana is best remembered for the hit film Professor, where she shared screen space with Shammi Kapoor, and all its songs were very popular. This particular song is my personal pick.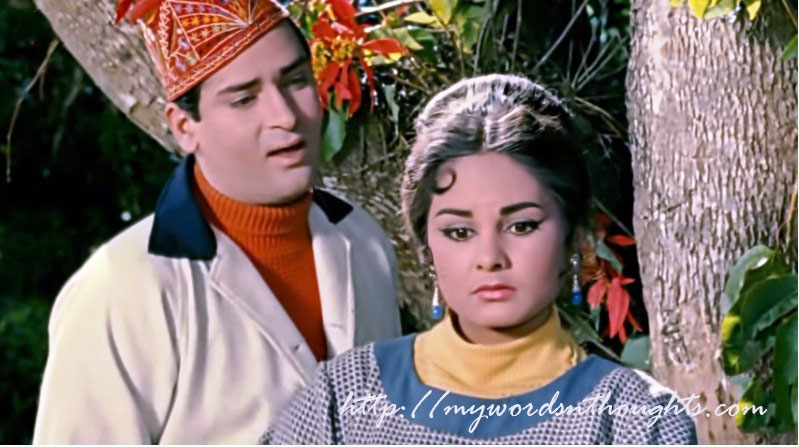 4. Dil Ke Jharokhe Mein from Brahmachari – Aaj Kal Tere Mere, Chakke Pe Chakke and Mein Gaoom – Brahmachari had some extremely popular songs. Yet this heart-breaking song is above all, and is widely regarded as one of the best songs pictured on Shammi Kapoor. The movie and this particular song gave Filmfare awards to its lead actor and singer Rafi respectively.
5. Raat Ke Humsafar from An Evening in Paris – This soul-stirring duet was sung by Mohd. Rafi and Asha Bhosle. All the songs of the movie were extremely popular including Akele Akele and Aasman Se. But my pick for the best Shankar-Jaikishen songs would be Raat Ke Humsafar. The beautiful pair Sharmila Tagore-Shammi Kapoor worked early for the movie 'Kashmir Ki Kali' which marked Sharmila's Bollywood debut. Both these movies are extremely popular for ever-lasting songs.
6. Tumne Pukara Aur Hum Chale Aaye from Rajkumar – A difficult choice, as all the songs are just fantastic, and I would like to pick two among the best 5 songs of my favourite. This popular duet is one of the best songs recorded in Suman Kalyanpur's voice who got only a few opportunities in Bollywood. Sadhna too looked extremely beautiful in this song.
7. Is Rang Badalti Duniya Mein from Rajkumar – As it was not an easy choice I have added one more song to the list. This romantic track was pictured on Sadhna and Shammi Kapoor, and sung by Lata Mangeshkar. 'Aaja Aayi Bahar' is a wonderful song. But as this song belongs to Sadhna, I excluded my favourite song from the list.
8. Badan Pe Sitare of Prince – Shammi is seen in an energetic mood in most of his songs, and in maximum occasions, a club song or party song will be included which becomes the highlight of the movie. Badan Pe Sitare Lapate Hua – is one such.
9. Tumse Acha Kaun Hai of Janwar – Sung amazingly by Rafi, Shammi was seen in his best and usual teasing mood for this spectacular song pictured in Kashmir.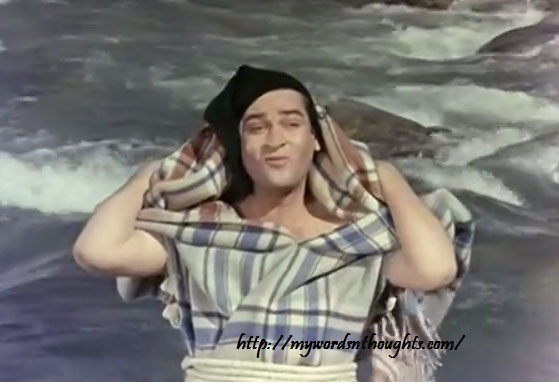 10. Kabhi Humne Nahi Socha Thaa of Tumse Acha Kaun Hai – Music lovers very often get confused with the popular track Tumse Acha Kaun Hai of Janwar and the title track of Tumse Acha Kaun Hai as both shares the same phrase – Tumse Acha Kaun Hai. Believe me both the tracks are just amazing. So I thought of adding both the songs to my list.
Though I picked some extremely popular songs of this trio, I have definitely missed many nice songs of my personal favourite such as Meri Mohabbat of Janwar, Tum Mujhe Yu of Pagla Kahin Ka, Nazar Bachake & Dil Tera Deewana of Dil Tera Deewana, Akele Akele and Aasman Se of An Evening In Paris, Na Rutho Rutho Na Rutho Meri Jaan of Jawah Mohabbat, Khuli Palak Mein Jhoota Gussa and Aawaz Deke Humein Tum Bulao of Professor, Woh Dekho Mujhse of Rajkumar, Dil Use Do Jo Jaan De De of Andaaz, Aaj Kal Tere Mere of Brahmachari etc.
Read a few more articles about Yahoo star of Bollywood – Shammi Kapoor. Here is the page link. Click on the images to read.
(Visited 925 times, 1 visits today)