Mutton Chops with Garlic and Wine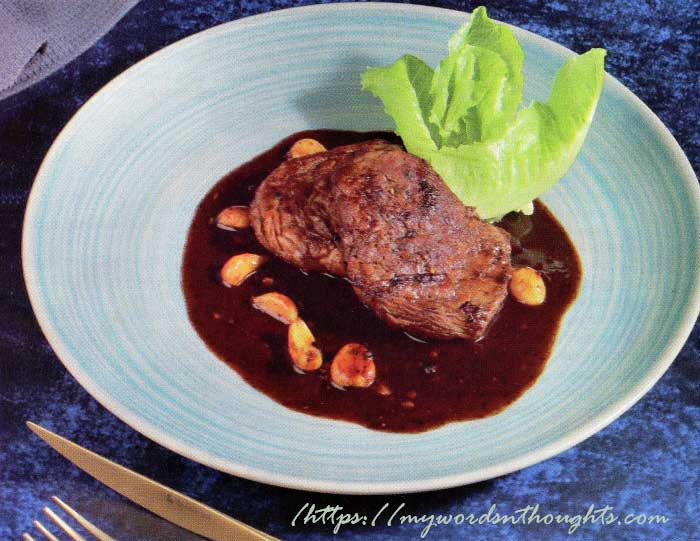 Ingredients for Mutton Chops with Garlic and Wine:
1. Mutton slices – 6
2. Salt and pepper powder – As needed
3. Olive oil – 2 big spoons
Butter – 2 big spoons
4. Garlic – 18 cloves, cleaned
5. Red wine – 1.5 cups
6. Bay leaf – 1
7. Mutton broth – ½ cup, prepared from Maggie magic cubes
8. Balsamic Vinegar – 1/4 cup
9. Butter – 1 big spoon
How to prepare Mutton Chops with Garlic and Wine?
1. Marinate the mutton pieces using salt and pepper.
2. Heat olive oil and butter in a big pan.
3. Bring it to full flame and add mutton chops.
4. Cook each side for 2-3 minutes in high flame.
5. Flip both sides. No need to fully cook it.
6. Separate the chops from oil, and add garlic.
7. Fry for a few minutes till they turn golden brown.
8. Add red wine, mix it and add bay leaf.
9. Bring it to high flame, and cook till contents turn thick.
10. Add the mutton broth followed by fried mutton pieces. Chops should be fully immersed in the broth.
11. If needed you can add extra broth.
12. Cook for a few minutes and add balsamic vinegar.
13. Stir the pan occasionally.
14. When mutton chops are well cooked, separate them from gravy and spread in the serving plate.
15. Continue boiling the meat sauce in the pan, till it thickens and garlic turns soft.
16. Add 1 big spoon of butter, salt and pepper and put off the flame.
17. Pour this sauce on the top of mutton chops and serve hot.
Courtesy: Vanitha Magazine, April 29 – May 12, 2023
Also read a few more Mutton recipes. Visit my page.