50+ Must see Bollywood films with lead actor or actress in a double role
Bollywood is known for different hit formulae which have been successfully tried many times. One much formula is double/dual roles played by lead hero and heroine and it has worked many times in Bollywood. Twin siblings, reincarnation or look-likes – the lead actors have donned double roles multiple times on screen and succeeded too. Same is the case of father-son duo or mother-daughter duo, where a single actor plays both roles on screen. The theme of 'Comedy of errors' has been successfully plotted in many of such commercial films. In some cases dual characters have been plotted as good vs. evil, and it has worked wonders in Bollywood.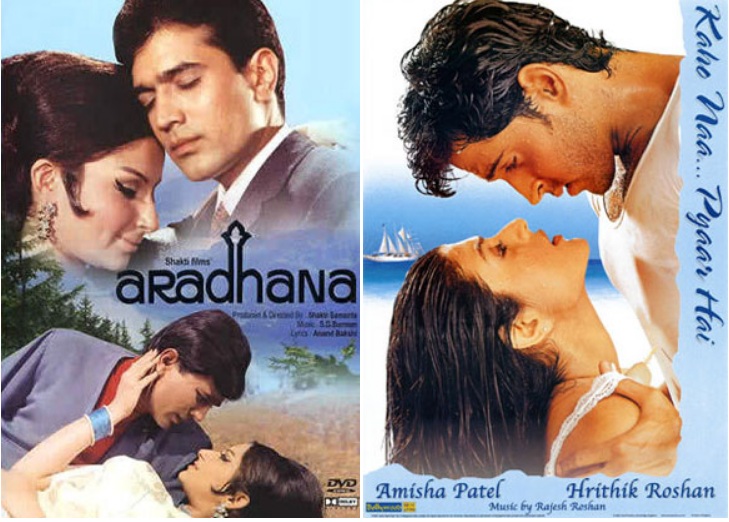 India's first superstar Rajesh Khan and new millennium sensation of Hrithik Roshan earned stardom through two such trendsetters of different era – Aradhana (1969) and Kaho Na Pyar Hai (2000) respectively. Read in detail. Actresses like Sadhana and Hema Malini too established in industry through Roj Khosle's mystery series and comedy cap Seeta Aur Geeta respectively.
Just to add, Indian films belonging to regional languages as well have tried this formula successfully where lead actors play multiple roles. We have also seen Bollywood remake of south Indian films, for instance Naya Din Nai Raat, where Sanjeev Kumar reprises 9 roles played by Sivaji Ganesan in Tamil film – Navarathri (1964), representing Navarasa. Another case is 'What's Your Rashee', where Priyanka Chopra donned 9 roles representing 9 sun signs.
Just a thought in mind; is there any film where both lead hero and heroine played double roles onscreen? Let me add – The first Indian talkie to have a double role was Awara Shahzada (1933), directed by Master Vitthal. Actor Shahu Modak played the role of both prince and pauper. Interestingly in the silent film Lanka Dahan (1917), both the roles of Ram and Sita were played by a single actor – Anna Salunke, a time when most Indian families restricted the entry of females to film world.
Through this column I shall list 50+ best films of Bollywood, where lead hero or heroine played multiple roles. I have given priority on box office success, though a very few critically acclaimed or good movies with less collection are also added. To avoid repetition, I have tagged remakes and sequels together in this list. Scroll down to read some interesting facts as well as to know about actors who have been honoured at Filmfare awards for performances.
1. Aradhana (1969) – I would definitely start this list by most favourite Hindi film. Needless to say, Rajesh Khanna in the dashing roles of pilots – Arun Verma and Suraj Prasad Saxena, both as father and son was loved by all movie fans across the country, especially young ladies. Though it was a woman-centric film with some lovely songs, Rajesh Khanna and Kishore Kumar were benefited most. Rajesh Khanna received his first nomination at Filmfare best actor category. It's perhaps the big blockbuster hit of Bollywood, where a single actor enacts for father and son with ease.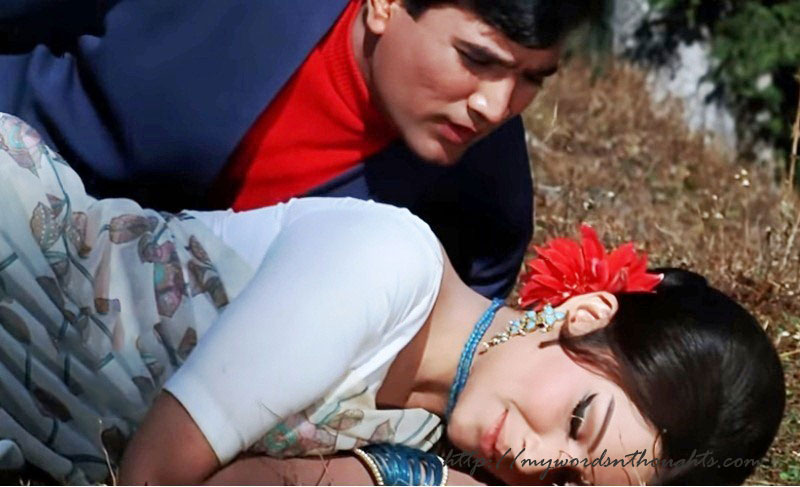 2. Kaho Na Pyaar Hai (2000) – A single movie and a superstar was born. The film with Hrithik Roshan playing double roles, both as singer-performers Rohit Mehra and Raj Chopra, he earned two Filmfare trophies for best debutant and best actor, thus becoming the only actor to receive both in a single year. The film also earned a world record of getting maximum number of film awards (102).
3. Seeta Aur Geeta (1972)/Chaalbaaz (1989) – When the comedy drama Seeta Aur Geeta was released, Hema Malini was only a newcomer, and her role as twin sisters – Seeta and Geeta established her as lead actress of Bollywood. She also bagged her single Filmfare award for best actress for the same. Sridevi reprised the lead role as sisters Anju and Manju for its Hindi remake, Chaalbaaz, and this movie too received equal success as its original. Interestingly Sridevi also received her first Filmfare award (Hindi) for this movie. Both the roles are worth praising. The plot was inspired from Dilip Kumar career Ram Aur Shyam, with gender reversal.
3. Angoor (1982) – Based on Shakespeare's play The Comedy of Errors, the movie had Sanjeev Kumar and Devan Verma playing the dual roles, and it earned a cult classic status over the years. Sanjeev Kumar received Filmfare nomination for best actor while Devan Verma received it in best comedian category. Movies like Bade Miya Chota Miya are inspired from this storyline. Films like Do Phool and Ankhein fall in lines with the theme chosen. Less-known fact is that Angoor was inspired from Bimal Roy's Do Dooni Chaar (1968) starring Kishore Kumar and Madhubala. Gulzar wrote the dialogues of Do Dooni Chaar, and later used the plot for his cult-classic Angoor – widely regarded as one of the best 10 comedy films of Bollywood.
4. Afsana (1951) – B. R. Chopra's directorial debut Afsana starring Ashok Kumar in a dual role was mega hit at the box office. One of the early films belonging to this genre, Afsana became a trendsetter and inspired many filmmakers to tell story similar way. Ashok Kumar played the role of twin brothers Ratan Kumar and Diwan Chaman Kumar, who love the same girl. Dilip Kumar – Sharmila Tagore starrer Dastaan (1972) was inspired from this movie. Interestingly this movie was also directed by B. R. Chopra, though couldn't replicate the success.
5. Anhonee (1952) – The following year highly acclaimed psychological drama Anhonee was released, where the double role of two sisters – Mohini and Roop were played by Nargis, one of her finest performances ever. Raj Kapoor played the male lead.
6. Woh Kaun Thi (1964) – The first film of the trilogy suspense thriller series of Raj Khosle with Sadhana playing the main lead, the movie is best remembered for its evergreen classic songs composed by Madan Mohan and sung by Lata Mangeshkar. Sadhana played twin sisters with two shades in the movie. She played positive role of Sandhya as well as her wicked sister in the film. The movie gave Sadhana her first nomination at Filmfare awards in best actress category, though she couldn't win it.
7. Mera Saaya (1966) – One of the best suspense thrillers of Bollywood cinema, it was the second of the trilogy series of Raj Khosle with Sadhana playing the pivot dual role. Among Woh Kaun Thi, Mera Saaya and Anita, Mera Saaya is definitely the best one with some wonderful songs of Madan Mohan – Lata Mangeshkar combination. The third film of the series, Anita couldn't replicate the success of the other two, and all these three movies dealt with the true identity of lead heroine – Sadhana, which earned her the tag, 'Mystery Girl'. Sadhana played twin sisters – Geeta and Nisha in the film.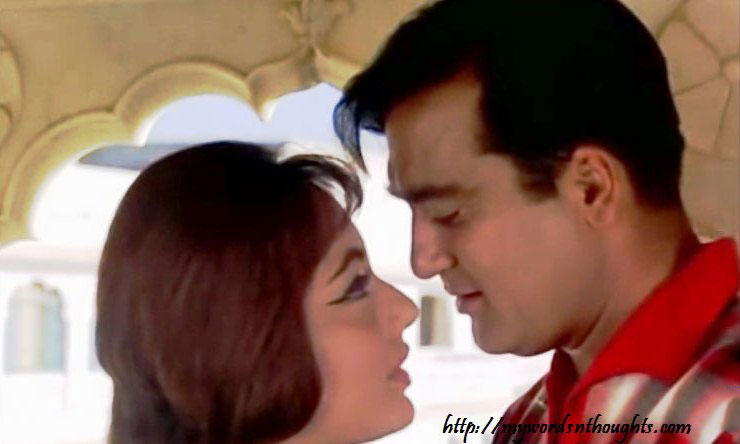 8. Madhumati (1958) /Om Shanti Om (2007) – Madhumati is definitely the mother of all Indian movies based on the theme of incarnation. Truly Bimal Roy was a legend, way ahead of times. Not only Indian, many western films too have taken inspirations from this movie plot. It can be said that we can't make a revenge drama based on the theme of incarnation, without taking inspirations from this movie. Though the movie is best known to be a story of incarnation, the dual role played by the female lead Vyjayanthimala is the highlight of the film. Sorry… Vyjayanthimala plays three different characters, not just two – Dilip Kumar's lover Madhumati, a look-alike actress Madhvi and incarnation of Madhumati – Radha. Don't forget, Dilip Kumar also played double roles of two births – Devinder and Anand. Both the actors received Filmfare nominations in best actor/actress category.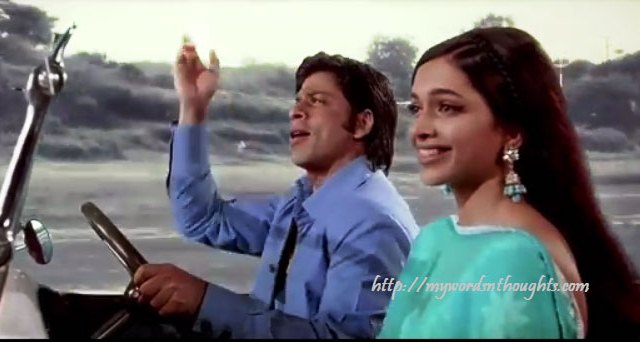 Yes, we know it well Farah Khan is never to publicly admit that she has copied most of the plots of Madhumati for the biggest blockbuster of 2007 – Om Shanti Om. This incarnation movie starred Shah Rukh Khan and Deepika Padukone in her debut role, with plots picked from Rishi Kapoor's incarnation movies like Karz, Janam Janam etc etc. Read in detail here. You can get a long list of movies inspired from Madhumati. Om Shanti Om gave nomination to the lead actors in best actor/actress categories at Filmfare. Deepika also received a trophy for best debut.
9. Mahal (1949) – When I have told a lot about Madhumati, how can I miss Mahal in the list? The movie played a significant role in shaping the career of Madhubala who was only a teenager then. How can we forget the haunting melody, Aayega Aanewala sung by Lata Mangeshkar, which established her as the top singer of Bollywood for the next few decades? The film has a tragic love story with an incarnation plot added to it, and Mahal went on to become a huge blockbuster. Madhubala played the double role of Kamini and her rebirth character Asha in the film. Was Bimal Roy's iconic movie Madhumati's title inspired from screen persona of Madhubala of Mahal? Not sure enough. But the most interesting fact is that this directorial debut of Kamal Amrohi was edited by none other than Bimal Roy who directed Madhumati.
10. Milan (1967) – The movie is basically based on the theme of incarnation, with Sunil Dutt and Nutan playing the lead roles. When tragedy strikes the romantic couple Gopi and Radha in the first birth and their love is unsuccessful, they finally reunite in their next birth as Gopinath and Radha Devi. Definitely we can draw inspirations from Madhumati for these similarities in plot. Nutan received Filmfare award for best actress for Milan, remake of Telugu film Mooga Manasulu. She is the first actress to win this award for a dual role. Sunil Dutt also received a Filmfare nomination in best actor category.
11. Haseena Maan Jayegi (1968) – The very common formula of look-alikes where one plays good and the other plays evil has been successfully tested many times in Bollywood, and Haseena Maan Jayegi with Shashi Kapoor essaying both these shades was commercially successful. Shashi Kapoor played Kamal and Rakesh, who try to impress their college-mate Babita. The real twist comes after the interval.
12. China Town (1962) – Like the movie mentioned above, China Town had Shammi Kapoor playing dual role of look-alikes without any connection. The plot used for film had a 'spy' flavour, which inspired many movies later including the iconic film – Don which had a gangster and his look-alike as central characters. The film was declared a "semi-hit" by Box Office India. Shammi Kapoor played the role of Mike and Shekhar in this film.
13. Don (1978)/Don: The Chase Begins Again (2006) – As told above, this movie had two central characters played by same artist – Amitabh Bachchan. The evil character is Don while the positive and innocent character is Vijay, who becomes police's informer. No doubt, it's one of the career best films of the megastar who received Filmfare best actor award for the dual role. Read about a few more interesting facts about the movie. Shah Rukh Khan reprised the double roles played by Big B in Don: The Chase Begins Again, and a sequel was also released in 2011 where he portrayed a single character Don.
14. Mamta (1966) – One of the rare works of iconic actress Suchitra Sen in Bollywood, the movie worked well at box office, and earned a Filmfare best actress nomination for the actress for essaying the dual role of prostitute mother and lawyer daughter. Ashok Kumar played lover to the mother character Deviyani and foster father to daughter Suparna.
15. Neel Kamal (1968) – One of the finest movies based on the theme of incarnation, the film was hit at box office, and the third highest grosser of the year. It's definitely a must-watch who loves this theme. Waheeda Rehman portrayed the dual role of Rajkumari Neel Kamal and Sita Raichand, which earned her the prestigious Filmfare award for best actress.
16. Ram Aur Shyam (1967) – As brothers Shyam and Shyam, Dilip Kumar surprised everyone with his comic act and contrasting portrayal of both characters, and the movie was a huge hit. Hema Malini starrer Seeta Aur Geeta, Sridevi starrer Chaalbaaz, Dharmendra starrer Ghazab (to some extend), Anil Kapoor starrer Kishan Kanhaya etc were inspired from this movie. Interestingly for all these movies, protagonist delivered best among their performances, and all these films were box office hits too.
17. An Evening In Paris (1967) – Yet another hit movie released the same year, it remained in news for the swimming suit of lead actress Sharmila Tagore, and also lovely locations of Paris. She also played double role of sisters – Deepa and a cabaret dancer Suzy, and both these characters won our hearts.
18. Yakeen (1969) – It's one among the rarest Indian films where the double characters played by a single actor are given different voices. In an ordinary masala entertainer, the actor himself dubs for both characters. Yakeen – a spy thriller had a good man and bad man, both played by Dharmendra, and his voice also plays an important role in film script. Let me add, there is one less-known movie of Amitabh Bachchan during his struggling days of early 1970s – Bandhe Haath, where he dons two characters – a petty thief and a writer with same looks, but without any relationship. To bring authenticity to the script, a new voice was used to dub for the writer's character, and it was barely 10 minutes or so.
19. Hum Dono (1961) – Definitely a must-watch for those who love Dev Anand movies. Dev Anand in a double role as Major Manohar Lal Verma and Captain Anand stunned everyone, and he bagged a Filmfare nomination for best actor for the same. Interestingly there is one movie in 1980s of Rajesh Khanna with the same title, and he played a double role too. But the film was a flop.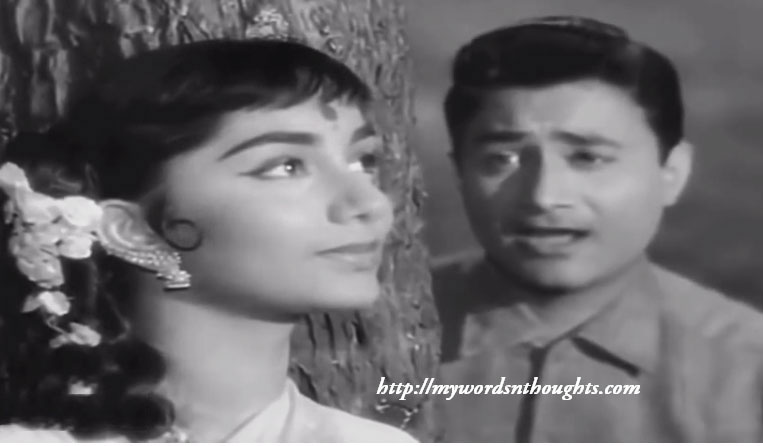 20. Lamhe (1991) – After Amitabh Bachchan, Sridevi is perhaps the most successful actor in terms of double roles with some iconic performances. The actress bagged two Filmfare awards (Hindi) in best actress roles, interestingly both for dual roles in Chaalbaaz and Lamhe, and earned a nomination for Khuda Gawah, where she portrayed a mother and daughter. In Lamhe, she portrayed Pallavi and Pooja (mother and daughter). The story was way ahead of times and was not accepted by conservative Indian audience, though it earned critics' appreciation and many honours.
21. Khuda Gawah (1992) – The movie had Sridevi in a lead role playing the dual role of mother and daughter – Benazir and Mehndi respectively. Her performance bagged a Filmfare nomination for best actress.
22. Sanjog (1985) – Yet another example of mother and daughter duo, both played by Jaya Prada, for which she received a Filmfare nomination for best actress. The characters were Yashoda & Asha.
23. Mausam (1975) – Once again the concept of mother and daughter duo, Sharmila Tagore gave her career best performance through Mausam as Chanda Thapa and Kajli. A prostitute daughter who unknowingly falls in love with her father gave her National award for best actress. Read a list of Bollywood films, which bagged National award for best actor in a dual role.
24. Karan Arjun (1995) – Incarnation of brothers is one of the rare themes explored in Hindi screen, and lead actors Shah Rukh Khan and Salman Khan gave a new life to the dual characters. Salman played Karan Singh and Ajay Singh for which he earned a Filmfare nomination for best actor. Shah Rukh played Arjun Singh and Vijay Singh.
25. Judwaa (1997)/Judwaa 2 (2017) – After the success of Karan Arjun, Salman played double role in Judwaa and Hello Brother in the 1990s. He played the role of twins – Raja / Prem Malhotra and the film was a smash hit. 10 years later its director David Dhawan remade the movie, with his son Varun Dhawan reprising the double roles and it was a blockbuster. Salman Khan made a cameo appearance in the climax of the sequel.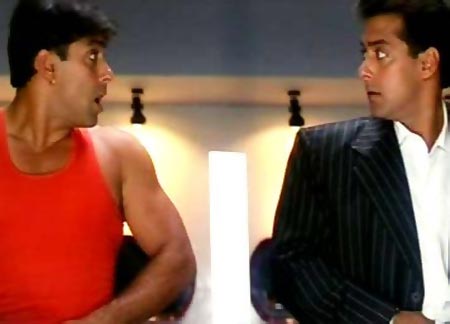 26. Aankhen (1993) – The movie where Govinda played the double role of twin brothers, Bunnu Saini and Gaurishankar revived his career as a comedy actor of 1990s, and also gave him a Filmfare nomination. The movie was inspired from Mehmood and Vinod Mehra starrer Do Phool.
27. Mehbooba (1976) – The movie based on incarnation theme was critically acclaimed, but unfortunately not accepted by audience. But over the years it received cult classic status. The plot is based on Gulshan Nanda's novel Sisakate Saaz, with lead roles played by Rajesh Khanna and Hema Malini. They essayed the roles – Prakash/Suraj and Ratna/Jhumri respectively. Hema Malini received a Filmfare nomination for the movie.
28. Kudrat (1981) – This movie falls into the category of incarnation, with Rajesh Khanna and Hema Malini playing dual roles. Unlike their early venture, the movie was a box office hit, whose plot was strongly inspired from Madhumati. Rajesh Khanna played Mohan Kapoor and Madhav, while Hema Malini played Chandramukhi and Paro. Also read: Bollywood movies based on incarnation.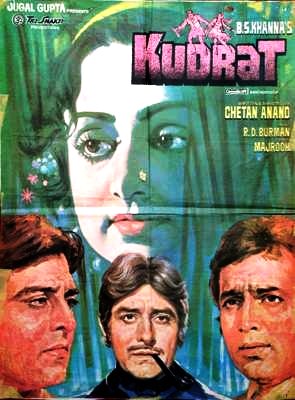 29. Desh Premee (1982) – With Amitabh Bachchan playing father-son duo – Master Dinanath and Raju, the movie with patriotic elements was loved by audience. However it was an average hit at box office.
30. Kalicharan (1976) – Shatrughan Sinha got major breakthrough Kalicharan, where he played Inspector Prabhakar and his look-alike Kalicharan. Sinha entered film industry as a villain, later played several character roles too, before playing the dual role in Kalicharan. The movie's success established him as one of the lead actors of 1970s and 1980s.
31 Bol Radha Bol (1992) – Among the dual roles of Rishi Kapoor, Bol Radha Bol is his most successful film. Kishen Malhotra is the positive character while Tony Braganza is the negative one, who impersonates Kishen to own his huge business empire and assets.
32. Satte Pe Satta (1982) – Another movie belonging to the above plot, the character Babu impersonates Ravi Anand, the eldest of seven brothers and both the roles were played by Amitabh Bachchan.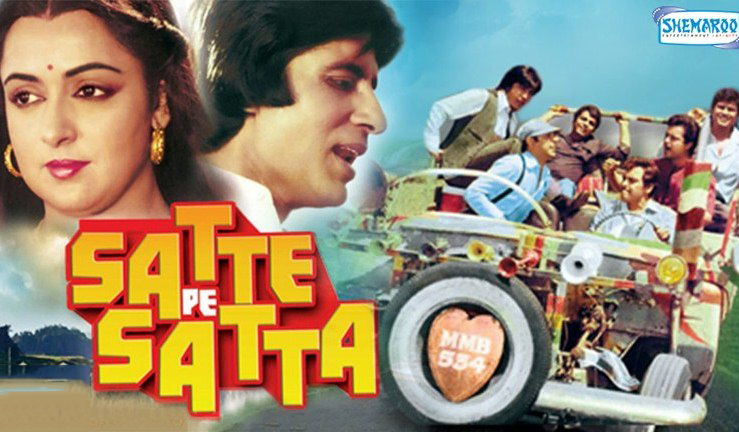 33. The Great Gambler (1979) – Impersonation is one of the used formulae in Bollywood, and Amitabh Bachchan has donned it multiple times. In this film the character Jai impersonates Inspector Vijay, and the secret of long-lost twin brothers is revealed only in the film climax. The film was a hit at box office.
34. Adaalat (1978) – Amitabh Bachchan played father-son duo in this film. Dharamchand and Raju are the characters played by Big B onscreen.
35. Kishen Kanhaiya (1990) – Its plot is inspired from Ram Aur Shyam, and the movie starring Anil Kapoor as Kishen and Kanhaiya was a box office hit.
36. Gazab (1982) – Dharmendra's role as Vijay and Ajay, which fall in lines with roles played by Dilip Kumar in Ram Aur Shyam was critically acclaimed, and the film became a box office hit. His bunny teeth and frizzy hair to play the innocent brother is his very rare attempt to do different roles. It was a remake of Kamal Hassan-Sridevi starrer Tamil flick, Kalyana Raman.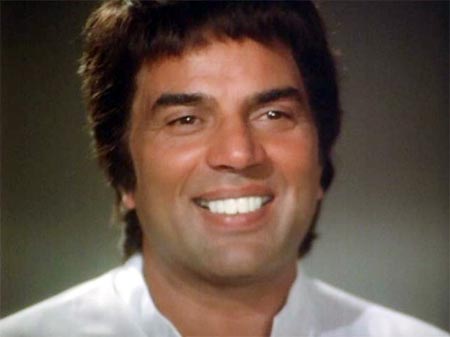 37. Krrish (2007) /Krish 3 (2013) – Sequels of the hit film, Koi Mil Gaya, Hrithik Roshan played father-son duo in both. Father Rohit Mehra is a professional scientist, while his son Krishna is a man with extra-ordinary powers of a superhero. While Krrish could replicate the success of its prequel, Krish 3 opened to mixed reviews and was an average grosser. In Koi Mil Gaya too, Hrithik played entirely two different roles.
38. Love Aaj Kal (2009) – Saif Ali Khan's Hamesha – a story on incarnation and love was a flop. But Love Aaj Kal opened to positive reviews and was a box office hit. His contrasting roles as traditional Veer Singh Panesar and modern Jaivardhan Singh were quite convincing on screen
39. Mubarakan (2017) – The film was well received for its plot and comedy, and Arjun Kapoor played the twin brothers adopted by Anil Kapoor's brother and sister in the film. Their real-life uncle Anil Kapoor played uncle to both – Mama for Karan Singh Bajwa and Chacha for Charan Singh Bajwa. Arjun Kapoor had earlier done Aurangzeb in 2013 where he played dual roles, and the film was critically well acclaimed.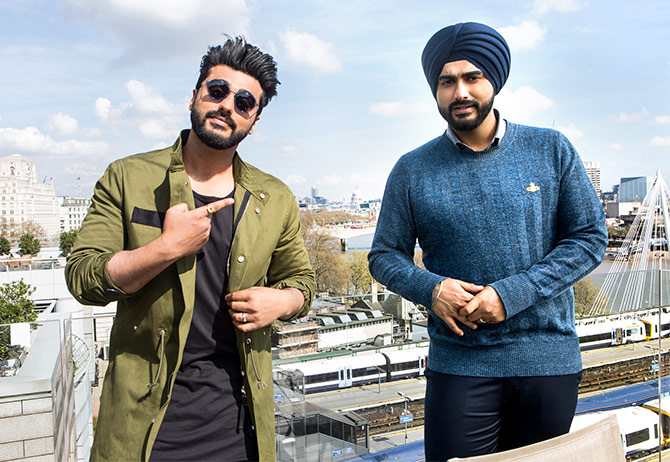 40. Do Kaliyan (1968) – Neetu Singh as child artist played the pivot role in the movie, as twin sisters – Ganga and Jamuna, who reunite their separated parents. The song filmed on her, Bache Mann Ke Sache became very popular. The movie should never miss by movie buffs who love Bollywood 1960s.
41. Sharmeelee (1971) – The movie established the career of newcomer Rakhi Gulzar, who was just one film old in Bollywood. She played twin sisters in the film – a next-door girl Kanchan and glamorous Kamini with negative shades. After playing a simpleton girl in her debut flick, Jeevan Mrityu, she stunned everyone with her glamorous avatar, and also for breaking stereotypes of Bollywood heroines.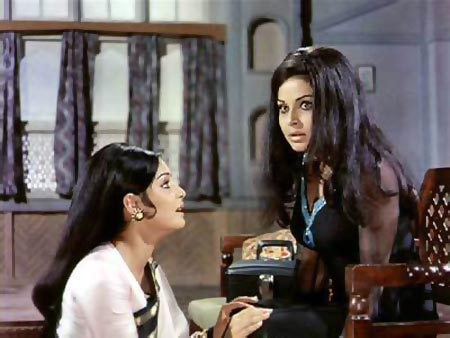 42. Paheli (2006) – India's official entry to Oscars, Shah Rukh Khan played Kishanlal and a ghost, and the movie was critically acclaimed. However the film was a flop at box office. It was a remake of 1973 Hindi movie Duvidha starring Malayalam actor Ravi Menon in a lead role. The ghost who falls in love with a newly married bride impersonates the husband in his absence, which forms the plot of the movie.
43. Duvidha (1973) – As told above, Ravi Menon played the double role in this ghost movie. Duvidha was Menon's debut movie soon after completing his diploma course in FTII, and the movie bagged National Film Award for Best Direction and Critics Award for Best film at Filmfare Awards. However the actor never worked in Bollywood later, and concentrated on Malayalam films with limited success. Menon played a ghost and Krishnalal, son of a merchant.
44. Dushman (1998) – This movie is regarded as one of the best performances of Kajol's career, though it did only average business at box office. Kajol played introvert Naina Sehgal and outgoing Sonia Sehgal, and it's a revenge drama where Naina Sehgal takes revenge on a person who rapes and brutally murders her twin sister. Kajol earned a Filmfare nomination for this movie, apart from winning many other awards.
45. Kaminey (2009) – The movie helped Shahid Kapoor to erase his chocolate image, and his performance as Charlie and Guddu Sharma, twin brothers with speech impediments was critically acclaimed. The film received numerous accolades, and Shahid Kapoor earned a nomination for best actor at Filmfare awards.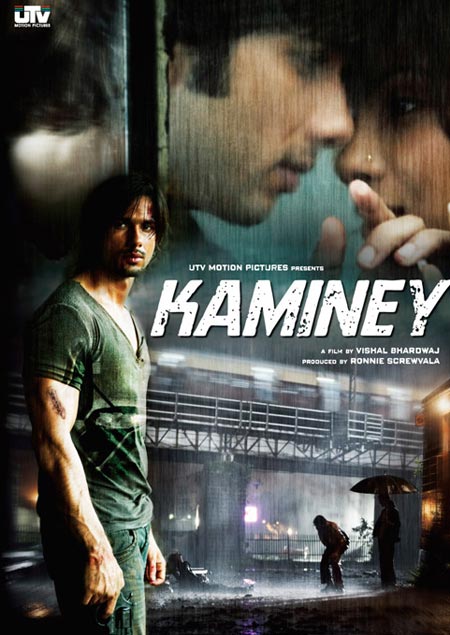 46. Tanu Weds Manu Returns (2015) – A sequel to Tanu Weds Manu, Kangana Ranaut received National award for best actress and a Filmfare nomination for this role. She played Tanu (character in the sequel) as well as Kusum, an athlete bringing different shades to the dual roles she played onscreen. Kangana also won Best Actress – Critics' choice award at Filmfare.
47. Aakhree Raasta (1986) – The film was a much-awaited hit in the career of Amitabh Bachchan, who was going through a rough phase then. David D'Costa and Vijay Sandaliya were the characters played by him.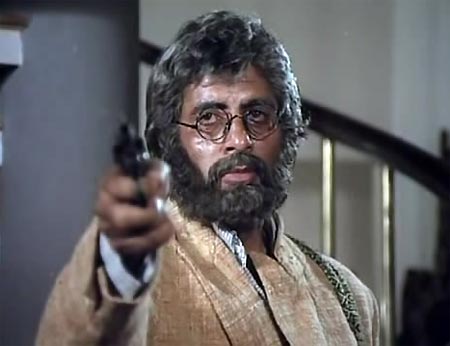 48. Sooryavansham (1999) – A remake of Tamil hit with the same film, Amitabh Bachchan played father-son duo in the film. It was not a big hit in big cities, while it fared well in small towns. Amitabh Bachchan excelled as Thakur Bhanupratap Singh, a Sarpanch, and this role was loved more than his son's character – Heera Singh.
49. Gora Aur Kala (1972) – One of the rarest dual roles played by Rajendra Kumar, the film was a box office hit too. His earlier venture, Jhuk Gaya Aasman surprisingly flopped at box office, where one person's soul enters into the body of his look-alike. Rajendra Kumar played Siamese twins who get separated. One character Karan Singh is fair while Kali Singh is dark and left-arm paralyzed.
50. Bhai-Bhai (1970) – The film had Sunil Dutt in a double role, playing Ashok and Manish, and was a box office hit. The pivot character Ashok is a writer.
51. Sacha Jhoota (1970) – After missing it for Aradhana, that too in a dual role, Rajesh Khanna received his first Filmfare Award for Best Actor for Sachaa Jhutha. It was first among male actors to receive the honour for a dual role. The film was a huge hit, and Khanna played an innocent and simpleton Bhola and cunning and rich Ranjit.
52. Gopikishen (1995) – This comedy action film had Suniel Shetty playing an innocent Gopi, and his long-lost twin brother Kishan who is rough in character. The film is popular among TV viewers and netizens, and known to be good film based on the theme of double roles.
53. Justice Chaudhury (1982) – The movie had Jeetendra playing Justice R.K. Chaudhary as well as his son Ramu, and the film was a box office hit. Jeetendra reprised the title role played by N. T. Rama Rao in the Telugu movie with same title, while Sridevi reprised the same role which she played in original.
54. Makdee (2002) – Shweta Basu Prasad as a child artist played dual roles – Chunni and Munni in this ghost film, which was screened at Cannes and many other international film festivals.
55. John Jani Janardhan (1984) – Though it was not a great movie and only a masala entertainer, it had a successful run at box office. Rajnikanth played a rare triple role of John, Johny and Janardhan, and the film completed 100 days of run at theatres.
56. Mein Khiladi Tu Anari (1994) – The movie was basically based on plotting village belle Basanti in the place of cabaret dancer Mona, a look-alike who was shot dead by villain. Both the characters were played by Shilpa Shettty. Kadar Khan also played the role of twins; interestingly both are policemen.
57. Kismet (1943) – And last, but not the least, the first blockbuster of Bollywood cinema which is also credited to introducing double role to Indian screen for the first time. The movie starring Ashok Kumar in a double role made 1 crore at box office, and the movie made him overnight superstar long back in the pre-independent era. The movie later inspired many movies, belonging to the same genre.
Well-known Tamil films with double roles dubbed to Hindi
The most successful film/film belonging to this list is Robot (Enthiran) and 2.0 where Rajinikanth essayed scientist Vaseegaran and robot Chitti. Despite being a dubbed film, Appu Raja (Apoorva Sagodharargal (1989) starring Kamal Hassan in a dual role became immensely popular and earned a cult classic status. In 1996, he played father-son duo in Hindustani (Indian) – one of the most expensive Indian films till then, which earned him National award for best actor. Later he portrayed 10 roles in Dashavatar (2008), which was not accepted by Hindi audience. In 1998 Tamil movie, Jeans (India's official entry to Oscars) starring Aishwarya Rai was released, where she pretends as twin sisters. In the movie, lead actor Prashanth played twin brothers – Vishwanathan and Ramamoorthy, and Nassar (father of twin brothers who wants his sons to get married to twins) too played a dual role as brothers.
A few more hit films with bad reviews
Dhoom 3 starring Aamir Khan as twin brothers was the biggest grosser of 2013, but it received only negative reviews. It was Aamir's first and only dual role throughout his career. Same is the case of Salman Khan's Prem Ratan Dhan Payo which became a huge hit. Bade Miya Chote Miya with Amitabh Bachchan and Govinda playing double roles and Akshay Kumar as Shiva and ASP Vikram Rathore IPS in Rowdy Rathod are a few more. Sunny Leone played the titular role in Ek Paheli Leela, a movie based on the theme of incarnation. Leela and Meera Singh are those characters. The film opened to mixed reviews, but emerged as a box office hit.
The recent addition to this list is Houseful 4 starring a bunch of actors in double roles, though separated by 400 years. The lead actors – Akshay Kumar, Riteish Deshmukh, Bobby Deol, Kriti Sanon, Pooja Hegde and Kriti Kharbanda, alongside Ranjeet, Chunky Pandey, Rana Daggubati and Sharat Kelkar played doubles roles in the movie based on incarnation theme. Interestingly Johny Lever and his daughter Jamie Lever portrayed the same character belonging to two births.
Some character roles in Bollywood with actors playing multiple roles
1. Abhishek Bachchan as Nandu Bhide and Vicky Grover in Happy New Year (2014)
2. Kadar Khan in Hum (1991) and Ankhein (1993)
3. Paresh Rawal in Andaz Apna Apna (1994)
4. Bipasha Basu in Dhoom 2 (2006)
5. Mehmood in 3 roles in Humjoli (1970 – dubbed as Prithviraj Kapoor – Raj Kapoor – Randhir Kapoor)
6. I. S. Johar in 3 roles in Johny Mera Naam (1970)
7. Kiran Kumar as twin brothers in antagonist role in Amaanat (1994)
8. Lalita Pawar as twin sisters – Sarojini and Sarita in Tumse Achcha Hai (1969)
A few more films with multiple roles which were hits/average hits
1. Aurangzeb (2013) – Arjun Kapoor as Ajay and Vishal Singh
2. Jhuk Gaya Aasman (1968) – Rajendra Kumar as Sanjay and Tarun Kumar
3. Kasme Vaade (1978) – Amitabh Bachchan as Amit and Shankar
4. Ra-One (2011) – Shah Rukh Khan as Shekhar Subhramaniam and G.One:
5. Bairaag (1976) – Dilip Kumar as Kailash, Bholenath and Sanjay
6. Fan (2016) – Shah Rukh Khan as film star Aryan Khanna and his fan Gaurav Chandna
7. Jai Kishen (1994) – Akshay Kumar as Jai Verma and Kishen Verma
8. Happy Ending (2014) – Saif Ali Khan as Yudi Jaitely and Yogi
9. Do Phool (1973) – Mehmood as Puttan and Mani
10. Raaz (1967) – Rajesh Khanna as Kumar and Sunil
11. Humshakal (1974) – Rajesh Khanna as Ram and Laxman
12. Bemisaal (1982) – Amitabh Bachchan as Dr. Sudhir Roy and his mad elder brother
13. Prem Shakti (1994) – Govinda and Karishma Kapoor (based on the theme of incarnation)
14. Naya Din Nai Raat (1974) – Sanjeev Kumar in 9 different roles
15. Jigri Dost (1969) – Jeetendra in a double role as Gopi & Advocate Anand
16. Maryada (1971) – Mala Sinha as twin sisters, Laxmi and Lalitha
17. Samadhi (1972) – Dharmendra as father and son
18. Gharonda (1977) – Zarina Wahab as Chhaya and Dr Lagoo's first wife
19. Yadon Ki Kasam (1985) – Zeenat Aman as Chandni and Geeta Khanna (Mithun Chakraborty's lover and wife)
20. Agar Tum Na Hote (1983) – Rekha as Purnima Mehra (Rajesh Khanna's wife) and Radha Bedi (Raj Babbar's wife) (there are many such Bollywood films where brief roles of dead characters are played or photo shown. Golmaal (1979) is one such iconic movie where there is a criminal with the same face of Utpal Dutt. Inspector shows the photo, though Utpal plays a single role throughout)
The list is not ending….. I skipped many, as the post is very lengthy now.
Bollywood flops with dual/multiple role
1. What's Your Rashee (2009) – Priyanka Chopra in 9 different roles
2. Dangerous Ishhq (2012) – Karishma Kapoor and Rajneesh Duggal in 4 roles (based on the theme of incarnation)
3. Chandini Chawk to China (2009) – Deepika Padukone as twin sisters Sakhi and Suzy
4. Khiladi 420 (2000) – Akshay Kumar as Dev Kumar and Anand Kumar Malhotra
5. Roop Tera Mastana (1972) – Mumtaz as twin sisters Princess Usha & Kiran, and Jeetendra as Raja Saab & Rajkumar (father and son)
6. Duplicate (1998) – Shahrukh Khan as Bablu Chaudhry and Manu Dada
7. Raabta (2017) – Sushant Singh Rajput as Shiv Kakkar & Jilaan, Kriti Sanon as Saira Singh & Saiba and Jim Sarbh as Zack Merchant & Qaabir (Story on incarnation)
8. Sangeet (1992) – Madhuri Dixit as Nirmala and Sangeetha (Mother)
9. Hameshaa (1997) – Saif Ali Khan as Raja & Raju and Kajol as Rani & Reshma (Story on incarnation)
10. Heroes (2008) – Salman Khan as Balkar Singh and Jassvinder Singh
11. Suryavanshi (1992) – Salman Khan as Vicky and Suryavanshi
12. Aasoo Bane Angaarey (1993) – Madhuri Dixit as Usha and Madhu
13. Sandwich (2006) – Govinda as Sher Singh and Vicky
14. Prem (1995) – Sanjay Kapoor as Shantanu & Sanju Verma and Tabu as Lachi & Sonya Jaitley
15. Humsaya (1968) – Joy Mukherjee as Shyam and Lin Tan
16. Geeta Mera Naam (1974) – Sadhna as Geeta and Nita
17. Mahaan (1983) – Amitabh Bachchan in a Triple Role as Amit, Inspector Shankar & Guru
18. Aflatoon (1997) – Akshay Kumar as Rocky and Raja
19. Humshakals (2014) – Ram Kapoor as Mamaji, Johnny and Balbir
20. Bulandi (2000) – Anil Kapoor as Dada Thakur and Arjun Thakur
21. Action Jackson (2014) – Ajay Devgn as Vishi and Jai
22. Love Story 2050 (2008) – Priyanka Chopra as Sana Bedi and Zaisha
23. 8 x 10 Tasveer (2009) – Akshay Kumar Jai Puri and Jeet Puri
24. Alone (2015) – Bipasha Basu as Sanjana and Anjana Dhanraj
25. Roy (2015) – Jacqueline Fernandez as Ayesha Aamir and Tia Desai
26. Gurudev (1993) – Sridevi as Rosy and Priya
27. Do Dooni Chaar (1968) – Kishore Kumar & Asit Sen as twin pair
28. Kuch Khatte Kuch Meete (2001) – Kajol as twin sisters Tina and Sweety Khanna
29. Bandhe Haath (1973) – Amitabh Bachchan as Shyamu and Deepak
30. Dastaan (1972) – Dilip Kumar as twin brothers Anil and Sunil
31. Chhote Sarkar (1974) – Shammi Kapoor as siblings (one in a very rare negative role)
32. Kal Hamara Hai (1959) – Madhubala in a double role in this social drama
33. Do Behnen (1959) – Syama as sisters
34. Janam Janam (1988) – Rishi Kapoor in a dual role, based on the theme of incarnation
35. English Babu Desi Mem (1996) – Shah Rukh Khan as brothers Hari and Vikram
36. Hum Dono (1985) – Rajesh Khanna as Raja and Dr Shekhar
37. Chor Machaye Shor (2002) – Bobby Deol as Ram and Shyam
38. Ab Ke Baras (2002) – Arya Babbar and Amrita Rao in a double role, based on the theme of incarnation
39. Teri Meri Kahani (2012) – Shahid Kapoor and Priyanka Chopra in triple roles, based on the theme of incarnation
40. Deewane (2000) – Ajay Devgan as Vishal and Arun
Bollywood flops which got fan followers later
A movie may flop due to several reasons, and it may necessarily not because it's a bad film. Among movies with dual roles, the first film that comes to my mind is Jhuk Gaya Asmaan (1968), and I still don't know why the film didn't work. The film had a refreshing new story quite different from normal formulae, had big stars, good music and good performances. But how such a good movie was rejected by Indian audiences? Interestingly the movie got a cult classic later and still enjoyed by television and net viewers. It gets good reviews too. An interesting fact to add, in the 1980s before television and internet era stormed into the entertaining world, old films used to get re-release, and had successful runs as well. The movie was advance-booked for all 28 shows in the week at a Mumbai theatre, which means the movie was pretty good.
Yet another film coming to mind is Sandwich (2006), yet another flop film, which got a cult classic status later. Now it's regarded as one of the best Govinda comedies, where he played a double role, and a role similar to his 'Sajan Chalo Sasural'. Govinda's sons (with two wives) were also played by a single child artist. 'What's Your Rashee' fell short of expectations. But I really loved Priyanka Chopra's 9 avatars. Do Dooni Chaar (1968) starring Kishore Kumar & Asit Sen was not a bad film either, and this film inspired a lot of films later.
Filmfare best actor/actress award for a twin role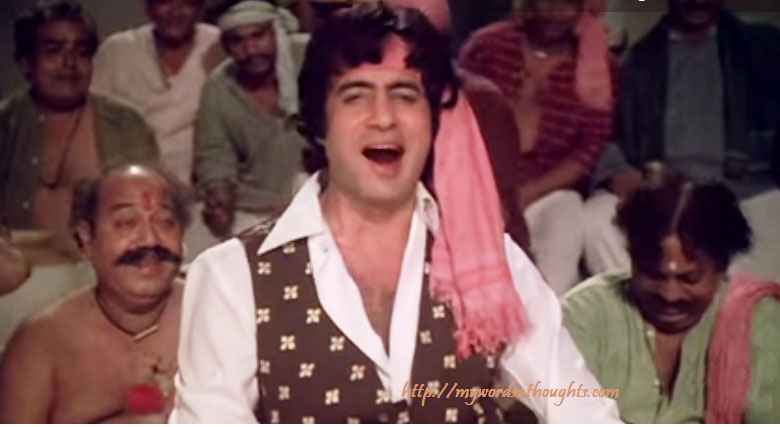 1. Waheeda Rehman for Neelkamal
2. Amitabh Bachchan for Don
3. Nutan for Milan
4. Hema Malini for Seeta Aur Geeta
5. Sridevi for Chaalbaaz
6. Hrithik Roshan for Kaho Na Pyaar Hai
7. Rajesh Khanna for Sachaa Jhutha
8. Sridevi for Lamhe
Till now 8 awards have been given to twin roles (irrespective of gender) in best actor category, while Devan Varma got it for Angoor in Best supporting actor category. Till now Kangana Ranaut is the only actor/actress to get Filmfare awards (critics' choice) for best actor for a dual role, and she received it for Tanu Weds Manu Returns.
Nomination for Filmfare best actor/actress award for a twin role
1. Rajesh Khanna for Aradhana
2. Suchitra Sen for Mamta
3. Sadhana for Woh Kaun Thi
4. Sanjeev Kumar for Angoor
5. Vyjayanthimala for Madhumati
6. Sunil Dutt for Milan
7. Dev Anand for Hum Dono
8. Amitabh Bachchan for Adalat
9. Govinda for Ankhein
10. Govinda for Bade Miyan Chote Miyan
11. Shahid Kapoor for Kaminey
12. Saif Ali Khan for Love Aaj Kal
13. Hema Malini for Mehbooba
14. Shah Rukh Khan for Fan
15. Sharmila Tagore for Mausam
16. Jaya Prada for Sanjog
17. Sridevi for Khuda Gawah
18. Kajol for Dushman
19. Deepika Padukone for Om Shanti Om
20. Shah Rukh Khan for Om Shanti Om
21. Kangana Ranaut for Tanu Weds Manu Returns
My choice for 15 best Bollywood films in a dual role
In this list I have added 50+ films in the main list, apart from a few more moderate hits as well as flops and commercial hits. It's my personal choice for 10 best films.
1. Aradhana
2. Seeta Aur Geeta
3. Ram Aur Shyam
4. Madhumati
5. Kaho Na Pyar Hai
6. Angoor
7. Don (1978)
8. Chaalbaaz
9. Mera Saaya
10. Mausam
11. Karan Arjun
12. Krish
13. Jhuk Gaya Aasman
14. Hum Dono (Dev Anand)
15. Neel Kamal
Tanu Weds Manu Returns, Sacha Jhoota, Mehbooba, Satte Pe Satta, Gopi Kishan, Kalicharan, Sharmilee, Fan, Mausam etc are a few more among my personal favourites.
Dual Roles in Bollywood – Some interesting facts
1. Amitabh Bachchan played maximum dual roles in Bollywood.
2. There are a few actors who earned stardom playing double roles – Rajesh Khanna, Hrithik Roshan and Hema Malini are leading names, while actors like Rakhee Gulzar, Shahid Kapoor, Shatrughan Sinha, Sadhana Shivdasani and Govinda got major breakthrough in Bollywood.
3. Sridevi received both her Filmfare trophies for double roles – Chaalbaaz and Lamhe.
4. Dharmendra in Yakeen and Amitabh Bachchan in Bande Haat (there may be more films too) have a rare distinction of giving distinct voices to the double characters, while almost all Indian films have dual roles with shared voice. A few parts of Kajol's voice for Dushman were dubbed as the actress was unavailable.
5. 2015 film Tanu Weds Manu Returns gave Kangana Ranaut Filmfare Critics Award for Best Actress. Till 2019 she is the only actor/actress to earn this award for a dual role. Interestingly she also bagged National award for the same.
6. Only two Bollywood actresses have won National award for best actress for a double role – Sharmila Tagore for Mausam and Kangana Ranaut for Tanu Weds Manu Returns, and none from male actors. However Kamal Hassan won the same for Indian, which was dubbed to Hindi as Hindustani. Read more.
7. Most of the incarnation movies have double roles, where actors play their next births too. Karz is one such experimental effort, where two actors were chosen by director Subhash Ghai and it proved successful too. Yes, two faces were definitely needed in its screenplay, to carry the story forward.
8. Dilip Kumar and Vyjayanthimala were the first actors to be nominated at Filmfare awards for best actor in the respective categories, for playing multiple roles. Dilip Kumar played double role and Vyjayanthimala played triple role in Bollywood classic, Madhumati in 1958, for which they were nominated.
9. Nutan for Milan (1967) is the first actress to win Filmfare award for best actress for playing a dual role. Waheeda Rehman won it the following year for 1968 movie, Neel Kamal.
10. It took a long wait for male actors to win this award. It was first won by Rajesh Khanna for 1970 movie, Sachaa Jhutha, after he received his first nomination the previous year for dual role in Aradhana as well as thriller, Ittefaq. The second actor to win this award was Amitabh Bachchan for 1978 movie, Don.
(Visited 4,070 times, 1 visits today)