Honey Wheat Brown Bread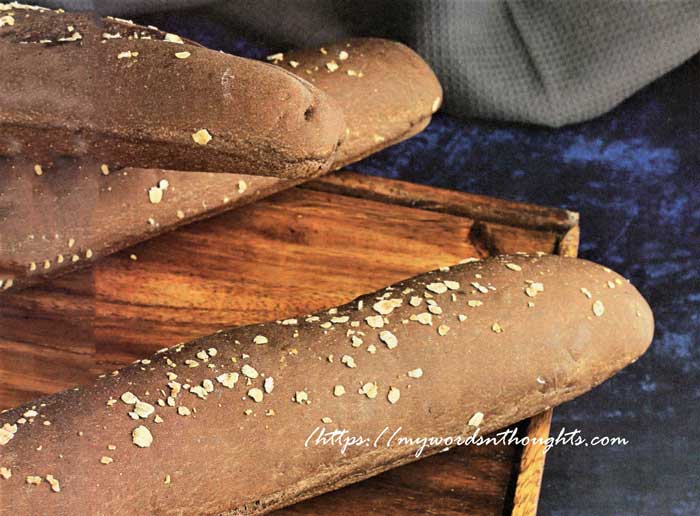 Ingredients for Honey Wheat Brown Bread:
1. Lukewarm water – 1.5 cups
Sugar – 1 big spoon
Instant dry yeast – 2.25 small spoons
2. Maida – 2 cups
Wheat flour – 1 ¾ cups
Coco powder – 1 big spoon
Instant coffee powder – 2 small spoons
Salt – 1 small spoon
3. Butter softened – 2 big spoons
Honey – ¼ cup
Jaggery solution – 2 big spoons
4. Caramel colouring/Dark brown food colouring – Optional
5. Oats – A little
How to prepare Honey Wheat Brown Bread?
1. Mix ingredients no: 1 in a medium sized bowl and allow it to rest for a while. It will foam and rise up.
2. In a hand mixer with paddle attachment, put ingredients no: 2 and beat well to mix the contents.
3. Add yeast mixture along with ingredients no: 3 and mix well.
4. If you are using food colour, add at this stage. Add little by little while mixing the contents.
5. Beat the contents in medium speed. The batter should turn thick and sticky.
6. Remove paddle attachment and put dough hook.
7. Knead the dough for 8-10 minutes.
8. The dough will be slighter thicker than normal bread dough. It will be sticky too. Yet it won't get stick to the bowl while kneading the dough.
9. Transfer this dough to a big greased bowl.
10. Cover it using a plastic wrap and allow to rest for 2 hours in a hot place. The dough will rise up & becomes twice in volume.
11. Divide the dough into 6 equal parts.
12. Put each ball on a flat surface, and using fingers make rectangle boxes with diagonal length 4 inches.
13. Fold 1/3rd of its portion downwards and stick towards the inner side using fingers.
14. Fold the lower portion towards upwards and seal again using fingers.
15. Continue the process for all six parts. Each minibag will have approximate size of 6 inch length and 2 inch width.
16. Place these loafs in a baking sheet after putting butter paper. Provide distance between the loafs.
17. Using moist hands, gently grease the upper surface and spread some oats on top.
18. Cover the loafs loosely with plastic wrap and allow it to rest for another 60-90 minutes. It will become double sized.
19. Pre-heat oven in 180 degree Celsius and bake the loafs for 25-35 minutes. Upper part should turn soft while inner portion of loafs should have 190 degree Celsius.
20. Take the loaf out of oven and keep it aside for at least 15 minutes before slicing.
21. Allow it to cool completely and you can wrap them in plastic wraps. It won't get damaged for next 2 days.
22. Before you serve, heat it slightly in oven. If you serve Honey Wheat Brown Bread same day of preparation, it will be soft.
Courtesy: Vanitha Magazine, April 29 – May 12, 2023
Also read a few bread snack recipes. Visit my page.