Curd Oats
Curd – a probiotic food and Oats – rich in fiber can help you in reducing body weight. Both can be included in the food menu of those striving for reducing body weight. Curd – Oats combo is good to improve digestion and reduce body fat.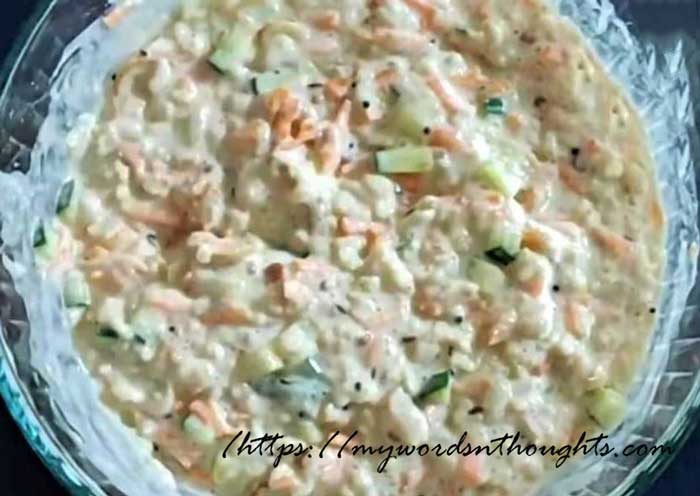 Ingredients for Curd Oats:
1. Rolled oats – 3 big spoons
2. Water and sour-less curd – 1 cup each
3. Carrot, salad cucumber and onions chopped fine – 1 big spoon each
4. Salt – For taste
To temper:
5. Oil – 1 small spoon
6. Black gram dal and mustard – ½ small spoon each
7. Grated ginger – 1 small spoon
8. Green chillies -2, chopped
9. Asafoetida powder – A pinch
10. Red chilli – 1
11. Curry leaves – A little
How to prepare Curd Oats?
1. Cook oats in 1 cup water. But never overcook it.
2. Allow it to cool completely.
3. Add chopped onions, carrot & cucumber, and mix well.
4. Heat oil in a pan and temper all ingredients one after another.
5. Pour this oil into curd-oats, and gently mix it.
6. Curd oats should have the consistency of curd rice, and you can add more water if needed.
7. Garish with coriander leaves and serve.
Note: You can also prepare overnight oats. Add uncooked oats to curd and keep it in refrigerator overnight. Next day morning, you can add vegetables and temper with oil, mustard and other ingredients.
Courtesy: Vanitha Magazine, April 29 – May 12, 2023
Also read a few more oats main course recipes. Visit my page.