What are the things to be noted while doing makeup for brown skin tone and dusky beauties?
Dusky beauties too own distinct beauty and we have many dusky beauty beauties in Indian film industry including Bollywood. Bipasha Basu, Sameera Reddy… the list goes on. They may not have a fair white skin tone, yet own a charismatic and mesmerizing beauty. They look traditional too.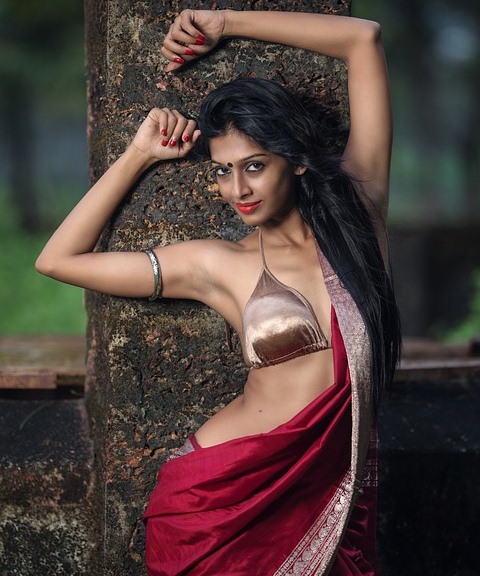 What points are to be noted while doing makeup for brown skin?
Choose only shades that match with skin tone perfectly. It's the first lesson while doing dusky makeup. It includes the choice of foundation colour to lip colour. Different tones of brown colour should be chosen for foundation and sticks. For round shaped beauties, contour makeup suits best. In this method, shapes of face are highlighted. Contour makeup has a few advantages too. It reduces the size and shape of face, and gives it a thin appeal. It also gives a perfect shape to face.
When you apply contour makeup to reduce the size of cheeks, from either side of lips at 2-inch distance, draw two lengthy lines towards ears. The lines can have a maximum of 1-inch width. Colours chosen for this purpose should be slightly darker than skin tone. Later using some skin tone colour, blend these lines downwards. For shapeless nose, from nose tip to the beginning edge of eye brows, give a straight line. Using a skin tone, blend it on either side to give an illusion of lengthy nose.
After contour makeup, while drawing your eyes, add extra thickness to the upper lid. Kohl gel can be used for this purpose. For foundation, instead of liquid one, try with sticks of different shades. Alongside a dark shade, use its next light shade. While choosing sticks, keep this idea in mind.
For brown skin, never choose light shaded lipsticks. Choose dark red, pink and orange shades for dusky tone makeup.
Foundation stick
Liquid foundation has many disadvantages. When you go out, the foundation may melt under sun, and patches may appear on face. To get rid of these defects, you can use foundation stick. From either side of nose and towards the sides of ears, give lines directly using stick. Later use fingers or sponge to blend it. To conceal black marks and spots on your face, give thick dots on those areas using stick and then blend it well.
Image source: Pixabay
Read a few more articles on Makeup tips & Ideas. Click on the images in the gallery to read
(Visited 1,130 times, 1 visits today)