Top 30 Bollywood Songs Featuring Sridevi – The Original Diva
Only a few female artists of the industry have earned the recognition of beauty with skills. A true diva and epitome of beauty, she redefined the word, 'heroine' on silver screen. When she entered Bollywood in the late 1970s, she was already a great star. But it took only a few years for her to achieve the stardom she dreamed off. Romance, comedy, dance or power-packed performance, there is no genre that the Sridevi had not mastered, and she created great wonders onscreen through her facial expressions and body language. Though she appeared in 72 Hindi films in total, only less than 25 or 25 are remembered for her best performances, but those roles were sufficient enough to place her as no: 1 and highest paid actress of Bollywood for a long time. It's not possible to pick 10 of her best roles in true sense! Her range in acting skills in superb, and has created new benchmarks in Bollywood how to represent females on screen with grace.
Sridevi was most active in the era of 1980s, the worst era of Hindi cinema, known for masala entertainers and fast beat songs without deep meanings. Sridevi churned numerous hits alongside Jeetendra and Mithun Chakraborty in this era, yet only a few remain memorable now. Same is the case of music too. Sridevi is best known for her association with Anil Kapoor, who gave some of the best movies of the era and some good music too. Through this column, let us discuss some of the best Bollywood songs filmed on Sridevi. For a few of my chosen songs, the actress has not lip-synced to them, yet they are some of the lovely male solos of 1980s. Sridevi has gone, and what left is a huge collection of her memories, and this is my humble tribute to the true legend of Hindi cinema.
1. E Zindagi Gale Laga Le from Sadma (1983) – Let's begin with something inspirational. It's solo track sung by Suresh Wadkar and Illayaraja marked his Bollywood debut with this film. Sadma was Sridevi's third film only in Bollywood, the movie which she did after 5 years after her debut flick and she got noticed for this one. It is widely regarded as a landmark movie of Sridevi's career, where she reprised her role in Tamil year one year ago. Kamal Hassan earned his first National award for best actor for the Tamil version, while Sridevi received state award.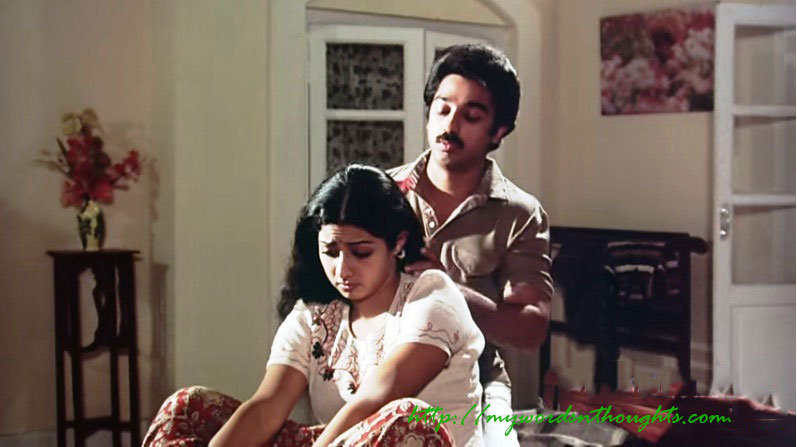 The song featuring Kamal Hassan and Sridevi is really wonderful, and let me add – it's a fresh tune composed by Illayaraja for this film. Gulzar penned the lyrics. This tune was later used by composer for one Tamil movie too. Perhaps it's the first tune composed by the legendary music director for any Hindi film. Though Sridevi didn't lip-sync to the song, how can be avoid this wonderful song from the list? Two years back, the song was reused for one movie starring Shah Rukh Khan and Alia Bhatt in a revived version, and its film title, 'Dear Zindagi' too was coined from the song originally composed in 1983.
2. Surumayi Akhiyon from Sadma (1983) – Same is the case of this lovely lullaby too. Though Sridevi didn't lip-sync to the song featuring Kamal Hassan and she herself, this soulful melody can never miss our list. Its original version "Kannai Kalaimane" too was sung by Yesudas, and I can't choose which one is the best. Gulzar penned the lyrics. Also read: Tamil songs reused for Hindi remakes for same film.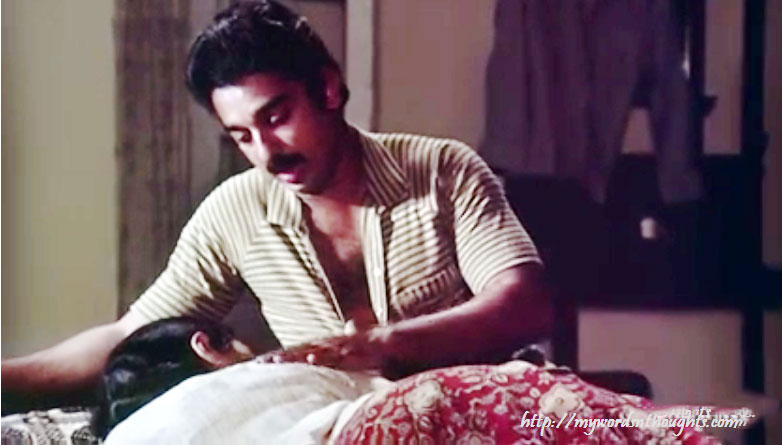 3. Lagi Aaj Saawan Ki Phir Vo from Chandni (1989) – Here comes the third one! Sridevi didn't lip-sync to this delightful rain song featuring Vinod Khanna, Juhi Chawla and she herself. Lagi Aaj Saawan Ki and E Zindagi Gale Laga Le are regarded among the career best solos sung by Suresh Wadkar, and it's mere co-incidence that Sridevi appears in both these songs. Anupama Deshpande hummed for its female voice. Shiv-Hari composed music and lyrics were penned by Anand Bakshi of all its tracks. All the songs of the movie were huge chartbusters, and I would like to list a few of them as best songs of Sridevi. Chandni is perhaps the most popular role of Sridevi on silver screen, still loved by movie buffs.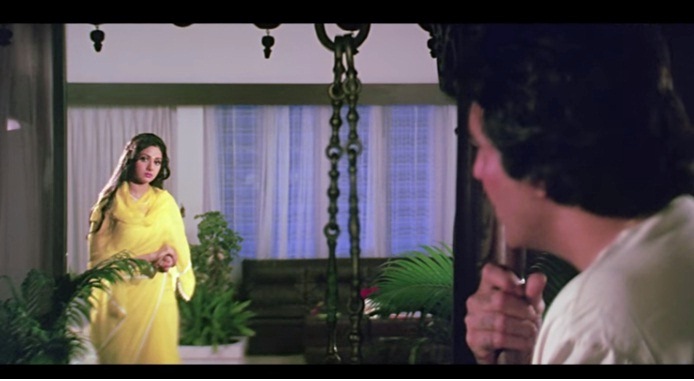 4. Chandni from Chandni (1989) – Sridevi dubbed for herself for the first time in Chandni. She also rendered her voice for its title track aside Jolly Mukherjee, and the song was immensely popular too. Rishi Kapoor featured aside Sri Devi in this duet.
5. Mere Haton Mein from Chandni (1989) – This particular Lata Mangeshkar song is played in almost all marriage functions across North India since its release. The song became immensely popular, and Sri Devi's innocent looks and beautiful looks also caught everyone's attraction. The movie gave her instant stardom and she never looked back. This love triangle also revived the careers of its lead actors, Vinod Khanna and Rishi Kapoor. The movie had one more similar dance track featuring the lead pair and also the supporting cast, Main Sasural Nahin Jaunge sung by Pamela Chopra.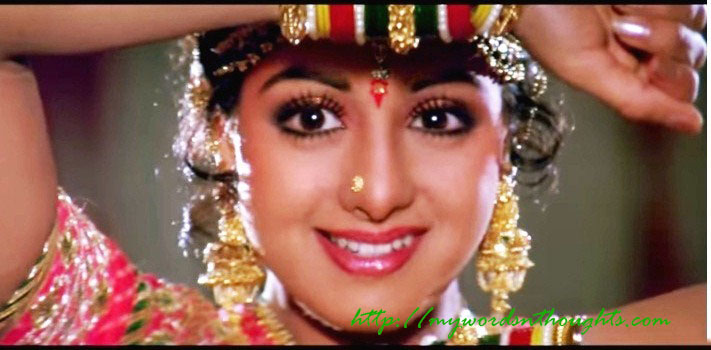 6. Parbat Se Kali Ghata Takraee from Chandini (1989) – This romantic track featuring Rishi Kapoor and Sridevi was sung by Asha Bhosle and Vinod Rathod. Shiv-Hari frequently used Lata Mangeshkar's voice to record lead actress' songs. Yet Asha Bhosle got opportunity to work with the duo occasionally. This song is the best instance.
7. Tere Mere Hoton Pe from Chandni (1989) – Lovely pictured, Sridevi looks extremely beautiful in this yellow chiffon sari. She looks stunning aside Rishi Kapoor, and this iconic song will be remembered always. In fact with the movie release, her white chiffon saris went to rage across the nation and young ladies really loved it. Lata Mangeshkar sang this duet aside Babla Mehta, not a familiar name in Bollywood music, but known for his bhajans.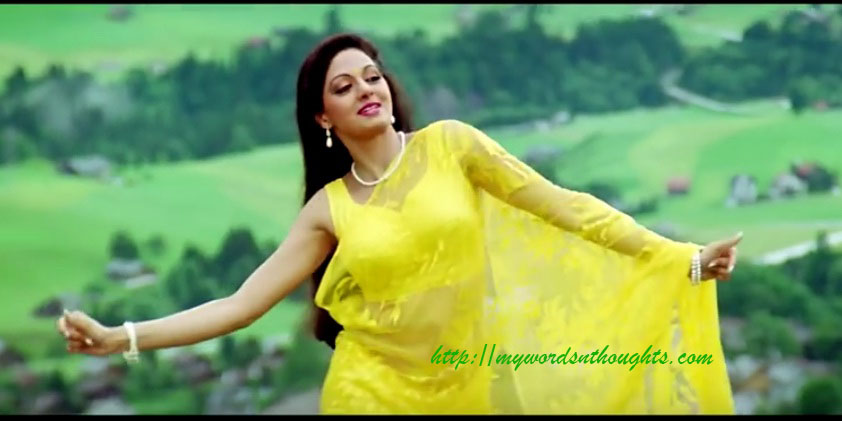 8. Oongli Mein Angoothi from Ram Avtar (1988) – Inspired from classic triangular love story, Sangham, the movie starred Anil Kapoor, Sunny Deol and Sridevi in lead roles. The songs of the movie got noticed, particularly the duet version sung by Mohammad Aziz and Lata Mangeshkar. The song was filmed on Sunny Deol and Sridevi, and it had two solo versions sung by both. Laxmikant-Pyarelal composed the music, and lyrics were penned by Anand Bakshi.
9. Nainom Mein Sapna from Himmatwala (1984) – Though Sridevi did a few movies since 1979, Himmatwala emerged as the highest grosser of 1984, and also her first hit Hindi film. The movie earned close to 12 crore at box office, which was a huge amount that time. It also began the successful association of Jeetendra and Sridevi in a series of masala entertainers, and most of them turned to be box office hits too. It's quite irony that Sridevi passed away just one day before the 35th anniversary of the film.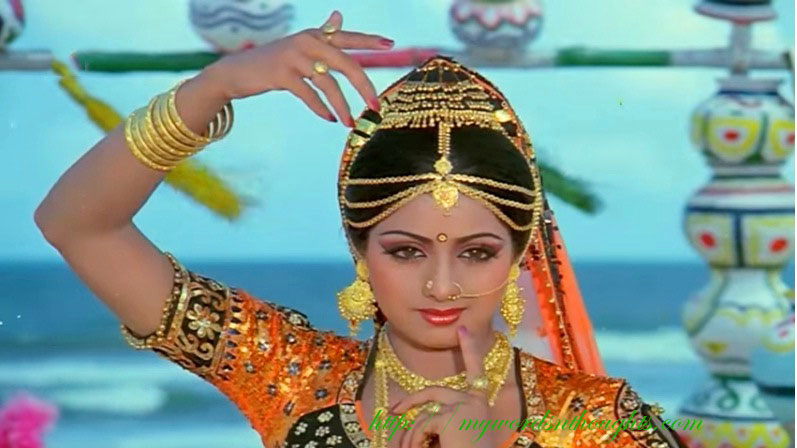 Most of them helmed by south Indian directors were shot at south Indian locations, with the help from local technicians. But they together spelled a crackling chemistry and guaranteed box office success. The huge age gap between the two was not noticed, and they looked a fresh pair together. Films featuring both were solemnly aimed to entertain masses, and the attempt succeeded too. Actors were benefited too, who worked together in 18 movies. They were instrumental to launch a mini industry in Bollywood unto itself which churned out films in succession within short time. Quality was not a major concern, and that's the reason why most of those films have been flashed out of the memory of audience. The movie Maqsad was completed in record 16 days and the movie hit bull's eye too. Justice Chaudhary and Tohfa are other two major hits of the duo. Dhintara Dhintara from Tohfa is yet another popular song of the duo. Naino Mein Sapna from Himmatwala was composed by Bappi Lahiri.
10. Har Kise Ko Nahin Milta from Janbaaz (1986) – Sridevi played second lead in the film opposite Feroz Khan, better tagged as a guest role. But she made the short role memorable with Har Kise Ko Nahin Milta, in which she is seen as a singing star in glowing orange-red chiffon saree with loosen hair. The song sung by Sadhana Sargam. The song had a solo version of Manhar Udhas and a duet version of both. Kalyanji-Anandji's music became sensational, and the lyrics written by Indeevar also played a magnificent role in making this track such a huge hit.
11. Morni Baga Ma from Lamhe (1991) – A lovely folk song sung by Lata Mangeshkar, Moinuddin and Ila Arjun, the song is counted among top 10 songs of Sridevi. She made this song memorable by her lovely dance moves and Anil Kapoor is also seen in this film. She received her second and final Filmfare award for the film. Shiv-Hari composed the film's musical score and Anand Bakshi provided lyrics for all its songs. The song also contained excerpts of 'Mhaare Rajasthan Ma' in the introduction.
12. Kabhi Mein Kahoon from Lamhe (1991) – One of the best duets of Hariharan and Lata Mangeshkar, the song featured Anil Kapoor aside Sridevi. Actually this tune was used as background score for Yash Chopra's previous venture, Chandni, for which Shiv-Hari composed the film's musical score. Also read: Top Bollywood hits of Hariharan.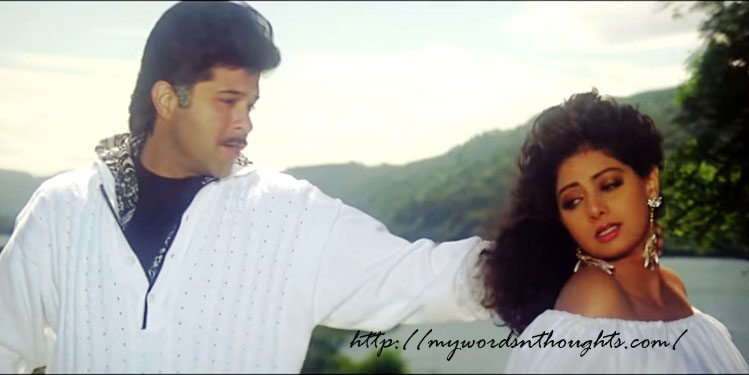 13. Meri Bindiya from Lamhe (1991) – This solo track featuring Sridevi was sung by Lata Mangeshkar. Shiv-Hari composed the popular tune and lyrics of all its songs were penned by Anand Bakshi.
14. Na Jaane Kaha Se Aayi Hai from Chaalbaaz (1989) – Sridevi earned her first Filmfare award for best actress in Hindi through this movie, a remake of Hema Malini starrer, Seeta Aur Geeta. The movie was a huge hit and all the songs composed by Laxmikant-Pyarelal. Sridevi added extra life to all its songs, and she had a temperature of 102 degrees while shooting this dance number aside Sunny Deol, can you believe? Anand Bakshi penned the lyrics and Amit Kumar and Kavita Krishnamurthy sang this duet.
15. Naam Mera Premkali from Chaalbaaz (1989) – Yet another dance number from the same film, Kavita Krishnamurthy rendered her voice for the song. The composer used Kavita's voice to record all songs for Sridevi in this film, and the attempt was a big success. This particular song was filmed at "Bubbles" night club, Mumbai. The humorous song, "Gadbad Ho Gayee" can also be mentioned here.
16. Kaate Nahi Katthe (I Love You) from Mr. India (1987) – Sridevi sizzled in a blue chiffon sari in this song, and this rain song filmed aside Anil Kapoor will be remembered always. The song is remembered as one among the best 5 songs ever pictured on Sridevi, perhaps her best romantic song. After the movie achieved huge success in Bollywood, Anil Kapoor-Sridevi pair became instant hit and they together worked in a series of films. Most of the films proved to be a major hit. It was one of the last released songs of Bollywood legend, Kishore Kumar, and he sang this duet aside Alisha Chinoy, who was not a big name then. Also read: Top 50 duets sung by Kishore Kumar. Laxmikant-Pyarelal composed the songs and Javed Akhtar penned the lyrics.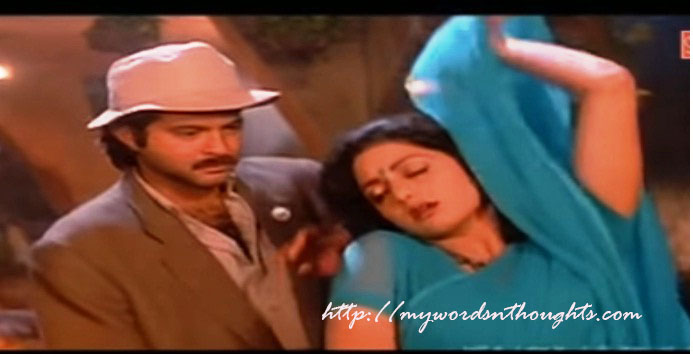 A few more interesting facts about this electrifying romantic rain song. The song was actually inspired from the romantic song, Dheere Chal Dheere Chal E Bheegi Hawa of Boy Friend starring Shammi Kapoor and Madhubala, and composed by Shankar Jaikishen. The tune was used for Feroz Khan starrer Tasveer too, Denewala Do Dil Deta. There is one more interesting fact behind the songs of Mr. India. The lead role was originally meant for Rajesh Khanna who declined it later. So Laxmikant-Pyarelal composed the songs keeping in mind, it's for Rajesh Khanna, and Kishore Kumar sang it, thinking that it's for Khanna. In fact he came over the board because Khanna was to play the lead role. When Sridevi was seen in a sexy avatar for 'Har Kise Ko' of Jaanbaaz, the filmmaker wanted to recreate something which excels Jaanbaaz song, and he succeeded too.
17. Hawa Hawai from Mr. India (1987) – Since the days of Mr. India, Kavita Krishnamurty's voice got associated with Sridevi's name, and Laxmikant-Pyarelal tried the same combination for Chaalbaaz and a few more films. The song became so popular that, till the release of Chandni, Sridevi was called by the name, Hawa Hawai. Her unique dance steps, comic timing and facial expressions made this song hers forever.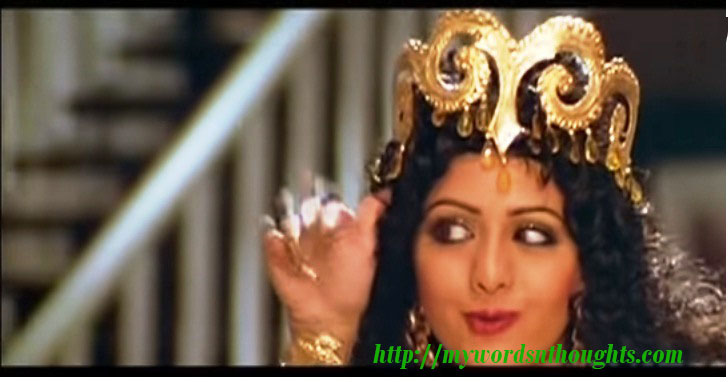 Last year, when a new trend began to revive old Hindi hits for new releases, Tumhari Sulu team and Vidya Balan gave a true tribute to India's most popular female star ever, Sri Devi by recreating her most popular dance number from Mr. India, released exactly 20 years back. When the song got officially released in October 2017, no one might have even dared to dream that she is to leave us very soon, and through this song Bollywood gave the best tribute to the legendary actress when she was alive. Kavita's voice was also used for the title track, Karte Hain Hum Pyaar Mr. India Se aside Kishore Kumar. The song lifted the career of Kavita Krishnamurty to new heights, and she sang several hit songs for Sridevi later. In fact as a singer, Kavita registered maximum hit songs with Sridevi, and after Lata Mangeshkar voice, she became the best ghost voice for the iconic actress.
18. Parody Song from Mr. India (1987) – Those who spent childhood days in the 1980s can never forget this parody song performed by Anil Kapoor, Sridevi and a string of kids, and I too belong to the list. In fact, many kids have grown up seeing the transformation of Sridevi from a normal artist to the reigning queen, and I too belong to the category. During my childhood days of Doordarshan, Sridevi was the most familiar face known to me, as she worked in both Hindi and south Indian movies, and her songs were regularly featured in Chitrahaar. In fact many of Sridevi moments are chilling nostalgic moments, not just me, but for all kids almost of my age. This parody song was wonderfully written, lovely filmed, and the actors nailed it perfectly. Anuradha Paudwal and Shabbir Kumar rendered their voice for this song.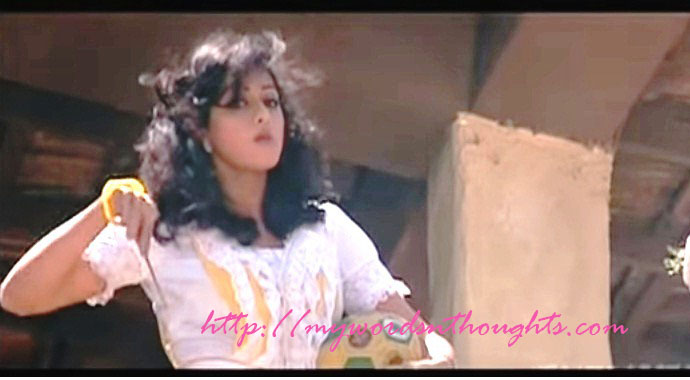 19. Rab Ne Banaya from Heer Ranjha (1992) – This tragic love story starred Anil Kapoor and Sridevi in lead roles, and this lovely duet was sung by Anwar Rafi & Lata Mangeshkar. Laxmikant-Pyarelal composed its music, and lyrics were penned by Anand Bakshi.
20. Tere Hi Aarzoo Hai from Chandramukhi (1993) – Though Sridevi has worked with Salman Khan and Shah Rukh Khan in movies, she was never able to register success. The fantasy tale Chandramukhi was a flop. Yet this duet sung by S. P. B and Kavita Krishnamurty is indeed lovely. S. P. B's voice was regularly used by music composers during the initial career phase of Salman Khan. Sridevi has earlier done one similar movie down south – Jagadeka Veerudu Athiloka Sundari (Hai Sundari), where she played the role of a fairy. Chandramukhi also included one raunchy number filmed on its lead pair, which was quite common in the 1990s – Chha Raha Hai Pyaar Ka Nasha. Anand-Milind composed the music and Sameer penned the lyrics.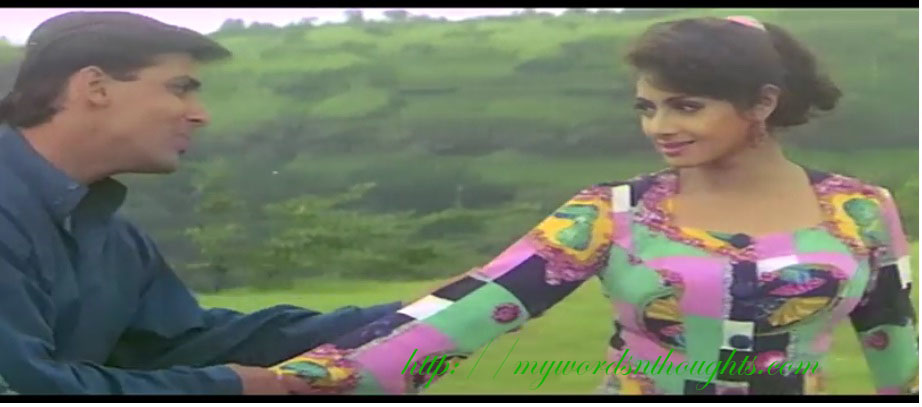 21. Jaipur Se Nikali Gaadi from Gurudev (1993) – Sridevi played a double role in the film, and was seen aside Rishi Kapoor in the song. Rahul Dev Burman composed music and lyrics were penned by Majrooh Sultanpuri. Aana Re Aana Re is yet another popular song.
22. Tu Na Jaa Mere Badusha from Khuda Gawah (1992) – Big B took a small break from silver screen after the movie release. It's not the first time, the legendary actors worked together, and they also shared screen space for a single scene for Sridevi's comeback film, English Vinglish in 2012. Laxmikant-Pyarelal composed its beautiful songs and Anand Bakshi wrote lyrics. This farewell song featuring the lead pair was sung by Alka Yagnik and Mohammed Aziz.
23. Tu Mujhe Kubool from Khuda Gawah (1992) – This romantic track featuring Sridevi and Amitabh Bachchan was sung by Kavita Krishnamurthy and Mohammed Aziz. The song also had a female duet version sung by Kavita Krishnamurthy and Lata Mangeshkar.
24. Neele Neele Ambar Pe from Kalaakar (1983) – One of the early releases of Sridevi, the song sung by Kishore Kumar is immensely popular even today. Kalakar (1983) starring Kunal Goswami and Sridevi is the remake of Tamil blockbuster Payanangal Mudivathille which ran for 900 days at box office. Tamil movie released in 1982 starred the popular romantic pair of Tamil cinema – Mohan and Poornima Jayaram.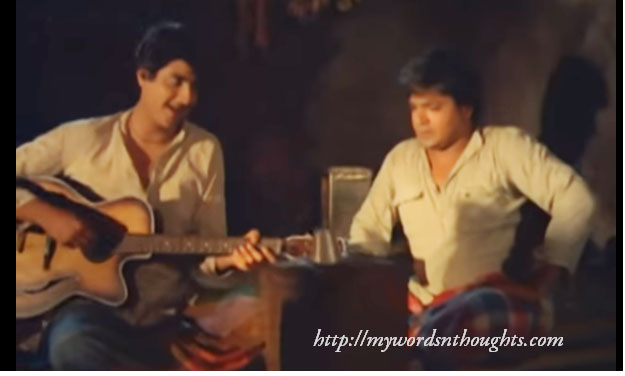 Mukda of one of its hit songs composed by Illayaraja, Ilaya Nila Pozhikirath (almost in lines with Hindi lyrics, where both the songs describe moon/moonlight) sung by S. P. Balasubrahmanyam was reused for its Hindi version by the composer Kalyanji-Ananji, and it's not easy to find which one is better – the one sung by Kishore Kumar or the version already done by SPB. And true to say, both the versions stood against the test of time. Both the versions used acoustic guitar with intense, and it proved to be the highlight of both too. Indeevar penned the lyrics. Same year marked the Bollywood debut of Illayaraja through Sadma, which itself is a remake of Moonum Pirai composed by himself.
25. Tere Pyar Ko Salaam from Gumrah (1993) – This critically acclaimed movie included some hit songs too. The song featuring Sanjay Dutt and Sridevi was sung by Alka Yagnik. Laxmikant-Pyarelal composed the music and lyrics were written by Anand Bakshi.
26. Mein Tere Dushman from Nagina (1986) – This iconic dance song doesn't require any special introduction. One of the noted works of Sridevi as a dancer and performer, the movie was a box office hit too. Later a sequel was made with the name Nigahein – the first ever sequel made in Indian film industry. Amrish Puri was seen aside Sridevi in this song, composed by Laxmikant-Pyarelal. With Lata Mangeshkar's voice and Anand Bakshi's lyrics, this song is nothing short of a fantasy.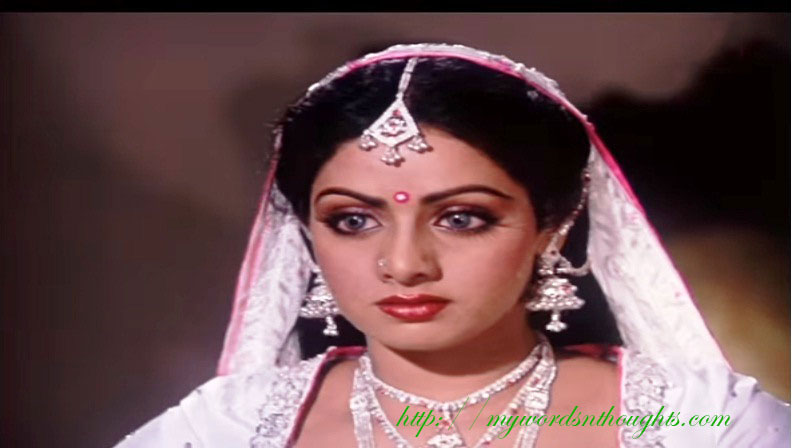 27. Jaanum Meri Jaanum from Mr. Bechara (1996) – One of her last works aside Anil Kapoor, Venkatesh was featured in this song aside Sridevi. A role quite similar to Sadma, her character losses memory in an accident, and the movie revolves around the building relationship of her character with a widower with kid. Anand Milind composed music and lyrics were penned by Nawab Arzoo.
28. Gustak Dil from English Vinglish (2012) – In the era of her glowing years, after marriage heroines took retirement from profession, quite a norm followed by all. But in the following years, Bollywood witnessed the return of many leading ladies to big screen and accepting some meaty roles too. Sridevi too followed the same suit and made a glorious return through English Vinglish. In all means, she showed everybody why she deserves the title, the only female superstar of Bollywood. In true sense, no other actress can match up her standards to do such a powerful role convincingly.
The movie also included some of the best songs, and her fans got opportunity to watch Sridevi singing and dancing to the tunes of present generation. It was indeed pleasant to eyes, and through this film, youngsters too got an opportunity to know more about her. Amit Trivedi composed songs and lyrics were penned by Swanand Kirkire. Voice was rendered by Shilpa Rao for this soulful track.
29. Navrai Majhi from English Vinglish (2012) – Sridevi fans got opportunity to watch her dance moves after a long time through Navrai Majhi. The song is indeed very beautiful and lovely pictured. Voices of Sunidhi Chauhan, Swanand Kirkire, Natalie Di Luccio and Neelambari Kirkire were heard in the song.
30. Mujhe Ik Pal Chain Na Aaye from Judaai (1997) – I would like to conclude this list of 30 best Sridevi songs through a melodious song from the movie, Judaai. It's irony, Sridevi who was a very active name in the industry for about three decades left silver screen soon after marriage with the movie, Judaai, which literally translates as parting or farewell. The album was composed by Nadeem-Shravan duo and lyrics penned by Sameer. Hariharan, Alka Yagnik & Jaspinder Narula are the voices behind the song, and the song had two versions. The movie also included very popular, Pyar Pyar Karte Karte featuring its lead stars, Urmila, Anil and Sridevi.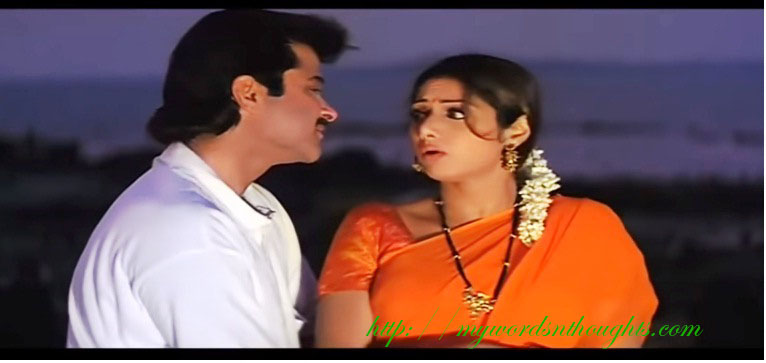 Judaai was her last association with her future brother-in-law Anil Kapoor as well, with whom she registered maximum hits in Hindi. Though she returned in a bang with English Vinglish in 2012, and most recently worked in Mom and Zero, she never shared screen space with Anil Kapoor later. Fans have been eagerly waiting for her onscreen pairing with 'Mr. India' for its sequel in the past few years, sadly not going to happen ever.
A few more Sridevi songs I would like to mention here
I have tried to add some of the best songs featuring Sridevi. It's true Sridevi worked mostly in masala entertainers during the first phase of her career. There are only a few songs which deserve mention now, and I am not at all a fan of 1980's movies or songs. So I might have missed many Sridevi hits. Excuses. I am least proficient in Bollywood 1980s too. I would like to add a few more songs which missed mention in the above list – Gori Ka Saajan from Aakhri Rasta, Tu Roop Ki Rani from Roop Ki Rani Choron Ka Raja, I Am Very Very Sorry Tera Naam from Chand Ka Tukda, Maine Rab Se Tujhe from Karma, Dhak Dhak Jiya Kare from Joshilaay and most importantly – My Heart Is Beating from Julie, the first time ever Sridevi was featured in a Hindi song. Let me add the original Telugu version of Madhuri Dixit's sensuous 'Dhak Dhak Karne Laga' song was filmed on Sridevi and Chiranjeevi. The song titled Abbanee Tiyyani was composed by Illayaraja, and sung by SPB and Chithra.
Some of her best regional songs
Do you know there is one old Tamil song, 'Devi Sridevi' featuring Kamal Hassan and Sridevi? Kamal Hassan tries to woo the heroine singing this song. There is a bundle of good Sridevi songs in regional languages too, composed by great legends like Illayaraja and others. Here I list a few of my favourite Tamil and Malayalam songs.
I am not familiar with Kannada and Telugu films, and for the same reason I can't list any Sridevi songs belonging to these two languages. As I concentrate on to Bollywood songs, I have forgotten many of good songs from regional languages. I have handpicked a few of them from my memory. Hope you will like it. Most of the songs belong to 1970s and 1980s, and a few from 1990s, and a lot of my childhood memories are linked to at least a few of them.
1. Senthoora Poove from 16 Vayathinile (Tamil)
2. Kannai Kalaimaane from Moonam Pirai (Tamil)
3. Sisira Kala from Devaragam (Malayalam) (Devaragam had Tamil version too)
4. Sasikala Charthiya from Devaragam (Malayalam)
5. Ya Ya Ya from Devaragam
6. Neela Jalaasayathil from Angeekaaram (Malayalam)
7. Neela Vaanacholayil from Premabhishekam (Malayalam)
8. Ellam Sivamayam from Kumarasambhavam (Malayalam)
9. Devi Sreedevi from Vazhvemayam (Tamil)
10. Mazhai Kaala Megam Ondru from Vazhvemayam (Tamil)
11. En Vaanilae from Johny (Tamil)
12. Yamune Nee Ozhukoo from Thulavarsham (Malayalam)
13. Abbanee Tiyyani from Jagadeka Veerudu Athiloka Sundari (Telugu) (Its Hindi version is the popular 'Dhak Dhak' song)
She left the world so unexpectedly, so young. But her legacy is to stay here for long. What a great artist!!! A true legend by all means…… Today when I post this article, Mumbai city witnessed one of the greatest procession solely dedicated for an idol legend. Mumbai city witnessed same rush with the pass away of India's first superstar too, some 5 years back. History repeats the same for India's first lady superstar too. Condolences.
The only Indian superstar who can claim a pan appeal across India, Sridevi would have give so much to Indian Cinema if she lived a little more. Also read a few more articles of the gorgeous actress whose untimely demise shocked the whole nation beyond all limits.
(Visited 10,189 times, 1 visits today)