A tribute to one and only Sridevi – The original female superstar of Indian film industry
The first female artist from Indian film industry who earned the title, "Lady Superstar" left us so unexpectedly giving shock waves to everyone who loved her as a wonderful person, artist and dancer. She was only 54, enjoying the pleasant days of her life with her family, when destiny came on a dark Saturday in the form of death. No one might have even expected the smiling icon of Indian film industry, who left Dubai to attend her nephew's marriage function last week will never return back. Death took the form of 'Choron Ka Raja' and took away with him, our 'Roop Ki Rani' without giving any notice! Also read: Top 30 Sridevi songs and 10 of her best performances in Bollywood cinema.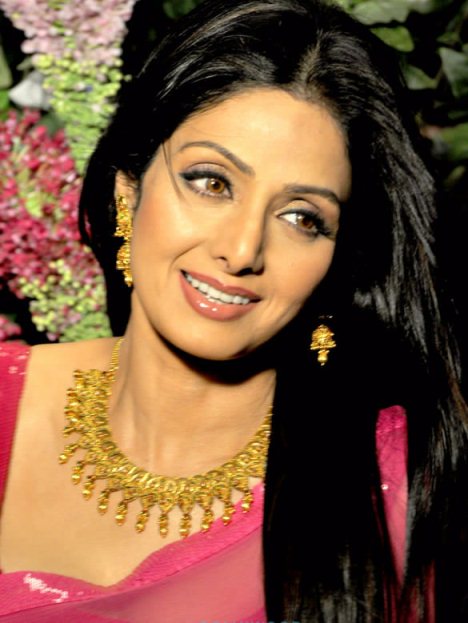 When we see her recent clicked photos, either at marriage function or those framed moments at airport when she was to leave the country along with her husband and younger daughter, tears fill our mind. Isn't it an early return? As a wonderful artist, a loving wife and a doting mother, she has so much to give before she left. She dreamt a lot and strived hard to see her daughter Jhanvi as one of the leading heroines of today, and in the past few years she fully worked behind it, to groove her as a fashion icon. She gave precious 15 years from her career to her lovely daughters. She was glowing as a bright star in the fashion industry, when she call it quit soon after marriage, and she fully led the life of a homemaker away from flashes and media. Yes, how she made all those things easy, when she gave so much importance to her profession, glamour world and dancing career. Yes, she managed to do it, and succeeded 100% too.
She also made a magical comeback after she took retirement in the late 1990s. Yes, she was so much to the world, and world too expected too much from her. But death played its dirty trick once again leaving behind everyone us astonished. Some artists find place in everyone's hearts for their glamour quotient, and the rest for their talent. And only a few artists managed to earn fame for acting and dancing skills and beauty. An epitome of beauty, her name is definitely among the top among Indian artists who managed to receive a pan appeal across the big sub-continent India, as well as neighbouring nations. It's my humble tribute to 'Chandini of Indian Cinema' and the true diva of Bollywood, who inspired millions of artists later to follow her footsteps. Also read my previous article: 10 Bollywood divas who died young
A brief note on her personal life and a sketch on her career
She was born on August 13, 1963 in Sivakasi of Tamil Nadu into a middle-class family. Shree Amma Yanger Ayyapan is her real name. She was the daughter of Rajeswari from Andhra Pradesh and a lawyer Ayyappan. She spoke only Tamil and Telugu during her early days. She started her film journey at an early age of 4 as a child artist through the Tamil film Thunaivan, and has just completed 5 decades in Indian cinema industry completing 300 films belonging to different Indian languages. She earned opportunity to work with legends – Sivaji Ganesan and MGR, which played a significant role in her career growth.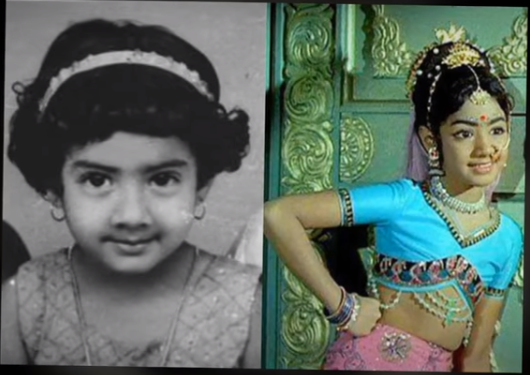 Such a long journey, giving life to numerous characters of different shades, and it can be said that she has tried with every bit of roles on Indian screen, from romantic to comedy and grey shaded ones to powerful women-oriented roles. As a child artist, lover, comedian, dancer and mother, she enriched Indian screen in all the ways an actress can do. Quite irony, her last release, Mom released most recently in 2017 was her 300th film. She plays a cameo role in Shah Rukh's upcoming release, Zero, slated to release in December 2018.
Darling of the nation who owns a pan appeal among north Indian and south Indian languages, she owns several blockbuster hits in Hindi, Tamil, Kannada, Malayalam and Telugu movies. Only a few artists in the industry have managed to achieve this feat, and among all such artists, Sridevi's name definitely lists first. That's the reason why she achieved the title, 'The first female superstar of Indian film industry', and truly it is. A unique blend of extra ordinary talent with mesmerizing beauty, her legacy is definitely to carry on, and remains as a true inspiration to many artists to come.
She ruled Bollywood in position no: 1 throughout 1980s and early 1990s, and remained one of the most paid artists of Indian film industry in the early 1990s. Only a few artists have managed to stay at position no: 1 for such a long time, and she truly deserved it by all means. Hindi was not a familiar language to her, and many Hindi artists were reluctant to work with her during her early days. But she transformed herself to a Bollywood diva very soon, and seated in the Bollywood throne as 'queen of hearts' for a long time till she took a break from industry.
Some of her milestone movies in Bollywood include – Chandini, Lamhe, Mr. India, Nagina, Sadma (remake of Moonam Pira), Judai, Karma, Nigahein, Chaal Baaz, Lamhe, Khuda Gawah, Gumrah, Laadla etc, and songs featuring Sridevi in these films too are memorable. She registered equal number of hits in south Indian films as well. Yet, when she turned busy in Bollywood, she worked comparatively less down south. After her Bollywood debut in the late 1970s, the only Malayalam movie she did was 'Devaragam' co-starring Arvind Swamy in 1996, but for the last time.
In her personal life, she has been linked with her co-star Mithun Chakraborty in the mid-1980s, and it was rumoured that she secretly married him in 1985, a secret marriage which stood for 3 years. He was already a married person then, married to Kishore Kumar's ex-wife and actress, Yogeeta Bali. Sridevi married film producer Boney Kapoor in 1996, who too was a married man and father of two. The couple were blessed with two daughters. She returned to film industry in a bang giving stunning performance in 'English Vinglish' in 2012, and also played lead role in Bollywood film, Mom last year. In between she appeared in one Tamil film, Puli, playing antagonist's role. She also had a brief career in television industry and appeared in the series, Miss. Malini.
A star born from Tamil cinema
With a cute smile and innocent looks, she stormed into Indian cinema as a child artist at the age of 4, and very soon appeared in other south Indian languages. A child prodigy, she was active in the film industry as a teenager too, and played the role of younger sister of Lakshmi in the bold film, Julie. It was her first Bollywood appearance. Solva Sawan, a remake of her own Tamil hit, 16 Vayathinile marked her Bollywood debut. While she shared screen space with iconic actors – Kamal Hassan and Rajinikanth in the original version, Amol Palekar and Kulbhushan Kharbanda reprised their roles in Hindi version. Both the movies were directed by legendary director, P. Bharathiraja. It's quite co-incidence that all the three actors of the original Tamil version, went on to become huge stars in Indian cinema, who redefined pre-set rules giving a new direction to showbiz.
Out of her 54 years, she spent 50 years in showbiz industry conquering millions of hearts. During her early phase as a child artist, she was mostly seen playing mythological characters. In fact she played Lord Subramaniya in her debut film, Thunaivan released in 1969. She was seen as young Subramaniya in Malayalam film, Kumarasambhavam in the late 1960s and also Tamil film, Aathi Parasakthi. Her role in Poompatta (1971) in Malayalam won her the Kerala State Film Award for Best Child Artist. From there on, Indian witnessed a beautiful transformation of an innocent artist to true diva, and it's her true dedication which paved way to her success. She truly deserves a standing ovation. If she had not attempted, she would have received only limited success in south Indian film industry, and Bollywood might have deprived of the artistic skills of a true diva.
Moondru Mudichu (1976) directed by K. Balachander marked her debut as an adult actress at the age of 13, and she shared screen space with Rajinikanth and Kamal Hassan in the film. The movie was a huge hit. As told above, the director casted them together in 16 Vayathinile the following year. While Kamal Hassan played villain role in Malayalam version of Moondru Mudichu, Rajinikanth played antagonist's role in the later. Later years too, during her formative years in south Indian cinema, she worked with both these artists multiple times, and also a few in Bollywood (Sadma opposite Kamal Hassan and Chaal Baaz opposite Rajinikanth).
During early 1980s, Kamal Hassan-Sridevi pair remained in the top and had a lot of fans too. They together worked in more than 30 films, belonging to different languages. Sigappu Rojakkal, Moondru Mudichu, 16 Vayathinile, Varumayin Niram Sivappu, Meendum Kokila, Premabhishekam (Telugu), Moonam Pira/Sadma etc are her notable works with Kamal Hassan during her early days. Her character Mayil proved to be a milestone in her career graph. The song, 'Senthoora Poove' sung by Janaki too was a huge chartbuster, and earned her National award for best female playback. Sigappu Rojakkal released in 1978 (remade to Hindi as Red Roses starring Rajesh Khanna) was yet another top role during her early years in Tamil cinema, followed by Moonam Pira and others. She acted in more than 60 Tamil films.
Her memorable role as an amnesiac woman, who travels back to childhood in Moonam Pira earned her applause. Though its Hindi version, Sadma was not a commercial success, it achieved a cult classic status in the years following. The songs such as Surumayi Akhiyon and E Zindagi became immensely popular. She earned Tamil Nadu state award for best actress and a Filmfare nomination (Hindi) for the same. Though she achieved stardom through Hindi cinema, the actress has earlier certified that most of her strong characters indeed belong to south Indian cinema, most of them given by acclaimed filmmakers such as K. Balachander, Bharatiraja, Balu Mahendra, S. P.Muthuraman etc. In fact the roles offered by these filmmakers during her primitive years played a magnificent role in grooming her career as a performer. She was seen for the last time in Tamil screen in 2015 for Vijay starrer, Puli. But the movie was a commercial failure.
Apart from MGR and Sivaji Ganesan, she worked with Jayalalitha as a child artist in three movies, which include the super hit film, Parasakthi. She shared a unique bond with the actor-politician, and also visited her residence after her death.
She joined Bollywood in 1979 as a lead actress
She was seen on Bollywood screen for the first time in 1975 movie, Julie as a teenager playing Lakshmi's younger sister. She was seen in the beautiful song, "My heart is beating", along with Om Prakash, Lakshmi and others. When she joined Bollywood in 1979 with the movie, Solva Sawan, Hindi was just a foreign language to her. For her early films, artists like Naaz and Rekha dubbed for her. Chandni was the first Hindi film for which she dubbed, and she also did playback singing for its title song aside Jolly Mukherjee. But by that time, she has already grown as the leading face of Hindi cinema. Chandini proved to be a landmark film of her Bollywood journey, and her white sarees became a fashion quotient.
Her debut film, Solva Sawan was a Bollywood disaster, and its failure prompted Sridevi to concentrate on to south Indian films, and she predominantly worked in Tamil movies. She was lucky enough to get some memorable roles of her career during this time period, and got opportunity to work with all leading filmmakers of the time. Yet, she was not willing to give up her Bollywood dreams. Since the days of her debut Bollywood flick – Julie, her mother dreamt about a magical journey of Sridevi in Bollywood, and she fulfilled her dreams too. She lost her mother around the time of sabbatical from acting and marriage, when she was in her early 50s, and it happened due to a surgery error.
She was next seen in a lead role as childish Reshmi in Sadma. She played this challenging role with ease. Though this de-glamoured role was not noticed at the time of film's release or counted among Sridevi's hit films, over the years, her performance in the film earned her a lot of appreciation. Himmatwala aside Jeetendra released in 1983 was her first box office hit in Hindi, and it began a string of masala entertainers in association with Jumping Jack. Most of them proved to be box office hits. Yet her association with Yash Chopra in the late 1980s brought out the hidden gem of Sridevi as a performer. Chandni proved to be a landmark movie of her career, where Chopra her beauty in camera frames along with her dancing and acting skills.
There are some occasions where the invisible line drawn between celluloid and real life disappears and only a few artists manage to cross the line and create an illusion in spectators' eye, "Is it real life or just a role on celluloid?" Yes, in the last 50 years, Sridevi has lived through many characters she portrayed onscreen, and that's why she earned the title of true legend. She was another name for the word 'attractive', epitome of beauty, magnet, diva and hundreds of definitions not easy to be found in dictionary.
She appears as a fairy to many, and described as the 'intense beauty of Indian screen'. But she turned a successful actress not just because of her skin colour, beautiful face or dancing skills. She ruled millions of hearts through hundreds of shades she portrayed onscreen. Characters may be of any type, she created a niche of her own adding her own signature styles, not easy to imitate or reproduce by someone else. That's the reason why even after 2 or 3 decades, her roles in Mr. India, Sadma, Chaalbaaz or Chandini stay green in our memories. It's not an easy task for an actress to succeed in a male dominated industry. But she came as a storm, smiled and conquered hearts, and remained highest paid female superstar of the industry till her exit. In many of her films, she was paid more than her male co-star.
A void not to be filled in the distant times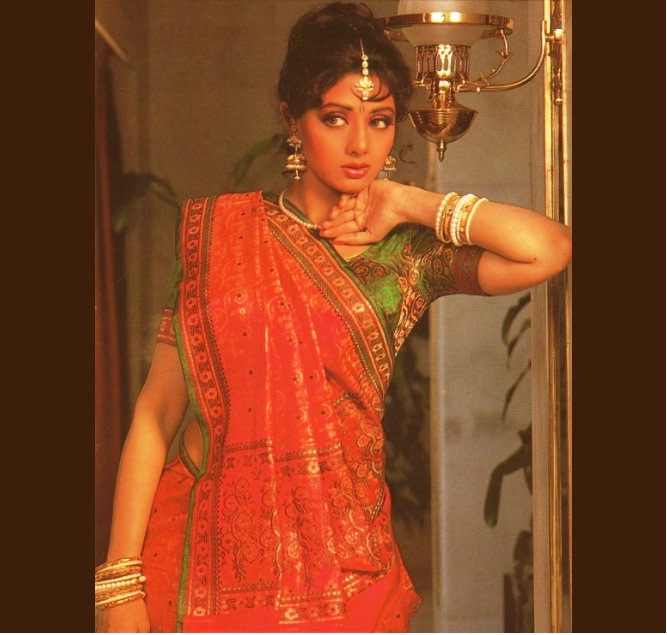 A highly talented artist with god-gifted beauty, she was a style icon and true legend who stood as a true inspiration to many artists for future generations. Marked her film debut in the year 1969 at the age of 4, she stood in the industry for nearly three decades before she took sabbatical in acting with the film, Judai in 1997. What an irony! Quite symbolizing the film title, she parted from film industry and remained fully isolated from entertainment arena for the next 15 years. For a Sridevi fan, her decision may appeal surprising, and from a Bollywood queen to ordinary housewife, she completely transformed herself. She returned to silver screen only after her daughters grew, enough to look after themselves. But what an irony! Like many great artists of yesterdays like Meena Kumari, Madhubala and Smita Patel, she was forced to leave the big stage in the interval with makeup still on, leaving behind all her precious assets and dreams.
Sridevi in Malayalam films
She marked her Mollywood debut in 1969 as a child artist through Kumara Sambhavam, where she essayed the role of young Subrahmaniya. It was the same year, she debut Indian film industry through Tamil films. For her performance in 1971 film, Poompatta, she earned state award for best child artist. Later she appeared in around 26 Malayalam movies, with Devaragam (1996) being the last one. The movie was directed by acclaimed director Bharathan. Soon after Devaragam, she retired from film industry too. Otherwise she would have shown her screen presence in a few more Malayalam movies.
Though she was active in Malayalam film industry as a child actor and teen in the 1970s, soon after her Bollywood debut she said good bye to Malayalam cinema. Yet Keralities continued loving her through the Tamil roles she portrayed onscreen, a few Hindi movies too. She wished to return to Malayalam cinema through a full-length Malayalam cinema, and in the wait for a good story, she left the world.
She loved Kerala a lot, and had a homely feel here. She reached Kerala for the first time as a child artist. Steam cake was her favourite dish. She has worked with Mollywood icon, Prem Nazir for the movie Thulavarsham, and many other artists and also with leading filmmakers like I. V. Sasi. She worked in I. V. Sasi movies such as Aalinganam, Angeekaaram and Anthardaaham. Some of the nostalgic Malayalam films were pictured on her – Yamune Nee Ozhukoo, Keli Nalinam Vidarumo, Swapnadam Njaan Thudarunnu, Sravana Pulari Vannu, Thushara Bindukkale, Aashadam Mayangi Nin Mukil Veniyil, and evergreen hits of Devaragam like Sisira Kala and Sasikala. Some old Malayalam songs with 'Neela' (blue) tag were also pictured on her; Neelambujangal Vidarnnu, Neelavana Cholayil, Neela Jalaashayathil etc to mention a few.
Disrupted life journey similar to the most popular romantic song of Premabhishekham
There is an evergreen classic song Neela Vana Odayil/Neela Vana Cholayil featuring Kamal Hassan and Sridevi, and the movie was released in three different south Indian languages. The song was immensely popular when got released in early 1980s. Kamal Hassan tries to impress Sridevi in a get-together singing this song, and towards the end of the song, Sridevi shouts, 'Stop it' and the song ends abruptly without completion. Quite irony, her life too took a similar turn.
Her husband returned to Dubai and invited her for a surprise dinner. She was getting ready to go, and was talking to her husband. She entered bathroom and never returned back! Yes, death took her away without any signal, such an incomplete picture!
Some less-known facts of Sridevi
1. Among all Indian actors irrespective of gender, she is the only super star with pan appeal, with equal popularity in Bollywood and South Indian films, and she owns the title, 'The first lady super star of Indian Cinema'.
2. She was offered a role in Hollywood film, Jurassic Park by Steven Spielberg at her career peak. But she denied the role stating that the role lacks acting potential.
3. She fell in love with her co-star Mithun Chakraborty during the film shooting of Insaan Jaag Uta, and they got secretly married in Ooty. But when she found that Mithun still keeps relation with his wife Yogeeta Bali and that she is pregnant, the incident shocked Sridevi and she broke the relationship.
4. She came close to Boney Kapoor during the shooting of Mr. India, the film financed by him. Boney Kapoor divorced Mona before he married Sri Devi, and she gave birth to girl child Jhanvi very soon. Khushi is their second daughter.
5. She is a good painter. She owns an exclusive collection of her paintings in her home at Chennai. She finds drawing/painting as a good means to escape from tensions.
6. I Love You song of Mr. India is an ode to her previous hit number, Har Kise Ko Nahin Milta of Jaanbaaz. Filmmakers wanted to present Sridevi sexier than Jaanbaaz song and they succeeded too. Though it's an erotic song, it was Sridevi's charisma which made this song so special in the heart of her fans.
7. Madhuri Dixit's very popular Dhak Dhak song, originally belongs to Sridevi. It's a lifted tune from Telugu fantasy blockbuster, Jagadeka Veerudu Athiloka Sundari composed by Illayaraja. The song was titled Abbanee Tiyyani was filmed on Chiranjeevi and Sridevi. She played a similar fairy role in Salman Khan starrer Chandramukhi too.
An artist par excellence, she was definitely one of the most gifted artists of the industry. No words can easily describe what her fans feel with her sudden exit. She was so early to go. She is a fairy named 'Chandramukhi' who made a short visit to earth, showered her magic on earth for a while, made humans love her and left the world, leaving behind a lot of memories and moments. Similar to the movie's climax, let's hope she returns back to earth in new form….. Really desire if it happens so!!!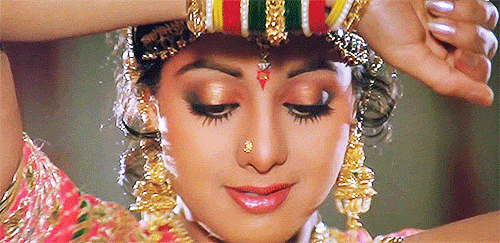 The only Indian superstar who can claim a pan appeal across India, Sridevi would have give so much to Indian Cinema if she lived a little more. Also read a few more articles of the gorgeous actress whose untimely demise shocked the whole nation beyond all limits.
(Visited 916 times, 1 visits today)