Walnut Wheat Bread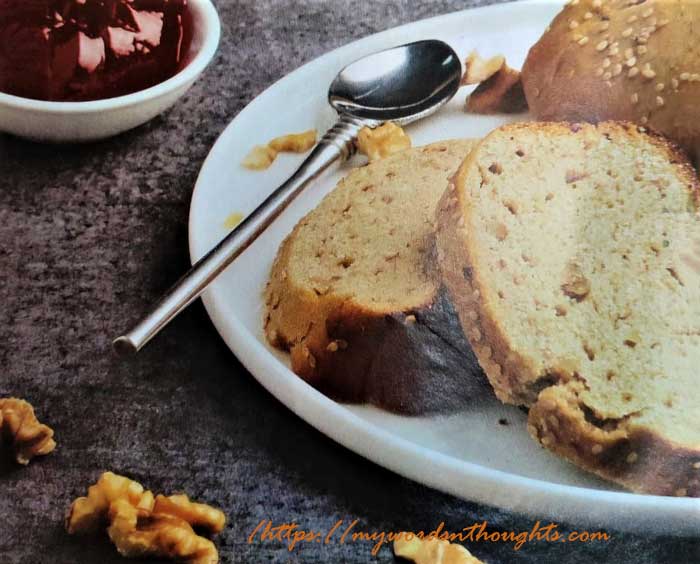 Ingredients for Walnut Wheat Bread:
1. Wheat flour – 3 cups
Salt -1.5 small spoons
2. Milk powder – 1 big spoon
Yeast – 1.5 small spoons
Honey – 1/3rd cup
Butter – 1.5 big spoons
3. Olive oil – 3 big spoons
4. Lukewarm water – 1 cup approximately
5. Walnut broken – ¼ cup
6. Egg – 1
Milk – 1 big spoon
7. White sesame seeds – 1 big spoon
How to prepare Walnut Wheat Bread?
1. Blend wheat flour and salt in a bowl.
2. Add ingredients no: 2 to it, along with 2 big spoons of olive oil and lukewarm water.
3. Add remaining olive oil, mix it well and transfer the dough to a flat surface.
4. Sprinkle a little wheat flour on the surface before doing it.
5. Knead the dough for 10 minutes.
6. Add broken walnuts, mix again and make a ball.
7. Grease a bowl and transfer this dough to it.
8. Close the lid and allow it to rest for 1.5 hours. The dough will rise up.
9. After 1 hour, transfer this dough to a loaf pan. Place in the middle portion.
10. Beat milk and egg together, and brush the bread loaf.
11. Sprinkle white sesame seeds on top.
12. Allow it to rest for 1 more hour. The loaf will rise again.
13. Pre-heat oven in 175 degree Celsius.
14. Bake your walnut wheat bread for 30-35 minutes till it's done.
Courtesy: Vanitha Magazine August 6-19, 2022
Also read a few sandwich recipes. Click on the images in the gallery to read.
(Visited 12 times, 1 visits today)