Top 10 Bollywood duets of Kishore Kumar and Lata Mangeshkar
Kishore Kumar and Lata Mangeshkar – Two great pillars of Indian music industry. They share same age and same year of birth. Kishore was only one month older to Lata. Read to know about celebrities of same age. They also share some of the amazing romantic duets of Bollywood. It's not an easy task to list 10 of their best duets. So, this list is purely based on my personal choice. To prepare the list of Kishore Kumar – Lata Mangeshkar duets, I had to exclude some of my popular choices as well. Earlier I have prepared Best 50 songs of Kishore Kumar, Best 50 solos of Kishore Kumar, Best 10 songs of Lata Mangeshkar, Best 15 songs of Asha Bhosle and Best 10 duets of Kishore and Asha. Have a look at those lists as well. And here it goes my favourite 10 duets of Kishore Kumar and Lata Mangeshkar.
1. Kora Kaagaz Tha from Aradhana – Songs of Aradhana established Kishore Kumar as the most popular singer of 1970s. When S. D. Burman fell ill and couldn't complete the work, he assigned the task to his son R. D. Burman, who used Kishore Kumar's voice to record some of the memorable tracks for Aradhana, and the rest is, as they say, 'It's history!' This particular track is rumoured to be composed by Pancham da himself, also the much popular – Mere Sapnon Ki Rani. Anand Bakshi wrote the lyrics, and since then the writer has been associated with R. D. Burman throughout 1970s and later. Also read: Top albums of S. D. Burman – Kishore combination.
2. Gaata Rahe from Guide – The movie had 10 tracks. Yet a single track belongs to Kishore, and it's a popular duet with Lata Mangeshkar. The song was filmed on Waheeda Rehman and Dev Anand. Songs were written by Shailendra. It's widely regarded as one of the top 10 romantic tracks featuring Dev Anand. Also read: Top 10 romantic tracks of Dev Anand.
3. Gum Hai Kise Ke Pyar Mein from Rampur Ke Laxman – The song is always listed among the top romantic duets of Kishore Kumar and Lata Mangeshkar. The song was filmed in beautiful frames and Rekha looks gorgeous in a traditional sari and accessories. Music was composed by R. D. Burman and beautiful lyrics are penned by Majrooh Sultanpuri. Kishore Kumar remains the ghost voice of Randhir Kapoor. Though Kapoor owns only a few hits in Bollywood, many wonderful songs have been filmed on him. Kishore sang some of the amazing songs for Randhir Kapoor like Jawani Diwani, Kal Aaj Aur Kal, and Rampur Ke Laxman, definitely.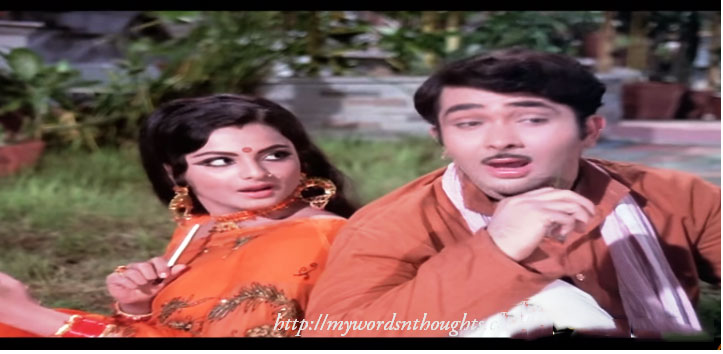 4. Kya Yehi Pyaar Hai from Rocky – The movie marked the acting debut of Sanjay Dutt and the film was a huge hit. He was featured aside Tina Munim in this evergreen romantic song composed by R. D. Burman. Anand Bakshi penned the lyrics. Aa Dekhe Zara, a peppy number is yet another chartbuster of Kumar and Lata from the same film.
5. Aasman Ke Neeche Hum Aaj from Jewel Thief – Jewel Thief remains one of the highly acclaimed works of Kishore Kumar before he became a celebrated singer. The movie released in 1967 included some of the popular solo tracks sung by Kishore Kumar and Lata Mangeshkar. In fact S. D. Burman frequently used Kishore da's voice to record many of hit songs of Dev Anand since 1950s. This popular duet featured Vyjayanthimala aside Dev Anand, and was well picturized. Majrooh Sultanpuri penned lyrics for its songs except sad solo of Lata Mangeshkar, "Rula Ke Gaya Sapna" which was written by Shailendra.
6. Bheegi Bheegi Raaton Mein from Ajnabee – This highly romantic monsoon song is extremely popular among youngsters as well, since its remixed version came out. Rajesh Khanna and Zeenat Aman sizzled in this song. Anand Bakshi penned the lyrics, and R. D. Burman gave some of the extremely popular tunes to Kishore Kumar. The movie included 4 songs of Kishore da, including two duets. Also read: Top electrifying rain songs of Bollywood.
7. Salam E Ishq from Muquadar Ka Sikander – Muquadar Ka Sikander is one of the finest works of Kalyanji Anandji, and this particular duet featuring Rekha and Amitabh truly deserves a standing ovation. Film's director Prakash Mehra penned lyrics for this popular song, while the remaining songs were written by Anjaan. Lata Mangeshkar & Kishore Kumar sang this duet, and this Mujra was well appreciated by music fans. Also read: Top 30 Music albums of Kalyanji Anandji.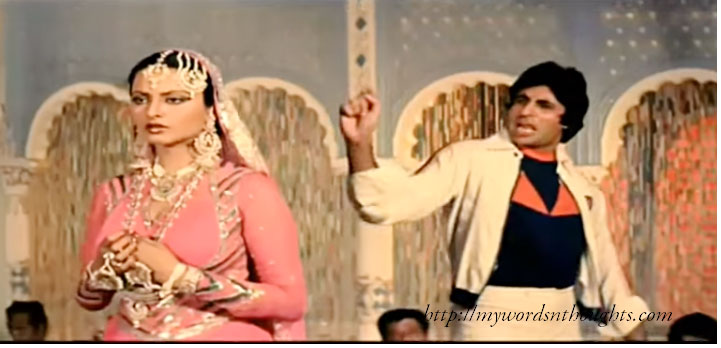 8. Tere Bina Zindagi Se from Aandhi – This song is included in the playlist of many music lovers and can never miss my list. Tum Aa Gaye Ho is yet another popular duet of Kishore Kumar and Lata Mangeshkar, and chose the first one. R. D's compositions from Amar Prem, Aandhi and Parichay always stood against heavy criticisms for incorporating western tunes and musical instruments in Indian music, which adopted semi-classical style in the era.
9. Wada Karo from Aa Gale Lag Jaa – Jaane Tu Ya Jaane Na and Wada Karo composed by R. D. Burman were instant chartbusters. This romantic track starred Sharmila Tagore and Shashi Kapoor, and Shashi Kapoor was seen in a teasing mood in the song throughout. Lyrics were penned by Sahir Ludhianvi.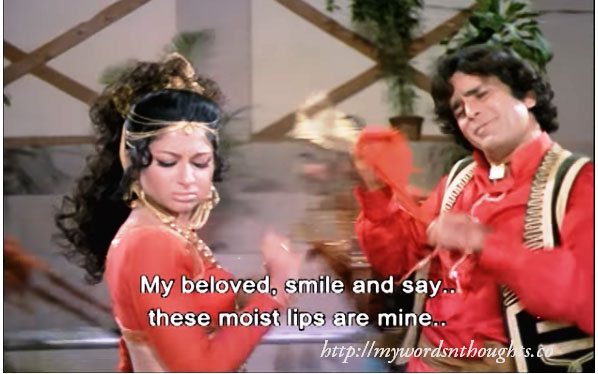 10. Hum Dono Do Premi from Ajnabee – Long before Shah Rukh Khan and Mallaika Arora danced on train top, Rajesh Khanna and Zeenat Aman have filmed one romantic song on the top of the train, first one of this kind for a Bollywood song. Music was composed by R. D. Burman and lyrics penned by Anand Bakshi. It's yet another extremely popular song of the quadrumvirate – Kishore, R. D. Burman, Rajesh Khanna and Bakshi Saab. During the recording of this song, as the musicians were on strike, Burman improvised the song with emptied-out musical interludes.
Before I conclude let me say a few words about Kishore da's first duet with Lata Mangeshkar. The legends sang together for the first time in 1948. The song was 'Yeh Kaun Aaya Re' from the film Ziddi, featuring Dev Anand and Kamini Kaushal. Ziddi was Dev Anand's first prominent role, where he played male lead, and Kishore's debut film as a playback singer. The movie also included Kishore's solo, 'Jagmag Jagmag Karta Nikla Chand' , a popular song. Kishore was given the first break by Khemchand Prakash. Lyrics of this first duet with Lata was penned by Nakshab Jarchvi.
Please go through other lists as well, to get some of evergreen hits of Kishore Kumar – Top 50 solos of Kishore Kumar, Best 50 songs of Kishore Kumar and Top 50 duets sung by Kishore da.
Also you might be interested to read some of the topics written on Lata Mangeshkar Here is the page link. Click on the images to read.
(Visited 3,733 times, 1 visits today)