Evergreen Hits of Kishore Kumar – His Top 50 Bollywood songs
Kishore Kumar was a multifaceted personality in the entertainment industry. He acted in lead roles, did comic roles, directed films, composed music and produced films as well. But he achieved super stardom and celebrity status through his magical voice, though a little late I should say. It was not an easy path for Kishore to reach the peak of his success. Despite being talented it took almost 2 decades of struggles to achieve the real success and status he truly deserved. With his masculine voice which was never heard in Bollywood earlier, he stole millions of hearts, and his voice swept the music world as a Tsunami soon after Aradhana got released. S. D. Burman used the voices of both Kishore Kumar and Mohammed Rafi to record the songs of Dev Anand, right from 1950s. Before Kishore Kumar turned a full-fledged singer, he mostly sang for his own starred movies, apart from a few songs for Dev Anand, mostly composed by S. D.
Kishore Kumar received limited success as an actor and singer in the 1950s and 1960s, and only a few music directors were able to know the real potential and singing talent of Kishore da. Kishore was better known as a comedian hero of Bollywood then, who entertained audience through some hilarious movies where he played lead and supporting roles.
He came to Mumbai just to see his favourite singer and later settled here. He was not trained in Hindustani music formally, and it may be one reason behind his belated success in Bollywood. But I should say, perhaps Kishore would have never achieved this celebrity status if he had deep knowledge in ragas and Hindustani music. With challenge he took up songs, he input his creativity and style, and made every song his own. He sang in a relaxed mood, and this fun mood could easily connect him with music lovers. That's why he has been hailed as the most celebrated singer of Bollywood, and majority of his songs have stood against the test of time. Also read: Yodeling – Signature style of Kishore da.
Though he received super success through many of the peppy tracks he sang for Rajesh Khanna and Amitabh Bachchan – the first two superstars of Indian cinema, when it comes to highly emotional songs related to life and philosophy, you will say, 'what a genius Kishore da was'! He didn't own any distinct style of singing and has succeeded in every genre of songs. His signature style yodeling also helped him a lot. Please go through the list of Kishore – Top 50 Solos and Top 50 Duets. And here is my list of Top 50 evergreen hits of one and only Kishore da. I have sorted the songs in alphabetic order for easy reference.
1. Aanewala Pal from Golmaal – This song from 1979 comedy film is absolutely classic and I should say, it's my most favourite Kishore Kumar song. R. D. Burman tune is really haunting and Gulzar has nailed it with absolutely perfect lyrics. The song featured Amol Palekar and Bindiya Goswami, and regarded as both romantic and philosophic song, seen through different angles. It's just co-incidence that I begin this list my most favourite Kishore song. Also read: Top 50 Kishore – R. D Songs.
2. Agar Tum Na Hote from Agar Tum Na Hote – It's the theme song of the film starring Rajesh Khanna, Rekha and Raj Babbar. The song had three versions – 2 solos by Kishore and Lata, and one duet version of both these singers. Music was composed by Rahul Dev Burman and lyrics written by Gulshan Bawra, and Kishore Kumar received Filmfare award for best playback singer for this song.
3. Bheegi Bheegi Raaton Mein from Ajnabee – This highly romantic monsoon song is extremely popular among youngsters as well. Rajesh Khanna and Zeenat Aman sizzled in this song, and Ajnabee was their first film together. Anand Bakshi penned the lyrics, and R. D. Burman gave some of the extremely popular tunes to Kishore Kumar. This duet was sung by Kishore Kumar and Lata Mangeshkar. The movie included 4 songs of Kishore da, including two duets. Also read: Top electrifying rain songs of Bollywood.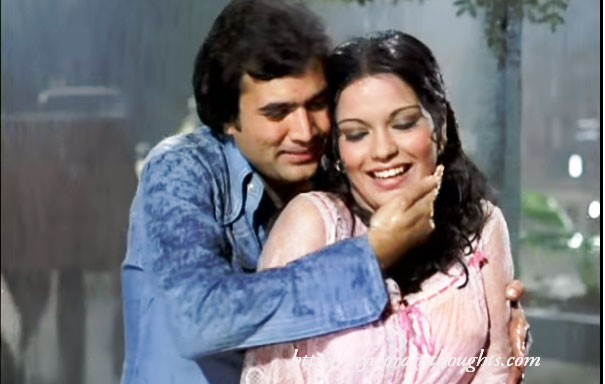 4.Chalte Chalte from Chalte Chalte –Bappi Lahiri composed some beautiful and romantic songs for Bollywood and this one is timeless. Kishore Kumar's solo – 'Chalte Chalte' song is so popular that this phrase has been used to coin Bollywood's film title several times. Read such interesting film titles of Shah Rukh Khan movies. The striking lyrics of Chalte Chalte were written by Amit Khanna, and the song featured Vishal Anand and Simi Garewal. The film had a tragic end, and its situation goes well with this title song.
5. Chingari Koi from Amar Prem – A popular song of the magic trio – Burman-Kishore-Khanna, and Anand Bakshi too joins the group. The quadrumvirate has gained a lot of attention since Aradhana got released in 1969. This emotional song featuring the 'Aradhana' pair can never miss our list of Kishore's best solos. The movie also included extremely popular Kishore tracks – Yeh Kya Hua and Kuch To Log Kahenge, and a couple of Lata solos as well.
6. Chukar Mere Mann Ko from Yarana – Kishore Kumar remained the ghost voice of both the superstars of 1970s since both established in Bollywood. After all Kishore was the leading voice of 1970s. His masculine voice benefited both the stars, who achieved superstardom in the decade. Kishore's voice played a significant role too. Kishore has sung several fun-filled and dance songs for Amitabh Bachchan. But this particular one is really touching and entirely different from those tracks sung by Kishore for Big B. Lyrics were written by Anjaan and music composed by Rajesh Roshan. Neetu Singh was featured aside Big B in this song.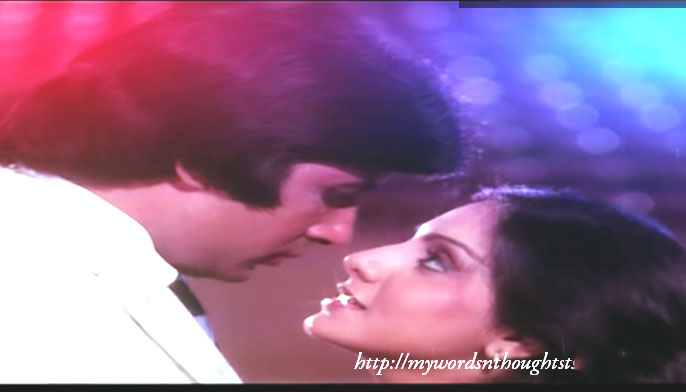 7. Dil Aisa Kise Ne Mera from Amanush – The title track featuring Utam Kumar and Sharmila Tagore got noticed for its capturing lyrics written by Indeevar. Bengali matinee idol has appeared in a few Bollywood films, and his role in Amanush is most memorable. Shyamal Mitra's track is still popular among Kishore fans. Shyamal Mitra was mostly associated with Bengali cinema and regularly worked with Shakti Samanta. Amanush too was directed by Samanta.
8. Dil Kya Kare from Julie – Julie – when the film got released got attention for its bold theme. But the movie fared well at box office. The music composed by Rajesh Roshan received critical acclaim and music director won his first Filmfare award for composing songs of Julie. Dil Kya Kare is definitely one of the finest romantic songs of Kishore's career. Its wonderful lyrics were written by Anand Bakshi for which he won Bengal Film Journalists' Association Awards for Best Lyricist.
9. Dilbar Mere of Satte Pe Satta – Only a few songs of Amitabh Bachchan have got noticed for his romantic ada, and this song featuring Hema Malini worth mention. What a lovely song of Kishore da, and how beautifully Amitabh expressed it on screen! As usual, music was composed by R. D. Burman. Gulshan Bawra penned the lyrics, and the song is still favourite of many.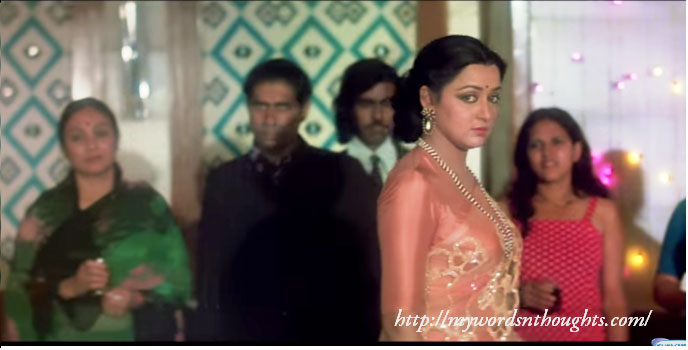 10. Ek Ladki Bheegi Bhaagi Si from Chalti Ka Naam Gaadi – It was for the first time Ganguly brothers shared screen in a single flick, and Chalti Ka Naam Gaadi became the second highest grosser of the year 1958. The movie also starred Kishore's then future wife Madhubala, and this fun filled song of Kishore da is regarded as one of the best rain songs of Bollywood ever. This iconic B/W song featuring the real life couple has a vintage beauty. Music was composed by S. D. Burman and lyrics penned by Majrooh Sultanpuri. Also read: Top 15 films featuring real life couple.
11. Gaata Rahe from Guide – The movie Guide had 10 tracks, and great preference was given to music and dance. Yet a single track belongs to Kishore, and it's a popular duet with Lata Mangeshkar. The song was filmed on Waheeda Rehman and Dev Anand. Songs were written by Shailendra. It's widely regarded as one of the top 10 romantic tracks featuring Dev Anand, and one of best romantic tracks of the decade. S. D. Burman bagged the prestigious Filmfare award for best music. Also read: Top 10 romantic tracks of Dev Anand.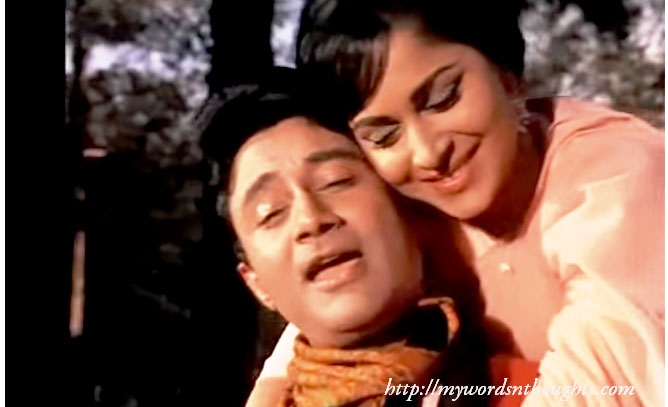 12. Gum Hai Kise Ke Pyar Mein from Rampur Ke Laxman – A popular romantic duet sung by Kishore Kumar and Lata Mangeshkar, Randhir Kapoor and Rekha were featured in this soft number. Music was composed by R. D. Burman and beautiful lyrics are penned by Majrooh Sultanpuri. No doubt, the song is so beautifully filmed! Also read: Top 10 duets of Kishore & Lata Mangeshkar.
13. Haan Pehli Baar from Aur Kaun? – Sachin Pilgaonkar's original version of Haan Pehli Baar was not familiar to many till a revived version of the track was released in 2004. Amit Khanna-Bappi Lahiri duo has given a couple of melodious Kishore singles to music fans – Chalte Chalte and Haan Pehli Baar, and both these Kishore solos are still popular. Pyar Maanga Hai Tumhi Se is yet another popular Kishore solo filmed on Sachin and the song belonged to the movie, College Girl.
14. Hamein Tumse Pyar Kitna from Khudrat – This evergreen romantic song had two versions and both were indeed popular. The song featuring Rajesh Khanna and Hema Malini was composed by R. D. Burman, and penned by Majrooh Sultanpuri. Kishore Kumar and Parveen Sultana were nominated for the same song in the respective categories at Filmfare awards and Sultana walked away with the trophy. Also read: Movies on incarnation with thread similar to Madhumati.
15. Hum Bewafa Harghiz Na from Shalimar – This Dev Anand starrer is still remembered for this popular 'Bewafa' song sung by Kishore da. In the 1990s, Instant Karma's remixed version also made the song popular among youngsters. Both Kishore Kumar and R. D. Burman received nominations at Filmfare awards for their respective works. The song was penned by Anand Bakshi. Hum Bewafa is one of the finest songs featuring Dharmendra and sung by Kishore Kumar.
16. Hum Dono Do Premi from Ajnabee – Long before Shah Rukh Khan and Mallaika Arora danced on train top, Rajesh Khanna and Zeenat Aman have filmed one romantic song on the top of the train, first one of this kind for a Bollywood song. Music was composed by R. D. Burman and lyrics penned by Anand Bakshi.
17. Jaane Jaa Doondta from Jawani Diwani – The movie included many popular peppy numbers and almost all its tracks have been remixed multiple times owing to its popularity. Regarded as one of the finest duets of Kishore Kumar and Asha Bhosle ever, the song also got noticed for its wonderful filming. It was fresh to see Jaya Bhaduri in a glamorous role, and the song also featured Randhir Kapoor. Music was composed by R. D. Burman and Anand Bakshi penned the lyrics. The compositions also played a magnificent role in establishing Kishore Kumar -Asha Bhosle duo as the most demanding singing pair of Bollywood. Also read: Top 10 duets of Kishore and Asha.
18. Kehna Hai Kehna Hai from Padosan – One of the top romantic tracks of R. D – Kishore combination in the 1960s, the song also featured Kishore Kumar as a singer. The song also featured Sunil Dutt and Saira Bhanu who portrayed a cute romantic pair in the film. The song was written by Rajinder Krishan. Padosan was one of the early hits of R. D as a music composer. The movie also featured yet another chartbuster solo of Kishore – Mere Samnewale Khidki Mein. Yet I preferred to include this soulful romantic track in this list.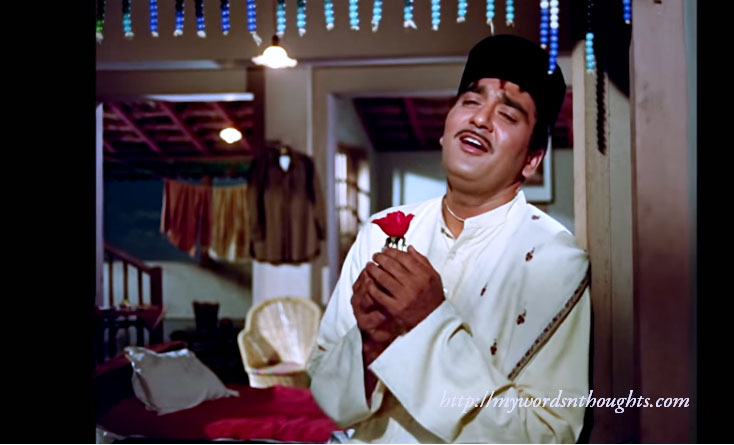 19. Khilte Hain Gul Yahaan from Sharmeelee – One of the finest compositions of S. D – Kishore combination ever, the song featured Shashi Kapoor and Rakhee Gulzar in a romantic mood. Oh Meri Sharmeelee is yet another peppy number best associated with Shashi Kapoor hits. In fact all the tracks were instant hits. Neeraj penned the lyrics. Also read: Top 15 songs featuring Shashi Kapoor. Khilte Hain Gul Yahaan also had a solo version sung by Lata Mangeshkar.
20. Kora Kaagaz Tha from Aradhana – Songs of Aradhana established Kishore Kumar as the leading male voice of 1970s, and Rafi took a back seat. When S. D. Burman fell ill and couldn't complete the work, he assigned the task to his son R. D. Burman, who used Kishore Kumar's voice to record some of the memorable tracks for Aradhana, and the rest is, as they say, 'It's history!' The solos sung by Kishore changed the destiny of many artists associated with the film – Kishore Kumar, Rajesh Khanna, Anand Bakshi and of course R. D. Burman. Also the success of the film changed the path of Bollywood cinema, in true sense! This particular track is rumoured to be composed by Pancham da himself, also the much popular – Mere Sapnon Ki Rani. Also read: Top albums of S. D. Burman – Kishore combination.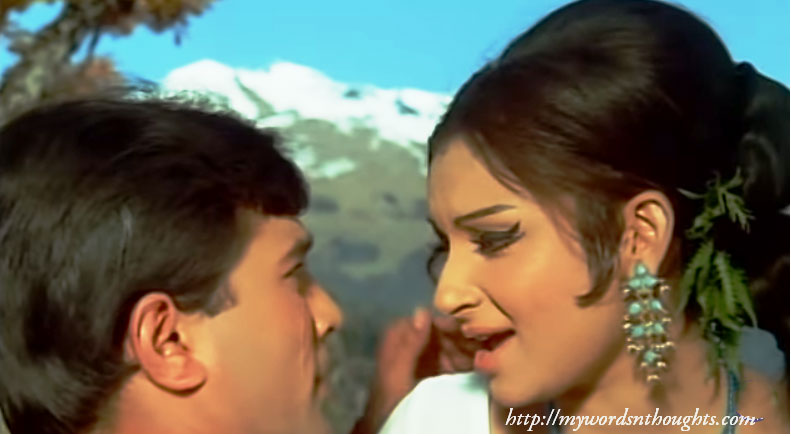 21. Kya Yehi Pyaar Hai from Rocky – The movie marked the acting debut of Sanjay Dutt and the film was a huge hit. He was featured aside Tina Munim in this evergreen romantic song composed by R. D. Burman. Anand Bakshi penned the lyrics. This romantic track sung by Kishore and Lata is still loved by music fans.
22. Mera Jeevan Kora Kagaz from Kora Kagaz – This title track featuring Jaya Bhaduri was the highlight of the film. Though Kalyanji-Anandji remained active in the film industry for more than two decades and gave dozens of chartbuster hits, the duo was fortunate enough to receive a Filmfare award for Kora Kagaz only. Kishore da also received a nomination for this sad solo. Lyrics were authored by M. G. Hashmat. The song was so popular that it topped the Binaca Geetmala annual list 1974.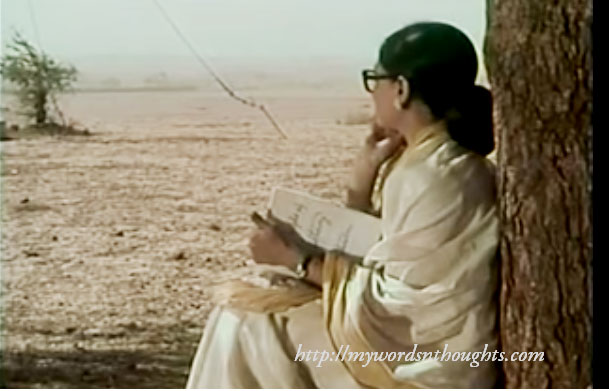 23. Mere Dil Mein Aaj Kya Hai from Daag: A Poem of Love – One of the top rated romantic solos sung by Kishore Kumar, the song featured Rajesh Khanna and Sharmila Tagore. The songs were so popular and listed multiple times at Binaca Geetmala. Music of Daag was composed by Laxmikanth-Pyarelal. All the songs penned by Sahir Ludhianvi were indeed popular. Mere Dil Mein Aaj Kya Hai is the single solo Kishore track of the musical album.
24. Mere Mehboob Khayamat Hogi from Mr. X in Bombay – One of the early hits of Kishore da, the movie was one of the earliest science fiction films of Indian Cinema. Kishore played lead role as well, and music was composed by Laxmikanth-Pyarelal. Lyrics were penned by Anand Bakshi.
25. Mere Nayana from Mehbooba – Mere Nayana based on Raga Shivranjani was the theme song of the film. Though the film was a box office flop the music by R. D. Burman is still popular, particularly this Kishore solo. The song featured Rajesh Khanna and Hema Malini in different versions. Yet another top song of quadrumvirate of 1970s (RD-Kishore-Khanna-Bakshi), Kishore's version is more popular than Lata's, and the rendition is at top notch.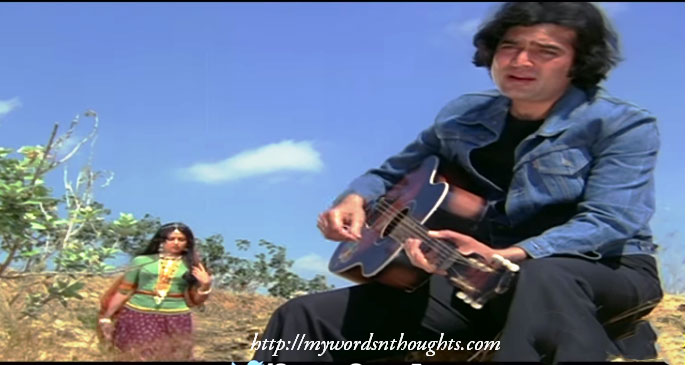 26. Mere Sapnom Ki Rani from Aradhana – It was for the first time, already established star of Bollywood, Sharmila Tagore worked with a newcomer, Rajesh Khanna – a couple of films old. The super success of the film made them the hot pair of Bollywood. This iconic song which made Rajesh Khanna and Kishore Kumar overnight stars is rumoured to be inspired from this English tune – Tequila by Daniel Flores. Only a few songs have been able to change the flow of Bollywood and its music, and definitely Mere Sapnon Ki Rani was a trendsetter. The song rumoured to be ghost-composed by Pancham da featured Rajesh Khanna, Sharmila Tagore and Sujit Kumar. The first song in the film, shot as the opening scene of flashback, Rakesh Khanna is seen flirting with Sharmila. Though it's the first scene of the legendary actors together, they never filmed this song together. Their scenes were shot separately and a tricky editing did a wonderful job.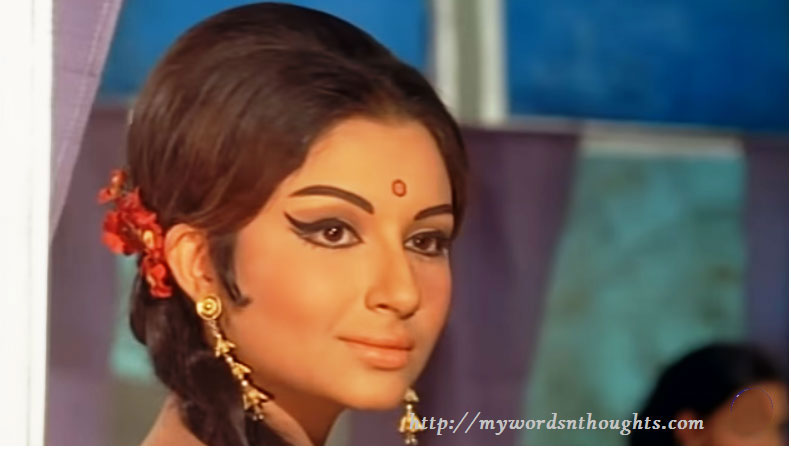 27. Meri Bheegi Bheegi Si from Anamika – This sad solo of Kishore Kumar featured Sanjeev Kumar and Jaya Bhaduri. Sanjeev is seen singing in this song, the title track of the film. Composed by R. D and penned by Majrooh Sultanpuri it's the single Kishore da song in the album consisting of 5 solos. It's quite interesting there are no duets in this top class music album.
28. Musafir Hoon Yaaro from Parichay – A popular R. D. Burman tune, this solo track sung by Kishore Kumar featured actor Jitendra. A very popular travel song, all the songs of Parichay were well-received at critics' end as well. Lyrics were penned by Gulzar.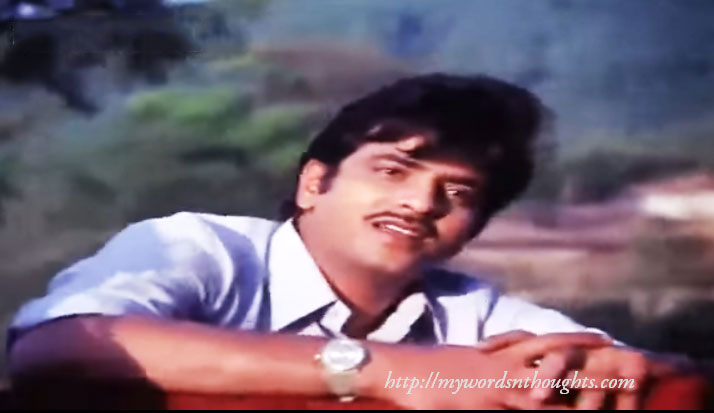 29. Nahi Nahi of Jawani Diwani – This sizzling track was sung by Kishore Kumar and Asha Bhosle and pictured on Randhir Kapoor and Jaya Bhaduri. The song created by the popular duo R. D. Burman – Anand Bakshi ruled music charts, and its remixed version released 30 years later also became very popular.
30. Neele Neele Ambar Pe from Kalakar – It's one of the rarest tracks of Kishore da, which has an original in any south Indian language. Also read: Tamil tunes reused in Hindi remakes of films. Mukda of Tamil song – Ilayanila Pozhikirath, originally composed by Illayaraja was reused for the Hindi remake of Payanangal Mudivathille. Only the Mukda was reused by Kalyanji-Anandji, while Antara is fresh. Original version was sung by S. P. Balasubrahmanyam, and I still can't finalize which song is great, and who sung it best.
31. O Hansini from Zehreela Insaan – The film starring Rishi Kapoor and Neetu Singh was a huge flop. However Zehreela Insaan is still remembered for this great romantic tune created by R. D. Burman, and Kishore's magical voice. Majrooh Sultanpuri penned the lyrics.
32. O Mere Dil Ka Chein from Mere Jeevan Saati – This evergreen song featured Rajesh Khanna and Tanuja in a romantic mood, and it's one of my most favourite Rajesh Khanna songs. Music composed by R. D. Burman played a significant role in film's success. The movie also included the yodeling song of Kishore Kumar – Chala Jaata Hoon. The song was penned by Majrooh Sultanpuri. Also read: Top 12 songs featuring Tanuja.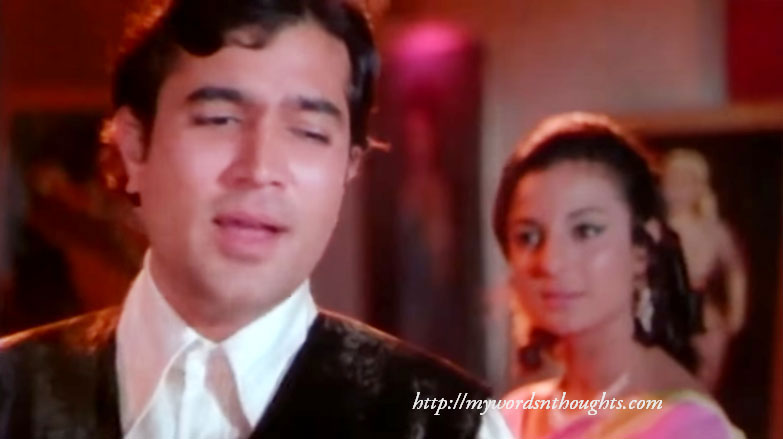 33. O Saathi Re from Muqaddar Ka Sikandar – As I told earlier, Amitabh is mostly associated with action films, and his chartbuster songs too are peppy numbers. But this touching song is enough to bring emotions and tears. Amitabh's expressions and Kishore's voice were quite combo to one another, and Vinod Khanna & Rakhee Gulzar too were featured in this song. One of the best works of Kalyanji-Anandji, lyrics were penned by Anjaan. The song also had a female version sung by Asha Bhosle. Yet Kishore's version is popular.
34. Pal Pal Dil Ke Paas from Blackmail – This evergreen classic was composed by Kalyanji-Anandji, and featured Rakhee Gulzar and Dharmendra. This popular romantic song was penned by Rajendra Krishan. Sharbiti Teri Aankhon featuring Shatrughan Sinha and Rakhee is yet another popular peppy number sung by Kishore Kumar. Over the years, the song's popularity has only increased. Also read: Top 30 music albums of Kalyanji-Anandji.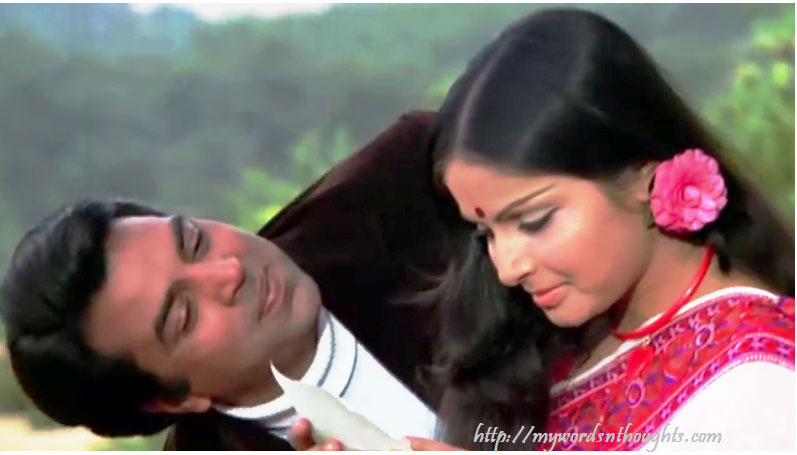 35. Phoolon Ka Taron Ka from Hare Rama Hare Krishna – The song had two versions and both are still popular. The child version of this popular 'Bahna' song was sung by Lata Mangeshkar. This evergreen song was written by Anand Bakshi and composed by R. D. Burman. Dev Anand, Mumtaz and Zeenat Aman appeared in the climax song of the film sung by Kishore Kumar.
36. Phoolon Ki Rang Se of Prem Pujari – This cult classic marked the directorial debut of Dev Anand in the year 1970. This song gained attention for the beautiful lyrics penned by Neeraj. As usual, S. D. Burman's music got associated with Dev Anand's Prem Pujari. Kishore Kumar's voice was used to record this solo track, who used to record at least one song composed by Sachin da for Dev Anand. In fact, Dev Anand remains the top star of Bollywood whose voice and mannerisms well-matched with both Kishore da and Rafi's style of singing since 1950s, and S. D. Burman composed majority of those tunes. The movie included the popular song 'Rangeela Re' pictured on Waheeda Rehman.
37. Rhim Jhim Gire Sawan from Manzil – The movie is best known for this chartbuster song sung in two versions – Kishore Kumar and Lata Mangeshkar, and I should say, Kishore Kumar's version became more popular. It's definitely one of the best rain songs featuring Amitabh Bachchan. Music was composed by R. D. Burman, and lyrics penned by Yogesh. Years later, Kishore Kumar sang the sizzling rain song 'Aaj Rapad Jaaye' for Amitabh.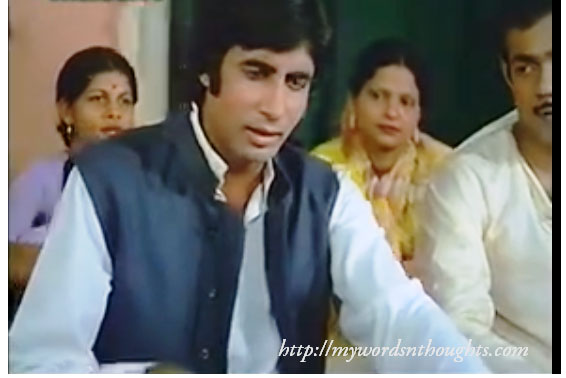 38. Roop Tera Mastana from Aradhana –Sharmila Tagore and Rajesh Khanna were paired for the first time in Aradhana and this seducing song too hot to handle, established them as the leading pair of Bollywood in the early 1970s. Very soon, a couple of hits back to back aside Mumtaz made her top co-star of Rajesh Khanna as well. The mesmerizing songs of Aradhana composed by S. D. Burman became trendsetter and after that Kumar's voice became a permanent fixture for Khanna. The song also gave Kishore Kumar his first Filmfare award. The song featuring Rajesh Khanna and Sharmila Tagore is extremely hot, and the sizzling song with 3 ½ minutes duration was filmed in a single shot. Have a look at this list of 16 films where S. D and Kishore's work together. Manohari Singh played the saxophone, Homi Mullan played the duggi and the legendary Kersi Lord played the accordion for this iconic song.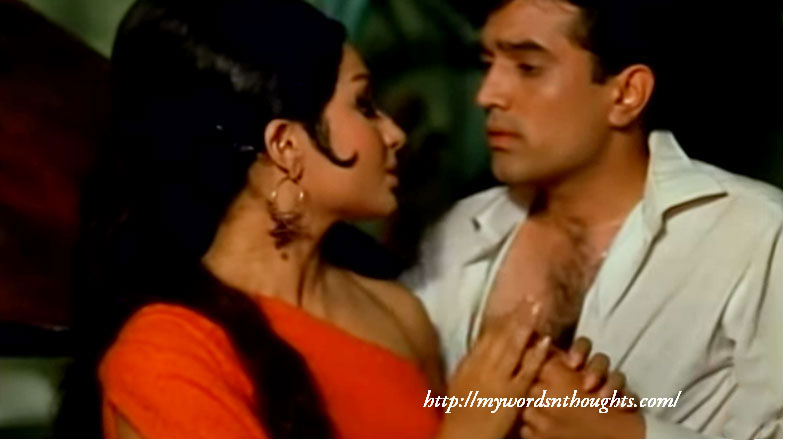 39. Sama Hai Suhana Suhana from Ghar Ghar Ki Kahani – Rakesh Roshan is the only familiar face in this less-known film. It's just Kishore's sensuous and magical voice in Sama Hai Suhana Suhan, for which Ghar Ghar Ki Kahani is remembered for. We can watch Jalal Agha sync-lip to Kishore's voice with a guitar in hand. Definitely Sama Hai is one of the finest romantic solo tracks ever sung by this legendary singer! Music was composed by Kalyanji Anandji.
40. Tere Bina Zindagi Se from Aandhi – The movie remained in controversies during Emergency Period for all wrong seasons and was banned in India. Tere Bina Zindagi and Tum Aa Gaye Ho are the popular duet of Kishore Kumar and Lata Mangeshkar from this film. R. D's compositions from Amar Prem, Aandhi and Parichay always stood against heavy criticisms for incorporating western tunes and musical instruments in Indian music, which adopted semi-classical style in the era.
41. Tu Tu Hai Wohi of Yeh Vaada Raha – A celebrated duet composed by R. D. Burman, Asha Bhonsle & Kishore Kumar rendered their magical voices for Rishi Kapoor, Tina Munim and Poonam Dhillon for different versions of the song. One of the top works of R. D. Burman before his declining era started, he used the voices of Asha Bhosle & Kishore Kumar only to record all the songs of the movie.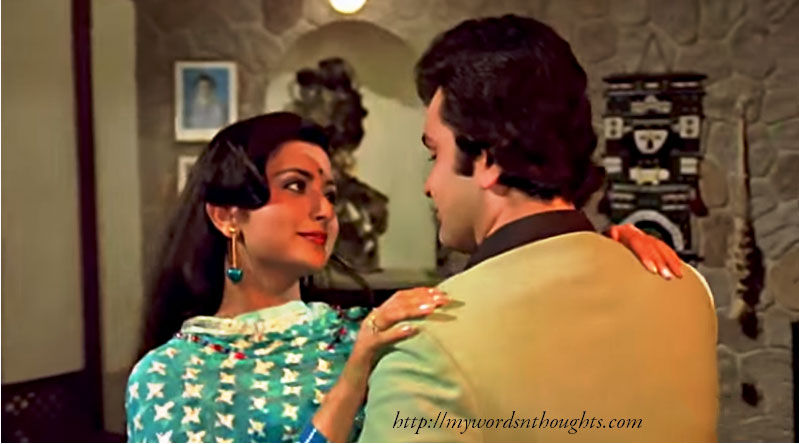 42. Tum Bin Jaon Kaha from Pyar Ka Mausam – Tum Bin has two versions in Rafi and Kishore's voice, and Rafi's version got released first. Rafi's voice was used for Shashi Kapoor's version two times in the film. Kishore's version featuring Bharat Bhushan was released later, and this one had an upper hand over Rafi's simply because of the yodeling Kishore incorporated in the song while recording. Rajesh Khanna's superstardom in the early 1970s also made Kishore's version most popular. But to be honest, I loved both versions and legends should never be compared.
43. Wada Karo from Aa Gale Lag Jaa – Sharmila Tagore remained the most successful co-star of Shashi Kapoor, and they together worked in around 14 movies. This chartbuster song was composed by R. D. Burman, and was lovely filmed. The duet was sung by Kishore Kumar and Lata Mangeshkar and lyrics penned by Sahir Ludhianvi. The movie included one more popular song sung by Kishore Kumar and featuring the lead pair – Jaane Tu Ya Jaane Naa. The song also had a duet version sung by Sushma Shrestha and Kishore Kumar. Also read: Top hits of Sushma Shrestha.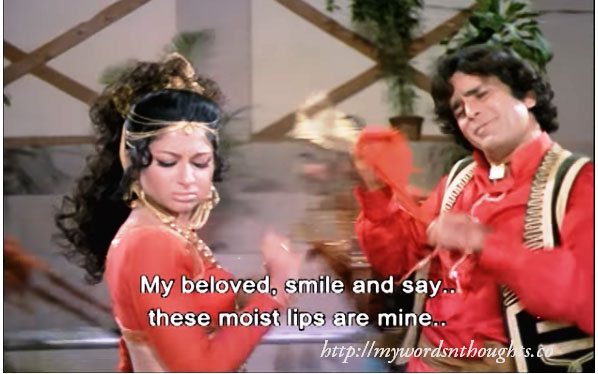 44. Woh Shyam Kuch Ajeeb from Khamosh – The movie was released in 1969, a few months before Aradhana was released. Though Aradhana songs are regarded as early ones of Kishore Kumar for Khanna, it's not true. Khamosh was the first release, and the movie featured one extremely melodious and soulful solo sung by Kishore Kumar for Khanna, Woh Shyam Kuch Ajeeb. The song also featured Waheeda Rahman, who played a nurse in the film. Music was composed by Hemant Kumar and lyrics penned by Gulzar and perhaps the only B&W song sung by Kishore da for Rajesh Khanna.
45. Yeh Duniyawale Poochenge of Mahal – This suspense thriller was directed by Shanker Mukherjee, and music was composed by Kalyanji-Anandji. Asha Parekh looked extremely beautiful in this song and Dev Anand in his 'romantic ada' as always. The song was sung by Kishore Kumar and Asha Bhosle, and lyrics penned by Anand Bakshi.
46. Yeh Jo Mohabbat Hai from Katti Patang – R. D. Burman used Kishore's voice to record three solos for Rajesh Khanna, and all of them helped a lot to achieve stardom in the early 1970s. Yeh Jo Mohabbat Hai is an emotional sad solo featuring Khanna. Jis Gali Mein Tera Ghar is the single song where Kishore's voice was not used to record a Khanna song. Film's popular lyrics were penned by Anand Bakshi.
47. Yeh Raaten Yeh Mausam from Dilli Ka Thug –As an actor, Dilli Ka Thug is one of his earliest noted works of Kishore da, and he shared screen space with popular actress Nutan. Music was composed by Ravi and Shailendra contributed lyrics for this extremely popular duet sung by Kishore da and Asha Bhosle.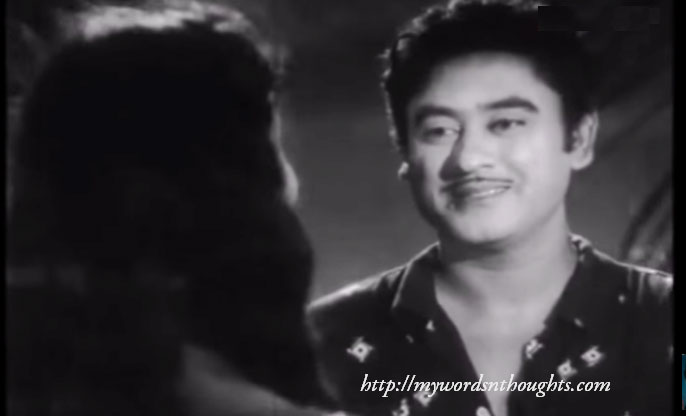 48. Yeh Shyaam Mastani from Katti Patang – The song featuring Asha Parekh and Rajesh Khanna is one of the top romantic songs of early 1970s. All the songs of the movie were extremely popular. Kishore sang this solo version, penned by Anand Bakshi and composed by R. D. Burman.
49. Zindagi Ek Safar from Andaz – Though Rajesh Khanna played a cameo role in Andaaz, and was seen in this song only, Zindagi Ek Safar which became the most popular song of the film. As far as I believe it's the single song composed by Shankar-Jaikishan for Rajesh Khanna, and penned by Hasrat Jaipuri too. Rafi's voice was used for all the tracks of Shammi Kapoor. Hema Malini was seen in a fun-filled bike ride aside Rajesh Khanna and Kishore used his typical yodeling style to sing this chartbuster hit.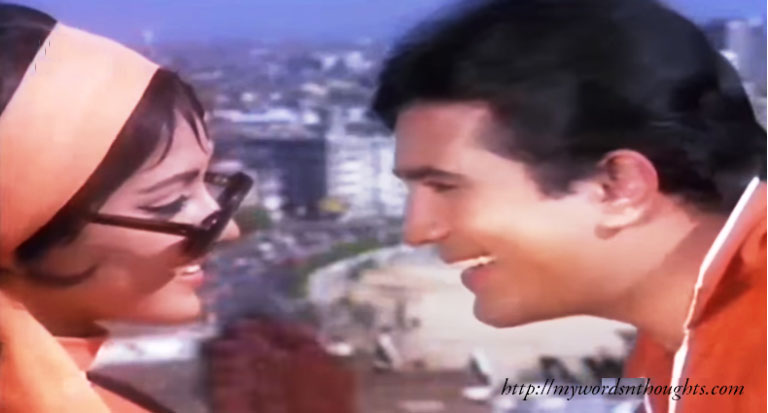 50. Zindagi Ke Safar from Aap Ki Kasam – No other track can conclude this A-Z list of Kishore Kumar songs better than this one. Yes, as the words of Anand Bakshi say, certain places/spaces once gone from life, they will never return. Yes, truly Kishore da is a legend and will always remain so, and he left his space so suddenly without uttering a word and nothing can fill it again! Such a huge loss for Kishore's fans! He could have contributed very much to music fans if he had lived a little bit longer. But he met with the same fate of rest two legendary singers; I should say a curse that snatched away our favourite singers Mukesh and Rafi during their middle ages, so unexpected and this sudden blow somewhat put an end to the most glorious era of Hindi music.
You can read a few more interesting topics on the legendary singer Kishore Kumar. Here is the page link. Click on the links to read.
(Visited 13,829 times, 1 visits today)