Tomato-Orange Salad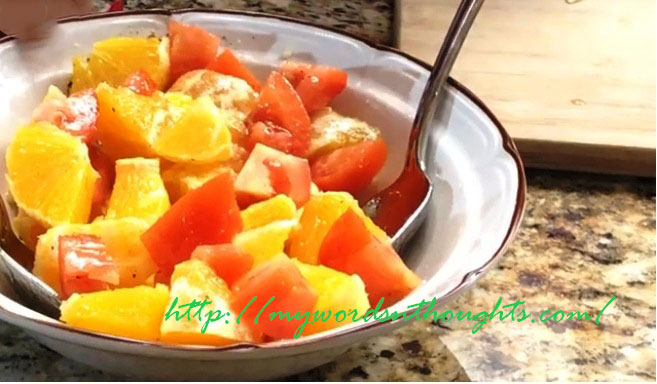 Ingredients for Tomato-Orange Salad:
1. Tomato well ripped – 6 of equal size
2. Orange – 2 big
3. Garlic – 1 clove finely chopped
Onion – 1 finely chopped
Coriander leaves finely chopped – 1 big spoon
Light soya sauce – ½ tsp
Lemon juice – 1 big spoon
Honey – 1 small spoon
Olive oil– 1 big spoon
Salt & Pepper – As required
4. Almonds after removing skin, sliced lengthwise and fried – 6-8
How to prepare Tomato-Orange Salad?
Cut tomatoes into 4 equal parts lengthwise. Remove the pulp inside it, clean with kitchen tissue paper and place in a beautiful glass bowl.

Remove seeds and inner skin from orange cloves, and place inside tomato pieces. Place the glass bowl in refrigerator to cool.

Mix all ingredients listed as 3 to do dressing. Mix well and allow it to cool in fridge.

Before you serve, sprinkle the dressing ingredients on the top of the salad, and decorate with fried almonds.
Courtesy: Vanitha Magazine April 15-30 2017
Image source: Pixabay
Click to read a few vegetarian salad recipes here. Click on the images in the gallery to read.
(Visited 158 times, 1 visits today)