Thrissur Pooram – Some less-known and interesting facts about Kerala's biggest temple festival
Thrissur Pooram – Nicknamed as the 'Pooram of all Poorams' is a colourful wonder in the cultural capital of Kerala. It includes different segments such as Melam, Panchavadyam, Elephant Procession, Khadaka Pooram, Kudamattam, Fire Works, Pakal Pooram and many more. There are many temples participating in the event as well, lead by Paramekkavu Bhagavathy temple & Thiruambady Krishna temple from front. No wonder, Thrissur Pooram is the grand temple festival of Kerala.
Though people are aware of many events associated with Pooram, there are many minute details which not everyone know. People of older generations are very close to such regional celebrations, and they may want to carry forward their knowledge about such cultural events to future generations. Through this column, I shall share a few such less known and interesting facts related to Thrissur Pooram.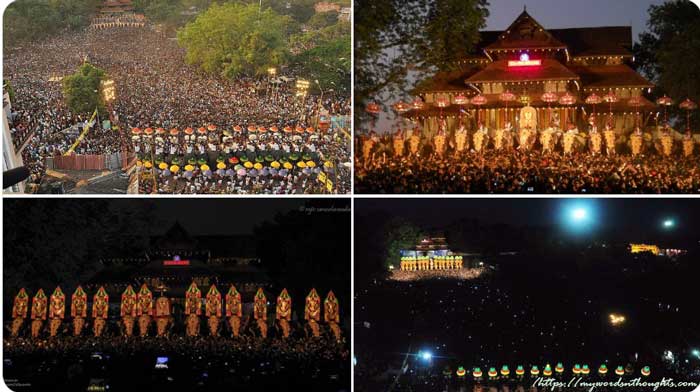 Thrissur Pooram – Some less-known and interesting facts
1. It was Shaktan Thampuran who ordained the temples into two groups, namely "Paramekkavu side" and "Thiruvambady side" also called Eastern Group and Western Group respectively. All the local temples which participate in the event in front of Vadakumnathan are grouped under any of these two, while Vadakkumnathan is only a spectator who watches all events, which is indeed very rare phenomenon among temple festivals.
2. Headed by Thiruvambadi Sri Krishna Temple, the Western Group consists of Thiruvambadi Sri Krishna Temple, Laloor Bhagavathy Temple, Ayyanthole Sree Karthyayani Temple and Nethilakkavu Bhagavathy Temple.
3. Headed by Paramekkavu Bhagavathi Temple, the Eastern Group consists of Paramekkavu Bhagavathy Temple, Chembukkavu Bhagavathy Temple, Panamukkumpally Sastha Temple, Choorakkottukavu Bhagavathy Temple, Pookattikkara – Karamukku Bhagavathy Temple and Kanimangalam Sastha temple.
4. Thrissur Pooram is regarded as a healthy competition of two groups, taken in a sporting spirit. From beginning till end, there is equal participation of both Eastern and Western groups. From construction of Nadapanthal to exchange of umbrellas in Kudamattam & sparking fireworks, both groups try to excel than the other, but doing everything with full co-operation and harmony.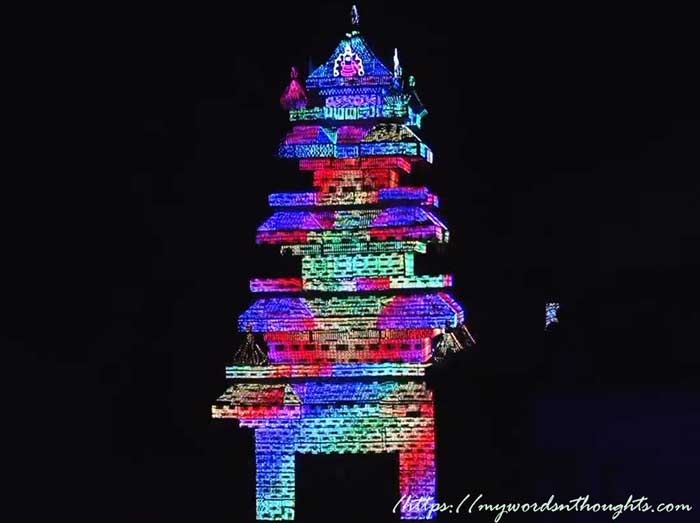 5. The event summons with opening the southern gate/Thekke Nada of Vadakkumnathan carrying the Thidamb/Idol of Neythala Kavilamma, and the door remains open only until Pooram events end. Thus Poora Vilambaram is done by Neythala Kavilamma. For next one year this door remains closed. The temple Pooram is conducted in front of Thekke Nada, and witnessed by Vadakkumnathan.
6. In Poorams and its processions, only Shastha and Bhagavathi participate. Thrissur Pooram can be considered as 'Dasananan' or 10-faced where 10 deities/temples participate, while Lord Shiva stays as spectator only. Among these 10 deities who participate in Pooram, there are only two male faces – Kanimangalam Sastha and Panamukkumpally Sastha, both headed by Paramekkavu Bhagavathi Temple. In fact, it's Bhagavathi of Thiruvambadi Sri Krishna Temple who participates in the events, not Lord Krishna, and she heads the Western Group during all events including Kudamattam.
7. Among many of the Bhagavathis who participate in the events, there are a few siblings as well.
8. An old man belonging to Appattu Uppal family used to visit Thirumandhamkunnu temple every month. As time passed by, he turned more and more weak. Once while passing through Vadakkumnatha temple for one such temple visit, he put his umbrella in a place beneath Elanji tree & he was so weak even to take it back. It's the same place where Elanjithara melam is displaced by percussionists. It's believed that divinity (Chaitanya) of Thirumandhamkunnu Bhagavati fills this place during Elanjithara melam.
9. Actually there is no melam named Elanjithara melam. It got this name simply because it's displayed at the famous Elanji thara of Vadakkumnathan. It's Pandi melam.
10. There is only a single Panchari Melam in the whole Thrissur Pooram events and it belong to Chemukabu Bhagavathi. Panchari is a six-beat rhythm and the performance has five stages. Pandi Melam, yet another classical percussion concert of Kerala is very close to it, but differ in its rhythmic patterns and presentational gravitas. Panchari is played inside the main temple walls, while Pandi melam is played outside, within temple premises.
11. There are many elements of Thrissur Pooram which breaks the conventional Kerala temple celebrations. As Shakthan Thampuran was the director of all Pooram events, a person who doesn't blindly follow any rules, he broke a few traditional rules while laying rules for this event. As per Kerala traditions, Pandi Melam should not be allowed inside Mathilakam (inside wall of temple). But he broke it and formulated rules in 1798, when traditional rules were strictly followed.
12. From Poora Vilambaram to Upacharam Cholli Piriyal (farewall ceremony), there is a predominant female presence everywhere, and most deities who participate in the festival are females, where Shiva stays as a spectator. It stays close to the rule of universe that after god gave certain rules to living beings & nature, HE is simply watching everything
Please visit my Thrissur Pooram Page. Click on the links to read.
(Visited 11 times, 1 visits today)