My Tribute to Thikkurissy Sukumaran Nair – The First Super Star of Malayalam Screen
Thikkurissy Sukumaran Nair – a veteran actor of Malayalam cinema would have celebrated his 100th birthday this October if he was alive today. This column is my humble tribute to the legendary hero and character artist of Malayalam cinema, who set new norms in acting, and inspired many to follow his suit. He started off as a theatre artist, and moved to cinema field with late 1940s, and marked his film debut in 1950. Jeevitha Nauka released in 1951 made him a star overnight, and the rest is history. He belongs to the list of Malayalam actors, who are popular by their native place names, rather than their real names. He left an inimitable mark of his own in all the roles he played on screen, either hero, anti-hero or character roles.

A brief note on his personal life
This multi-talented personality was born in Thikkurissy of present day Kanya Kumari district of Tamil Nadu. Thikkurissy was once a part of Travancore before Kerala state was formed. He was born on 16thOctober, 1916 into a rich family as the son of Mangat C. Govinda Pillai and N. Lekshmi Amma. He schooled at Marthanda Varma School, and since then he exhibited his talents as a writer and orator. Started writing poems at a very young age of 8, he published his first poem when he was only 14. His parents wanted him to earn a government job, but he chose art as his field. He published his first anthology of poems, 'Kedavilakku' when he was only 20.
He graduated from Maharaja's college, Thiruvananthapuram and was fully active in art field during his college days. Later he fully became active in theatre, and Stree was one of his major plays staged multiple number of times.
He started off with theatre and in the 1950s moved to Cinema
Mareechika, Kalakaran, Jeevita Yatra, Sthree, Maya and Sariyo Thett are among his iconic plays which revolutionized Malayalam Theater. He marked his film debut in the year 1950 with the movie, Stree, a cinematic presentation of his own play. Jeevika Nauka released the following year gave him popularity and stardom. He put his foot in the industry

during the child phase of Malayalam cinema which had only around 10 releases in a single year

.
Though a simple story without any sub-plots, Jeevika Nauka became a huge success and established Thikkurissy as the first popular star of Malayalam cinema. His recognition was somewhat similar to the career of Bollywood's Ashok Kumar who gained immense popularity with 'Achhut Kannya, and established as a popular hero very soon. In fact Jeevika Nauka is a remake of Hindi blockbuster Jeevan Nayya starring Ashok Kumar and Devika Rani, released in the year 1935.
Huge success of Jeevika Nauka established him as a star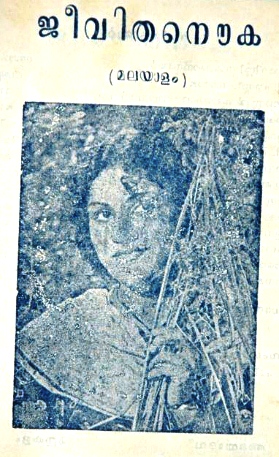 A remake of the Hindi film Jeevan Nayya, the movie also included a Malayalam version of Hindi evergreen song of Rafi – Suhani Raat Dhal Chuki. The movie was released in the banner, R. K. Productions and produced by K. V. Koshi and Kunchakko. The film was directed by K. Vembu and B. S. Saroja played the female lead.
The movie told the romantic relationship of a middle-class educated hero Soman and a poor girl, Lakshmi and a series of events after their marriage. This iconic movie is recorded as the first super hit film of Malayalam cinema, and entered into the history books. The movie made on a budget of 5 lakhs celebrated 284 days of theatre run. After the huge success of the film, Kunchakko very soon established as the leading solo producer of Malayalam film industry. The movie also gave a promising beginning to the luminous career of

Thikkurissy who stayed in Mollywood for about half a century donning more than 700 roles.
Star beginning after Jeevika Nauka
H
e made a glorious start in Malayalam cinema, and later moved to direction and screenplay fields as well. Navalokam, Visappinte Vili, Harischandran, Athmarpanam, Thulabharam, Randidangazhi, Maya, Sabarimala Sree Ayyappan and Adoor Gopalakrishnan's Kodiyettam are some of the major roles in his acting career. He showcased his talents in mythological roles as well as social dramas. He also exhibited his talents as a lyricist and screenwriter.
'Sariyo Thetto' in 1953 marked his directorial debut. Sheriyo Thetto, Palungu Paatram, Nurse and Urvasi Bharati are among his big releases as a film director. In short, he was a versatile artist in Malayalam cinema, donning different traits and roles. Towards the end of the career, he mostly portrayed father and grandfather roles. He played Mohanlal's onscreen father maximum number of times next to Thilakan.
His monthly salary was 10,000 rupees when 1 pound of gold cost only 50
He was one of the highly paid artists of his time. During his glorious years, he earned 10,000 rupees as monthly salary when 8 gm gold (1 pavan) costs only 50 rupees. If that amount is compared to inflation and present-day income of superstars, it's a very huge amount.
He is also credited to rechristening many great personalities of Malayalam cinema. He rechristened Abdul Khader to Prem Nazir, the evergreen hero of Malayalam who first earned 1 lakh rupees as remuneration in Malayalam cinema.
Despite being the leading hero of the first phase of Malayalam cinema, no one acknowledged him as the superstar of Mollywood. In 1982, when a function was organized at Kochi to honour film personalities, he surprised everyone wearing a dark blue T-shirt with printed words – 'Super Star Thikkurussi'. Through his speech when he claimed himself to be a superstar, his words were welcomed by cheers and applause by audience.
The great legend of Malayalam cinema
A household name among Malayali audience, and the heartthrob of 1950s, he won nearly 250 awards during his lifetime. This veteran cine personality was a recipient of Padma Sri, State award for best actor and also, Prem Nazir Puraskaram. A recipient of J. C. Daniel Award, given for the outstanding contributions to an artist in Malayalam cinema, he truly deserved Dada Phalke Award, rarely won by Malayalam artists.
A multi-facet personality of Indian cinema, he truly deserves a big salute and a grand celebration on the eve of his 100th birthday. This is my humble tribute to the great cine personality who first defined the word 'super hero' in Malayalam cinema, and made significant contributions through his towering presence in cine world.
You can read a few more articles on celebrity chats and short biographies below. Click on the images in the gallery to read
(Visited 799 times, 1 visits today)