Highlights of Thrissur Pooram 2023
Today is Kerala's biggest temple festival, ThrissurPooram in front of Vadakkumnathan (The one who guards North – Lord Shiva).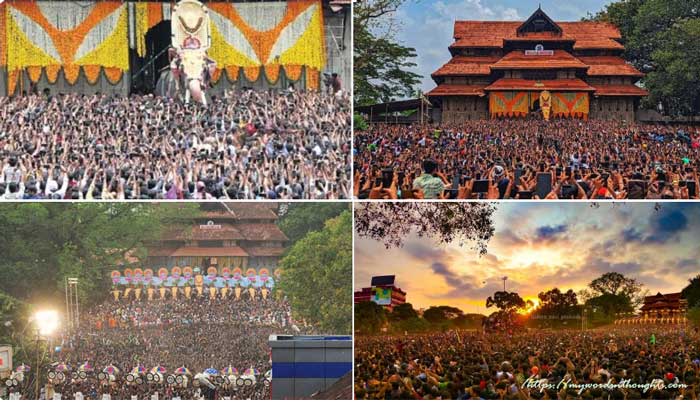 First two pics were taken from yesterday evening events when South gate (Thekkenada) of Vadakkumnathan was opened for public. It's done only once in a year during Pooram season, and the world famous Pooram (elephant procession and kudamattam) is conducted in front of Thekkenada. Next 2 pics (from previous years) show how the temple premises would be, this afternoon. Pooram greetings everyone. As I complete the article like a live commentary from morning events till late night, early morning fireworks might be completed. I would like to sum up this post with fireworks, leaving behind discussing Pakal Pooram (Day Pooram) on another occasion.
Vadakkumnatha temple doesn't participate in any event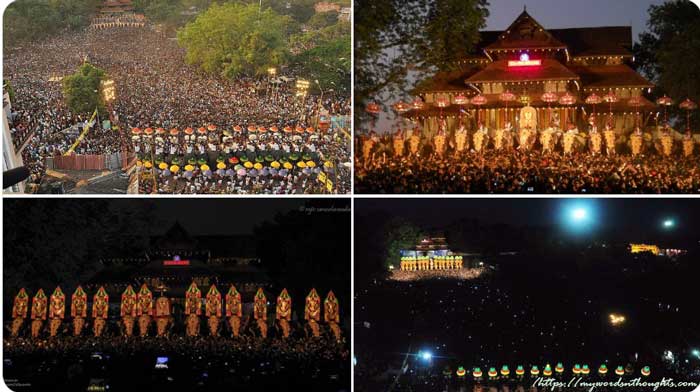 It's interesting that Vadakkumnatha temple (whose courtyard becomes Pooram Maidan) doesn't participate in any of the events. Lord Shiva witness the celebrations, when the whole premises will be in a cheerful mood. It's conducted by Thiru Ambady Krishna Temple & Paramekkavu Devi temple, somewhat like a healthy competition between the two, & many small temples join the group as Khadaka Pooram.
Pooram Exhibition (Chamaya Pradarshanam) is conducted by both temples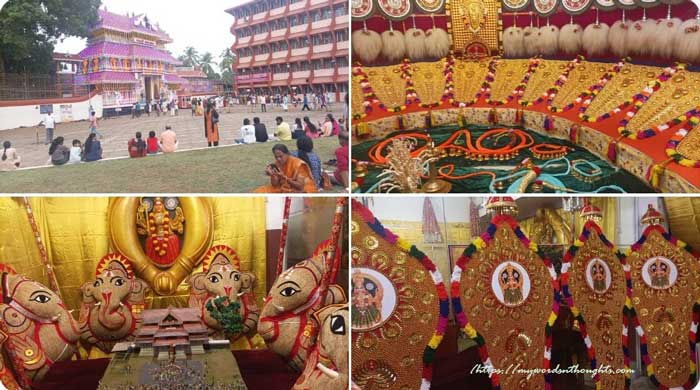 These pics are from Pooram exhibition of Paramekkavu Bhagavathy temple. Decorated temple is also shown in first picture. Temple is just opposite to Vadakkumnatha temple. Thiruvambady Krishna temple is around 1 km away. For Thrissur people, common life & every happenings around Swaraj round, and the Shiva temple maidan which extends to acres. This space is culturally and socially linked to every person of Thrissur.
Both temples exhibit a few of their samples of elephant procession in this Chamaya Pradarshanam. It includes colourful umbrellas, Kolams (used during Kudamattam for display), aalavattam, venchamaram, and many more. It's free entry to everyone, and is hugely crowded too. Same day when Chamaya Pradarshanam is inaugurated, there is sample fireworks from both sides too, where colourful items are mostly displayed.
Thrissur Pooram is actually celebrated on Makam star every year
Pooram is actually an astrological star. For Thrissur people, Pooram means festival too. In southern Kerala, centipede is called Pooram, which I am scared of. Jokes apart…. Thrissur Pooram is celebrated on Pooram star day of hot Medam month, according to Malayalam calendar. Maybe because Thrissur Pooram is the biggest among all, Thrissur people started called all temple festivals as Pooram. For south Kerala people, temple celebrations are called 'Ulsavam', which mostly lasts for 10 days. In Thrissur, most temple festivals lasts for maximum 1 week or less.
As per astrology, Thrissur Pooram is celebrated on Pooram star day of Malayalam month Medam. But interestingly, today is Makam star & tomorrow is Pooram. Every year it's celebrated like this; Starts with Makam star & extents to next day celebrations and conclude with Pakal Pooram, of course on Pooram star day.
Tomorrow's day Pooram is called Pakal Pooram (conducted during daytime). There will be celebrations, elephant processions, fireworks too, and both groups say good bye to each other, to meet again next year. South gate of the temple will also be closed for next 1 year.
Thekkottirakkam marks the afternoon events of Thrissur Pooram
Initially Paramekkavu's 15 elephants get out of Vadakkumnatha temple after praying Shiva. They carry colourful umbrellas and will be accompanied by percussionists. Now through the crowd they should reach other side near Shaktan Tampuran (Raja who started Thrissur Pooram) statue through crowd & face Lord Shiva. Then Thiruvambady Krishna's elephants should come to this place. As the whole group is going down the south, this custom is called Thekkottirakkam.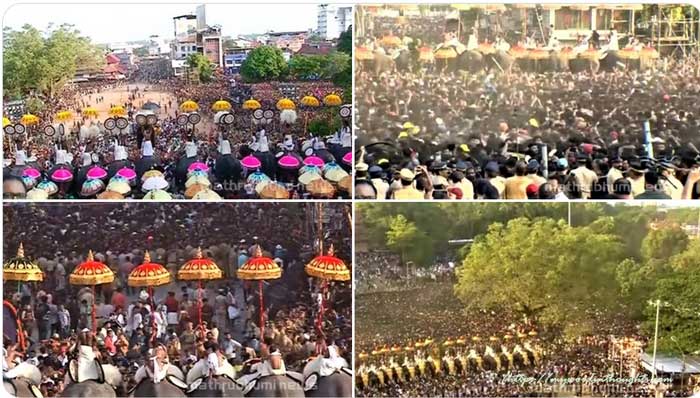 In the 1st pic, space is made & people are controlled by police with the help of rope so that elephants can come out of the maidan & reach Swaraj round, then reach Shaktan Thampuran's statue. As soon as they leave the space, crowd will be allowed to occupy the space. Thiruvambady elephants occupy front side of Shiva temple. Estimated crowd gathered there is around 3 lakh this year. When elephants reach Shaktan Thampuran's statue, they circumvallate him once and stand in a row facing Vadakkumnathan.
After the death of Thiruvambadi Sivasundaran, the elephant who got luck to carry Thidamb (idol of Bhagavati) of Krishna temple is Thiruvambadi Chandrasekharan. From both sides of 15 tuskers each, a single tusker carries idol of Devi; stays at centre position & carries a different umbrella during Kudamattam.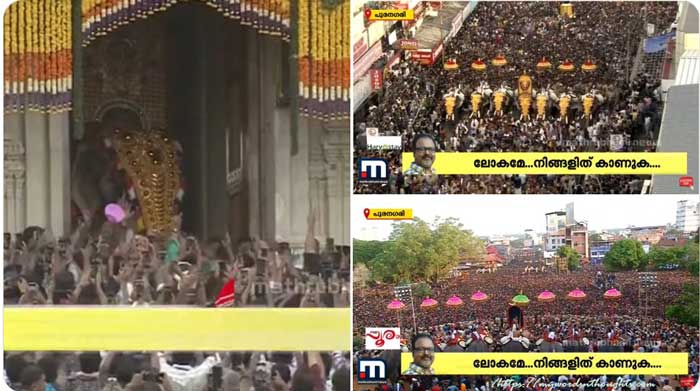 There was a time when more than 60 elephants were arranged in two rows. For a healthy competition, no: of elephants were reduced. But from a single set of umbrellas until World War 1, now around 100 sets of umbrellas are displayed for the whole events. It includes cultural elements, even current affairs too.
In terms of elephants, Aarattupuzha Pooram (again Thrissur district) holds the 1st position. More than 60 caparisoned tuskers participate in the event. 24 temples are associated with it. If you want to read in detail, please check my article prepared a few years back. To add, the origin of Thrissur Pooram is linked to Aarattupuzha Pooram, which was the biggest Pooram till Thrissur Pooram arrived. In 1798 because of incessant rains, the temples from Thrissur who represent every year were late for the Arattupuzha Pooram and were denied access to the Pooram procession. Feeling embarrassed, authorities raised the issue with Maharaja Sakthan Thampuran who put forwarded a suggestion to unify the 10 temples situated around Vadakkunnathan Temple and conducting it as a mass festival in front of Vadakkumnathan. He invited temples with their deities to pay obeisance to Lord Vadakkunnathan and the rest is history.
Kudamattam (Exchange of Umbrellas) is the highlight of Thrissur Pooram
Apart from different styles of traditional instrument music like Ilanjithara Melam and Panchavadyam, Thrissur Pooram is most famous for the exchange of colourful & different types of umbrellas on the top of decorated elephants. It usually starts around 5 pm and lasts for hours. Night sight is spectacular. As I told earlier, Thrissur Pooram is a competition between two other leading temples, taken in a sportsman spirit.
Two rows of caparisoned elephants representing each temple, stand facing one another from distance. Spectators will occupy the space in between and also the surrounding premises. Thiruvambady group stand in front of Vadakkumnathan while Paramekkavu in front of Shaktan Thampuran statue, and both faces each other.
Kudamattam is the most interesting event and 'suspense element', where each group display their set of colourful umbrellas. 50 or more varieties of umbrellas and kolams will be displayed by each group. Competition is, who displays the best in each round & how the other team respond in umbrellas. It's something like a questionnaire section, where one group seeks answer from the other, for their display of umbrella or kolam. The other group replies with a better set of umbrellas or kolam, if they have 'answer umbrellas' in their custody.
As told above, each team gives in reply, by showing a set of umbrellas which can compete with the other group. The set of umbrellas they make every year, they keep it secret so that they can win over other grp. See this; A screen grab from last year Kudamattam. For Saraswati umbrellas of one group, they replied with Tirupati Balaji.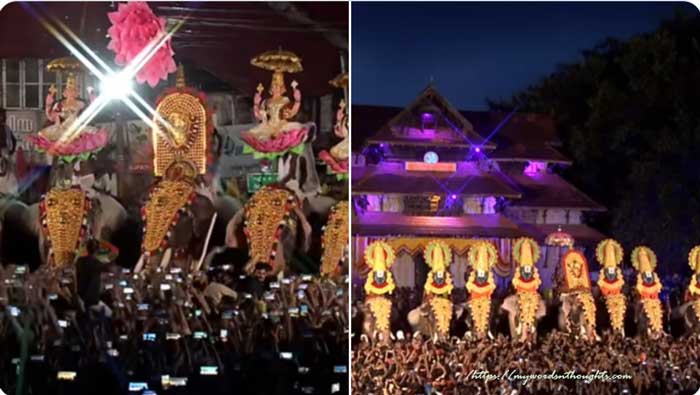 You can see innovative and creative umbrellas every year. Umbrellas displayed once won't be displayed again, as far as I know. So they are extremely cautious for choosing umbrellas/kolams every round. Like a secret weapon, they keep some special umbrellas to use at special occasion. Secret of a few umbrellas will be out before Pooram begins. A few are displayed in exhibition too.
During Kudamattam, the elephants carrying thidamb from both sides will carry a different umbrella whole through the process. When a different coloured/type umbrella is displayed at centre, it enhances the beauty of displayed umbrellas and kolams. Kolams are different structures or cut outs used for display during Kudamattam and they include different mythological and cultural figures, and often display faces reflecting current events. This year Messi's Kolam towards the end of Kudamattam received a warm welcome.
A few glimpses of this year's Kudamattam
There was tough competition between two groups, and some sights were just spectacular. Here are a few glimpses which attracted me most. All these screen grabs are from live telecasts of different TV channels.
Thiruvambady's beautiful display of Shiva Umbrellas and this is how Paramekkavu responded to it…Kodungallur Amma/Kannaki (a form of Goddess Parvathy), whose temple is in Thrissur district itself.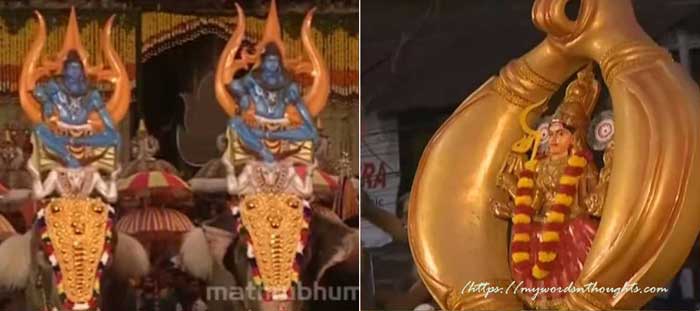 In response to Theyyam Kolam (counted among special umbrellas) of Eastern group Thiruvambady, Western group Paramekkavu responded with another integral part of cultural heritage, Aranmula Mirror. In response to LED Umbrella of Krishna, Paramekavu group responded with Siva-Parvati.
In response to Ganesa, at first Lord Shiva was shown by second group. It didn't end here. When Paramekavu responded again with Shiva Shakti, Thiru Ambady responded by Shiva-Ganga.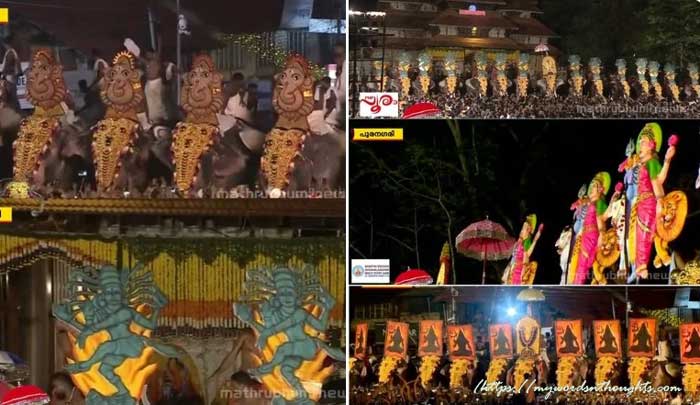 Highlight of today's Kudamattam was Messi. Kerala loves football more than cricket, & are huge fans of Argentina & Messi too. Even their team acknowledged it during WC. Thiruvambady's tribute to their favourite star was touching and loved by all spectators. While Shaiju Damodaran was doing commentary for a channel, his excitement touched new skies.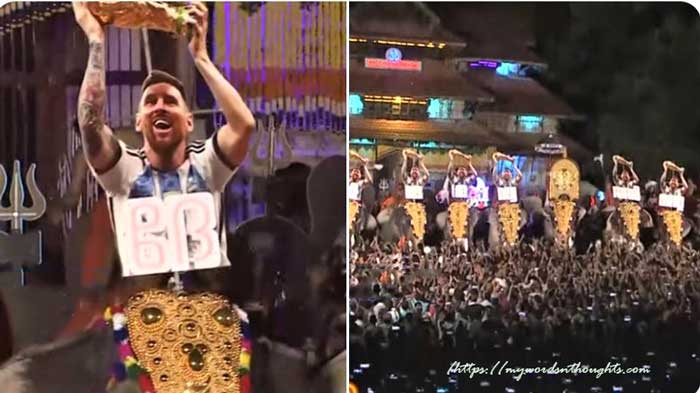 It was the final item of Kudamattam and in response to Paramekavu's LED display in dark background, Thiruvambady made a spectacular LED display in dark background, switching off all lights of Shiva temple. It felt like Messi was greeting the pooram lovers.

Khadakapooram of other temples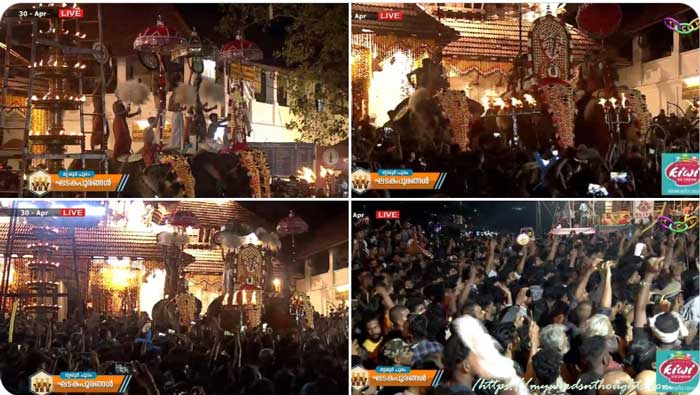 This is a sight from Khadaka Pooram – means Pooram of neighbouring/small temples, participating in the event. It's not a grand event like Kudamattam, yet pleasant to see decorated elephants carrying idol under temple lamps at night, accompanied by Chenda Melam.
A brief note on celebrity tusker Thechikott Ramachandran
When I told a lot about the event, how can I forget my favourite tusker Thechikott Ramachandran. Pooram is incomplete without him. Do you know he is the 2nd tallest elephant of Asia ,& has 1000s of fans for his beauty & many fan clubs too. He is from my neighbouring temple, now around 65 years old.
Till 2019, it was Raman who did Poora Vilambaram – opening South gate for the event. It's opened only once a year & Pooram is conducted at this gate. He is too mischievous, killed many & hence has court order not to be used for procession. He has been allowed for processions only on the basis of fitness certificate many times. Today he carried Thidamb/Idol of Neythala Kavilamma, though he didn't open the southern gate carrying the same idol.
It can be said that he is the most dangerous captive elephant, who killed 13 people & 1-2 elephants also. Yet love for him because of his height & beauty never fade among fans. 2nd tallest Asian elephant, and tallest in India, he has his own fan base. Read more about him.
Because of his height, he can't carry thidamb (idol) through temple gate many times. It happened in 2013. As it was not possible for him to enter temple with idol, they took it away from him & placed on another elephant. He turned violent, attacked that tusker & killed 2 women too! The way he bends & pray to take idol on head is a lovely scene to watch. I watched it so close in 2013, one week before the above incident took place in another temple. He is partially blind because of mahout's treatment, and when he gets violent attacks mahout too. He gets irritated & violent easily, yet loves children a lot.
He owns his own Fb page & 1000s of followers. If he is present in a procession, he should be given idol. Otherwise he shows his true 'colours'. Today also he was the star among all tuskers & received overwhelming response from fans. He carried Bhagavathy's idol for day procession. Compare his head & height with others in the picture below. You will know the difference.
No doubt he has more fans than any other Kerala tusker. Today a huge crowd gathered to see him alone, more than any other elephant & police was not even able 2 control them. Media was also fully after him. It took a long time for Raman to get out of the maidan after visiting Vadakkumnathan. He knows he is a celebrity, has a lot of fans & behaves like a star. This is what called Raman Effect.
Fireworks was a little bit delayed this year, yet happened without the disruption of rain. The display of colours and sound was spectacular and a visual treat to all Pooram fans. It had a delay start after 4.30 am and ended before 5.30 am. Now let's wait for Pakal Pooram, where the whole team assembles at the same space and complete the farewell ceremony, known as Upacharam Cholli Piriyal. Everything will be in repeated mode and the south gate will be closed again. Then it's a long wait for next 1 year. Because of the pandemic, Thrissur Pooram was not conducted during 2020 and 2021. It was conducted in a grand way last year and this year too. Let's hope this chain won't be broken and we all get the opportunity.