Pretha Kalyanam of Kasaragod – Marriage of deceased kids
Marriage of dead children to bring prosperity of living members of their family – Do such weird customs prevail in our country which has far advanced in technology, and has turned less superstitious in the recent times? Many of the customs which are till exhibited in different parts of the country don't say the same story. In the recent times we have seen Bollywood movies which included strange customs like marriage to a tree (Phillauri) or cow (Toilet: Ek Prem Katha). Do such rituals exist in Kerala also? Let me take you to the outskirts of Kasaragod, where a strange custom called Pretha Kalyanam is practiced among Nalkadaya, Mogeyar and Mavilan communities. Pretham means Ghost/dead, and hence Pretha Kalyanam literally means – Marriage of deceased/departed souls.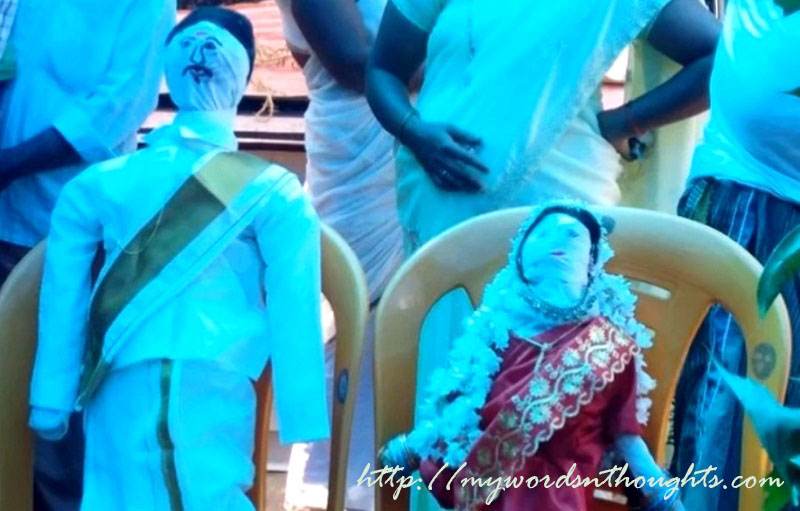 Most recently a Pretha Kalyanam held in Bediyadukka Panchayat by Mogeyar community caught media attention. A marriage was held in Ukkinadukka on October 29, 2017 in grand fashion, following all religious customs. Umesh, the son of Soman and Shanta married Sukanya, the daughter of Pallathadukka Krishnan and Sundari at bride's home in presence of their relatives in October 2017. But this marriage is entirely different from normal marriages because neither bride nor groom is alive now, and they died quite young two decades back. The groom, Umesh died 26 years back at the age of 2 and bride Sukanya 20 years back at the age of 1.5.
Prethakalyanam of Mogeyar or Madhumey (marriage) of dead people
Now Tulu communities, seen in Kerala-Karnataka border have reduced significantly. Yet Mogeyar community still follows their customs and old traditions, retaining the freshness of old. This community still follows a few customs which bind physical life with departed souls and life after death. Madhumey is one such strange customs, which links with dead people. In Tulu language, Madhumey is called marriage, Madhimal for bride and Madhimaay for groom. Madhumey is another name for Pretha Kalyanam.
As per beliefs, those kids who die as infants or before reach adult stage grow in the invisible world to become adults. So, when they are believed to reach adult stage, the community arranges marriages for those souls from suitable matches. It's done by their respective families. Horoscope match is also done, similar to normal marriages. Both the families consent to the wedding and the ceremony is conducted in grand manner, arranging a special feast as well.
How Prethakalyanam is conducted?
Both families make effigies of their son or daughter using wood, hay or silver, and later they are traditionally dressed for the wedding function. Then their souls are invoked to the statues made. It follows several traditions and rituals, and is not done for fun purpose. It includes all the rituals and preparations of a normal Hindu marriage. The close relatives will also be present in the occasion.
Usually the statues of dead souls are carved from the wood of jackfruit tree. Then they are decorated with new bridal dress and ornaments, similar to decorating toys. The groom wears traditional mund, jubba and turban for the function. The bride wears Kerala traditional sari and ornaments. The community who believe in the existence of souls, and seriously thinks about their problems after death and tries to find solution, it's a very important ritual.
On the wedding day, the well-decorated groom with sandal thilak will be taken to the bride's house, accompanied by close relatives and friends. The group includes a religious priest who conducts the marriage, groom's father and maternal uncle and a few more relatives. Bride's home too will be decorated in simple fashion, and arrangements will be done to welcome the guests. It includes preparations for Marriage Sadya (meals) and given to guests once ceremony is over.
When groom's group reaches bride's home, they receive a warm welcome. Stem of ghost pala tree (devil tree) is cut and fixed into mud assuming it to be the Panthal, where wedding ceremony is conducted. The floor will be furnished with sacred cow dung solution, where the two groups sit on either side to fix the marriage. Groom's relatives place aracanut, beetel leaf and money in a torn piece of banana leaf and give it to bride's relatives. Then they will reveal the reason behind their arrival to the place.
As everything is done in a single day, marriage fixing ceremony is also done along with it. The whole communication will be done in Tulu language. Though they died as young before reaching 18, they have grown to adults in the invisible world. So let them live happily as husband and wife – the two groups arrive at a conclusion. Husband is called Gandani and wife is Bhaduthi in Tulu language.
Before the marriage rituals start off, they offer liquor to their gods. They sprinkle liquor and place them in earthen pots (Kalasam). The decorated statue of bride will be placed near groom. She wears a wedding sari, bangles, necklaces, chains and jasmine flowers. The garland exchange and tying thali (mangalsutra) are the next steps. For the wedding ceremony, their siblings, or any other close relatives, perform the wedding rituals. It includes the exchange of garlands, wearing mangal sutra and putting the vermilion (sindhoor) on the bride's forehead.
Relatives bless the newly wedded couple with ixora flowers and rice, similar to normal marriages. Then they together eat traditional meals served on banana leaves and farewell is the last ritual.
Groom takes bride with him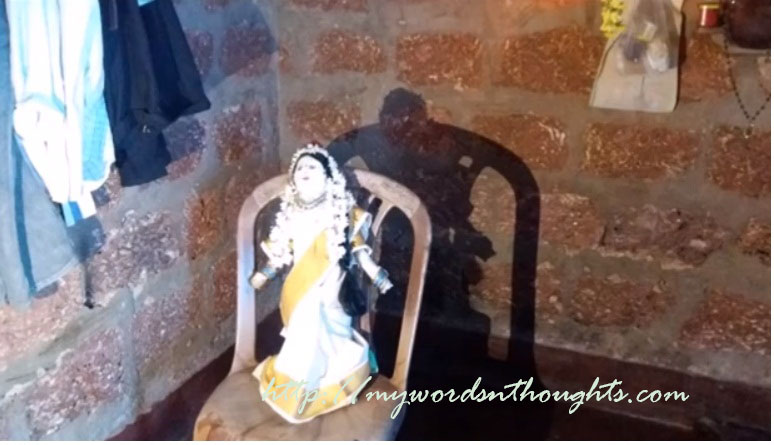 During farewell ceremony, bride's effigy will be taken by groom's group, which symbolizes the normal marriage farewells, where bride goes to groom's house. Kudiyiruthal is an important ritual conducted in groom's home, which is done at night. For Mogeyar people, the bride and groom should made sit beneath a tree which has milk (thick stain while cutting its branches or wood). Usually a devil tree (Pala tree) is chosen for the purpose, and the place will be cleaned well before Kudiyiruthal ceremony is conducted. The effigies will be installed there and the relatives pray for them before they return.
Why Pretha Kalyanam is conducted?
Wandering souls of deceased young ones are believed to bring bad luck to the family, especially the siblings. If marriages don't happen, obstruction in doing something, problems in marriages or problems conceiving children, the members of the family doubt about the existence of departed souls who wander without peace.
When bad omens and events such as accidents occur in families (which lost kids at a younger days), they often seek astrologer's help to know its reason. He may suggest doing Prethakalyanam to get rid of olds omens and to bring prosperity to the family. As per belief, if those wandering souls who have entered youth stage tie marriage knot, such unhappy incidents within the family will cease. Now the relatives go in search of suitable brides and they also check the matching of horoscope. The bride should belong to their community also. The close family will be present during Madhumey (Ghost marriage).
The marriage of kids died young – Madhumey practiced among Nalkadaya, Mogeyar and Mavilan communities show slight variations in rituals. It's just a continuation of old beliefs that there is a life after death, and a tradition to fight and defeat the mystery of death. Now such marriages held with the knowledge of the public has decreased drastically. Though new generation tags Madhumey as a superstition, there is a small group of people who still believe in such traditions and old customs.
Image source: YouTube screenshot
Read a few articles related to Malabar – Places to visit, Culture, Traditions & Social Life. Here is the page link. Click on the images in the gallery to read
(Visited 815 times, 1 visits today)