Thenga Pathiri (Coconut Pathiri)
Pathiri is a traditional Malabari dish, mainly used as a main course dish. Thenga Pathiri is a twist to normal pathiri dishes, and it is sweet in taste. Coconut and banana are used as filling in this case. This sweet pathiri can be used as a 4 o' clock snack rather than a main course recipe, and here is its recipe.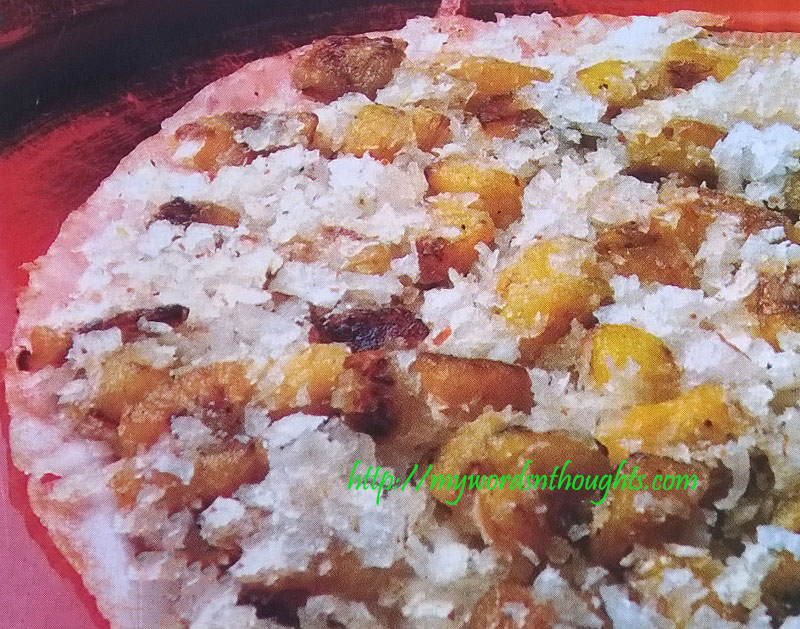 Ingredients for Thenga Pathiri (Coconut Pathiri):
1. Rice flour – 2 cups
2. Salt and water – As required
3. Ghee – 2 big spoons
4. Kerala banana (Nendrapazham) – 2, cut into small pieces
5. Cashews broken – 50 gm
Raisins – 50 gm
6. Coconut scrapped – 1 cup
7. Sugar – 1 big spoon
8. Ghee – A little
How to prepare Thenga Pathiri (Coconut Pathiri)?
1. Prepare batter adding sufficient water and salt to rice flour. Batter should be loose enough to pour using a spoon (similar to dosa).
2. Heat ghee and fry banana pieces.
3. Keep them aside and in the remaining ghee, fry cashews and raisins.
4. Add sugar and scrapped coconut to it, fry it well and keep it aside.
5. Heat a frying pan, and pour a little batter using a big spoon.
6. Spread the batter thin similar to a dosa.
7. Sprinkle a little coconut, followed by banana mixture on its top as a layer.
8. Reduce the flame and cook it till lower side is done.
9. Flip once to cook the other side, and pour a little ghee on its top.
Note: Sprinkle coconut and banana mixture before Pathiri turns dry. Otherwise the mixture won't bind to pathiri properly.
My Tip: Add a little cardamom powder while frying coconut, to enhance the taste.
Courtesy: Vanitha Magazine, August 1-14, 2010
You can read more Pathiri recipes here. Here is the page link. Click on the images in the gallery to read.
(Visited 665 times, 1 visits today)