Coconut Kozhukatta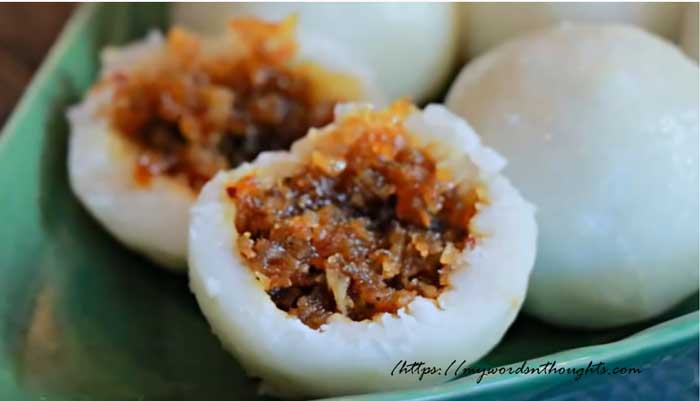 Ingredients for Coconut Kozhukatta:
1. Green gram dal – 2 handful
2. Coconut – 1, big
3. Jaggery – 350 gm
4. Cardamom powder – As required
5. Ghee – 2 tablespoons
6. Coconut oil – 4 tablespoons
7. Rice flour slightly fried – 3.5 cups
8. Salt – For taste
How to prepare Coconut Kozhukatta?
1. Boil jaggery adding water and strain it to remove dust.
2. Slightly fry the dal, and then pressure cook it.
3. Heat jaggery again.
4. Add scrapped coconut and cooked green gram dal to jaggery, and mix well.
5. Add 1.5 table spoons of ghee, and mix till the mixture separates from edges.
6. Add salt to water and boil it.
7. Add this boiling water to rice flour and prepare dough, similar to idiyappam.
8. Add cardamom powder to jaggery mixture.
9. Grease your hands with ghee, and make small balls from it.
10. Take a little rice mixture in hands and spread it.
11. Place the jaggery filling inside it and wrap again to form a ball.
12. Continue the process for remaining rice and jaggery mixtures.
13. Steam cook Kozhukkatta balls using a steamer or idli steamer.
Note: You can also cook kozhukatta by putting them in boiling water. But when you keep them for excess time, water may ooze out of the balls.
Courtesy: Vanitha Magazine February 1-14, 2010
Also read another recipe of Sweet Kozhukatta.
Also read a few more rice dessert recipes. Click on the images in the gallery to read.
(Visited 17 times, 1 visits today)