Athirasam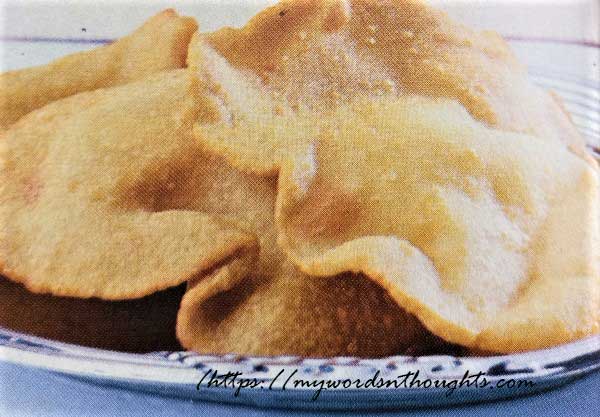 Ingredients for Athirasam:
1. Raw rice – ½ kg
2. Jaggery – 400 gm
3. Cardamom powder – As needed
4. Ghee/Dalda – 750 gm
How to prepare Athirasam?
1. Soak raw rice and powder it. Never make it a fine powder.
2. Boil jaggery adding a little water, add rice flour to it. Mix it well.
3. When it cools, transfer to a container and close the lid.
4. Keep it for 1 day.
5. Next day, add cardamom powder and mix it.
6. Heat ghee in a pan.
7. Place a little dough in a banana leaf and spread it like chapati.
8. Put it in ghee and deep fry till both sides are well cooked.
9. Continue the process for remaining rice-jaggery mixture.
Courtesy: Vanitha Magazine February 1-14, 2010
Also read a few more rice dessert recipes. Click on the images in the gallery to read.
(Visited 16 times, 1 visits today)