Sweet and Sour Chicken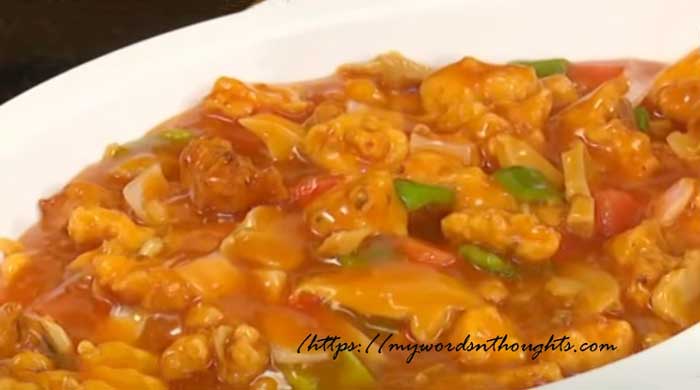 Ingredients for Sweet and Sour Chicken:
1. Chicken – ½ kg
2. Tomato puree – 2 table spoons
Thick curd – 1.5 table spoons
Garam masala – 1 tsp
Chilli powder – ¾ tsp
Garlic paste – ¾ tsp
Tamarind – Gooseberry sized
Salt and sugar – As needed
3. Green chillies chopped – 1
Coriander leaves chopped – 1.5 tablespoons
4. Fresh cream – 1.5 tablespoons
How to prepare Sweet and Sour Chicken?
1. Clean chicken and cut into pieces.
2. Cook tomatoes and blend well in a mixer to prepare tomato puree.
3. Strain it, and take 2 table spoons.
4. Add the rest of ingredients no: 2 also to tomato puree and blend well.
5. Heat oil in a pan and sauté this masala.
6. When it starts to boil, add chicken pieces.
7. Add a little more water, close the lid and cook the chicken in low flame.
8. Add green chilli and coriander leaves, and boil for 2 minutes.
9. Put off the flame and add fresh cream.
10. Mix your Sweet and Sour Chicken curry, and serve hot.
Courtesy: Vanitha Magazine May 1-14, 2005
Also read: Sweet and Sour Easy Chicken
Also read a few more chicken recipes. Click on the images in the gallery to read.
(Visited 13 times, 1 visits today)