Stories behind some of the popular Malayalam film songs penned by K. Jayakumar
K. Jayakumar penned a few very popular Malayalam film songs accepted by Malayalis. Kudajadriyil Kudikollum from Neela Kadamb, Aakaashaganga from Kunjaattakkilikal, Chandanalepa Sugandham from Oru Vadakkan Veera Gatha, Souparnikamritha Veechikal from Kizhakkunarum Pakshi, Thoomanjo from Thakshashila, Sooryamsuvoro Vayalpoovilum and Moovanthiyaay from Pakshe etc are some of his popular songs.
Each song has an untold story to tell; the story behind its creation. Through this column I shall add a few such interesting facts, the tale of a few nostalgic film songs penned by Jayakumar. Also read: His biography.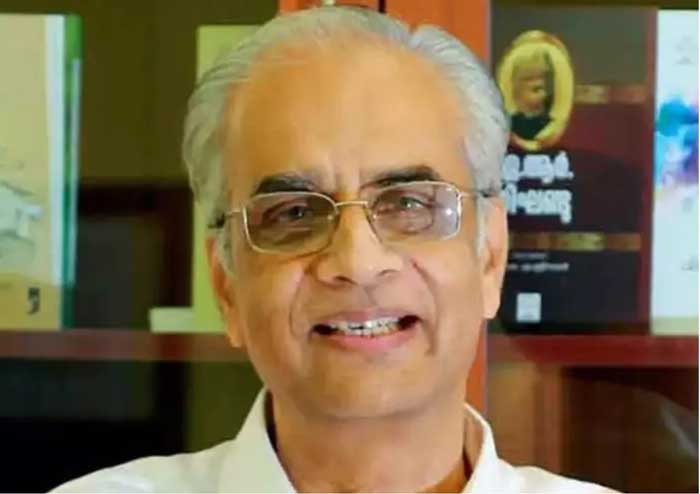 His entry to film world and lyrics was not co-incidence
While he was doing his B. Sc in Mar Ivaneous College, Thiruvananthapuram, he penned the first song for Bhadradeepam, a movie directed by his father. His father M. Krishnan Nair was a prominent filmmaker of 1970s, best known for CID series starring Prem Nazir. The song was 'Manthara Manamulla Kaatte….' It's more than 50 years now, since he penned the first lyrics.
He always felt curious behind writing lyrics for film songs. He is inspired by the great Vayalar Rama Varma. Since young he had a habit to learn Vayalar songs, which include several evergreen numbers. Though his father was a film director, he was attracted to the songs most. When his father returns after film shootings, he asks most about songs penned by Vayalar. In fact he has some hand scripts of Vayalar, which his father gave – the songs written by the poet for Krishnan Nair films. He still carries them as treasure.
'Sayanthanam Nizhal Veezhiyilla' and 'Choolam Kuthum Kaatte Kooki Kooki Vaa' from Ozhivukalam
He joined film industry only because of his admiration towards Vayalar. To join film industry, he first approached P. V. Gangadharan of Grahalakshmi Productions. At that time he had already joined civil service. Ozhivukalam (1985) was the next film under this production. The movie belonged to Bharathan – Padmarajan team, and music was composed by Johnson. When he went to Chennai for song recording, he was not at all nervous of a 'fresher'.
Johnson gave him a tune and he penned lyrics, "Choolam Kuthum Kaatte Kooki Kooki Vaa". Some girls from a ladies' hostel are going for a picnic – That's the film situation. The song was sung by Lathika and Asha Latha. He penned another song for the film without a tune, "Sayanthanam Nizhal Veezhiyilla, Sravanapookkal Urangiyilla". This song is very close to Jayakumar's heart. It's about the meeting of two ex-lovers during a late phase of their life and how they celebrate the new innings.
Kudagadriyil Kudikollum Maheswari from Neelakadamb
As a lyricist he received acceptance from music lovers after penning 'Kudajadriyil'. Unfortunately the movie was never released. The song belonged to the film 'Neela Kadambu' made in 1985. The lyricist feels, such an intense devotional song about Mookambika was never written in Malayalam before and that's why the song was widely accepted. The song proved too lucky for him too. He feels, this song was meant for him and given to him by goddess herself.
M. S. Ambikumar was the film producer and director. But most surprising is, the film was never shot, not even for a single day! So, the project Neelakadamb was written in destiny for Jayakumar and Raveendran, the composer. The discussion of the film was done in Palmgrove Hotel, Chennai. The hotel has always proved lucky for Jayakumar. Both the film director and composer were present there. M. S. Ambikumar was a great devotee of Mookambika and he always wore the saffron prasad of the temple on his forehead.
Another interesting fact is, the time when he penned these iconic lyrics, he has never visited the temple. Apart from hearsays only thing he witnessed till then was that saffron thilak on the forehead of film producer, which gave him the feel of presence of goddess there. When we listen the lyrics, we never feel it was written by a less-experienced lyricist who has never visited there!
He wrote 4 songs for the film – 2 of them according to the tune and the rest two, without tune. Kudagadriyil and Neelakurinjikal Pookkunna Veedhiyil were written first and then tuned. 'Deepam Kannil Sandhyadeepam' & 'Neela Kadambukalil' songs were tuned first. He was present in the recording studio during the recording of Neelakurinjikal Pookkunna Veedhiyil. As he had to reach Thiruvananthapuram, related to his work, he left the place before the recording of Kudagadriyil. Though the song was never filmed, the situation given to him was, a girl singing this devotional song. The song was recorded in Chithra's voice, who was also an upcoming singing star those days. While leaving Chennai, he knew that only.
Some days later, while he was standing in Thrissur round, he happened to hear the same song sung by Yesudas. The recorded song was played in Paramekkavu temple, and his mind was filled with joy. Later he came to know that Yesudas reached the studio to record the song Deepam Kannil Sandhyadeepam, while mixing work of Kudagadriyil in Chithra's voice was going on. Yesudas is also a great devotee of Mookambika and he wanted to record the song in his voice too. When Yesudas expressed his desire, they recorded the song in his voice too.
Kudagadriyil is one among those exceptional Malayalam songs, where apart from song lyrics and music, we feel the blessing of goddess and a divinity. The song was tuned in Revathy raga by Raveendran. Instruments chosen for the recording were beautiful, even the ringing bells. Chithra's father's name is same as Jayakumar's, and she was a very young girl when she came to recording studio with her father. So he felt attached to the little girl those days.
Sauparnikamrita Veechikal from Kizhakkunarum Pakshi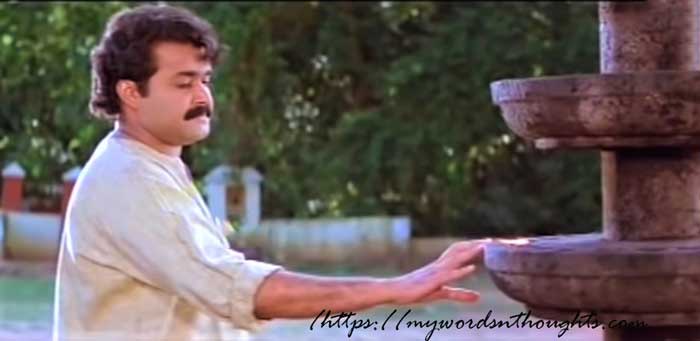 Actor – director Venu Nagavally called him one day and asked him to meet him, regarding his upcoming project. The place was Palmgrove Hotel, Chennai, which has always proved lucky for him. His new film – Kizhakkunarum Pakshi was about a music composer, and the lead role played by Mohanlal. Again, Raveendran was the music composer for the movie. He was asked to write one more devotional song about Mookambika and also expressed his desire that, this song should be better than Kudagadriyil. Jayakumar replied that he can't assure this song will be better than Kudagadriyil, yet shall try his best. He also put forward the condition that, he will write the song first and, both Raveendran and Venu agreed.
He closed his room door at 10 pm and completed writing by 4 am. He gave the song to the composer and returned to Thiruvananthapuram that day itself. He wrote three more songs for the film, yet Sauparnikamrita Veechikal became popular. Later when O. N. V. Kurup met him, he appreciated the lyricist for penning Sauparnikamrita Veechikal and Jayakumar felt elated. Though the tune was given later, lyrics was re-arranged to get that perfection.
Akashaganga Theerathinappuram from Kunjattakkilikal
The lyricist feels, he wrote maximum songs for Prem Prakash. 'Akashaganga Theerathinappuram' song from the movie Kunjattakkilikal was composed by A. J. Joseph, mostly associated with Christian devotional songs. The movie was directed by Sasi Kumar. The film is about a home nurse who comes to stay at a home and look after 4 kids, who lost their mother. The kids have a strict father too.
The lyricist tried to tell another short story within the boundary of main plot through the song. The song gives a strong message that love can give life even to a stone statue. Using same idea, he has penned another song too – Karuka Than Kaiviral Thumbil. It belongs to the film, Azhiyatha Bandhangal, again the director is Sasi Kumar and composer is Shyam. The song was lip-synced on screen by Ambilikuttan, grandson of lyricist Abhayadev. The song was also recorded in his voice.
Thoomanjo Paragam Pol from Thakshasila
He penned four songs for Thakshasila, composed by M. J. Radhakrishnan. He has worked with the composer for 6 or more films. The movie was directed by his brother Sreekuttan with Suresh Gopi playing the male lead. Shooting location was Himachal Pradesh. His brother asked him to pen the lyrics just a few days before film shooting. It's a title song filmed in the backdrop of snow, and M. J. Radhakrishnan tuned a song with Pahadi influences. He penned the lyrics keeping dew drops in mind, and was extremely happy the way the song was accepted by Malayalis.
Sooryamsu Oro Vayalpoovilum from Pakshe
Pakshe was scripted by Cheriyan Kalpakavadi and directed by Mohan. Mohanlal and Shobana played the lead roles. The movie is about a village guy who got through civil service exams, and how his value shoots up in marriage market. There is a beautiful love thread also. As the movie is about an IAS person, many people have asked him if the story is inspired from his life. Except that he penned two of its songs, nothing is connected.
Sooryamsu Oro Vayalpoovilum is an evergreen song, loved by new generation kids too. The song was penned in Thiruvananthapuram Tennis Club. The lead character Balachandra Menon is a part of a family, struggling with financial crisis, and the song situation is, soon after he knows his civil exams result, he rides on a cycle to his ancestral home to share the happy news with his family and lover.
When Mohan and Cheriyan narrated him the song situation, he could easily relate it. It's the same reason why they both approached him. In his family too, he was the first one to pass IAS exams. Yes, a life changing feel, when you are going to inform the happy news to your dear ones. A new hope, and a feel of beauty in everything you see. So, it was easy for Jayakumar to pen this song. The song was filmed in Thovala and nearby places.
He was having a busy professional life, when he was offered the song. So, he wrote this song from capital city. After his job was over, every day he visited tennis club and Cheriyan also came there. That's how he penned three songs for Pakshe. Johnson composed tunes first for two songs. But Sooryamsu Oro Vayalpoovilum was written first and then tuned by composer.
Chandanalepa Sugantham and Kalarivilakku Thelinjathaano from Oru Vadakkan Veeragatha
Jayakumar was serving as Collector of Kozhikode, while penning this beautiful song. It was P.V. Gangadharan who gave him this offer. It's the same producer who gave him the first break. It was for the first time M. T. Vasudevan wrote script for a movie based on 'Vadakkan Pattukal', though countless movies have been made in this subject before. M. T detailed Chandu through his emotions and expressions and no wonder, the movie helped Mammootty to bag his first National award for best actor.
Music was composed by Bombay Ravi, and 5 songs were to be written. 4 songs were given to him. Ravi and M. T. reached Kozhikode where Jayakumar was serving as district collector. When M. T read the script, he realized the script is so beautiful and so should be its songs too. So, it took more time to pen the song. For the first time when M. T heard the lyrics, he asked if it gives the feel of going to some Ayurveda shop. He was not fully satisfied with the remaining lines too, and asked for improvisation. Jayakumar also made a lot of corrections. He also had busy job schedule. They usually sat together in the evenings and corrections in song lyrics went on till the shooting schedule started. Ravi also has to return back to Mumbai. When they started off to Chennai for recording, only half song was done, though the assigned job was 4 songs.
He completed penning the lyrics after reaching Chennai – 'Mallisaayakan Thannayacho….' Both Hariharan and M. T. Vasudevan were impressed by the lyrics, and the song was recorded in Yesudas' voice. That time itself, the team was sure, this song will be a hit. Jayakumar wrote Kalarivilakku Thelinjathaano in 3 hours, returned to Kozhikode and the rest songs were penned by Kaithapram. Just like song lyrics, even after 3 decades, it has not lost its sandalwood perfume.
Let's conclude this post briefing about his first song and its situation. He was extremely happy as he got opportunity to write song for a movie directed by his father. When his name was shown aside his idol, Vayalar Ramavarma in the title credits, he was immensely happy. The song was recorded in Yesudas' voice and filmed on evergreen hero Prem Nazir. Baburaj composed the song. In the film situation, Prem Nazir was driving a car singing, going to ask hand of his lover. His father's car was used for shooting. After 50 years of this song, only two people associated with it are alive – he and Yesudas – Jayakumar signs off.
"Mantharamanamulla Kaatte, Neeyoru Sandesha Vaahakanalle……."