Vayalar Ramavarma – Poet and the most celebrated lyricist of Malayalam cinema
Vayalar Ramavarma (1928 – 1975) was a famous poet and lyricist belonging to Malayalam. He remained the most popular lyricist during the glorious era of Malayalam film music in the 1960s and 1970s and was a recipient of Kerala state award for best lyricist 4 times. He was also a recipient of National Film award for best lyricist for the songs of Achanum Bappayum, which include "Manushyan Mathangale Srishtichu". He was also a famous poet, best known for his poems – Sargasangeetham, Mulankaadu, Padamudrakal, Konthayum Poonoolum, Enikk Maranamilla, Aayisha and Oru Judas janikkunnu, and recipient of Kerala Sahitya Academy Award for poetry in 1962 for the poetry collection – Sargasangeetham.
He started writing poetry during his school days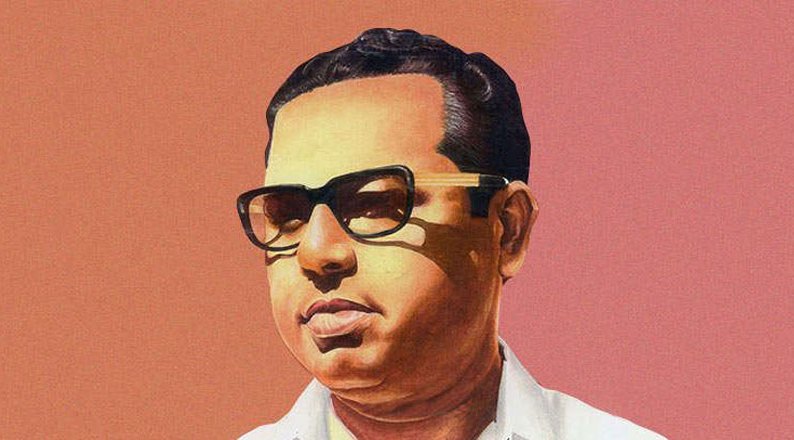 Vayalar Ramavarma hailed from Vayalar village of Alappuzha district, Kerala. He belonged to an upper class family, and was born as the son of Vellarappilli Kerala Varma and Raghavaparambil Ambalika Thamburatti. He lost his father at an early age. He initially received schooling in Gurukala style, under the supervision of his uncle. Later he took formal education in English and Sanskrit. He started writing poetry during his school days, and published his first poem in "Swarat" magazine. He discontinued studies at class 9, yet continued writing and publishing poems in different magazines. He got attracted towards communist ideology and started a party weekly Janadhipathyam in 1951. However he was forced to shut down following opposition.
Ramavarma's first poetry anthology was published in 1948
Ramavarma's first poetry anthology – Padamudrakal inspired by Gandhian principles was published in 1948. Konthayum Poonoolum, Naadinte Nadam, Enikku Maramamilla, Mulankadu, Oru Judas Janikkunnu, Ente Mattolikavithakal, Purushantharangaliloode, Sargasangeetham, Ayisha, Raktham Kalarnna Mannu and Vettum Thiruthum etc are some of his published books.
The most celebrated lyricist of Malayalam cinema
When he shifted from his hometown to Chennai, he got associated with Malayalam cinema as a lyricist. He contributed some of the finest songs to Malayalam cinema, mostly recorded in the voice of K. J. Yesudas and other playback singers. Koodappirappu in 1956 marked his debut as a lyricist and he completely dominated the scene for the next two decades till his death during Emergency Period in 1975, at the age of only 47. Many of his songs were released posthumously. He wrote 1300 songs for 245 Malayalam movies, 135 songs for 29 music albums and a few KPCC plays.
His songs brought music listeners closer to poetry. He frequently collaborated with Devarajan with whom 755 film songs were born. He also worked with Baburaj, Salil Chaudhary and almost all leading music composers of the golden era of Malayalam film music. He along with P. Bhaskaran and O. N. V. Kurup formed the celebrated trio. When he passed away in 1975, he left a void which was never filled later. Till now Vayalar Rama Varma remains the most popular lyricist of Malayalam cinema. He also inspired almost every Malayalam lyricist of future generations.
50+ Most popular Malayalam film songs
It's not an easy task to list all the memorable songs penned by Vayalar. Yet I shall try my best to recollect songs from my memory. Please help me to improve this list by providing missing tracks.
Chakravarthini from Chemparathi

Sharanamayyappa from Chemparathi

Periyare Periyare from Bharya
Manushyan Mathangale from Achanum Baappayum
Kakka Thampurati of Kaattu Thulasi

Swapnangal from Kavya Mela

Devi Sreedevi from Kavya Mela

Shankhupushpam from Shakuntala

Malini Nadiyil from Shakuntala

Swarnathamarayithalil from Shakuntala

Priyathama from Shakuntala

Paarijatham from Thokkukal Kadha Parayunnu

Suprabhatam from Panitheeratha Veedu

Kannuneer Thulliye from Panitheeratha Veedu

Aniyam Maniyam from Panitheeratha Veedu

Kuttanadan Punchayile (Boat song)

Aayiram Paadasarangal from Nadi

Kayambu Kannil from Nadi

Panchathantram Kathayile from Nadi

Veena Poove from Jeevikkaan Marannu Poya Sthree
Thanka Bhasma from Koottu Kudumbam
Indraneela Mizhimuna Thurannu from Koottu Kudumbam
Poonthenaruvi from Oru Penninte Katha
Swarga Puthri Navarathri from Nizhalattam
Mayajalaka Vaatil Thurakkum from Vivahita
Devaloka Radhavumaay from Vivahita
Kai Niraye Valayitta from Kalanju Kittiya Thankam
Thankathalikayil from Gayathri
Chandra Kalabham from Kottaram Vilkkanundu
Swarnathamara Ithalilurangum from Shakuntala
Venna Tholkkumudalude from Oru Sundariyude Kadha
Ashtamudi Kayalele from Manavatti
Neelagiriyude Sakhikale from Panitheeratha Veedu
Thalir Valayo from Cheena Vala

Sandhya Mayangum Neeram from Mayilaadum Kunnu

Manichikaatte from Mayilaadum Kunnu

Paappi Aapacha from Mayilaadum Kunnu

Chitrasilaa Paalikal from Brahmachari

Paamaram Palungu Kondu from Triveni

Sangamam Sangamam from Triveni

Kaithapuzha Kaayalile from Triveni

Neelaponmaane from Nellu

Kadali Chenkadali from Nellu

Omana Thinkalilonam from Thulabharam

Thottu Thottilla from Thulabharam

Chandranudikkunna Dikkil from Othenante Makan
Guruvayurambala Nadayil from Othenante Makan
Mangalam Kunnile from Othenante Makan
Yaamini Yaamini from Othenente Makan

Mandasameeranil from Chattakari

Julie from Chattakari

Yavana Sundari from Pearl View

Pushpagandhi from Azhakulla Saleena

Maralike from Azhakulla Saleena

Keli Nalinam from Thulavarsham

Yamune Neeyozhukoo from Thulavarsham

Dhoomdhana from Thomasleeha

Anupame Azhake from Aranazhika Neram

Samayamaam Radhathil from Aranazhika Neram

Chippi Chippi from Aranazhika Neram

Akkara Pachayile from Sthaanarthi Saramma

Kaadaaru Maasam from Ezhu Ratrikal

Onnam Maanam from Enippadikal

Ellarum Paadathu from Ningalenne Communistaakki

Samyamamakannorudhyaname from Devi
Vayalar Ramavarma – Some interesting and less-known facts
1. He was the first Malayalam lyricist to receive National Film award for best lyricist. He received it in the year 1972. Later only two Malayalam lyricists managed to receive awards in the same category – O. N. V. Kurup and Yusuf Ali Kecheri. It has been two decades since Malayalam cinema received an award in this category.
2. He was the first lyricist to receive Kerala state awards for best lyricist. He received this honour in 1969 for the films, Nadhi and Kadalpalam, and won three more in the first half of 1970s, till his death in 1975. He was at his career peak and in his late 40s when death took him away.
3. He used the penname 'Rama Varma Thirumulppadu' for his early poetry writings.
4. His first book, 'Padamudrakal' was published by the publisher Madhava Pie. Unexpectedly its copies were unsold, and hence the poet gave its patent to Madhava Pie as compensation. He republished the book, and changed author's name from Rama Varma Thirumulppadu to Vayalar Rama Varma. The idea clicked, and the copies were sold instantly. Later Vayalar retained the name for his professional career later.
5. Vayalar Ramavarma married siblings – Puthekovilakathu Chandramathi Thamburatti and Bharathi Thamburatti. He married the younger sister as he was childless from first marriage. Famous poet and lyricist Vayalar Sarath Chandra Varma and three daughters were born in this wed lock.
6. It was only in 2011 it was revealed that he died due to medical negligence at the time of Emergency, and not because of an operation following the condition of cirrhosis. It was revealed in a public function by poet Ezhacherry Ramachandran that Vayalar died after receiving blood of a different group. He said that operation was successful and he accepted blood from different people, including prisoners of Poojapura central jail, ardent fans of the poet. He revealed that the poet started shivering while accepting 33rd bottle of blood, which belonged to another blood group. Later he stated that he is not sure about its authenticity.
7. Vayalar's son and poet Vayalar Sarath Chandra Varma responded to Ezhacherry's statement that the late revelation after 20 years is of no use, and it can't bring his father back. In fact he received this information from an astrologer a few years back that it was an unnatural death, and hence the family also conducted special rituals for it. A friend of his father had also revealed the same, and that he is now not interested in stirring any controversy.
8. Vayalar Rama Varma Memorial Trust instituted an annual literary award, Vayalar Award soon after his death. Lalithambika Antharjanam was the first recipient of this honour in 1977 for her work, Agni Sakshi. This award is distributed on October 27 every year on his death anniversary. Vayalar Ramavarma Sangeetha Puraskaram and Vayalar Ramavarma Natya Ratna Puraskaram are two more awards named in his memory.
9. He joined hands with Yesudas for 444 Malayalam films. In fact he penned lyrics for Azhakulla Seleena, for which Yesudas composed music. The duet 'Pushpagandhi' sung by Yesudas and B. Vasantha was a chartbuster. It was rumoured that music was originally composed by Shyam, who was a newcomer then.
(Visited 1,835 times, 1 visits today)